Riele Downs is a young and talented Canadian actress, best known for her role in the reality television series titled Henry Danger. She started acting since she was four years old and has appeared in many reality television series including A Russell Peters Christmas Special in 2011.
The beautiful actress was born and raised in Canada, she has an elder sister named Reiya who is also an actress. Aside from acting, Riele is a very good artist as well as a sportsperson.
Let's take a look at the young and talented actress Riele Downs age, biography, her sister, her boyfriend, and her relationship with Jace Norman below.
See Also: Anna Ramsayholly, Bio, Wiki, Parents, Boyfriend, Family
Bio (Age)
The upcoming star Riele West Downs was born in Toronto, Ontario, Canada on July 8, 2001. She was raised along with her elder sister Reiya. Her mother is the famous Canadian actress Elle Downs. While she was growing up, Riele Downs has always shown interest in acting and kiddies shows. She started acting as a child actor when she was four and when she was ten years old, she featured in a TV show titled A Russell Peters Christmas Special in 2011. The show was able to bring her to the limelight and in 2013; she starred in a movie titled The Best Man Holiday as well as the 2014 movie The Gabby Douglas Story.
However, the young and charming Canadian actress rose to prominence when she appeared in the famous reality television series titled Henry Danger in 2014. When it comes to acting, Riele is like a pro; with the support of her family who is also in the same business, she has continued to grow as an amazing performer. She has been following in the footsteps of her mother and sister.
Aside from being a television personality, the young and talented actress is also a social media sensation. With her great skills, the champ uploads funny videos on Musical.ly. Just like other young celebrities her age, she has garnered much fame through the social media and currently, she has millions of followers on Twitter and Instagram.
Sister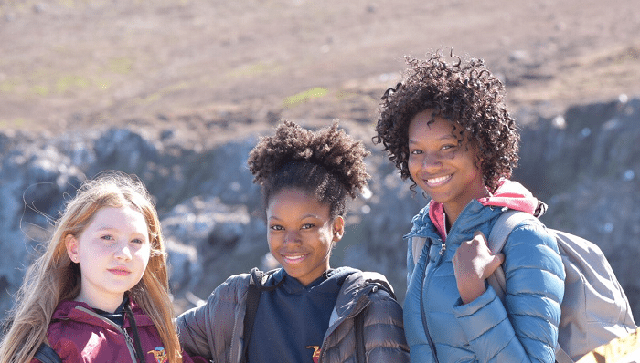 Riele has an elder sister named Reiya Downs and they are both supportive of each other. Reiya was born on August 31, 1999, and began her acting career in 2005 when she starred alongside her kid sister in the Four Brothers. She is best known for her role as Shay Powers in television series titled Degrassi and Degrassi: Next Class. An interesting fact about Reiya is that her real mother Elle is also acting as her mother in Degrassi series.
Boyfriend
Wondering if the charming actress has a boyfriend or not? Well, the answer is right in front of you. Riele is very young, attractive, and so talented. Having been into the showbiz, there are so many guys who would want to have a relationship with the ebony princess but this seems to be the wrong time for that.
Apparently, Riele doesn't have a boyfriend and she is not in any relationship at the moment. She is currently focusing on making an impact as an actress; she also has plans of becoming a fashion designer in the future. Just for the records, she made the designs for her looks for the 2017 KCAs and RDMAs.
Relationship with Jace Norman
Getting along with someone might be misunderstood in so many ways, especially when it comes to co-stars in the entertainment industry. Riele and Jace Norman are notable co-stars of the famous reality television series Henry Danger and the duo has been recently caught up in a celebrity hoax. They are often spotted together hanging out but then, that led to rumors that they are dating.
However, when Riele and Norman were asked about this in an interview, the duo dismissed the claims, saying it was a mere speculation from their fans. Riele also revealed that she is not cut out for any relationship yet because she wouldn't have time for it. Norman, on the other hand, was once in a relationship with Splitting Adam co-star named Isabela Moner, they dated for a while and finally parted ways in November 2016.
More so, through the interview, the young stars were able to put off the rumors that were already making the rounds on the internet.
Check Out: Paige Wyatt Biography, Net worth, Age, Family, Quick Facts
Quick Facts about Riele Downs, Height
Birth name: Riele West Downs
Date of birth: July 8, 2001
Birth City: Toronto, Ontario, Canada
Birth sign: Cancer
Nationality: Canadian
Ethnicity: African-Canadian
Education: N/A
Profession: Actress
Height: 5 feet 3 inches
Relationship status: Single
Boyfriend/Husband: No
Best known for: Henry Danger
Mother: Elle Downs
Siblings: Reiya Downs