Kathryn Tappen is an American sportscaster who covers the National Hockey League for NBC Sports Group. She is known for covering the NHL Live and NHL Overtime. Additionally, Tappen also covers the Summer and Winter Olympics, as well as Notre Dame Football. Her incredible presentation of her knowledge of sports has garnered her quite a number of fan following.
Here is a detailed look at Kathryn Tappen's career and personal life.
Kathryn Tappen Bio, Net Worth
Kathryn Tappen was born on April 9, 1981, in Morristown, New Jersey to Sheila M. Tappen and Richard G. Tappen of Morristown, N.J. In high school, Tappen was an active athlete participating in basketball, softball and running the track. Of the three, she excelled more in track. Also a whiz in the classroom, Tappen earned an academic and athletic scholarship to attend the Rutgers University Scarlett Knight where she continued as an athlete becoming a member of the track and field team and cross country team.
As a Scarlet Knight, Tappen was a Big East Academic All-Star and the former record holder in the women's 3000-meter steeplechase.
Upon graduating from Rutgers University Scarlett Knight, Tappen began her journalism career in 2003, starting at College Sports Television (CSTV). Next up, Tappen joined NBC affiliate WJAR in Providence, Rhode Island where she served as a weekend anchor and weekday sports reporter.
Read Also: Heidi Watney Boyfriend, Married, Husband, Height, Wiki, Bio
In 2006, Tappen joined the New England Sports Network (NESN) where she worked as the lead studio host for Boston Bruins games. That same year, she was honored with an Associated Press award for her sports feature "Swim Meet." Tappen's sports feature has also received two nominations by the National Academy of Television Arts and Sciences for Boston/New England Emmy Awards.
In 2011, Tappen moved on to the NHL Network where she hosted the network's nightly highlight show, NHL Tonight.
Three years later, in 2014 Tappen joined NBC. In addition to her other NBC roles mentioned above, Tapen covered the Super Bowl XLIX, the most-watched program in U.S. television history, for NBC Sports.
In 2014, Tappen was by the Boston, Mass. chapter of WISE honored with the "Woman of Inspiration" award for her values of leadership and mentorship in paving the way for women in the sports industry.
With over a decade plus of sports reporting, Tappen has made quite a name for herself, earning a good salary in the process. While the exact figures of her salary have never been made public, sportscasters of her calibre are estimated to be worth between $500,000 and over $1 million.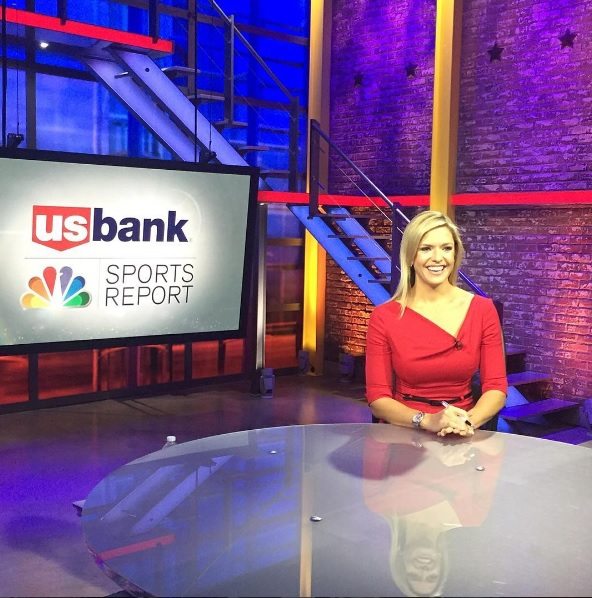 When Tappen isn't reporting, she spends her time getting involved in the MARSOC Foundation. The foundation provides benevolent support to active duty and medically retired U.S. Marine Corp. personnel and their families who lost their lives in service to the service of America.
Tappen became aware of the foundation following the death of her cousin Marine Captain Stanford H. Shaw, III who died in a helicopter crash in 2015.
Read Also: Danielle Trotta Bio, Married, Wedding, Husband, Salary, Net Worth
Kathryn Tappen Married, Husband, Dating, Boyfriend
Tappen was married to NHL defenseman Jay Leach from 2009 to 2015. She met Leach in 2005 while she was covering the National Hockey League lockout. Leach was at the time playing for the Boston Bruins. Their wedding was held at New Castle Congregational Church in New Castle, N.H.
News of their divorce began swirling when Tappen was spotted on several occasion without her wedding ring.
Following a period of speculations, Tappen finally revealed that she and Leach had called it quits. She, however, did not state the reason for their separation.
Jay Leach had a decorative ice hockey career that spanned 12 years from 2001 to 2013. He played for the Boston Bruins, Tampa Bay Lightning, New Jersey Devils, Montreal Canadiens and San Jose Sharks.
Shortly after his 2013 retirement, Leach began his coaching career an assistant coach with Adler Mannheim of the Deutsche Eishockey Liga. He became the assistant coach of Wilkes-Barre/Scranton Penguins, affiliate NHL's Pittsburgh Penguins. He left the Penguins after one season and joined the Providence Bruins as an assistant coach in August 2016. Leach was later promoted to the head coach in July 2017.
The former couple is obviously doing well without each other. As of 2017, it is unclear to the public if Tappen has begun dating someone else.
Catch up with Tappen on Twitter, Instagram, and Facebook.
Kathryn Tappen Height: 5 feet 10 inches