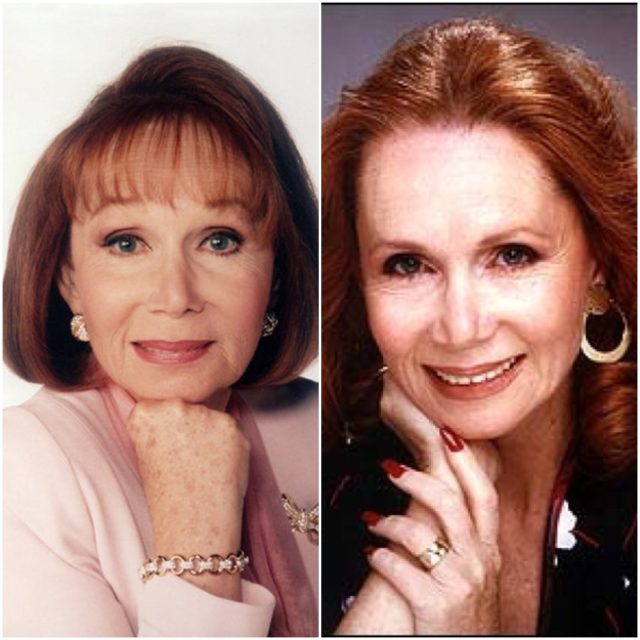 From stage performing before an audience to acting in front of cameras, Katherine Helmond has made a mark in the industry. She's well known for her role as Jessica Tates in Soap and Mona Robinson on the sitcom Who's the Boss? Her other roles as Emily Dickinson in Meeting of Minds, Lois Whelan on Everybody Loves Raymond readily comes to mind.
She started as a stage actress and made her debut in As You Like It. After working on stage successfully for many years, she began working in front of cameras and made her television debut in the 1960s. Her big break, however, came in 1971 when she made her big screen debut with the romantic drama, Believe in Me.
Katherine has appeared in more than 20 films which include Family Plot, Brazil and The Legend of Lizzie Borden and has lent her voice to quite a number of characters. She was nominated for a Tony Award in 1973 followed by four consecutive Emmy nominations from 1978-1981.
Katherine Helmond Bio
Katherine was born on July 5, 1929, to Joseph Patrick Helmond and Thelma Louise who got divorced a few years after her birth. She was raised by her mother and grandmother in Galveston, Texas. Her family members were ardent Catholics and she attended a Catholic school as a child where she appeared in numerous school plays and pageants. For her high school, she graduated in 1947 from Ball High School in Galveston, Texas.
She attended Bob Jones University in Greenville, South Carolina in 1955 but did not graduate. She later went to Texas University, graduated in Theatre and moved to New York to become part of the theatre scenes. Katherine had also taught acting in university theatre programs.
See Also: Debbie Reynolds Biography- Death, Daughter, Son, Wiki, Husband, Kids
Wanting to sharpen her acting skills and learn more, she joined a local theatre while in high school and did odd jobs with little pay. She knew she was going to have a career in acting and considered those days as the formative days of her career. Being very talented, she learned the dynamics of professional acting by observing other actors and directors.
Although she was raised in a Catholic family, she turned to Buddhism in later years and practices the Zen way of life which she claims helped her to deal with the stress of acting.
Katherine Helmond Family, Husband
Her father, Joseph Patrick Helmond was born on 11 March 1904 in Galveston, Texas. He was a labourer and worked with the Galveston Fire Department from where he retired after thirty years of service. He had five siblings and three uncles who lived with his parents. Katherine's mother, Thelma Louise Patrick Walker was born on 13 May 1910 in Paducah, Kentucky and was only seventeen when she got married. She became a housewife and gave birth to Katherine at 19. The couple, however, had another child who did not survive infancy, making Katie the only child.
Following their divorce, Thelma remarried and had two more daughters. She lived with her mother, Katherine's grandmother, Mrs Maude Walker who was a great influence on her granddaughter's life. Katherine had described her as "a great big red-headed woman, a strapping Texas lady with freckles and a wonderful, flat-footed, straight-forward manner." She lived to see her granddaughter star in Soap and died on on 29 December 1981.
Patrick died at 79 in Texas on 31 January 1983 while Thelma died at 71 on 10 October 1981 in Galveston.
See Also: Florence Henderson Bio, Children, Affair, Cause Of Death, Net Worth, Wiki
Katherine was married to her first husband George Martin from 1957 to 1962. He was an American actor best known as the hotel receptionist in Leon: The Professional. After she separated from George, she got married to an artist/sculptor, David Christian in 1962 and they have been together since then. They have no children, having decided to concentrate on their own lives. The duo practice Zen Buddhism, T'ai Chi Ch'uan (a meditation-in-motion technique) and vegetarianism. They live in Los Angeles.
Body Measurements, Is Katherine Helmond Dead?
Many reasons may exist why people take to the internet to post death news of celebrities some of which is wanting to know how popular a star is or how accepted and loved such personality have become. No matter what the reason may be, it does not justify the frenzy and shock such news throw people into.
On January 24, 2018, Katherine joined the list of celebrities killed by a death hoax following an account from a post that she was demised.
The 5'2″ tall seasoned actress who has graced our screens for more than five decades and have her name etched in the mind of numerous fans is alive and well.  She has a slim body build and weighs 55kg (121 pounds).