Have you ever taking a sting from the executioner wasp or a tarantula hawk wasp (ouch!)? It's true what they say that it is not every day you see one who is brave enough to do the things that scare the life out of many others – but when you do, it's only natural that you want to glean every detail there is about that person – and Coyote Peterson is one of such persons. He captures those painful moments (from the bites/stings) and gives his viewers a vicarious experience on his YouTube channel.
He is someone you will probably know best from his wildlife adventures on YouTube. Most of his life is on camera but how much do you really know about the star? This article will enlighten you on a whole lot of things about the YouTube wilderness sensation. So, read on to get all the information you need.
Who Is Coyote Peterson?
Peterson is an American adventurer and YouTube personality. You can't exactly call him a biologist considering that he did not take up a course in that, in college. A wildlife educator or an animal expert is closer to what we think he really is, even though he did not have any formal education in science or even certified animal training.
Coyote Peterson was born on September 1, 1981, in Newbury, Ohio, but Coyote, as cute as it sounds, is not his real name. He was actually born Nathaniel Peterson. However, the reason for the name change may not be far fetched. Coyote, an animal that belongs to the same family as the wolf, speaks more about his proclivities and seems to be the best way he could go. And, we can't agree any less.
A little dig into the origin of the well-fitting name reveals that his mother gave it to him when he wouldn't stop chasing roadrunners like the coyote from the cartoons while the roadrunners were hunting for horned lizards.
The world is a natural learning environment and kids, growing up, like sponges, soak in the things that easily excite them. For some, especially boys, it is video games, while for others, toys and music trumps. However, in the case of Nathaniel Peterson, his interest was more of a rarity than a cliche. As a boy in rural Ohio, he developed an interest and passion for animals and adventure.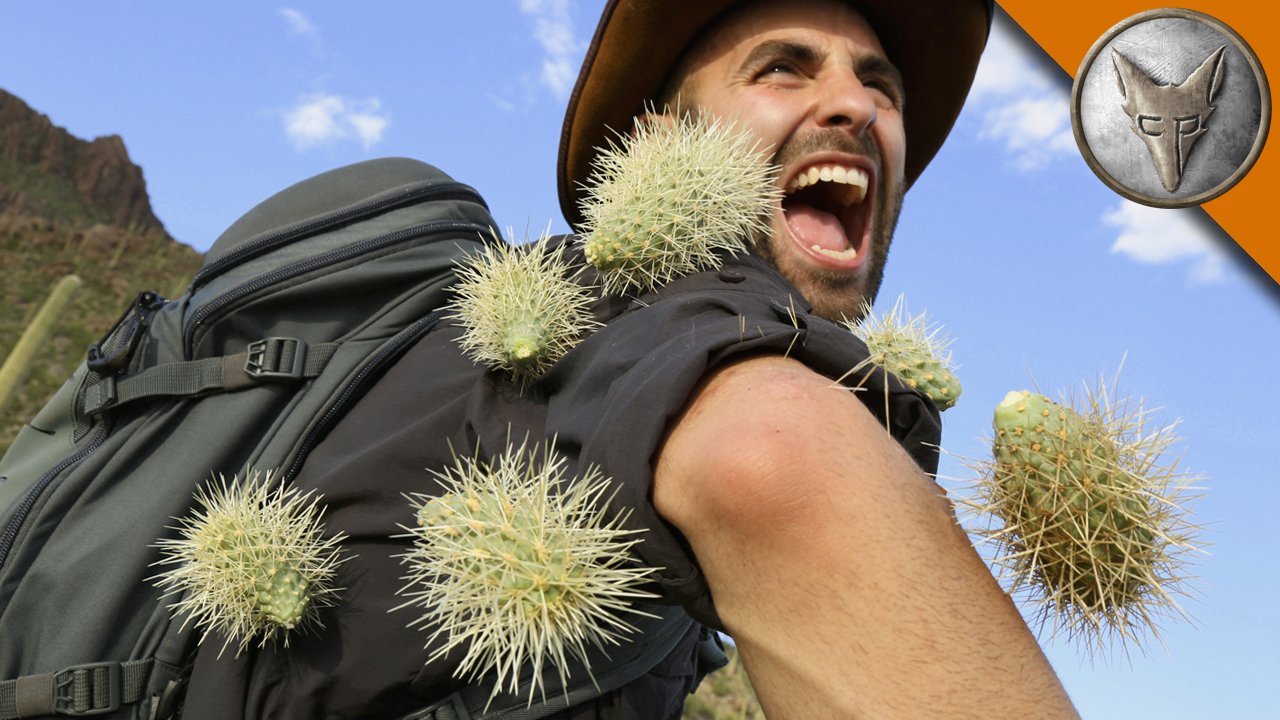 He loved exploring outside and catch a lot of different animals like alligators, frogs, and rattlesnakes in the pond in his backyard. He caught his first animal, a toad, at the age of 4. His love for the outdoors led him to Ohio State University upon his graduation from Notre Dame-Cathedral Latin High School. His aspirations for storytelling prompted him to study film, graduating in 2004.
Coyote Peterson's love for creatures and video production came to a melting point in 2009 when he encountered a snapping turtle, with his daughter, eventually leading to a YouTube channel titled Brave Wilderness. Added to being an avid explorer and animal enthusiast, he is also a producer and author. He has written four books including The King of Sting.
Coyote Peterson's Journey To Stardom: How He Built His YouTube Empire
Coyote Peterson is one open person when it comes to his career, after all, it is all about showing people how in touch with animals he is. From a childhood fascinated by animals, Peterson has made a career out of uncertainty.
On camera, he handles the world's wildest animals, everything from stinging insects to giant lizards to bear cubs. His point of going the extra mile is to educate. Of course, when you do something so well, you would love to share the experience with others. Hence, the animal whisperer would join the video-sharing community in 2014 to expand his reach.
After honing his natural skills for storytelling while studying film in college, he teamed up with business partner Mark Vins to design the Brave Wilderness brand. The duo started the wildlife adventure channel, Brave Wilderness on September 8, 2014. Through the brand, he has produced several series such as Breaking Trail, Beyond the Tide, Dragon Tails, Coyote's Backyard, Beyond the Tide, and On Location. Breaking Trail won the 2015 Emmy award for youth/teen programs, launching Coyote Peterson to fame.
Brave Wilderness has become one of the most-watched wildlife shows out there and has earned a millions-strong following. The channel has received two Guinness World records: Most Subscribed YouTube Channel Dedicated to Animals and Most Viewed YouTube Channel Dedicated to Animals. His unmistakable enthusiasm for the creatures he's presenting to his audience has brought him to the latest peak in his career: a TV program on Animal Planet titled Coyote Peterson Braves the Wild, one that holds the capacity to turn him to a global star.
Through his expeditions and encounters with some of the world's most dangerous, cuddly, and misunderstood animals, Coyote Peterson has gained international fame. Moreover, with two Guinness World records, more than 3 billion views, and 15.5 million subscribers, Brave Wilderness has become a one-stop connection to a wild world of adventure and amazing up-close animal encounters.
Have You Ever Wondered If Brave Wilderness Is Fake?
You are not alone. After all, what man in the right frame of mind would allow himself to be stung or bitten by animals and insects. Coyote Peterson does exactly that on his wildlife adventure show, Brave Wilderness. While we may view him as crazy and dining with death, the YouTube star sees it as edutainment – educating his audience while entertaining them.
Peterson travels around the world trying to get animals and insects to sting and bite him (weird) – and give viewers a vicarious experience. Given his wild adventures, some people actually consider him to be better than the late crocodile hunter, Steve Irwin, despite the fact that he just hasn't been famous long enough for people to see him as such.
He has featured exciting animals on the show from stingrays and snapping turtle to grizzly bears, crocodiles, tarantulas, rattlesnakes, and executioner wasp. More bizarre is the fact that Preston actually allowed himself to get stung by the wasp, in Costa Rica. Now, that is downright crazy, right? According to him, the pain he felt from the wasp sting was the most intense he has felt so far in his career. He had been stung by other insects like bullet ant and Japanese giant hornet but the wasp remains his most painful.
Moreover, he has kissed moose, played with an ocelot, chased crocodiles, and hung out with stingrays, alongside his crew – Brave Wilderness co-founder and director Mark Vins and wildlife biologist, Mario Aldecoa. Nevertheless, it is his stinging and biting stunts that have led to questioning the credibility of the show.
The self-acclaimed extreme field zoologist has admitted that there is no real training one can ever go through when it comes to interacting with wildlife, but a matter of trial and error. To get closer and safely interact with the animals, the animal expert said is has to deal with practicing and honing the skills he has garnered over the years. While some people put him down because of all these stunts, his main intent is to offer an exciting opportunity to his audiences whom he calls the 'Coyote Pack,' to learn something new.
Whether scripted or not, Coyote Peterson through his adventures offers both education and entertainment. He brings his fans closer to the most beloved, bizarre, and misunderstood creatures known to man. The greatest reward for him and his crew, he says, is when they discover, through the comment section, how their series inspires people, especially children to love the world of animals.
In light of this, you do have to admit that his show is actually well planned, well informed and very entertaining. His fans believe that if he can survive all these dangers around him, he'll become the most famous nature show host of all times.
How Much Money Does He Make?
Coyote Peterson has been hugely successful in his career. His show Brave Wilderness is one of the most-watched wildlife shows at the moment which is no easy feat at all. If figures do not lie, his over 15 million subscribers and more than 3 billion views is a great testament to the fortune he has garnered in the course of his career.
Besides his YouTube earnings, he also gleans from his online shop attached to his website and his books. It is clear that he is earning top dollars. His net worth has been estimated by various sources to be $2 million.
With All The Risks, Does He Even Have A Family?
Oh, yeah! He does. It is no secret that Coyote Peterson is a married man. He is completely off the market but unlike the other aspects of his life, he keeps his family and personal life under the radar. There is not much information out there about his wife, but we know for a fact that he is married. Not only is he a married man, but he also has one daughter who is known as Pup (as in the young of a coyote; not real name though) Peterson. She was born in 2008.
Pup was there at the very beginning of her father's YouTube adventure. She was one when Coyote discovered the snapping turtle that inspired his on-camera career. Since then, she has gone on adventures with her father and has caught a number of her own animals. As per online sources, there are several videos on Coyote Peterson's YouTube channel where his daughter can be seen helping him host the show.
The father-daughter duo is an incredible pair. When Coyote is not on one of his trips, they go hiking around the pond in their local area, looking for frogs and turtles. However, when he is on the go, he makes sure to let her know he loves her by calling and texting her daily. Coyote Peterson is an amazing family man.
Pup Peterson is young and fearless just like her adventurer father and has been studying different insects and reptiles under his supervision. She is truly a testament to the saying that the apple does not fall far from the tree. We can only hope that she continues to follow her dreams as her father has done, or settle for some other career.