Venus Williams is a well-celebrated athlete known for her triumph in the field of women's tennis. The name Williams has become prominent because of the dedication, remarkable performance and excellent records that have been set by the two sisters Venus Williams and Serena Williams.
Venus has bagged numerous awards and titles including four Olympic Gold Medals and seven Grand Slam Titles. For the records, she was the first Black-American to have ranked No 1 by the Women's Tennis Association (WTA). The multi-talented tennis player though she didn't have a wonderful childhood experience, garnered fame at the early age of 14. Her excellent skills and a great performance which consistently improved has kept her standing high where she is today.
Guess you want to find out more about this iconic player…her story might change your life. Read everything you need to know about the Black-American genius below.
See Also: Pharrell Williams Height, Weight And Body Measurements
Biography (Early Life, Family)
The amazing athlete Venus Ebony Starr Williams was born in Lynwood, California in the United States on June 17, 1980. She has three sisters and they all grew up with their parents Richard Williams and Oracene Price in Lynwood before relocating to Compton.
While growing up, Venus and her siblings experienced lots of racial discrimination because of their skin color. They were loved and supported by their father who introduced them to the game of tennis after watching a female athlete play on the television. He knew vividly that his girls would make a huge impact in the game.
Following her father's interest in his children's career, Venus and her family later relocated to West Palm Beach in California, where Venus and her sister Serena were enrolled into the tennis academy of a man named Rick Macci. At the academy, Rick saw great potentials in the two sisters and opted for extra coaching so that they can enhance their skills.
However, at 11 years of age, Venus participated in the United States Tennis Association tour where she ranked No 1 among the under-12 players from Southern California. The sisters' encountered challenges when their father wanted them to take things slow and focus more on their studies rather than the game, but this, however, was not fruitful. Further, seeing the amount of racial discrimination encountered by his daughters at the academy, Richard withdrew Venus and her sister from the academy and started coaching them at home.
As a matter of fact, their father had no experience in the game of tennis but he was able to read books and watched videos in order to guide them on the court.
Venus Williams' Career and Rise to Fame
Venus Williams started her career at the age of 14, she's got great skills that made her stand out like a pro and she played her first official game at the bank of West Classic in California. As an upcoming athlete, she had a long-serving which could get to 100 miles per hour and that was the key skill she used to triumph over her opponent named Shaun Stafford in the first round.
However, during the second round of the game, she was up against the World No 2 named Arantxa Sanchez Vicario which she eventually lost. She also participated in a tournament in Los Angeles and another one in Toronto; she lost in the first round of the former and got to the second round of the latter.
In 2000, Venus was part of the U.S. Open and the Wimbledon tournament where she won in both competitions which earned her a $40 million contract with Reebok. She also defended her titles the next year. That was the turning point in her career, she started gaining popularity and she continued to improve as she got to the peak of her career.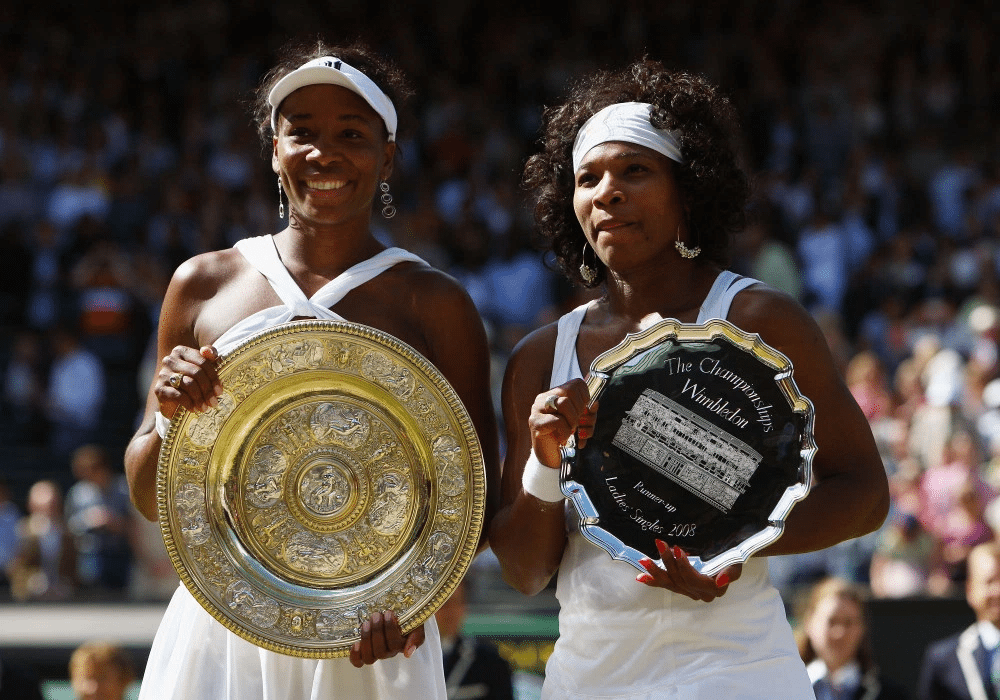 Since the beginning of her career, Venus Williams has featured in the Singles Grand Slam finals for 16 times, winning 7 and was a runner-up in the remaining 9. In the Doubles, the Williams sisters Venus and Serena have participated in 14 women doubles competition and won all the 14 titles. Williams also took part in 3 mixed doubles competition and won two out of the three.
Furthermore, the star athlete Venus Williams became the first woman to win an Olympic Gold medal both in singles and doubles competition with her sister since 1924. In addition, she is a 5-times winner of the Wimbledon title, a 2-time winner of the U.S. Open and a 4-times Olympic Gold Medalist.
Injuries and Health Challenges
The young athlete has had a successful career, she also encountered injuries and health challenges in the course of her career. In 2006, Venus was struck by injuries which made the season a very disappointing one for the world champion as she was placed at world's No 46 at the end of the season.
In 2011, during the U.S. Open, Venus withdrew from the game following a diagnosis of Sjogren's syndrome. You can read more about the diagnosis here. The illness is an auto-immune disorder that causes fatigue and joint pain which affected Venus. Her ill-health also contributed to her drop in her long success streak which abruptly came to an end. However, she fought hard and later bounced back into the game. Since then, she has continued to wax stronger in her career.
Venus Williams' Net Worth
The prolific tennis player has amassed huge wealth for herself over the years. She has recorded tremendous successes in her career which makes her the second highest paid tennis player in the world.
Currently, Venus Williams has an estimated net worth of $95 million, she earned her net worth from her career and she reportedly earned $38 million from endorsements with Ralph Lauren, Tide, Electronic Arts, Wilson etc. She also has her own fashion line called EleVen.
Father and Son
Venus's parents Richard Williams and Oracene Price separated in 2002 after many years of marriage. After their divorce, Williams got remarried to a 38-year-old lady named Lakeisha in 2010. The marriage, however, lasted for seven years before they separated due to series of issues that evolved in the marriage. The two had a son named Dylan born in 2012.
According to Dailymail, the issues that led to their divorce include an allegation that his young wife Lakeisha was an alcoholic who wanted to transfer his properties to her name with forged documents. After their divorce, William got custody of their son and they both live in the West Palm Beach.
Check Out: Shaquille O'Neal Wife, Girlfriend, Son And Kids
Is Venus Williams Married? Who is her Husband?
I know this question has been on the mind of many fans that follow news about Venus closely. Everyone has always wondered if she is married or not and who her husband is…well, sorry to shock you but the iconic player isn't married yet and doesn't have a husband yet though she is in a relationship with wealthy financier named Nicholas Hammond.
Previously, Venus has dated a Cuban model named Elio Pis whom she met when he modelled for EleVen Fashion line in 2012. She was also in a relationship with a golfer named Hank Kuehne, their relationship lasted for about three years and the duo broke up in 2010.
Apparently, Williams does not have any kids yet and we hope that her relationship with the millionaire Nicholas would materialize into something bigger in the near future.
Body Measurements: Height, Weight
The amazing American tennis player has maintained a wonderful body structure since her career, she is constantly keeping fit and that's the main secret to her success on the court. The proficient player has an athletic bodybuild and a perfect body measurement of 35-26-35 inches (89-66-89 cm). She stands at 6 feet 1 inch (185 cm) tall and she weighs 160 pounds (72.5 kg).