Funnyman Adam Sandler is by far one of the most successful Hollywood actors and comedians of all time. After getting discovered at a comedy club by comedian Dennis Miller, Sandler moved on to become a writer and then a cast member of the popular Saturday Night Live. Since then, Sandler has appeared in several feature movies that have grossed billions at the box office. Sandler has gone on to prove that, even with negative reviews and reception, his movies can generate millions. But even with all the hype around him and his deal with Netflix to make four movies, Adam Sandler lives a quiet life and away from the public eye as much as possible with his wife and kids.
Adam Sandler's Life At A Glance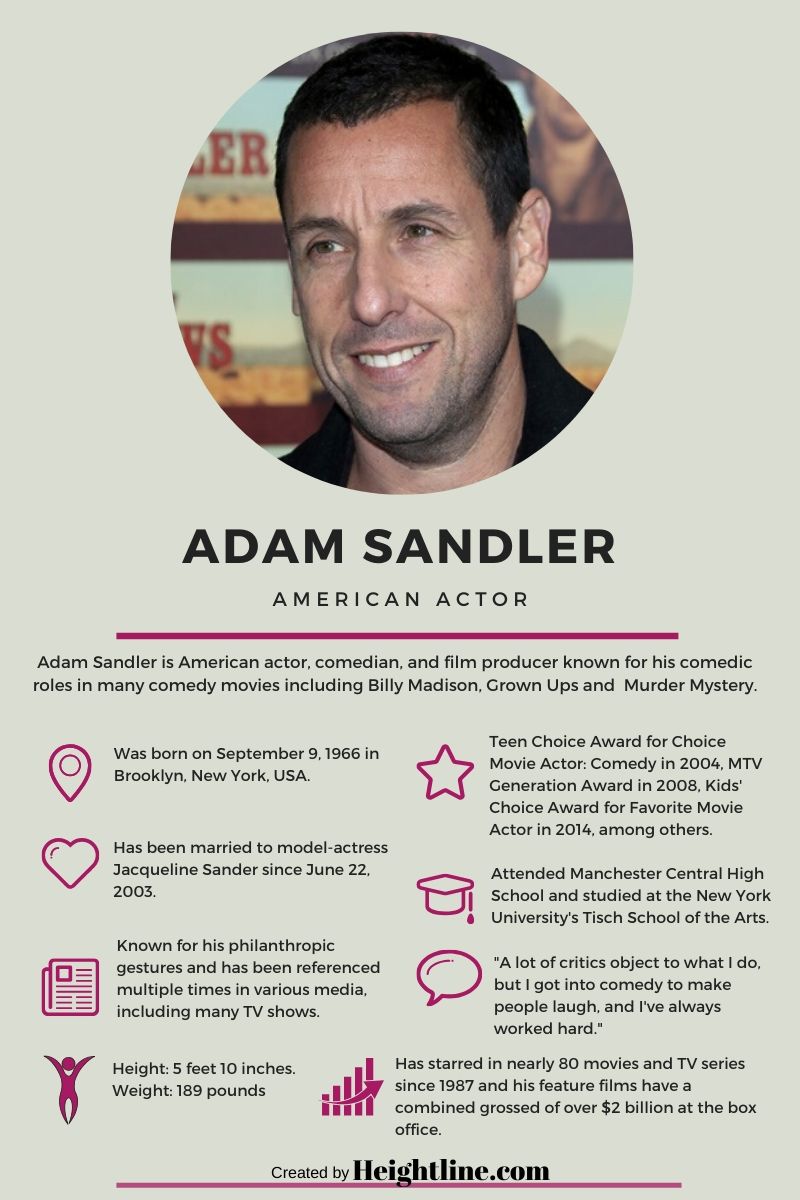 Here's What We Know About the Comedian's Family
Adam Sandler and his wife, Jackie go way back. Known as Jacqueline Samantha Sandler (née Titone), Jackie was born in 1974 in Coral Springs, Florida. Jackie began modeling in high school before moving to national and international modeling campaigns. She got her foray in the acting world when she was cast by Rob Schneider in his 1999 movie, Deuce Bigalow: Male Gigolo. With the success of the movie, Schneider introduced her to Adam Sandler. He gave her a part in the movies Big Daddy (1999) and Little Nicky (2000).
In 2001, Sandler and Titone began dating each other. After dating for 2 years, the duo got married on June 22, 2003. The wedding, an outdoor ceremony, was attended by friends and Sandler's pet bulldog in a custom tuxedo. Counting as each other's first marriages, Sandler was 36 and Titone was 28 when they exchanged vows. Together, the couple has two beautiful daughters. Their first, Sadie Madison Sandler, was born on May 6, 2006. Sunny Madeline Sandler, the couple's second child, was born on November 2, 2008. Sadie has movie credits to her name, lending her voice for Hotel Transylvania (2010) and appearing in Grown Ups (2010) and Blended (2014). Her sister, Sunny, has appeared in Grown Ups, Just Go With It (2011), and Blended (2014). Sandler once admitted in an interview that his kids don't enjoy his movies and usually get bored after a few minutes in.
How Did He Make His Money?
AARP. Thank you so much for the honor and the great night. Loved it. @ConanOBrien you were so damn funny. pic.twitter.com/VUJGhEePfg

— Adam Sandler (@AdamSandler) January 12, 2020
Adam Sandler has had a very successful career in the movie industry. Besides being an actor, he is also a comedian, screenwriter, voice actor, producer, and musician. Known mostly for his comedic roles, Sandler has diversified his reach by appearing in dramatic roles for the movies Punch-Drunk Love (2002), Spanglish (2004), Reign Over Me (2007), and Uncut Gems (2019). Despite low box office returns for most of the movies (except Uncut Gems, which made $48.6 million on a $20 million budget), Sandler was highly praised for his differing roles.
In 1999, Adam Sandler created his own film production company, Happy Madison Productions. He used the platform to produce friend Rob Schneider's movie Duece Bigalow: Male Gigolo, which inadvertently led to him meeting his lovely wife. Located in Culver City, California, the company has produced most of Sandler's movies. While the majority of them have been panned by critics, the movies have a knack for performing well at the box office.
— Adam Sandler (@AdamSandler) December 25, 2019
Adam Sandler is well known for appearing in the movies The Wedding Singer (1998), Big Daddy (1999), 50 First Dates (2004), The Longest Yard (2005), Grown Ups (2010), Just Go with It (2011), Grown Ups 2 (2013), and Murder Mystery (2019). He is also the voice of Dracula in the Hotel Transylvania movie franchise. Again, despite mixed reviews from critics, the movie franchise has been a huge commercial success, raking in over $1.3 billion in the box office against a combined budget of $245 million.
What Does Adam Sandler Spend His Millions On?
Adam Sandler has spent many diligent years working on his craft and building his production company. The combined worldwide box office returns of the movies he has appeared in and produced ring to the tune of over $2 billion! Time and time again, Sandler has proven to be a multi-faceted actor. So, it may not be so much of a surprise to learn that he is also a musician, with an RIAA certified gold single called The Chanukah Song. He has released six comedy albums, with his first and second albums certified platinum twice, and his third and fourth albums certified gold.
Adam Sandler has built a comedy empire for himself, and with the four-movie deal his company Happy Madison Productions signed with Netflix, the empire is posed to grow some more. It's all of this that has helped Sandler arrive at a net worth estimated at $420 million.
But how does he spend the money? Sandler has shared that he hardly spends on himself, joking that he doesn't like himself enough to do so. However, he doesn't waste time spending on his family any chance he gets. He once bought a house for his parents in Florida and wastes no time going on vacations and outings with his wife and kids.
Adam Sandler owns a Los Angeles home formerly belonging to Kurt Russell. Sandler bought the home for $12 million. He also owns a Malibu beach house, a Beverly Hills home, a home in Boca, and one in Miami. Sandler also made a $1 million donation in 2007 to the Boys & Girls Clubs of America and donated over $2,000 to former Republican Rudy Giuliani's presidential campaign.