Adam Sandler has been married to Jackie Sandler since 2003 and they have two daughters named Sadie Sandler and Sunny Sandler. 
Funnyman Adam Sandler is by far one of the most successful Hollywood actors and comedians of all time. After getting discovered at a comedy club by comedian Dennis Miller, Sandler moved on to become a writer and then a cast member of the popular Saturday Night Live.
Since then, Sandler has appeared in several feature movies that have grossed billions at the box office. The man has proved that even with negative reviews and reception, his movies can generate millions. But with all the buzz around him and his deal with Netflix to make four movies, Adam Sandler lives a quiet life and away from the public eye as much as possible with his wife and kids.
This has only left the many fans following his career curious about several things that pertain to the actor's private life. Apart from wondering how he met his wife, people have pried into Sandler's family life, hoping to uncover if he has a happy marriage, his relationship with his kids, what the children are up to, and what have you.
In all of this, Adam and his wife Jackie Sandler have relentlessly stayed devoted to keeping things private to some extent and maintaining some level of normalcy for their kids who have also been part of the entertainment industry for years.
Meet Adam Sandler's Daughters Named Sadie and Sunny Sandler
Adam Sandler and his wife dated for two years before they got married and were married for over two years before they welcomed their first child. Their union is now heading for two decades and they have two daughters to show for it named Sadie and Sunny Sandler.
Sadie Sandler is Adam Sandler's First Daughter
Full Name: Sadie Madison Titone-Sandler
Date of Birth: May 6, 2006
Age: 17 Years Old
Occupation: Actress
Adam and Jackie Sandler have two daughters together and their first is Sadie Madison Sandler who was born on the 6th of May 2006. Like her parents, Sadie has embraced acting and has been seen in multiple productions. The very year she was born, she was seen in the "20 Cutest Celebrity Babies" episode of "VHI: All Access". A year after that, she pulled off an uncredited role in "You Don't Mess with the Zohan" and was also seen in the fantasy comedy film, "Bedtime Stories", which her father produced and also starred in.
2010 came and Sadie played Tardio's daughter in "Grown Ups". The following year, she was seen in "Just Go with It" and "Jack and Jill". Sadie has been consistent in the industry since then: she had a role in 2012's "That's My Boy" and "Hotel Transylvania" before she reprised Sadie Tardio in "Grown Ups 2"; this was in 2013.
Sadie was the little league announcer in "Blended" (2014) and her projects released in 2015 included "Pixels" wherein she played Lemnadie Sadie; "Hotel Transylvania 2" which had her lend her voice to the Winnie character; and then the western action comedy film directed by Frank Coraci, "The Ridiculous 6"; she was on of the dancing kids in the movie.
From 2017 to date, Sadie Sandler has portrayed various characters in productions like "The Week Of" (2017), "Hotel Transylvania 3: Summer Vacation" (2018), "Murder Mystery" (2019); "Hubie Halloween" and "The Wrong Missy" which were both released in 2020.
Sunny Sandler is Adam Sandler's Second Daughter
Full Name: Sunny Madeline Sandler
Date of Birth: November 2, 2008
Age: 15 Years Old
Occupation: Actress
Sunny Madeline Sandler is the couple's second child and she was born on November 2, 2008. Like her older sister, Sunny has also embraced acting and has been seen in several productions beside her father. To the best of our knowledge, Sunny debuted as an actress when she played Tardio's Daughter in "Grown Ups", a 2010 comedy film that her father starred in and co-wrote with Fred Wolf.
Since then, no year hasn't seen her add one or two projects to her resume. Alongside her sister, she was seen in 2011's "Just Go With It" and "Jack and Jill". In 2014, she would feature as Wall Street stepdaughter in "Blended" but before that, she was Sunny Tardio in "Grown Ups 2" (2013), was seen in 2012's "That's My Boy", and also voiced a character in "Hotel Transylvania" (2012).
Sunny pulled off roles in "PIxels", "Hotel Transylvania 2", and "The Ridiculous 6", all in 2015. The following year, she portrayed Daisy in "The Do-Over" and then Lola in 2017's "Sandy Wexler". What followed was a voice role in "Hotel Transylvania 3: Summer Vacation" (2018) and then her role as Brittany in "Murder Mystery" (2019). In 2020, Sunny Sandler played Lobby Strong Sunny in "The Wrong Missy", Cooky in "Hubie Halloween", and made an appearance in the comedy, music, and talk-show, "Conan".
Adam and Jackie Sandler are Liberal But Protective Parents
Adam and his wife have influenced their kids a great deal in terms of career. While they are still young, they have already popularized their names in the entertainment industry and it is hard to imagine they would abandon the path.
Even though Adam and Jackie Sandler have been very liberal with their kids, allowing them to explore and familiarize themselves with Hollywood, they are also strict when they need to be. For instance, he once shared that he doesn't want his kids to grow up thinking they can do whatever they want. Adding that his wealth has made it somewhat hard to raise them the way he was raised, the actor disclosed that he deliberately refuses them some pleasures.
Also, Adam and his wife have closely monitored all of their kid's activities in Hollywood. In fact, it is hard to think of anything the girls have done in the industry that does not involve one of their parents. Even when the girls performed Taylor Swift's song, "Lover", at Malibu's Rock4EB!'s charity event in October 2019, Adam was right on the stage with them.
There are many, many highlights I recorded from tonight's #Rock4EB but this one is pretty special. @AdamSandler handling guitar duties while his daughters Sunny & Sadie sing @taylorswift13 "Lover" in front of Julia Roberts, Sean Penn, etc. They're major Swifties, and so good too pic.twitter.com/Z589j4tDBJ

— Chris Gardner (@chrissgardner) October 7, 2019
Meet Adam Sandler's Wife, Jackie Sandler
Birth Name: Jacqueline Samantha Titone
Date of Birth: September 24, 1974
Age: 49 Years Old
Occupation: Actress and Model
Adam Sandler and his wife, Jackie go way back. Known as Jacqueline Samantha Sandler (née Titone), Jackie was born in 1974 in Coral Springs, Florida. Jackie began modeling in high school before moving to national and international modeling campaigns. She got her foray into the acting world when she was cast by Rob Schneider in his 1999 movie, Deuce Bigalow: Male Gigolo.
Jackie has remained active in the industry since then and has been seen in several small and big-screen projects over the decades. Her most recent works include the role of Tracy Phillips in "Hubie Halloween" (2020) and Jess in "The Wrong Missy" (2020). Just like her kids, Jackie has been seen in several productions of her husband. There is no doubt she has had a successful career but it doesn't measure up when compared to her husband who has starred in various productions that performed well at the Box Office.
While Adam has appeared in no fewer than 60 films and 15 television series thus far, Jackie Sandler has only about 37 credits as an actress.
Has Adam Sandler and Jackie Sandler Featured Together In Any Movie?
Yes, Adam and Jackie Sandler have featured in multiple movies. Nonetheless, it is hard to find one where they both portrayed main characters: the norm has been for Adam to be a major cast while Jackie appears in one or two scenes.
Some of the popular works the couple have both been a part of include "The Do-Over" (2016), "Sandy Wexler" (2017), "The Week Of" (2018), "Murder Mystery" (2019), and "Hubie Halloween" (2020). The latter has Adam, Kevin James, Julie Bowen, Ray Liotta, Rob Schneider, June Squibb, and more as part of its ensemble cast; Jackie played a minor named Tracy Phillips.
Adam and Jackie Sandler Met On The Set of Big Daddy In The Late 90s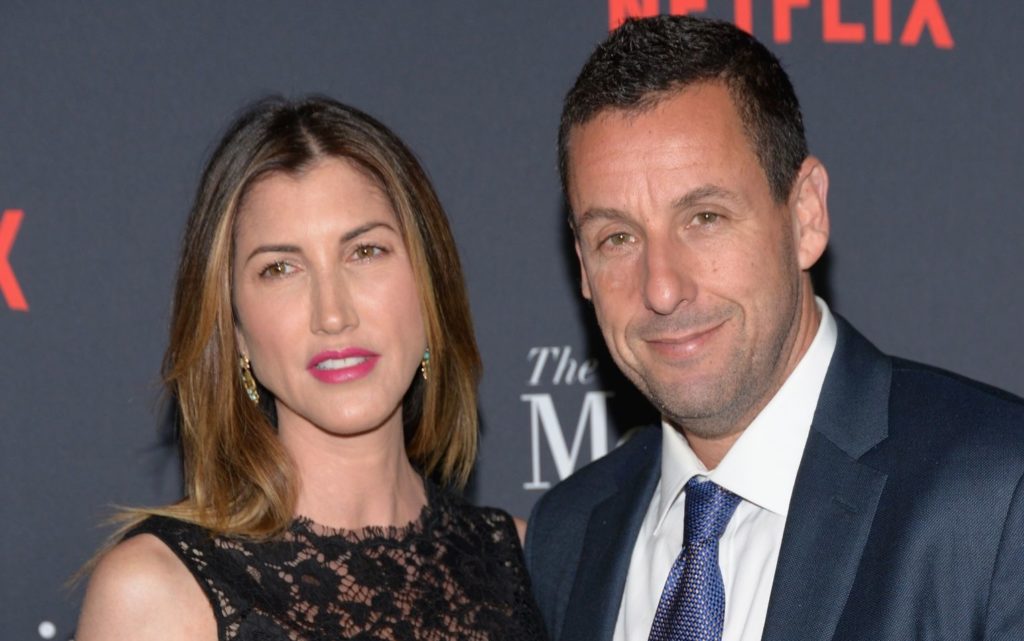 After Jackie played Sally in Deuce Bigalow: Male Gigolo, a 1999 sex comedy film written by Harris Goldberg and Rob Schneider, she was hired to play a waitress in Big Daddy, another 1999 comedy film. The film directed by Dennis Dugan was written by Steve Franks alongside Tim Herlihy and Adam Sandler.
As the story goes, Adam's friend Rob Schneider introduced him to Jackie after he had worked with her on Deuce Bigalow. Adam would then assign roles to Jackie in Big Daddy and "Little Nicky" (2000). Reports have it that the two started dating the same year they meet and things happened quite quickly for them.
Barely a year after they met (in 2000), Jackie embraced Adam's faith. For many, her conversion to Judaism was the first hint at how serious their relationship was. A few years later, they were set to take the relationship to the next level.
Jackie Sandler Became Adam Sandler's Wife A Year After Their Engagement
It was sometime in 2002 that the couple got engaged. Adam fondly recalled the day he proposed to Jackie, relating that he played basketball that afternoon to stay calm and rehearsed what he would say while driving because he wanted Jackie to remember the things he said in years to come. According to him, Jackie called her grandmother and mother immediately after she accepted his proposal and they were all happy for them.
Adam and Jackie Sandler wasted no time in getting married after they got engaged. The duo got married on June 22, 2003. The wedding was an outdoor ceremony that was held at Dick Clark's oceanfront Malibu estate. It was a lavish event witnessed by 400 guests, including dozens of popular figures like Rob Schneider, Sharon Osbourne, Dustin Hoffman, Jennifer Aniston, Rodney Dangerfield, and many more.
Sandler's pet bulldog dressed in a custom tuxedo was also a sight to behold. Counting as each other's first marriages, Sandler was 36 while Titone was 28 when they exchanged vows.
Spending Time Together and Being Honest Is The Secret of Their Marital Bliss
Adam and Jackie Sandler have been married for almost two decades and there has never been any report of crisis in their marriage. As they are members of an industry known for a high rate of divorce and failed relationships, people have had to wonder what's the secret of the couple's successful union. Well, many things make a happy marriage but Adam Sandler has pinned it down to honesty and spending time with each other.
According to the actor, he and his wife create the time to hang out together no matter how busy their schedules are. Also, the actor ensures he's at home with his family early and avoids going out once it's 9:30 PM. He also pointed out that it is important, to be honest at all times. For him, ensuring that members of his family are alright at all times is the most important thing.
Jackie Encourages Adam Sandler's Onscreen Romance
Adam Sandler thinks highly of his wife as much as she has been very supportive of his career. It might have been imagined in some quarters that Jackie is frustrated with the fact that her husband has had to play romantic roles with other women, especially Jennifer Aniston. Adam and Aniston have been seen in several romantic comedies like "Chabad: To Life Telethon" (2008), "Just Go with It" (2011), and "Murder Mystery" (2019).
While Adam and Jennifer have worked together several times, their friendship dates back to when they were teenagers. The two reportedly met through a friend of Adam whom Jennifer was dating. Many years later, they were both superstars and Aniston was thrilled when she and Adam got to work on Just Go with It.
Given the caliber of star Jennifer is, it is not hard to see why people suspect that her relationship with Adam is a nightmare for his wife Jackie. This is not so as Jackie is not in any way insecure, in fact, she pushes her husband to make his romantic scenes as real as possible.
Based on what the actor shared, Jackie has been very supportive all the way. Adam said he always get tensed and feels awkward when he has to do a romantic scene but Jackie encourages him to get it done. Apparently, Jackie likes the women he works with and nudges her husband to kiss them good in the movies.
The actor also known for his collaborations with Drew Barrymore once joked that the best thing about working with Drew is making out with her. But then, he clarified that he and the actress are like siblings. Adam added that his wife loves Drew so much that she encourages him to make out with her: "there's no jealousy at all", he said, explaining that she yells at him from behind the camera when she thinks he's not being romantic enough.
Adam Sandler's Life At A Glance