Nancy Putkoski was the first wife of Anthony Bourdain, an American celebrity chef, author, and travel documentarian who passed away in 2018. Nancy Putkoski and Anthony Bourdain wedded in 1985 and were married for about twenty years before they called it quits in 2005.
Since ending things with Bourdain, the 68 year old who was born on 8 April 1955 at Fort Lee in New Jersey, USA has chosen to live off the radar. Regardless, we've uncovered a few things about her.
Profile Summary of Nancy Putkoski
Full Name: Nancy Putkoski
Date of Birth: April 8, 1955
Nancy Putkoski's Age: 68 year old
Place of Birth: Fort Lee, New Jersey, United States
Nationality: American
Education: Dwight-Englewood School, Vassar College
Nancy Putkoski's Ex-Husband: Anthony Bourdain
How Old Is Nancy Putkoski?
Nancy Putkoski is 68 years old and was born on April 8, 1955, in Fort Lee, New Jersey. This means she is an American by nationality and has identified as Caucasian.
Being someone who doesn't fancy publicity, Nancy has not revealed anything about her early life. Nothing can be said about the kind of family she was raised in or if she grew up with siblings. Even after fame found her, she didn't deem it fit to share her past with the public. We however know that she was a naughty teen back in high school, according to her late ex-husband's description of her.
Putkoski and Anthony Bourdain Met in High School
The former lovebirds attended Dwight-Englewood School together in the 1970s. Nancy was a year ahead of Bourdain and a year older in age too. Bourdain described her as a "bad girl" back in the days and that she belonged to a "druggy crowd". She was always getting into trouble and rebelled often by skipping class.
Despite her rebellious lifestyle, Anthony Bourdain couldn't resist her beauty and things changed for her when they started dating. While Nancy graduated from high school in 1974, Bourdain decided to graduate early to enable him to join her in college.
Subsequently, the two moved to New York to study at Vassar College in 1974 and Nancy graduated in 1978. However, Bourdain couldn't complete his studies at the liberal art institution as he decided to pursue his passion for food instead. To actualize this dream, he enrolled in the Culinary Institute of America which is just 15 minutes from where Nancy was schooling at the time. This ensured they kept in touch and continued with their relationship which later led to marriage.
She Was Anthony Bourdain's Wife From 1985 to 2005
Nancy Putkoski married the popular American chef and television personality Anthony Bourdain in 1985. The duo dated for several years right from high school and finally tied the knot in an undisclosed event. At the time of going into matrimony, Bourdain was not popular, at least not on a large scale, but this later changed when his work started getting attention.
After their wedding, their love blossomed for about twenty years before things started going awry. Anthony often stayed away from home for a very long time and this made it difficult to create enough time to share with his wife. This continued for several years and affected his marriage with Nancy.
Fame and Busy Schedule Caused Their Divorce
As they would always say that 'it takes a second to say I love you but a lifetime to show it' – that is also applicable to marriage. Keeping a marriage is undoubtedly dependent on the bond being shared between a husband and his wife. For Nancy and Anthony, they were so much in love with each other and Bourdain often referred to her as the love of his life.
The couple enjoyed the best part of their marriage, as well as fought very hard to keep it going but after twenty years as a married couple, Anthony's constant traveling became the main problem that led to their divorce.
In 2004, they announced their separation and finalized their divorce the following year without sharing their reason. The couple didn't have any kids from the marriage and never had an issue with fighting for any child custody. There were speculations that the absence of kids in the home caused their divorce but Bourdain was quick to rubbish this claim, admitting that his busy schedule created a rift between them. He was too busy traveling around the world to build his career while his marriage bore the brunt.
Life After Divorce – Where's Nancy Putkoski Now?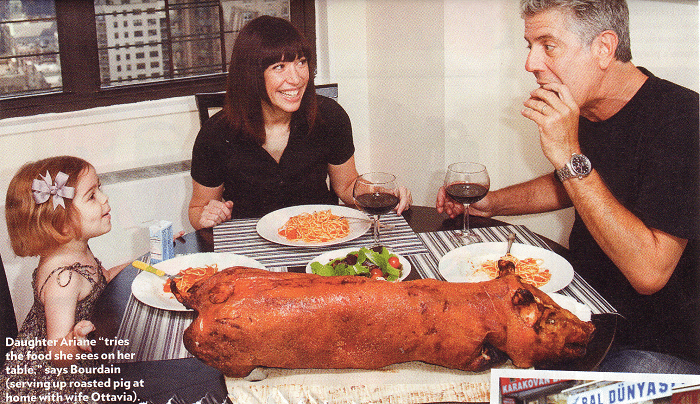 After the divorce, Nancy Putkoski moved on with her life and there was no more information heard about her or her subsequent ventures. She practically went off the radar and for someone who never liked publicity, this didn't come as a surprise. To date, she can't be found on any social media platform and her career path is not known.
For her ex-husband Bourdain, the famous TV personality got married again after two years of divorcing Nancy. He married Ottavia Busia who is a mixed martial artist, their wedding took place on April 20, 2007, and they welcomed their daughter named Ariane the same year. However, Busia faced the same fate as Nancy Putkoski; having to deal with the issue of her husband staying away from home for about 250 days every year, no thanks to his television shows. After nine years of a successful marriage, the couple divorced in 2016 but remained good friends.
More so, while Nancy Putkoski went dim from the media, her ex-husband, Anthony, continued to dominate the media and his love life boomed. He reportedly started dating an Italian actress named Asia Argento whom he met on the set of his television show titled Parts Unknown in Italy. Asia is the daughter of the famous Italian filmmaker named Dario Argento. She was his last known partner until his death.
Nancy Putkoski's Ex-husband Committed Suicide in 2018
Anthony was my best friend. An exceptional human being, so inspiring & generous. One of the great storytellers who connected w so many. I pray he is at peace from the bottom of my heart. My love & prayers are also w his family, friends and loved ones. pic.twitter.com/LbIeZK14ia

— Eric Ripert (@ericripert) June 8, 2018
When he didn't show up for dinner and breakfast the next day, Anthony Bourdain's close friend and collaborator Eric Ripert went in search of him. They were working on the Parts Unkown TV show in Strasbourg in June 2018 and it seemed strange that the award-winning chef had not shown up for hours.
Upon checking Bourdain's room at Le Chambard Hotel in Kaysersberg, France, Ripert discovered him dead, an apparent suicide by hanging. There was no sign of violence detected at the scene or on his body and he was not under the influence of any hard drug that may have influenced his decision to end his life.
However, there were speculations that the late chef was frustrated because of his divorce from Nancy. Though his second wife gave him more reasons to carry on, that marriage also ended in a divorce. In all, there's no confirmation on the reason he committed suicide as he didn't leave a note or hint. He was 61 at the time of his death, a few days before his 62nd birthday.