Jamie Linden is Rachel McAdams' partner. The couple have been together since 2016; they became parents for the first time in April 2018 when they welcomed their son.
In addition, Jamie Linden is an American screenwriter best known for We Are Marshall (2006), Dear John (2010), and 10 Years (2011). 
While Jamie Linden isn't someone you are expected to know, especially if you have no business in the movie industry, you should be able to tell a thing or two about his spouse Rachel McAdams if you are a moviegoer. The Canadian actress has been a part of the industry since 2001 when she played Hannah Grant in the "Food for Thought" episode of the Disney Channel coming-of-age series, The Famous Jett Jackson. Thereafter, she has been seen in other notable TV shows like Slings & Arrows and True Detective but has pulled off more big-screen roles.
Spotlight, Game Night, The Family Stone, Red Eye, Sherlock Holmes, Mean Girls, The Notebook, and Midnight in Paris are only some of her popular movie roles. Spotlight earned her an Academy Award nomination for Best Supporting Actress amongst other coveted awards she has received. The fame she gained from her acting career has rubbed off on other aspects of her life. It was never a secret that she dated Welsh actor Michael Sheen from 2010 to 2013 just as it is known to all that Jamie Linden is the special man in her life.
Profile Summary of Jamie Linden
Full Name: Jamie Linden
Nationality: American
Place of Birth: Winter Park, Florida
Date of Birth: September 3, 1980
Age: 43 Years Old
High School: Lake Howell High School
College: Florida State University
Occupation: Screenwriter and Producer
Spouse: Rachel McAdams
No. of Children: 1
Net Worth: $3 Million
Rachel McAdams' Husband Is Almost Two Years Younger Than The Actress and Was Raised In Winter Park, Florida
Jamie Linden is 43 years old as he was born on the 3rd of September 1980. As you would easily find, his spouse Rachel McAdams was born on the 17th of November 1978. This means that Jamie is nearly two years younger than his famous spouse.
Unlike McAdams who is known to be the oldest of three children born to a nurse and a truck driver respectively named Sandra Gale and Lance McAdams, a lot of background information is yet to be learned about Jamie. We can only confirm that he was born and bred in Winter Park, Florida. There, he attended Lake Howell High School, after which he proceeded to Florida State University's College of Communication where he studied marketing and media production.
Jamie and Rachel Have Been Together Since They Were Spotted Together In the Spring of 2016
To a large extent, Rachel McAdams and Jamie Linden have kept their relationship away from the prying eyes of the public. Because of this, how they met and the circumstances surrounding the beginning of their relationship are yet to be disclosed. Nonetheless, it might not be wrong to conclude it's their careers that brought them together, given that they both work in the entertainment industry.
It was in the Spring of 2016 that people started speculating that the two were lovers; this was after they were seen together in Los Angeles, Paris, and then at a friend's wedding in Virginia. It kind of became obvious that they were romantic partners even though they never discussed this with the media and avoided appearing together at industry events.
If anyone doubted that the two were together, the doubts were cleared when they welcomed a son on the 10th of April 2018. As of August 2020, it was reported that they were expecting a second child but nothing has been heard about that since then as the two are notoriously private. They have not even shared the name of their first child with the public.
How Long Have They Been Married?
Given that Rachel McAdams and Jamie Linden have been together for almost have a decade, and have even started a family together, it is only natural that some people have come to regard Jamie as Rachel's husband.
Even though they had dated other people before they got together, neither Rachel nor Jamie has ever been married. While the actress dated Ryan Gosling and Michael Sheen, the screenwriter dated Zooey Deschanel from June 2012 to August 2014. If Rachel and Jamie are married, then they did so secretly. As far as the public knows, they are unmarried partners.
Perhaps, they have resolved that the most important thing for them is to be happy together and not to be labeled as a married couple.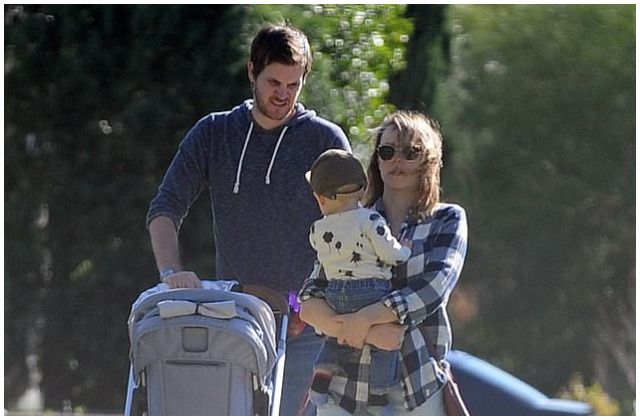 Jamie Linden Has Been Working In The Movie Industry Since 2006
It would be ridiculous to deny that being Rachel McAdams' spouse has contributed to Jamie Linden's popularity as much as it is unfounded to suggest she is the only reason he is popular. Jamie has been working in the movie industry since 2006 in various capacities but mostly as a screenwriter.
His career journey began in 2001 when he graduated from college. As the story goes, Linden and three friends went for The Price Is Right game show where he won $5,000 which he took as a sign to stay back in Hollywood, California, and pursue a career in entertainment.
As a screenwriter, his most notable works are We Are Marshall, Dear John, 10 Years, and Money Monster. He co-produced Dear John, We Are Marshall, and directed 10 Years, a 2011 comedy-drama romance starring Channing Tatum, Rosario Dawson, and Chris Pratt.
Jamie Linden's Net Worth Compared to McAdams' $25 Million
Through his exploits in the movie industry as a writer, producer, and director, Jamie Linden has accumulated quite an enviable wealth. While what he made from each of his aforementioned works is best known to him, it has been guesstimated in various quarters that he is a multi-millionaire. According to these reports, he has a net worth of $3 million.
The amount is a significant sum but it dwarfs when compared to his spouse's $25 million. How Rachel McAdams made her money isn't far-fetched. She has portrayed several characters in popular movies. Reports have it that she made $5 million from her role in Sherlock Holmes, $4 million from The Time Traveler's Wife, $2 million from Morning Glory, and $1 million from Red Eye.