Michael Strahan is not gay. He has been married and divorced twice, and is believed to be involved with a former stripper named Kayla Quick currently. 
Michael Strahan significantly paid his dues in American football before he closed the curtains on that field. His football career spanned 15 years which Strahan spent with the New York Giants.
The retired American professional football player and TV personality retired on a high as his team defeated the New England Patriots as underdogs to win the 2007 Super Bowl in his last season. His TV career blossomed too as he had worked with Fox before working with the ABC.
Unfortunately, Strahan's personal life has not been as rosy as his professional life, from gay rumors to two failed marriages with ensuing nasty custody battles and even a failed engagement, Strahan has become something of a tabloid fodder owing to his tumultuous romantic life.
All of these have led to numerous speculations regarding his current love life and who the former NFL star could be romancing per time.
Is Michael Strahan Gay?
From all indications, it would appear that Michael Strahan is a straight man, however, there have been claims suggesting otherwise in the past. The accusation was made by his ex-wife Muggli who while filing a verbal and physical assault complaint against Strahan also alluded that he was gay.
However, like the physical assault accusation which Muggli would later retract in court, the gay claims also turned out to be false. Strahan outrightly denied being gay in his statement to Gumbel at the time.
While Strahan may not be gay, he does support gay rights. While engaged to Nicole Murphy, Strahan joined forces with his then flame to release a video campaigning for Marriage Equality. Strahan told the New York Times that he viewed marriage equality as a human right more than anything else, hence his support.
Is Michael Strahan Married?
Years before Michael Strahan became an American football star, he gave love an early try and married his first wife Wanda Hutchins in 1992.
Who Is Michael Strahan's First Wife, Wanda Hutchins?
As aforementioned, Wanda Hutchins was born to an American father and half-German, half-French mother. She was born on the 6th of June 1970, making her a year older than her ex-husband Strahan.
Hutchins is not one to crave the spotlight, after her divorce, she resorted to living a very quiet life and raising her kids away from the media eye. It is also known that Wanda is a mother to another son named Dorian (he was born in 2001) from a relationship she had after splitting from Strahan.
Wanda is an established interior designer and runs her own company named Wanda Home Designs. The company uses wood or repurposing existing items to create furniture and other decorative pieces. Wanda also once served as the vice president and executive director at Strahan's non-profit named Strahan Global Outreach.
Through the non-profit, she distributed home appliances and furnishings to families in need.
How Michael Strahan Met His First Wife Wanda Hutchins
The couple met in Germany where Strahan had moved at the age of 9, precisely at an army post, BFV (Benjamin Franklin Village), in Mannheim, West Germany where Strahan's father had been posted to serve.
Wanda, on the other hand, was born there to an American father who was equally in the army and serving like Strahan's father and to a half-German, half-French mother.
Meet Michael Strahan's Kids from His First Wife
The pair began dating but their relationship became long-distance when Strahan had to move back to the US to complete his high school education. However, long-distance had nothing on their young love as their flame kept burning across borders.
Michael would visit Wanda in Germany when he could and during one of those visits, he received the most exciting news of his life – Wanda was pregnant and they were both going to become first-time parents.
At the time, Strahan was a college senior who also had college football to focus on, as a result, he missed the birth of his first child, daughter Tanita who would be born on the 10th of November, 1992 in Germany. She would grow to have an interest in visual arts. Now resident in Los Angeles, she also hosts a podcast on SoundCloud titled, The Infinite Finesse Podcast.
Strahan stepped up his responsibility by popping the question to Wanda and both were married in 1992. Michael in his book Wake Up Happy: The Dream Big, Win Big Guide to Transforming Your Life gave a little scoop about his early love life revealing how surprised he was that a woman like Wanda would be attracted to him. Following the birth of Tanita, Strahan moved his small family to Houston, Texas.
In 1995, on the 12th of September, Wanda and Strahan again welcomed another child, this time a boy whom they named Michael Anthony Strahan Jr. Michael Jr. graduated from high school in 2013.
The Reason For Their 1996 Divorce
The young couple overcame the challenge of long-distance but their immaturity and inexperience at handling life's tougher issues began to take a toll on their marriage at the time Strahan's NFL career was beginning to kick off.
The couple amicably went their separate ways in 1996. While Strahan remained in the US to focus on his soon-to-explode football career, Wanda Hutchins left with the kids for Germany.
Regardless of the distance, Michael Strahan was determined to remain committed to his children's life. For Strahan, the responsibility of raising kids should not be left to the mother alone regardless of their age, this, he revealed during his statement to People.
Though the reason for the split was not known at the time, Wanda who was 22 years old at the time of their marriage would come to reveal that it was just because they were really young at the time.
The former couple has since remained very good friends. When Strahan's next ex-wife would later accuse Strahan of physical abuse and cheating, Wanda jumped to her ex-husband's defense insisting that Strahan was a loyal husband and loving father to his kids.
Meet Michael Strahan's Second Wife, Jean Muggli
A couple of years after his first divorce, Michael Strahan was ready to give love another try. At this point, he had become an NFL star as a defensive end for the Giants and had just been named to his first out of 7 total Pro Bowls. He would meet his next wife Jean Muggli who at the time worked at a spa in Manhattan.
Attracted to her, Strahan would make frequent visits to the spa before finally asking Muggli out. The couple kicked off a whirlwind romance and in 1999 sealed things off with a wedding.
Fast forward to 2004, five years into their marriage, Strahan and his second wife Muggli welcomed a set of twin daughters named Sophia and Isabella Strahan. The addition of kids to their union came with a bittersweet feeling as the two were headed for divorce about a year after the kids arrived.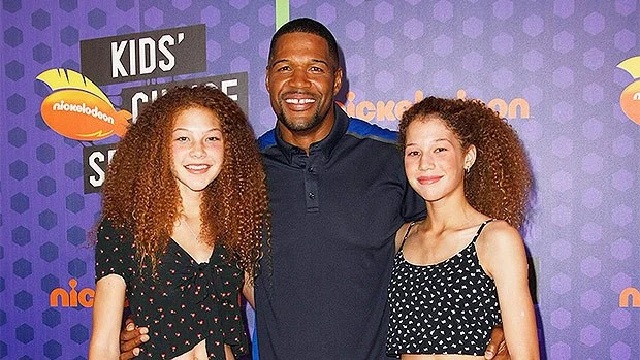 Muggli was the first to reveal that there was trouble in their presumed paradise by filing a domestic violence complaint against the former football star. A move she made after the couple had argued over money.
In response, Strahan filed for divorce from Muggli. Strahan would also release a statement denying Muggli's claims against him. He told The New York Post in a statement that he would never physically or psychologically harm any of his loved ones especially if that person was his wife as he was not that kind of man.
Muggli's complaint against Strahan would be thrown out of court after she recanted her initial claim that Strahan had been physically abusive.
It was during the same time as Muggli's claims that Strahan's ex-wife jumped to his defense. In her statement to the Post at the time, she expressed her own ill encounters with Muggli saying that was a toxic woman who told her that she wished her two kids with Strahan would die.
Strahan's Divorce From Muggli Was Quite Nasty
Atypical of nasty divorces, the bone of contention for the former love birds was the custody of their kids as well as child and spousal support payments.
At the time their divorce was finalized, Strahan was ordered to pay his ex-wife $15.3 million in addition to $18,000 per month in child support. Following his 2007 retirement from the NFL, the monthly child support payment was reduced to $15,000 per month.
After the divorce, Muggli took their kids to live with her on a farm in Wilmington, North Carolina. On the farm, the kids lived on the lap of luxury as it featured a volleyball and tennis court as well as a horse-riding ring where the kids developed their equestrian skills.
But things were not all rosy as the differences between their parents would soon force them into a nasty custody fight. Muggli requested more money to keep up with the kid's expensive lifestyle and Strahan refused.
In 2018, Strahan told the courts that his wife had refused to send the kids' passport ahead of a trip to Europe he'd planned with them, this was because he had refused to pay her requested $43 million for horse maintenance. Muggli would later release the kids to their father following a court order.
The back and forth between the former couple would continue forcing Strahan to seek sole custody of their girls. He told the courts that he'd discovered that Muggli had been verbally and physically abusing the kids for years.
He also said that Muggli had refused to take the kids to court-ordered therapy sessions and they had also missed their game events. Strahan requested the courts to hold his ex-wife in civil or criminal contempt of a court-mandated parenting order. Muggli would later fire back, saying that her rich ex-husband had hired private investigators to watch her.
Michael Strahan and His Ex-wife Agreed To A Joint Custody of Their Twin Daughters
Towards the end of 2020, the court dismissed Strahan's case against Muggli stating that they were mere prejudice. The couple would later settle for a shared custody arrangement which would see them split custody of their twin daughters in New York.
In order to make this work, Muggli who is a North Dakota native and had been living in North Carolina agreed to move to New York City into an Upper West Side apartment in New York. Strahan also lives in the Upper West Side. Their kids attend private high school in Manhattan.
While the custody battle seems resolved, some quarters still claim that the couple is still having issues regarding Strahan's timing of paying child support. Various sources on either side had made allegations and counter-allegations on the subject. However, from Strahan's frequent snaps of his kids, as seen on his Instagram page, the Super Bowl winner appears to be having a swell time with his twin daughters.
Michael Strahan's Failed Engagement To Eddie Murphy's ex-wife, Nicole Mitchell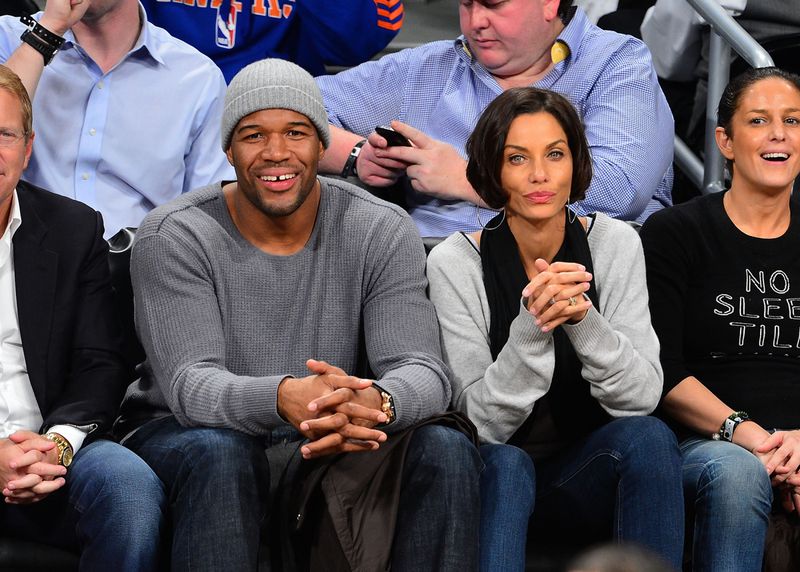 For Michael Strahan, it is "never say never" when it comes to love and marriage. A year after divorcing his second wife, Strahan met and began dating model, Nicole Murphy who is best known as the ex-wife of comedian and actor Eddie Murphy. She is also recognized for her appearance on the VH 1 reality TV show, Hollywood Exes.
Nicole and Strahan shared one thing in common – the fact that they had just both ended their marriages to other people in 2006. Nicole and Eddie who were married in 1993 went their separate ways in 2006 having shared 5 children together. Both with kids and exes, Nicole and Strahan did have a lot of similar experiences to share with each other.
As the years passed, it became more likely that Nicole would be the next Mrs. Strahan. Two years into their relationship, Strahan in 2009 popped the question to which Nicole said yes, however, the pair seemed to be stuck at the engagement phase as they never made it down the aisle.
They did strongly consider marriage; during Strahan's appearance on Wendy Williams Show, he spilled that they might not have a big celebrity-studded wedding and might just elope, but unfortunately, that did not happen either.
Sources also reported that towards the end of their romance, their relationship was on-and-off and seemed to suffer due to the distance between them; while Strahan was in New York, Nicole lived and worked in Los Angeles.
The couple had also become very busy with their schedules and were barely making out time to see each other. Though there were rumors that Nicole was cheating on Strahan, she openly debunked this.
Five years into their relationship and engagement, the couple in 2014 decided to go their separate ways, amicably. They each had nice things to say about each other post-break-up and have since remained respectable to each other.
Who Is Michael Strahan's Girlfriend?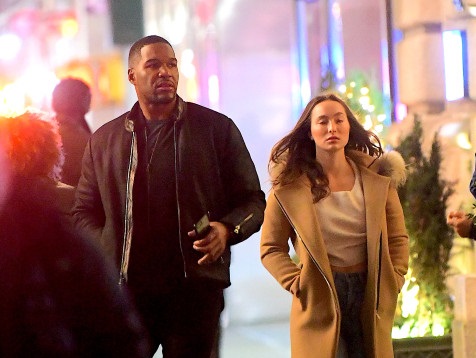 Two failed marriages and a failed engagement are enough to make a man quit on love but not Michael Strahan who still believes that he can find the woman he will spend forever with. A year after his split from Murphy, news emerged that the TV personality was developing the hots for a certain Kayla Quick.
They officially began dating in 2016, however, Strahan has been very private regarding his relationship with Quick, so much so that there have been speculations that they are longer an item, but there is absolutely no proof to this.
Strahan's privacy with his supposed current relationship could be due to two major reasons, one being how his other romances have ended publicly and two because of Kayla Quick's past life which the tabloids are always quick to jump on.
Kayla is a former stripper from Port Charlotte, Florida. She has quite a troubling past including being jailed as a juvenile for stealing jewelry from her grandmother.
There are also reports that she was arrested on two other occasions for disorderly conduct and grand theft, however, Strahan who is determined on finding love does not seem to care about events that happened over a decade before he met her.
FAQs 
Is Michael Strahan Gay?
Judging by his history of dating women, it may not be wrong to conclude that Michael Strahan is a straight man, but he has been accused of being otherwise in the past. The accusation was made by his ex-wife, Muggli, who  suggested that the TV personality was gay while filing a verbal and physical assault complaint against him.
However, Muggli later retracted the physical assault claim in court and it also turned out that the gay claims were untrue as Strahan denied it in his statement to Gumbel at the time.
Is Michael Strahan Married?
Michael Strahan is currently not married. He has, however, been married twice first to Wanda Hutchins from 1992 to 1996 and later to Jean Muggli from 1999 to 2006. He also had a broken engagement with Eddie Murphy's ex-wife, Nicole Mitchell in 2014 and is currently in a relationship with a former stripper named Kayla Quick.
Who Is Michael Strahan's Wife?
The former professional American football player has been married and divorced twice but he has remained unmarried since his second divorce and as such does not have a wife at the moment. However, he has a girlfriend, a former stripper named Kayla Quick.
What are Michael Strahan's Kids Ages? (use the age shortcode)
Michael Strahan has a total of four children (3 daughters and a son). He shares the first two with his first wife and the other two with his second wife. His first child, a daughter named Tanita, was born on the 10th of November, 1992 and is 31 years old. His second child, a son named Michael Anthony Strahan Jr., was born on the 12th of September, 1995 and is 28 years old. His last two children are 19-year-old twin daughters, Sophia and Isabella Strahan, who were born in December 2004.
Profile Summary
First Name:
Michael
Last Name:
Strahan
Also Known As:

Michael
Sex/Gender:

Male
Profession:

TV host, Former professional football Defensive end
Famous For:
Fox NFL Sunday, Good Morning America
Colleges/Universities Attended:

Texas Southern University
Educational Qualifications:

N/A
Religion:

Christianity
Birthday & Zodiac

Age/Date of Birth:

52 years old (21 November 1971)
Zodiac Sign:
Scorpio
Birth Place:

Houston, Texas, United States
Nationality:
American
Ethnicity/Race:

Afro-American
Country of Residence:

United States of America (USA)
Physical Attributes

Height:

6 feet, 4 inches (1.96 m)
Weight:

116 kg (225 lbs)
Eye Colour:

Black
Hair Color:

Black
Other Body Measurements:

N/A
Relationships

Marital Status:

Divorced
Spouse/Partner:

Jean Muggli (m. 1999–2006), Wanda Hutchins (m. 1992–1996)
Family and Relatives

Father:

Gene Strahan
Mother:
Louise Strahan
Children:

Tanita Strahan, Sophia
Strahan, Michael Strahan Jr.,
Isabella Strahan
Siblings:
5 Siblings including Debra Strahan
Other Relatives:

N/A
Net Worth
Estimated Net Worth:

$65 million
Salary:
N/A
Source of Wealth:

Football Career, TV hosting