Michael Strahan significantly paid his dues in American football before he closed the curtains on that field. His football career spanned 15 years which Strahan spent with New York Giants. The retired American professional football player and TV personality retired on a high as his club defeated the New England Patriots as underdogs to win the 2007 Super Bowl in his last season. His TV career blossomed too as he had worked with Fox before working with the ABC. By the way, his net worth will blow your mind. Read on to see more about his family life, his kids, and other lesser-known facts.
Michael Strahan's Early Life & Career
He was born Michael Anthony Strahan on November 21, 1971, in Houston, Texas. His father is Gene Willie Strahan and his mother's name is Louise Strahan. Michael had sports flowing in his veins and was eventually going to explore the field as his parents did. His father was an Army Major in the U.S. Army and a boxer before he retired while his mother, Louise is a basketball coach.
A nephew of former American pro football player Arthur Strahan, Michael lived with his uncle in Houston Texas while his family stayed in Germany with their father who was on an assignment. Although he started playing football in his short stay in Germany, Michael was further encouraged to play school football in Texas by his uncle. Having played just one season for Westbury High in Texas, it was just enough to earn him a scholarship to Texas Southern University from where he graduated in 1993.
In college, his impressive form saw him get a selection during the NFL Draft second-round pick of 1993 by the New York Giants. Michael Strahan's professional career began after he was drafted by the New York Giants in the 1993 NFL draft. His impact in the team was hampered somewhat by injuries in his first season but he picked up in 1997 and was voted into his first Pro Bowl the same year. In 2001, he was named the NFL and NFC Defensive Player of the Year and he won it again in 2003.
He retired from football in 2007 after upsetting Tom Brady's New England Patriots who were undefeated and favourites to win the Super Bowl. He won the Super Bowl with the New York Giants – the club's first taste of Super Bowl victory in almost 20 years – at age 36. His career in football spanned 15 long years which he spent with one team – the New York Giants.
TV And Film Career
After his career in American football, the former defensive-end worked briefly with Fox Sports as an analyst on the NFL Sunday pregame show before delving into television and film production. He was part of the production and cast of the short-lived sitcom Brothers that aired for just 4 months – from September 2009 to December 2009.
Following the suspension of the TV show, he produced a commercial in New York which showed support for same-sex marriage in 2011 before he became a media personality and worked as co-anchor with Kelly Ripa on ABC's Live! with Kelly and Michael (formerly Live! with Regis and Kelly) in September 2012.
In 2014, Michael was inducted into the NFL Pro Football Hall of Fame and in April of the same year, he started working with Good Morning America (GMA) still on ABC as a correspondent on a part-time basis. After two years, in 2016, he left Live! with Kelly and Michael and joined GMA full time. He is now the host of the ABC show The $100,000 Pyramid.
Michael has also authored three books: Inside the Helmet: Life as a Sunday Afternoon Warrior (2007), Float Hunting Alaska's Wild Rivers (2008) and Wake Up Happy: The Dream Big, Win Big Guide to Transforming Your Life (2015). He was also featured in Magic Mike XXL (2015). In 2016, he did the voice-over for Teddy in Ice Age: Collision Course.
His other TV appearances include Backyard Stadiums and Pros vs. Joes. Michael Strahan, who has a clothing line which you can find only at JCPenney, earned an annual salary of $10 million from ABC in his time on the show Live! with Kelly and Michael because his involvement in the show scaled up the ratings. His net worth is estimated to be between $55 and $65 million and he is also reported to earn a salary of $17 million annually.
Details About His Marriages 
Unlike with his career, Michael Strahan's love life is a complicated one. It would be right to say that he has not been very lucky with women and relationships? But then it may not be about luck, Strahan's history of tumultuous relationships with women may be just the way fate wanted it.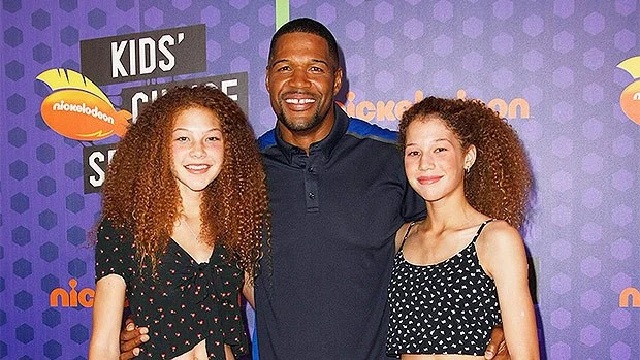 Michael Strahan has been married twice. His first marriage was in 1992 to Wanda Hutchins. They got married in Germany and had two children together – a daughter, Tanita Strahan (born 1992), and a son, Michael Anthony Strahan Jr. (born 1995). The marriage lasted for just four years and in 1996, they were divorced.  He got married to his second wife, Jean Muggli in 1999 and they had beautiful twin girls – Sophia and Isabella Strahan – in October 2004. But then, their beautiful babies didn't stop them from pulling the plug on their marriage in 2006.
Three years later, Michael was engaged to Eddie Murphy's ex-wife, Nicole Mitchell. They were engaged for 5 years before they called the engagement off in 2014. Michael is dating Kayla Quick. Reports have it that they have been dating since 2016. Kayla is a former stripper from Port Charlotte, Florida.
There's more. Although Strahan is not bothered by it, Kayla used to be in the news for the wrong reasons in the past. When she was much younger, she was jailed as a juvenile theft; young Kayla was caught stealing expensive jewelry worth $6,000. But as earlier mentioned it's all in the past and Strahan is okay with it.