Taylor Swift is currently dating actor and songwriter Joe Alwyn but before him, she had several other boyfriends, including Joe Jonas (2008), Lucas Till (2009), Taylor Lautner (2009), John Mayer (2009 – 2010), Cory Monteith (2010), and Jake Gyllenhaal (2010 – 2011).
She has also been romantically linked to Eddie Redmayne (Rumored; 2011 – 2012), Zac Efron (Rumored; 2012), Conor Kennedy (2012), Harry Styles (2012 – 2013), Calvin Harris (2015 – 2016), and Tom Hiddleston (2016). 
Taylor Swift is one of the most famous and celebrated entertainers from America. Born in December 1989, she is a singer-songwriter and actress admired for her narrative songwriting skills largely inspired by her life experiences. Her career took off in 2004, and Swift recorded a remarkably swift rise to stardom and a position of authority in the entertainment industry.
With over 50 million albums sold, Taylor has won some of the most coveted awards in the business and has been named at least thrice among the 100 most influential people in the world by Time magazine.
For an artist of such caliber, it would be out of place if everything about Taylor isn't a big deal. As much as people have followed her career and her accomplishments thereof, they have kept up with her personal life, monitoring not only her relationship with members of her family but also her romantic partners.
The singer has had a busy love life that has seen her date some popular men in her line of work. For a while now, it is known that the English actor Joe Alwyn is the man in her life. It has even been suggested that they are married; could this be true?
How Many Boyfriends Has Taylor Swift Dated In The Past?
It is hard to think of a time when the singer is not in a relationship. Before she became famous, she dated a fellow named Brandon Borello, who broke up with her because he had to go to college. For this, she wrote the song titled "Tim McGraw". There was also Sam Armstrong who cheated on her. The break-up gave birth to the song, "Should've Said No".
Over the course of her career, she is known to have dated at least ten popular men in showbiz before her relationship with Joe Alwyn began. A fun fact about all of these relationships is that Taylor made a song about them. As far as the public can tell, the first relationship the singer had was with Joe Jonas.
Joe Jonas (July – October 2008)
Full Name: Joseph Adam Jonas
Date of Birth: August 15, 1989
Age: 34 Years Old
Occupation: Singer-songwriter and Actor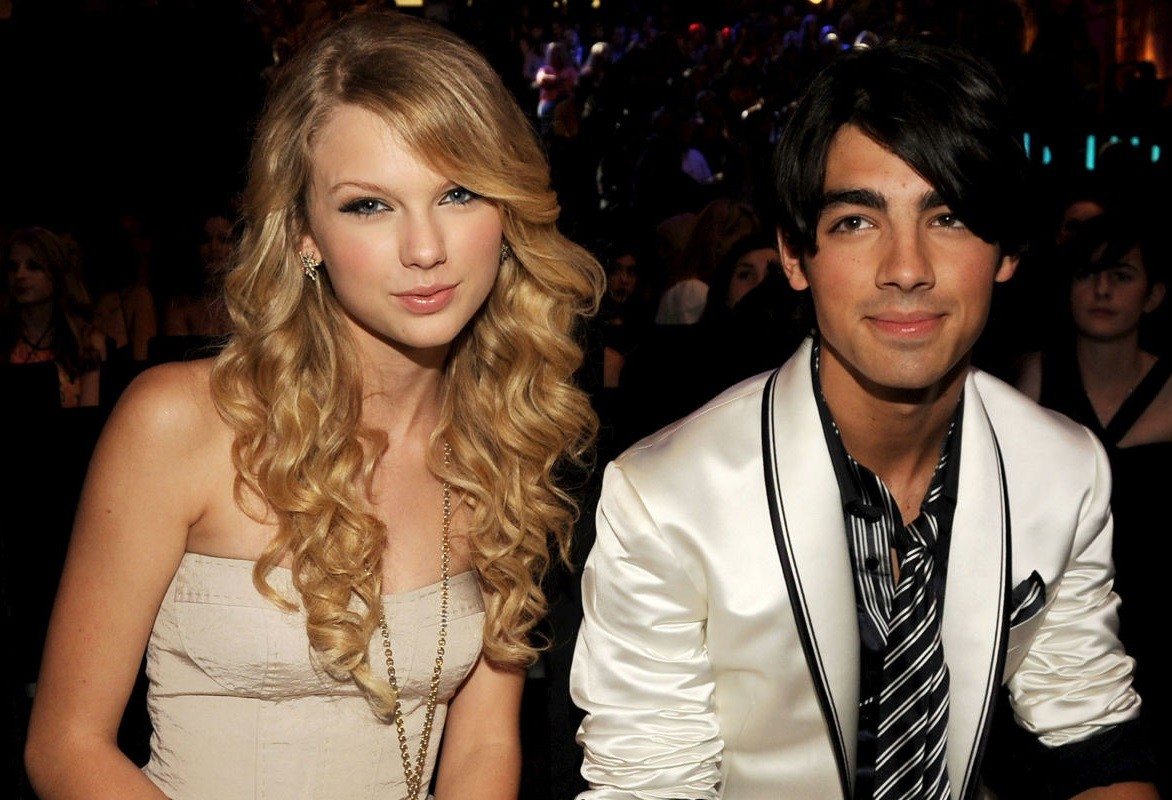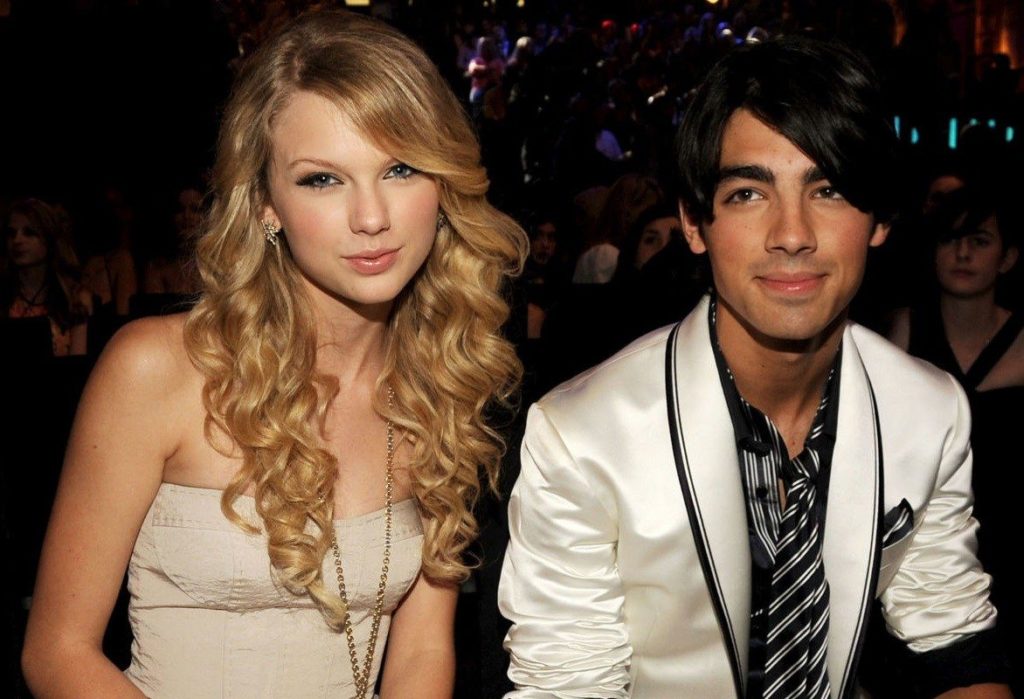 Joe Jonas is famed as a member of the Jonas Brother, a pop-rock band formed in 2005 alongside his brothers, Kevin and Nick Jonas. Also an actor, Joe has featured in multiple television and big-screen projects. His career has been a success story that has seen him sell no fewer than 17 million albums across the globe with as much as 115 nominations for prestigious awards; out of which he has won more than 50.  
From July to October 2008, Taylor Swift dated Joe Jonas. Their relationship ended with Jonas breaking up with her over the phone, something that bothered her a lot. She even talked about that on the Ellen DeGeneres Show. As a result of the breakup, she wrote two songs entitled "Last Kiss" and "Forever and Always". Over the years, Taylor and Jonas have been able to resolve their differences and are now on good terms. 
Lucas Till (March – April 2009)
Full Name: Lucas Daniel Till
Date of Birth: August 10, 1990
Age: 33 Years Old
Occupation: Actor and Producer
This American actor and producer has been active in the entertainment industry since 2003 when he played Harry Vanderbilt in the adventure drama film, "The Adventure of Ociee Nash". As the years ran by, he has been seen in multiple popular small and big-screen projects. Lucas is admired for his roles in the "X-Men" film series, "Monster Trucks", "The Spy Next Door", "Hannah Montana: The Movie", "MacGyver", and much more.
The actor born in Fort Hood, Texas met the popular singer sometime in 2008 on the set of the teen musical comedy-drama film, Hannah Montana: The Movie. Reports have it that they began dating in March 2009 after they fell in love while filming the music video for Taylor Swift's "You Belong With Me". Nonetheless, the relationship packed up almost as quickly as it began: they parted ways in April 2009 and the actor would later disclose that the relationship failed because they were too nice to each other, "I really just liked her as a friend…", he said.
Taylor Lautner (August – December 2009)
Full Name: Taylor Daniel Lautner
Date of Birth: February 11, 1992
Age: 31 Years Old
Occupation: Actor and Model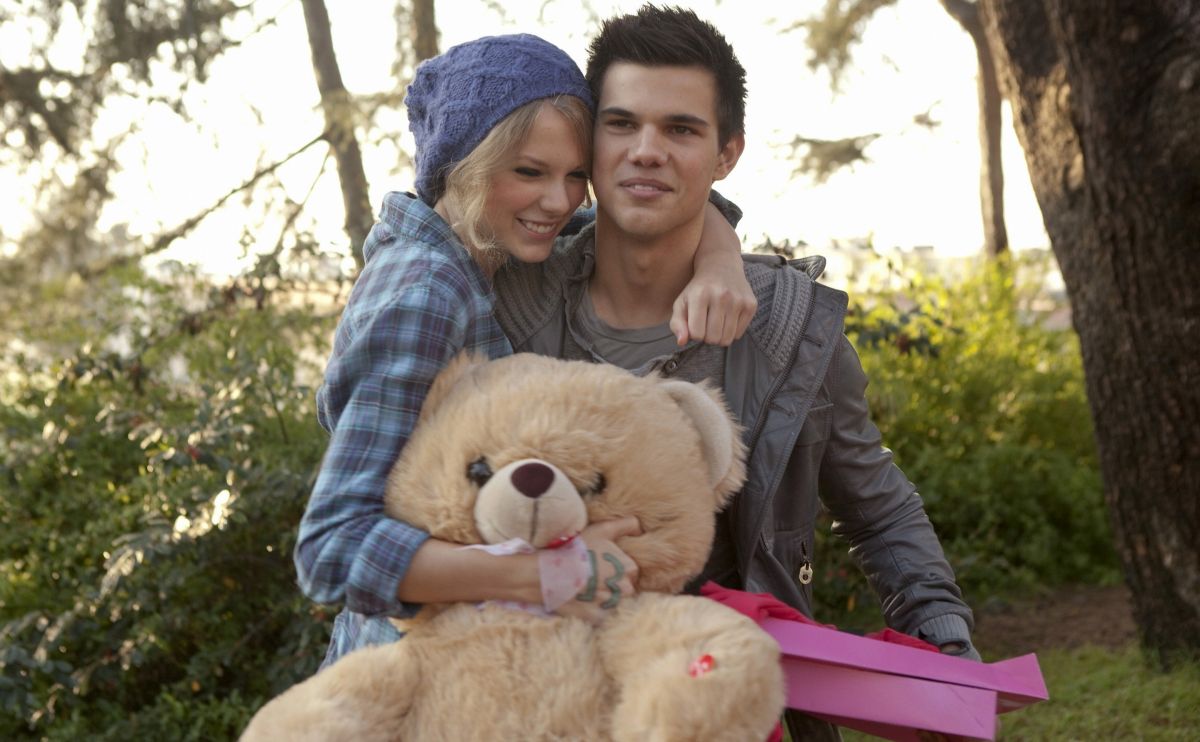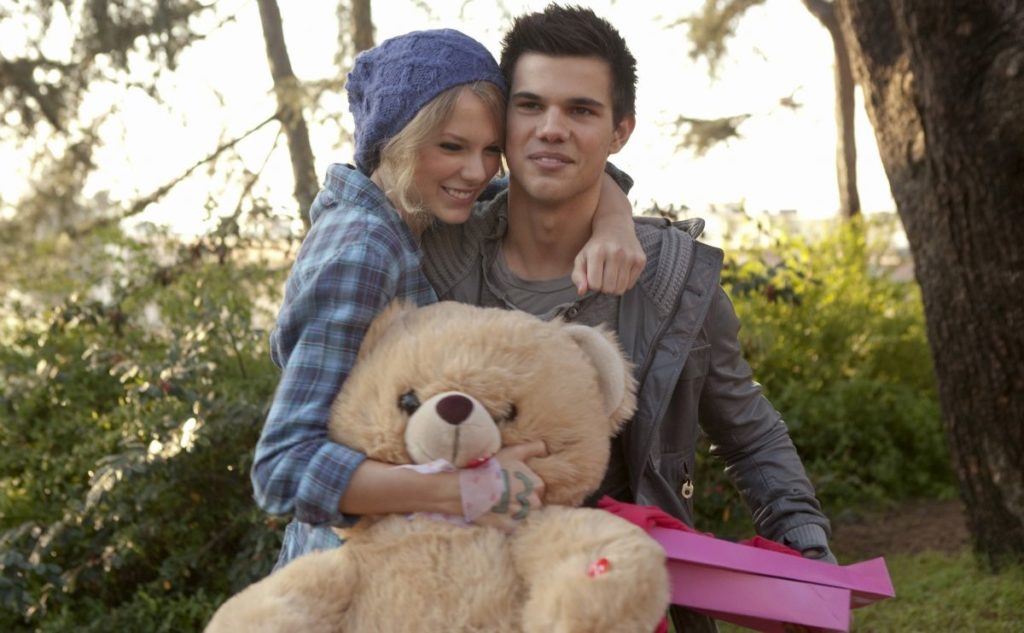 After her brief romance with Lucas Till, Talyor Swift began a relationship with Taylor Lautner, an American actor and model known for his portrayal of Jacob Black in "The Twilight Saga" film series. Lautner's career took off in 2001 when he played Young Kismet in the action, science-fiction film, "Shadow Fury". Toward the end of that decade, he had become not only a teen idol but a sex symbol, thanks to the physique change the role of Jacob required.
Counted among the sexiest men in the world, Taylor Lautner began dating Taylor Swift after they met on the set of the "Valentine's Day" movie. Being namesakes, they were fondly called Taylor Squared. However, Swift wasn't into Lautner as much as he was crazy about her, thus they separated but remained friends. In "Back to December", a song from Swift's 2010 album, "Speak Now", the singer apologized to an ex for how she treated him. It is believed that Taylor Lautner is the subject of the song and, that the song was about the night Taylor Swift dumped him.
John Mayer (December 2009 – February 2010)
Full Name: John Clayton Mayer
Date of Birth: October 16, 1977
Age: 45 Years Old
Occupation: Singer-songwriter, Musician, and Record Producer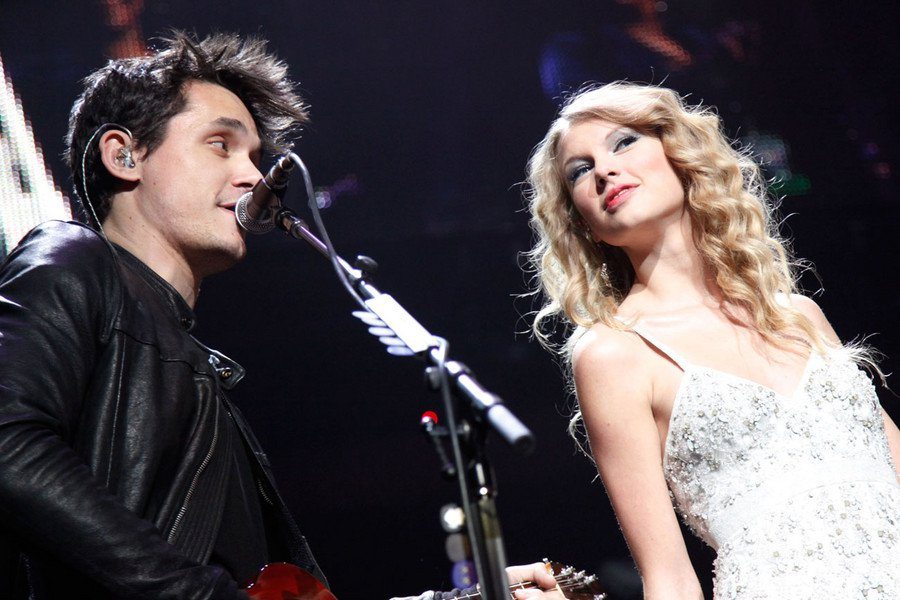 A singer who has been active in the entertainment scene since 1998, John Mayer has not only thrived in the music industry but has spread his wings to other facets of the entertainment business, hosting several television shows and performing comedy. With seven studio albums among his body of work, John Mayer has sold millions of albums and has received some of the most cherished awards for his efforts, including 7 Grammy gongs out of 19 nominations.
Between December 2009 to early 2010, Taylor was involved in an affair with John Mayer. Their relationship reportedly began after Swift did the vocals for Mayer's "Half of My Heart", the third single from his 2009 album, "Battle Studies". Based on what Taylor revealed in her 2010 song titled "Dear John", the relationship ended because Mayer didn't treat her right. According to the singer, John had the "sick need to give love then take it away… Don't you think I was too young to be messed with…" reads excerpts from the song's lyrics.
Cory Monteith (April – May 2010)
Full Name: Cory Allan Michael Monteith
Date of Birth: May 11, 1982
Died On: July 13, 2013
Occupation: Actor and Musician
The late Canadian actor is remembered for playing Finn Hudson in the musical comedy-drama television series, "Glee". He was also a part of several popular projects made for both the small and big screens, including "Kyle XY", "Kaya", "The Assistants", "Final Destination 3", "Monte Carlo", and much more. As a musician, he worked with other cast members of Glee to release multiple soundtrack albums, compilation albums, and extended plays which earned him a nomination for Grammy in 2011 amongst other notable awards.
Taylor Swift reportedly dated the late entertainer for less than a month in 2010. While neither of the two confirmed they were an item, it is believed that Taylor's songs like "Mine" and "Speak Now" were about the late actor. Cory was in a relationship with American actress Lea Michele when he passed at the age of 31. He was found dead on the 13th of July 2013 in his room at the Fairmont Pacific Rim hotel located in Vancouver. Autopsy reports later revealed that his death was caused by mixed drug toxicity from alcohol and heroin.
Jake Gyllenhaal (October 2010 – March 2011)
Full Name: Jacob Benjamin Gyllenhaal
Date of Birth: December 19, 1980
Age: 42 Years Old
Occupation: Actor and Producer
Born into the noble, Swedish Gyllenhaal family, this American actor has been acting since he was a kid. Since 1991 when he played Daniel Robbins in the Western comedy film, "City Slickers", Jake has pulled off multiple successful acting projects from the stage to the screens. He has thrived more on the big screen, bringing several characters to life in popular movies like "Spider-Man: Far From Home", "Stronger", "Nightcrawler", "Love & Other Drugs", and of course "Brokeback Mountain" which earned him a nomination of Oscar's Best Supporting Actor.
Jake has dated popular women in showbiz like Reese Witherspoon and Kirsten Dunst. His relationship with Taylor Swift began in October 2010 after they were first seen together backstage at "Saturday Night Live". They had a brunch in Brooklyn that same month and it became official, Jake Gyllenhall and Taylor Swift were an item. But when December rolled by, it was reported that they had fallen apart for reasons that were not certain. They tried to patch things up after that but eventually parted ways for good sometime in March 2011.
Talyor's songs, "We Are Never Ever Getting Back Together", "The Last Time" and "All Too Well" are said to be about what she had with the famous actor.
Eddie Redmayne (Rumored; October 2011 – January 2012)
Full Name: Edward John David Redmayne
Date of Birth: January 6, 1982
Age: 41 Years Old
Occupation: Actor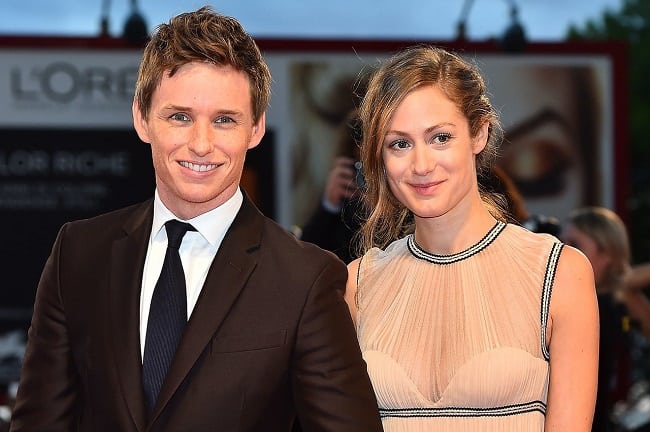 Eddie is an English actor who has been active since 1998 when he featured as John Hardy in an episode of "Animal Ark". He is mostly known for his exploits in big-screen productions but he has pulled off a good number of theatre and television productions. The English actor got his big break after he played Colin Clark in 2011's "My Week with Marilyn" (2011) and followed it up with an incredible performance as Marius Pontmercy in 2012's "Les Miserables".
Eddie's career has been decorated with awards that range from an Academy Award to Tony, BAFTA, Golden Globe, and much more. It is said that Eddie and Taylor met when she auditioned to play Eponine in Les Miserables and began dating but couldn't keep up with the relationship because of the long distance between them. Eddie Redmayne has clearly stated that he "never went out on a date with Taylor Swift" but people have held on to the belief that they had a thing.
Zac Efron (Rumored; February – March 2012)
Full Name: Zachary David Alexander Efron
Date of Birth: October 18, 1987
Age: 35 Years Old
Occupation: Actor and Singer
This American actor and singer began his career in 2002, playing Young Simon Tam in an episode of the space, Western drama TV series, "Firefly". Zac became a big deal in the late 2000s, thanks to his role as Troy Bolton in the "High School Musical" film series. Other works he's known for include "The Lucky One", "Neighbors", "Dirty Grandpa", "The Greatest Showman", and the 2019 biographical crime drama film, " Extremely Wicked, Shockingly Evil and Vile".
Rumors have it that Zac Efron and Taylor Swift dated briefly from February to March 2012. The rumors began circulating after they co-starred in the 3D computer-animated musical fantasy comedy film, "The Lorax". The two appeared on "The Ellen DeGeneres Show" sometime in February 2012 and stated that they were not seeing each other; "he's awesome (but) we are not a couple…", said Taylor Swift. Despite that, people continue to count Zac as one of Swift's popular exes.
Conor Kennedy (July – September 2012)
Full Name: Conor Richard Kennedy
Date of Birth: July 24, 1994
Age: 29 Years Old
Occupation: Undetermined
Like the other men discussed above, Conor Kennedy is popular but not because of his career. He is known for the family he hails from: Conor is the grandson of Robert F. Kennedy, his father Robert F. Kennedy Jr. is a popular advocate, author, and environmental lawyer. Based on what has been reported on several quarters, Taylor Swift met Conor through members of his popular family in July 2012. It is said that Taylor who had been a fan of the Kennedy family was invited to a gathering of the Kennedys where she met and fell in love with Conor.
They went on to have a whirlwind romance that had them crash Conor's cousin, Kyle Kennedy's wedding. This generated quite a controversy that almost ended the relationship but they continued dating and Taylor parted with a massive $4.9 million to purchase a house in Cape Cod so that she can live closer to Conor. She would later sell the property and make around $1 million in profit after Conor ended the relationship in September 2012. As claimed in some quarters, Conor pulled the plug on the relationship because he felt Taylor was all over him.
Harry Styles (December 2012 – January 2013)
Full Name: Harry Edward Styles
Date of Birth: February 1, 1994
Age: 29 Years Old
Occupation: Singer-songwriter and Actor
An English singer-songwriter and actor, Harry Styles' career took off in 2010 when he contested on the British reality television show, "The X Factor". As fate would have it, he was eliminated but returned as a member of the English-Irish pop boy band, One Direction. The band would go on to become one of the best-selling boy bands of all time, making Harry and other members super famous and incredibly wealthy.
Also an actor, Harry has featured in a handful of television shows and movies like "Dunkirk", "Don't Worry Darling", and "My Policeman". Although the circumstances that surround their meeting are unknown, they first met in November 2012 and were spotted together on several occasions after that being all lovey-dovey. Haylor, as they were fondly called broke up in January 2013. Reports have it that Harry left the relationship because Taylor wouldn't stop nagging him about the need to be faithful. Talyor's songs like "Out of the Woods" and "I Knew You Were Trouble" were about Harry.
Calvin Harris (March 2015 – June 2016)
Real Name: Adam Richard Wiles
Date of Birth: January 17, 1984
Age: 39 Years Old
Occupation: DJ, Record Producer, and Singer-songwriter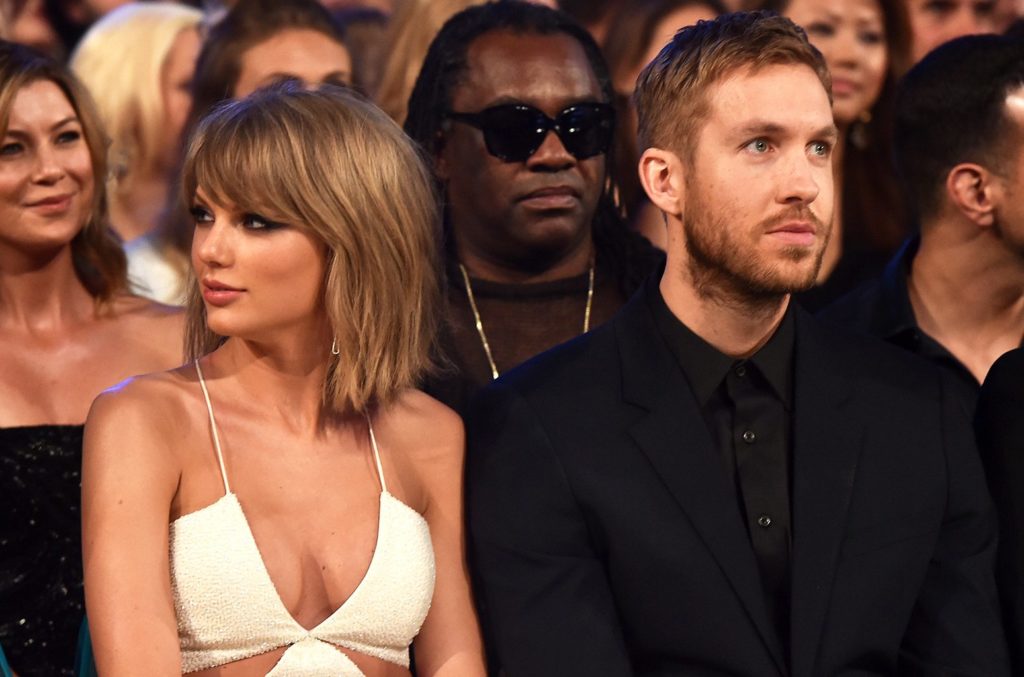 The Scottish DJ is also one of the famous ex-boyfriends of Taylor Swift. The founder of Fly Eye Records is known for singles like "One Kiss", "Outside", "Feels", "Summer", "Feel So Close", "This Is What You Came For", and "We Found Love". He collaborated with Rihanna for the latter and it became his first single to occupy the number one spot on the US Billboard Hot 100. Calvin's career has seen him drop five studio albums as a part of his extensive body of work.
Of late, the DJ has been in an on-and-off relationship with Aarika Wolf, an American model he met in August 2014 on the set of his music video for "Blame", a song from his fourth studio album, "Motion". Before the model, Calvin dated Rita Ora and Taylor Swift from March to June 2016. Taylor began dating Calvin after they were introduced to each other by Ellie Goulding at the after-party of BRIT Awards in London. The DJ ended the relationship in June 2016 and it was said that he did so because he was intimidated by Taylor's accomplishments.
Tom Hiddleston (June – September 2016)
Full Name: Thomas William Hiddleston
Date of Birth: February 9, 1981
Age: 42 Years Old
Occupation: Actor
The English actor has been a professional actor for over two decades. He began his career in theatre, playing various roles in student plays. As time went by, he started appearing on television productions. His big break came in 2011 when he first played Loki in "Thor". Over the years that followed, he gained global recognition for reprising the role in multiple Marvel Cinematic Universe productions.
Taylor Swift began dating the English actor they met at the 2016 Met Gala. They had a strong connection and a good dance at the event that made headlines. Not long after that, they were seen making out on several occasions and it became clear that the singer had moved on from his Scottish DJ boyfriend. They had what was reported to be an amicable breakup in September 2016. While neither of them has said anything about what led to the separation, the actor once hinted that it was related to the media attention they received.
Meet Taylor Swift's Current Boyfriend, Joe Alwyn
Full Name: Joseph Matthew Alwyn
Date of Birth: February 21, 1991
Age: 32 Years Old
Occupation: Actor
An English actor, Joe Alwyn is relatively a newbie in the entertainment industry as his career only took off in 2016. Nonetheless, he has been making a swift climb to the top and has been seen in popular productions like "The Favourite", "Operation Finale", and "Harriet".
While one can't argue that his career has been the major source of the attention he gets, there is no doubt that his relationship with Taylor Swift has kept him in the limelight. Among other things, how the actor and singer got together has continued to pique the interest of the public.
Taylor Swift and Joe Alwyn Got Together In 2016
While it is known that the couple began dating in 2016, it was hard to tell when they met for the first time. But then, we have been able to deduce from Taylor's "Dress", a song on her "Reputation" album, that they met in May 2016 at the Met Gala.
Yes, the singer was still dating Calvin Harris when she met Joe, and interestingly, she met Joe at the same event where her relationship with his fellow English actor Tom Hiddleston began.
Barely a month after Taylor Swift's relationship with Tom came to an end, she began building a relationship with Joe which only came to the attention of the public sometime in May 2017. They have been together since then and the English actor has been referenced in several songs of Taylor.
Is Taylor Swift Really Married to Joe Alwyn?
For over two years after they began dating, Taylor Swift and Joe Alwyn strictly kept their relationship away from the media and indeed the public at large. As time went by, they became a bit open but has largely refused to discuss or share insightful details about their relationship with the public.
Because of that, and the fact that Taylor's relationship with Alwyn has lasted more than any of her previous relationships, people began to make speculations about them being engaged, with some reports even claiming that they are secretly married.
Claims about the two working towards becoming man and wife intensified when credible platforms like People and US Weekly reported that their sources learned that the couple would soon get engaged.
As the couple has relentlessly refused to allow people to keep up with them, their fans have resorted to Taylor's songs for clues. When the singer dropped her surprise album "Evermore" in December 2020, they were quick to identify lines like "…drink my husband's wine" in the song "Ivy". Also, the music video of the song "Willow" had the singer dressed in what's akin to a bridal gown. All of these made people conclude that Taylor Swift and Joe Alwyn are secretly married.
In all, the two are still together and very much in love but it is not known if they are married. But time has always been faithful in revealing the truth about matters like this. So, it is only a matter of time before we learn what the fact is.