Charlie McDowell is Lily Collins' husband and has been married to her since September 2021. Charlie McDowell is a movie director and writer best known for his 2014 debut film The One I Love. His choice of a career comes as no surprise as he is the son of entertainment icons Mary Steenburgen and British Malcolm McDowell.
Lily Collins and Charlie McDowell have been married since 7th Sep 2021. Prior to her marriage to Charlie McDowell, Lily Collins has been in relationships with Jason Vahn (2017), Matt Easton (2014), Jamie Campbell Bower (2012 – 2018), Zac Efron (2012 – 2013), Taylor Lautner (2010 – 2011) and Riley Harper (2009 – 2010), and is rumored to have hooked up with Chris Evans (2015) and Chord Overstreet (2012).
When you play the lead role in a series that is set in the world's most romantic city-Paris- it is only normal that fans might become eager to know about your love life. Well, for Lily Collins, the star of the American-French comedy-drama series, love is a subject she knows way too much about to make a public announcement. As she wrote in her 2017 memoir/self-help book titled Unfiltered: No Shame, No Regrets, Just Me, there is no greater relationship than the one she has with herself.
Lily went on to state that she cannot look to another person to be her everything or depend on them to make her feel complete. Nevertheless, while she professed her total satisfaction with being single, she also added hopefully, that there was someone out there who would show her the true meaning of real and honest love. Not only that, this someone, she wrote, will also respect and accept her for who she is and will not make her feel less than. The actress also stated that for her to find that person, she must believe in herself and know her value…"I deserve happiness. I deserve to be loved just as I love others. I deserve everything."
In a bid to find this "someone," Lily got involved in relationships with several men but none of them was "The One". Being a strong believer in love, she was not put off by her many failed relationships and so she gave love another shot when Charlie McDowell came along. Thankfully, he turned out to be "everything" that she deserves. Consequently, Lily couldn't help but say 'yes' when he popped the question in late 2020. Today, they are married and enjoying the best of their lives together. But who are these men that broke Lily's heart? They include the following;
Riley Harper
Taylor Lautner
Zac Efron
Chord Overstreet
Jamie Campbell Bower
Thomas Cocquerel
Matt Easton
Chris Evans
Who Is Charlie McDowell?
Born Charles Malcolm McDowell on July 10, 1983, in Los Angeles, California, Lily Collins's husband is a director and screenwriter. Just like Lily, he is the son of showbiz parents. His father is English actor Malcolm McDowell while his mother is American Oscar-winning actress Mary Steenburgen.
His parents' marriage was dissolved in 1990 and five years later, his mother got married to actor Ted Danson (and they are still married to date) while his father also remarried to a lady known as Kelley Kuhr. Apart from Charlie, his parents' union also produced another child, a daughter named McDowell Walton who is older than Charlie. Through his father's second marriage, the director also has three younger half-brothers named Beckett, Finnias, and Seamus.
As a director, Charlie is best recognized for his 2014 debut film, The One I Love, which starred Mark Duplass as Ethan, Elisabeth Moss as Sophie, and his stepfather, Ted Danson, as a therapist. The following year, he served as director for an untitled pilot of Sarah Silverman's HBO series but sadly, the network failed to pick it up. Next, Charlie worked on the film, The Discovery, which was released globally in 2017 after it was acquired by Netflix following its debut at the  Sundance Film Festival.
The filmmaker later announced in March 2017 that he was adapting the novel Zero K by Don DeLillo as a limited series for FX. Before then, he had already directed one episode of Noah Hawley's Legion, also for the same channel. In 2019, Charles McDowell directed two episodes (the first and last) of the dark comedy TV series, On Becoming a God in Central Florida and was also one of the eight executive producers. Also, he directed episodes of Dispatches from Elsewhere, Dear White People, Silicon Valley, and Tales from the Loop.
His upcoming film, Gilded Rage, will be based on the murder of Thomas Gilbert Sr., the infamous investment banker who was initially believed to have died from suicide until an investigation proved that that was not the case. To play Thomas's character at different stages of his life are Bill Skarsgård and Christoph Waltz. Meanwhile, Charlie's wife, Lily Collins, will also be playing a starring role in the film.
Apart from his filmmaking career, Charlie is also a 'certified' jokester. In 2011, Times described his Twitter feed as "one of the most hilarious Twitter feeds out there." Two years later this same Twitter feeds of his formed the basis for a book titled Dear Girls Above Me, published by Three Rivers Press. Also, Charles McDowell has been making jokes about his mother, claiming on countless occasions that his real mother is actress Andie MacDowell.
Charlie McDowell's Profile
Name: Charles Malcolm McDowell
Date of Birth: July 10, 1983
Place of Birth: Los Angeles, California, U.S.
Age: 40 Years Old
Zodiac: Cancer
Nationality: American
Ethnicity: White
Height: 5 feet 9 inches
Hair Color: Brown
Eye Color: Brown
Sexuality: Straight
Ex-Girlfriends: Actress Rooney Mara (2010 to 2016); Emilia Clarke (2018 to 2019)
Marital Status: Married
Spouse: Lily Collins (m. 2021)
Children: None Yet
Father: Malcolm McDowell (English actor)
Mother: Mary Steenburgen (American actress)
Stepfather: Ted Danson (Actor)
Siblings: Lilly (Sister) and three younger siblings
Education: AFI Conservatory
Occupation: Director, Screenwriter
Lily and Charlie Met On A Movie Set In 2019
According to The Mirror, the couple met in 2019 on the set of Gilded Rage, an upcoming film that Charlie directed and Lily starred in. Speaking about their first meeting during an October 2020 appearance on Live With Kelly and Ryan, Lily revealed that she knew he was the one for her as soon as she met him. According to her, it was one of those situations where she knew the second she met him that she wanted to be his wife one day. "So, it was just a matter of when, really."
The actress further disclosed that while filming was going on in Paris, they were able to make out time to build their relationship and get to know each other better. This they did by coming out a few times and roaming the streets, and getting lost on the cobblestone alleyways a few times, according to Lily. She went on to admit that the idea of being in Paris and doing things together, and going places together while there was very romantic and she missed that the most.
With the duo working very actively in the movie industry, Lily shared that keeping their boat sailing when they are apart due to their extensive travel has been hard, but they persevere nonetheless. This, she explained, is because when something is extremely special, you make it work. "It doesn't matter where in the world, there are ways to always feel connected."
Meanwhile, although we know when Lily and Charlie met, it is not exactly clear when they began dating but it is common knowledge that it was still some time in 2019. Although they kept things on the low at first, the couple prompted dating rumors for the first time when they were spotted and photographed by Metro UK as they held each other in Los Angeles in July 2019.
In August 2019, Lily indirectly indicated that there was something going on between them when she made a post on Instagram, posting a picture that showed her resting her head on a man's (Charlie) back while his face is cut out. Their relationship remained vague until the news of their engagement broke.
They Got Engaged In September 2020
After one year and some months of dating, Charlie was sure that Lily was the woman for him. As a result, he decided it was time to take things up a notch by proposing to her in front of a mountain range in Arizona in September 2020.
Announcing her engagement on Instagram on September 25th, 2020, the actress posted three photos from the event, including one where she is seen sharing a kiss with McDowell as she showed off her ring to the camera. She captioned the picture, "I've been waiting my lifetime for you and I can't wait to spend our lifetime together."
She also posted another photo of the engagement, describing what she felt in that moment as the purest joy she has ever felt. The film director, on his own part, also wrote a heartfelt tribute to the woman of his dreams saying "In a time of uncertainty and darkness, you have illuminated my life. I will forever cherish my adventure with you. ???? ????."
During her appearance on Live With Kelly and Ryan a month later, Lily shared that the proposal was pre-planned by Charlie, adding that he did a self-timer video from which they were able to later get screen grabs. "But, he set the whole thing up without me knowing, obviously." Even though the then-bride-to-be said she was aware that she would be married to McDowell someday, the proposal still took her by surprise.
As disclosed by Lily, the proposal took place while they were on a road trip in Sedona, New Mexico. To make a lasting impression on the love of his life, Charlie McDowell reportedly spent $100,000 to get her a befitting ring- a square diamond set in a yellow-gold band. The piece was made specifically for the actress by Irene Neuwirth, Hollywood's favorite jeweler. Little wonder the love-struck beauty described it as her "favorite new accessory!" at the time.
One Year After They Got Engaged, The Love Birds Tied The Knot Secretly
While a lot of people expected the couple to make the news of their wedding date public, they decided to keep it secret. However, in January 2021, Daily Mail reported that Simon Collins, Lily Collins's half-brother had revealed that the couple had set a date for their wedding and invitations had already been sent out.
Finally, the duo got married behind the backs of their fans on September 4th, 2021 in Dunton Hot Springs, Colorado. The Emily in Paris actress, who was dressed in a Ralph Lauren column gown, made the revelation on her Instagram three days after the ceremony, sharing photos from the private occasion.
One of the photos captured Lily kissing her husband and she captioned it, "I've never wanted to be someone's someone more than I do yours, and now I get to be your wife. On September 4th, 2021 we officially became each other's forever. I love you beyond @charliemcdowell."
Another of the pictures showed the actress smiling at the camera while Charlie, smiling too, loved so lovingly at her face. She gave it the caption, "Never been happier." In the last picture from their special day, Lily also expressed how excited she was to be married to the filmmaker.
According to her, what started as a fairytale was now her forever reality. She went on to say that she'll never be able to give a proper description of how otherworldly their wedding weekend was, "but magical is a pretty good place to start," she added. Charlie McDowell also shared the same pictures with captions that can make any woman's face light up with joy.
A Detailed List of All The Men Lily Collins Has Dated
As earlier stated, Lily Collins was involved with several men before she finally met and married her now-husband, Charlie McDowell. Most of these men are her colleagues in the entertainment industry but while it was certain that she was involved in a romantic relationship with some of them, others were simply rumors.
Riley Harper
Relationship Timeline: 2009-2010
According to several reports, Lily Collins dated American stuntman, Riley Harper, from August 2009 to September 2010. The duo began dating after they met on the set of the 2011 action horror film titled Priest where Riley played a stuntman and Lily portrayed the character of Lucy Pace.
Taylor Lautner
Relationship Timeline: 2010-2011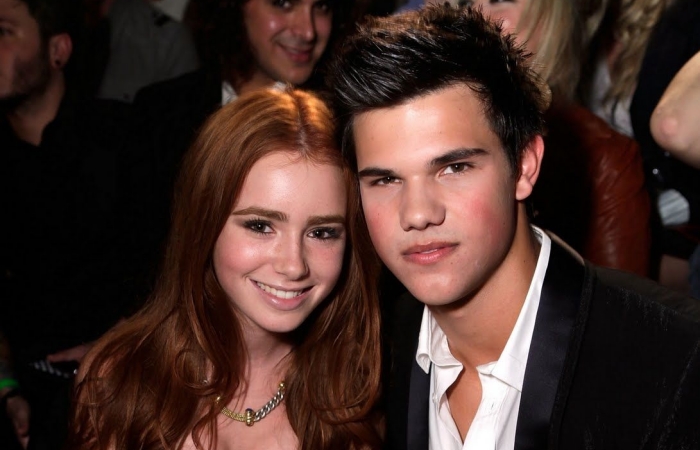 There were speculations that Lily dumped Riley to be with Taylor Lautner as she was already involved with him just a few months after her breakup with the former. The two met in 2010 around the time they were filming the action thriller Abduction in which they both starred. They eventually began dating not long after as the news of their relationship started making the rounds in November after they were seen having lunch together and subsequently at a football game.
While the ex-lovers never made any comments about their relationship, their co-star, Denzel Whitaker, confirmed that they were together at a movie premiere for Warrior. He described the love between the then-couple as the kind that is seen among high school teenage lovers. Speaking of how it all started, he said, "It was kind of like, 'Let's go on a date.' They were willing to go bowling. It wasn't all about the relationship, it was more about having fun with each other." Unfortunately, the relationship could not survive beyond 2011 as E! Online reported that year that Taylor and Lily had parted ways just one week before the premiere of Abduction.
Zac Efron
Relationship Timeline: 2012, 2013
In early 2012, Lily reportedly kicked off a romantic relationship with her fellow actor, Zac Efron. On February 8 of the said year, they attended a birthday party of their mutual friend in Los Angeles and were spotted hand in hand. However, it was rumored that the duo broke up three months after but later reunited the following year as they were seen holding hands in October 2013 while going to see a movie. Sadly, they went their separate ways for the last time two months after.
Chord Overstreet
Relationship Timeline: 2012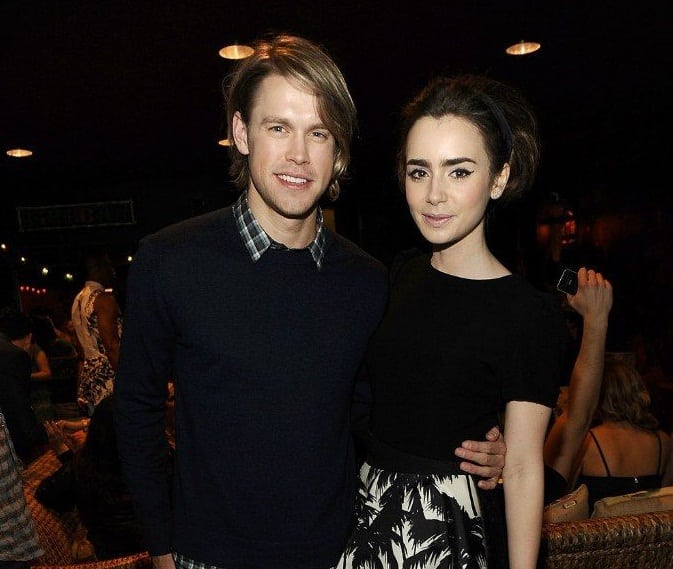 The rumored relationship between Lily and Chord Overstreet began circulating after they were spotted all cozied up during the birthday bash of Chris Colfer in May 2012. But neither of the duos bothered to address the speculations.
Jamie Campbell Bower
Relationship Timeline: 2012-2013; 2015; 2017-2018
In June 2012, the Hollywood actress started dating Jamie Campbell during the filming of The Mortal Instruments: City of Bones in which they co-starred. Their relationship was more of a roller coaster as they split and got back together a few times. They parted ways the first time in August 2013 and eventually reunited in April 2015 only to break up again the same year. They struck things off again towards the end of 2017 but later bade each other a final goodby in 2018.
Thomas Cocquerel
Relationship Timeline: 2014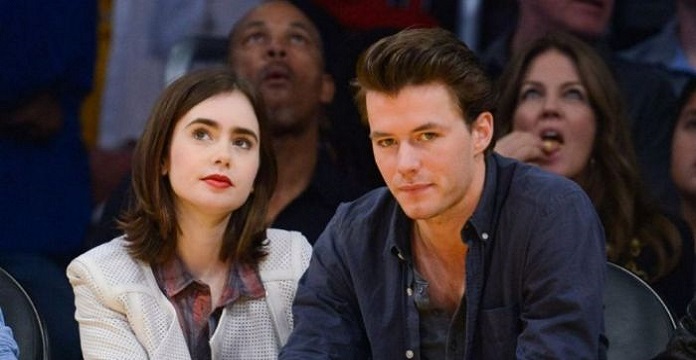 In-between her on and off relationship with Jamie Campbell Bower, Lily dated other men, including Australian actor Thomas Cocquerel. They became a pair in 2014 after a friend introduced them to each other. Us Weekly confirmed that the actors were truly involved with each other in a report published on the 5th of February 2014. Speaking to the online media, an insider said, "They just started seeing each other. A friend introduced them. It's new. He is an all-around great guy. She's happy."
Also in February 2014, Lily and Thomas were seen in West Hollywood having dinner at Craig's restaurant. A few days after, they were seen hand in hand during a basketball game between Chicago Bulls and Los Angeles Lakers.
In a publication about the new couple on 6 February 2014, Mail Online reported that they wanted to keep their relationship low-key and away from the media. The publication also revealed that Lily liked the fact that Thomas was down to earth and wanted their romance to be solely about them and not the acting industry. She also reportedly shared his easy-going lifestyle and had been happy meeting all his Australian friends.
Everything seemed to be going on well between the couple but sadly, not well enough to keep their relationship going beyond 2014. After they parted ways, Lily and Jamie rekindled their old flames while Thomas moved on to Dianna Argon.
Matt Easton
Relationship Timeline: 2014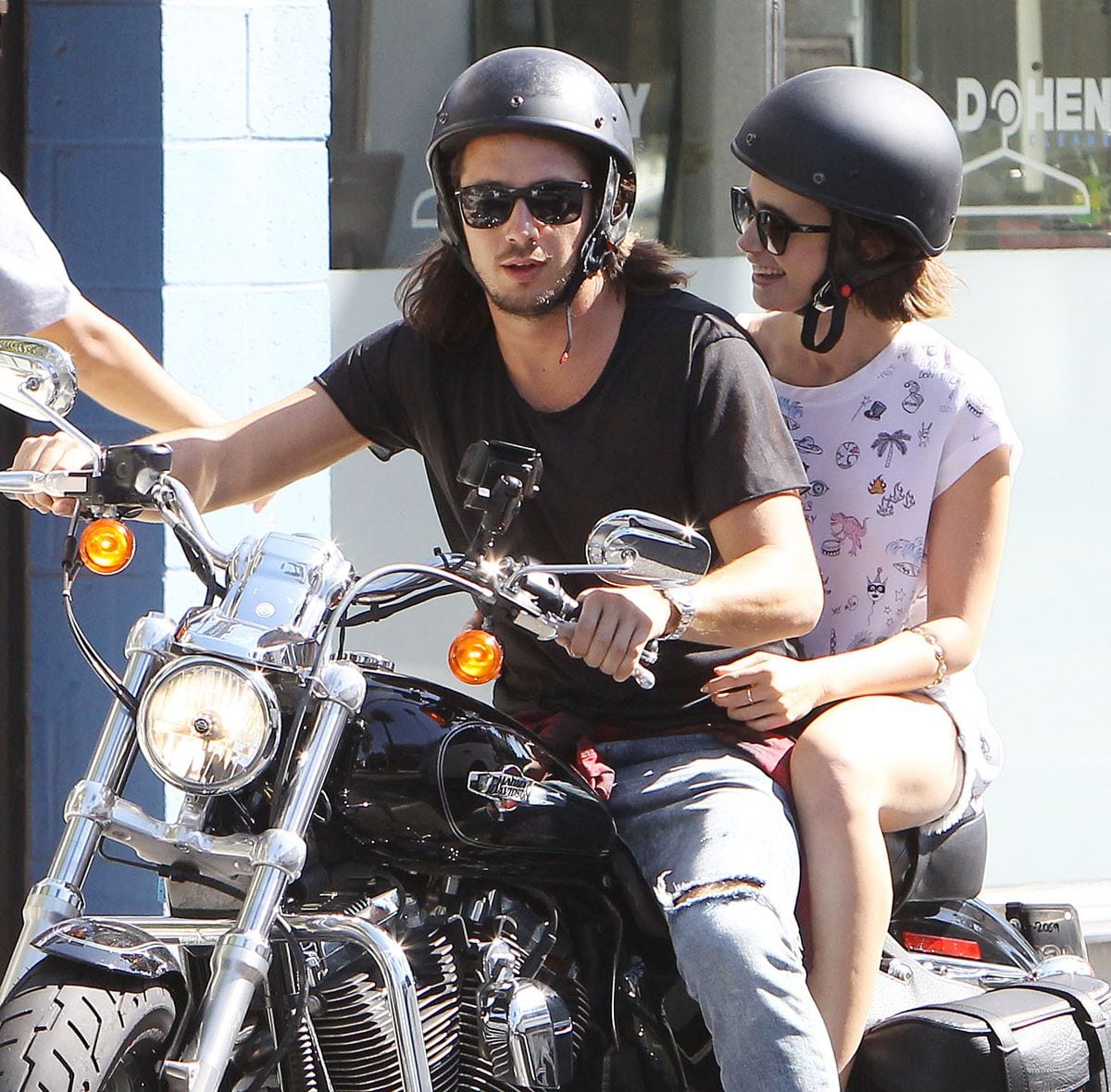 After dating a string of co-stars over the years, Lily decided to search for love elsewhere. According to reports, she started dating London-based photographer Matt Easton in 2014. News about the duo was first published by The Daily Mail on September 29, 2014, when they reported that the then 25-year-old actress was seen enjoying herself with a mystery man during a date at Disneyland in Anaheim, California, on Saturday afternoon, September 27, 2014.
Lily and the unknown man were dressed in look-alike checkered shirts worn over their white vest tops and denim bottoms. In between trying out the rides, the pair were treated to a VIP guided tour, and along the line, they stopped off to grab some snacks and souvenirs. Afterward, the actress and her companion went to have dinner at Club 33, an exclusive restaurant in the themed land of New Orleans Square.
In November 2014, Lily and the mystery man, who had already been discovered to be Matt, were spotted taking a walk in West Hollywood. At the time, Matt was working as an assistant to the world-famous photography duo Mert Alas and Marcus Piggott, and according to Daily Mail, it appeared he and Lily Collins met in July 2014 while she was their subject for a shoot for the luxury cosmetics, Lancome, in Ibiza.
As much as fans of the actress hoped for a confirmation of the relationship between her and the photographer, the story of them being a couple began and ended as a rumor.
Chris Evans
Relationship Timeline: 2015
Known for his role as Captain America in the Marvel Cinematic Universe, Chris Evans met Lily Collins on February 22, 2015, at the Vanity Fair Oscars party. On March 14 of the same year, Us magazine broke the news that the Hollywood stars had hit things off after their meeting. Quoting a source who made the disclosure, the publication revealed at the time that the duo's relationship was just at the beginning stage, adding that they were having a lot of fun "and seeing where it goes."
An actual proof that Lily and Chris were an item surfaced later on when pictures of their date night on Friday, March 20, 2015, emerged online. The photos show Chris making his way into a high-end Italian restaurant in Los Angeles with Lily. They sat at a table on the patio and according to an eyewitness who spoke to E! News, Evans drank a bottle of beer appeared more talkative as they dined. The eyewitness also revealed that they both seemed to be flirting with each other, "It for sure seemed like they were on a date," the eyewitness added. After they finished their meal, the two were seen laughing and smiling outside.
As beautiful as they appeared together, whatever the celebrity actors had ended the same year it started.