Tiger Woods is currently unmarried but in a relationship with a woman named Erica Herman. Before they became a couple, the golf master was married to Elin Nordegren (m. 2004–2010) and had dated many other women, including Joanna Jagoda (1998 – 2009), Kashmira Karanjia (2002 – 2009), and Julie Postle (2004 – 2006). He was also involved with Theresa Rogers (2004 – 2009), Jamie Jungers (2004 – 2006), Mindy Lawton (2006 – 2007), and Kalika Moquin (2009).
You don't need to be a golf fan to have come across the name Tiger Woods. Born on December 30, 1975, the American professional golfer is undoubtedly among the best in the world and as far as his generation goes, he will remain one of the most popular athletes who recorded a successful career.
He has also been named as one of the highest-paid athletes in the world for many years. With 79 PGA Tour events won over the course of his career, the Californian native obviously earned the popularity which he enjoys around the world. His fame also extends to his love life which has hogged headlines for both the right and wrong reasons, especially the latter.
Woods dated a lot of beautiful women in the past and also got married to one but the marriage came to an end sooner than many anticipated for the most unpalatable reason; infidelity. The golfer was open about his extramarital affairs and escapades while he was married to Elin Nordegren – his now ex-wife.
Additionally, he has been fighting a battle against sex addiction which landed him in rehab for therapy. Seemingly, Tiger's love life has been a ball of fun and you wouldn't want to miss any bit of the deets.
Who Is Tiger Woods Dating Since his Divorce?
After Woods made the issues of his infidelity known, many women came from different walks of life, especially porn stars, with claims of their hot romance with the golf icon. For someone who owned up to being a serial cheater, this shouldn't come as a surprise but we are never ready each time.
With more women speaking up, Woods' multiple infidelities became too obvious to be swept under the carpet, thus, he made a public statement, apologizing to everyone who he offended and saying that at a time, he thought he was living the life.
According to the golfer, the money and fame he enjoyed at the peak of his career took a toll on him and led him astray. The women came easily and he felt entitled to have a taste of them all, not minding who was getting hurt.
For all these, he apologized but not without paying the price – Accenture, AT&T, Gatorade, TAG Heuer, and General Motors are just a few of the big brands that put an end to the sponsorship deals they had with the randy golfer. On the other hand, Gillette suspended their adverts featuring Tiger Woods but Nike and Electronic Arts stood by him.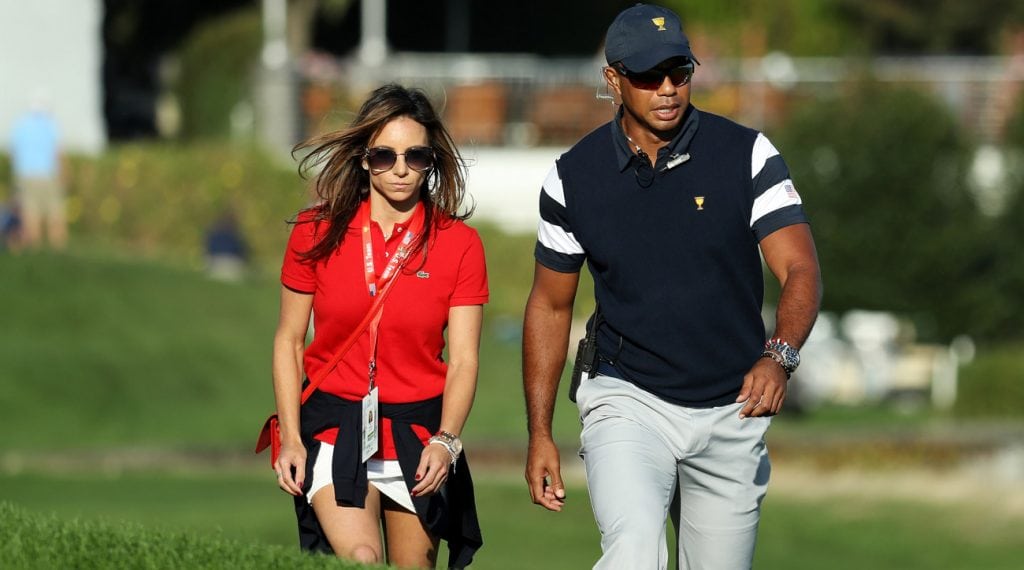 Though he has been presumed single for a while, Tiger Woods is reportedly in a relationship with Erica Herman, they started dating shortly after his split from Kristin Smith in mid-2017. They made their relationship public with their appearance at the Presidents Cup together towards the end of September of the same year.
According to reports, Herman has been an admirer of Woods for many years, waiting for the right time to get his attention. Now that she has her hands on him, there's no telling when she will let go.
Joanna Jagoda (1998 – 2009)
Before Elin took center stage in his love life by becoming his wife, Tiger Woods was in a romantic relationship with Joanna Jagoda, the affair which could pass as his longest relationship so far ended in 2009, no thanks to the golfer's wandering eyes and hands. He's believed to have cheated on her with Elin.
Kashmira Karanjia (2002 – 2009)
She's one of Woods' numerous girlfriends and would be remembered in a long while for suffering some serious damage to her eyes after getting a Lasik from Dr. Mark Whitten. The damage cost her her job as a teacher. Also, considering the timeline of her relationship with him, speculations are that Woods was juggling as many other women as he could manage at the time.
Julie Postle (2004 – 2006)
Julie who was 20 at the time of her hookup with Tiger Woods raised a lot of eyebrows especially from people who think he enticed her with his fortune and had his way with her while buying her many expensive gifts to keep her happy. Julie supposedly left her then-boyfriend to enjoy Woods' embrace, fame and wealth for two years.
Theresa Rogers (2004 – 2009)
Rogers is among the lineup of Woods' sexual escapades who came back to haunt him. Before he became a married man, Tiger and Theresa were reportedly meeting secretly and so the public was none the wiser about their affairs until she came after him. After she went public with her accusations, she also insisted that there's a possibility that her daughter might be his.
Jamie Jungers (2004 – 2006)
Las Vegas cocktail waitress Jamie Jungers is better remembered as the fifth woman to be romantically linked to the golf legend. Jamie who is also a lingerie model said she gave her body and more to Woods but in return, she was left with a shattered heart.
Elin Nordegren (Married – 2004 – 2010)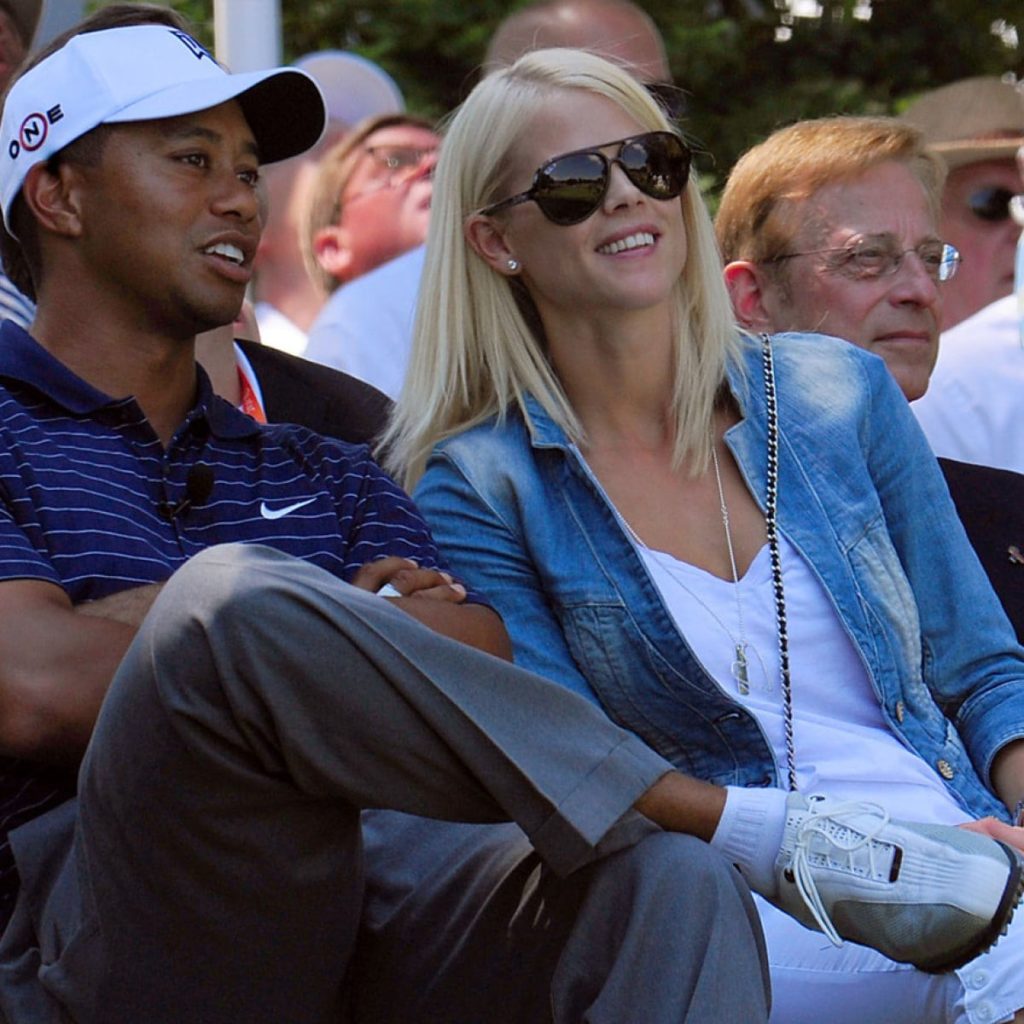 Nordegren was working for golfer Jesper Parnevik until she was introduced to Tiger Woods at the 2001 British Open. The Swedish former model and the golf pundit got engaged in November 2003 and later sealed their union in a wedding ceremony on October 5, 2004, at the Sandy Lane resort in Barbados. Woods' infidelity and cheating scandals led Elin to divorce him on August 23, 2010. The union produced a daughter named Sam Alexis Woods and a son, Charlie Axel Woods.
Mindy Lawton (2006 – 2007)
The waitress is among the many lovers who emerged with claims of marathon sex rounds with Tiger Woods. They had met in 2006 and would later engage in lovemaking in odd places including parking lots. Unlike the other women who came at him with accusations of unkept promises, Mindy has nothing but praises about how Woods knows his way around the bedroom.
Kalika Moquin (2009)
Life & Style magazine named Moquin as one of Tiger's romantic partners but his has not been substantiated in any way since she has neither denied nor acknowledged the claim. Her silence on the issue was interpreted as an indication that it was most likely a rumor with no credence.