Patrick Mahomes' parents are Patrick Lavon Mahomes Sr., his father, and Randi Martin, his mother. Patrick Mahomes' mother was an event planner while his father was a professional baseball player, however, their union ended in 2006. Patrick Mahomes is his parent's first child but not their only child. He has two siblings- a younger brother named Jackson and a younger half-sister named Mia Randall.
Thanks to his amazing professional record, the quarterback has become incredibly famous and the fame has rubbed off on his family, especially his dad who is believed to have influenced his decision to become a professional athlete.
Who is Patrick Mahomes' Father and What Does He Do For a Living?
Patrick Mahomes' father, Patrick Lavon Mahomes is an American former professional baseball pitcher who played in Major League Baseball from 1992 to 2003 with the Minnesota Twins, New York Mets, Texas Rangers, Boston Red Sox, Chicago Cubs, and Pittsburgh Pirates.
Full Name: Patrick Lavon Mahomes Sr.
Date of Birth: August 9, 1970
Age: 53 Years Old
Occupation: Former Professional Baseball Player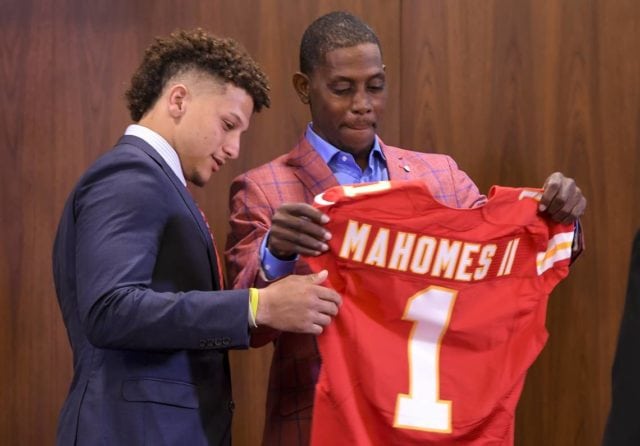 It is believed that Pat Mahomes plays some kind of role in managing his son's career and helping him thrive as a professional athlete. He is the most popular parent of the NFL star and this is because he played in Major League Baseball for over a decade. Pat Mahomes who played as a pitcher made his MLB debut on the 12th of April 1992 for the Minnesota Twins and brought his career to an end on August 26, 2003, playing for the Pittsburgh Pirates.
An all-state athlete in high school, Mahomes' father was drafted straight from high school, forgoing scholarships to play college basketball and football. Pat Mahomes was drafted in 1988 and would spend the next four years developing in the minor leagues before joining the MLB in 1992. In addition to the Pittsburgh Pirates and Minnesota Twins, Pat Mahome played for teams like the Boston Red Sox, Yokohama BayStars, New York Mets, Texas Rangers, and Chicago Cubs.
He is an accomplished athlete who was inducted into the Sioux Falls Canaries Hall of Fame in 2019. Given that, people assumed he played a role in nurturing his son into a fine footballer, and rightly so. Even though Pat wanted Patrick to play professional Baseball like him, he encouraged the lad when he opted for football. Thanks to Pat, it is said that the skills Patrick learned from playing baseball helped to polish his throwing skills as a quarterback.
Who Is Patrick Mahomes Mother, Randi Mahomes?
Randi Mahomes is the ex-wife of MLB player Pat Mahomes and the mother of NFL player Patrick Mahomes II. Randi Mahomes (née Martin) was born in Tyler, Texas, on January 18, 1976
Full Name: Randi Mahomes (née Martin)
Date of Birth: January 18, 1976
Age: 47 Years Old
Occupation: Event Planner
When Mahomes' parents divorced, they both remained active in his life but for a while, he spent time with his mom growing up in Whitehouse, Texas. Randi is very close to Patrick Mahomes and has often been praised for raising the NFL quarterback into a fine gentleman.
Born to Randy Martin and Debbie Bates Martin in Tyler, Texas, reports have it that Randi's father was a school principal who thinks highly of education. He definitely influenced his daughter as Randi ensured that Patrick didn't forsake his education while pursuing his dream of becoming a professional athlete.
She has also been very supportive of his career. According to Randi, Patrick Mahomes made up his mind to quit football in high school because they wouldn't let him play as a quarterback. The woman is clearly proud of who her son has become; not only because he is one of the finest quarterbacks in the NFL but also because he is humble and well-mannered.
Are Patrick Mahomes Parents Still Married Of Divorced?
Patrick Mahomes' Parents Divorced In 2006 When He Was 11 Years Old. While Patrick Mahome's father has always been quite popular, it is because of his son that people began to look into his private life; so it is as well for the mother of the NFL quarterback. Before their son became super famous, much isn't known about Pat Mahomes and Randi Martin. As such, details of their lives together as a couple is hard to come by.
How Pat Mahomes and Randi Martin met is not known just as when they got married is yet to be determined. We can only tell that they had issues in their marriage at some point and it necessitated a divorce which was finalized in 2006 when Patrick Mahome was 11 years old.
The remarkable thing about Pat Mahomes and Randi Martin is that they didn't allow their divorce to get in between their parenting responsibilities. They remained involved in the lives of the two sons they had together and successfully nurtured them into responsible adults.
Meet Patrick Mahomes Siblings
Yes, Patrick Mahomes' family members include two younger siblings; a brother named Jackson and a sister named Mia.
Jackson Mahomes is Patrick Mahomes Brother
Date of Birth: May 15, 2000
Age: 23 Years Old
Occupation: Social Media Personality
Jackson once followed his older brother's footsteps with the aspiration of someday becoming a pro-athlete. During his time at Whitehouse High School, he played basketball. Nonetheless, Jackson has abandoned his pursuit of a career in that field and has settled for being a social media personality.
He is popular across social media sites like Instagram, Twitter, and TikTok where he has pulled almost a million followers as of February 2020. His contents range from videos that offer insight into his personal and family life to those that cover his brother's exploits in the NFL.
Mia Randall is Patrick Mahomes Half-Sister
Date of Birth: July 2, 2011
Age: 12 Years Old
Occupation: Undetermined
Patrick Mahomes' parents Pat Mahomes and Randi Martin only had two sons together. Many years after their divorce, Randi was involved in another relationship that led to the birth of a daughter named Mia Randall. So, Mia is the half-sister of the NFL star.
Their mother once revealed to the media that Patrick is very fond and protective of his kid sister. Though Mahomes' parents divorced years ago, they remain friends and the entire family maintains a close-knit relationship.
Patrick Mahomes Is Now a Father
Since 2012, Mahomes has been dating soccer player and fellow Whitehouse, Texas native, Brittany Matthews. The couple got engaged in September 2020 as the quarterback proposed to his long-time girlfriend after receiving a Super Bowl ring and that same month, precisely on the 29th, Patrick and Brittany took to Instagram to disclose that they were pregnant. On Sunday, 21st of February 2020, they welcomed a daughter named Sterling Skye Mahomes. The couple later got married on the 12th of March, 2022 in Maui, Hawaii.
Key Takeaways 
Who Is Patrick Mahomes Mom?
Patrick Mahomes' mom goes by her maiden name, Randi Martin. She was born on January 18, 1976, Tyler, Texas, to Randy Martin and Debbie Bates Martin, and is the youngest of the couple's three children.
Who Is Patrick Mahomes Dad?
Patrick Mahomes' dad is Patrick Lavon Mahomes Sr., a former pitcher in Major League Baseball (MLB) who played in the league from 1992 to 2003.
What is Patrick Mahomes Parents' Nationality?
While both Patrick's parents' are Americans, they are of different ethnicities. His father is African-American and his mother is Caucasian.
Does Patrick Mahomes Mom Live In Kansas City?
Yes. The NFL star lives in a 3,759-square-foot mid-century home located in Sunset Hills West in Kansas City. He lives with his wife, Brittany Matthews, and their daughter.
Who Is Patrick Mahomes Brother?
Patrick has a younger brother named Jackson Mahome, who was born on May 15, 2000. Unlike his brother, Jackson decided to deviate from the athletic path, building a social media career instead, and his choice has paid off as he has grown to become very popular on various social media platforms.
Who Is Patrick Mahomes Sister?
Born on July 2, 2011, Mia Randall is the half-sister of Patrick Mahomes. Their mother, Randi, got involved in another relationship after her divorce from Patrick's father and it resulted in Mia's birth.
What Does Patrick Mahomes Think Of His Brother?
The quarterback has a very close relationship with his brother and is very supportive of his career.