Lamar Jackson's parents are Felicia Jones (mother) and Lamar Jackson Sr. (father) who died in 2005 when the NFL quarterback was just 8. He is in a relationship with a young woman named Jaime Taylor who has been able to hide away from the public since they started dating.
Lamar Jackson's girlfriend, Jaime Taylor, is one of the most modest relationship partners of professional football players. The couple met in school in 2017 and have been dating for 5 years and counting.
Lamar Jackson Bio and Profile Summary
Age/Date of Birth:

26 years old (7 January 1997)
Height:

6 feet, 3 inches (191 cm)
Ethnicity/Race:

African-American
Nationality:
American
Wife or Girlfriend:
N/A
Parents:
Father: Lamar senior
Mother: Felicia Jones
Net Worth:
$4 million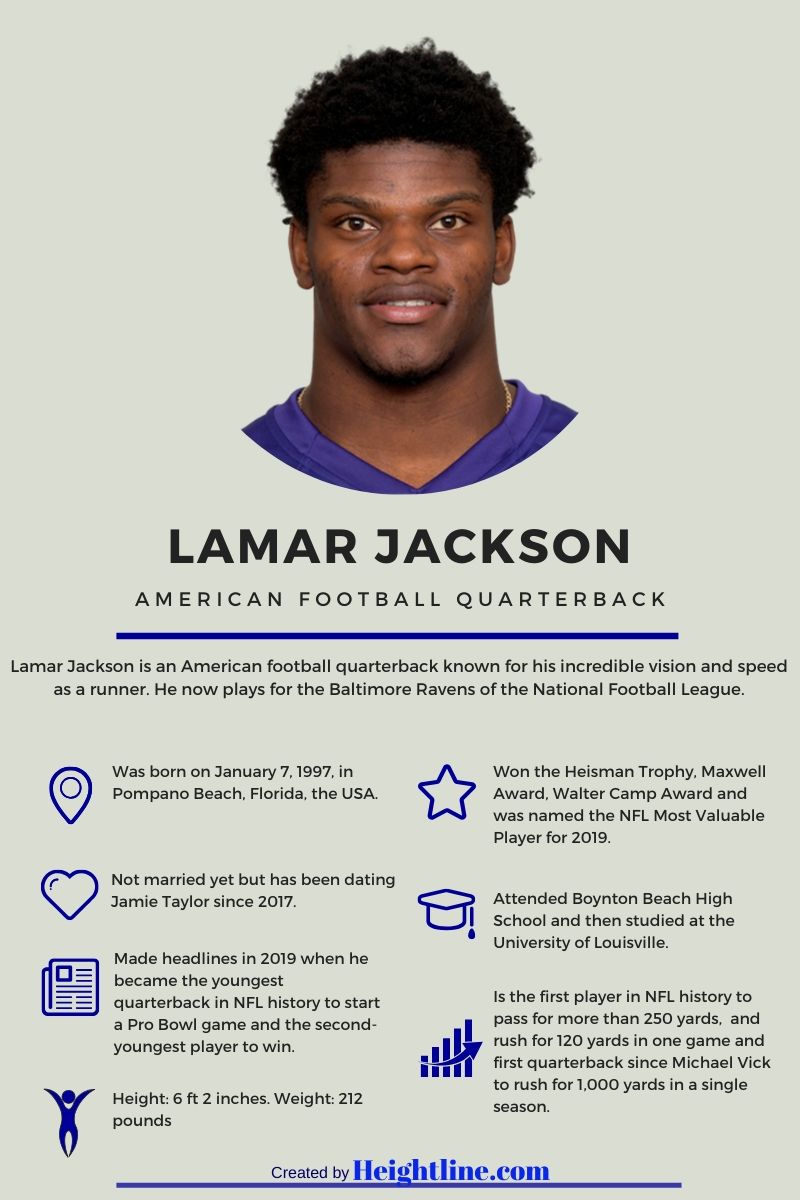 Jaime Taylor Has Been Lamar Jackson's Girlfriend Since 2017
College and high school romances are always the sweetest, especially if it lasts as long as Jackson's with Jaime Taylor. Could they become NFL's next power couple? Well, time would tell.
The couple reportedly met in the year 2017, a time when Jackson was a junior at the University of Louisville, a college he had finally decided to attend after the coach assured him that he would be playing as a quarterback.
It is possible that Jackson and Taylor might have already been dating before then and the public only got to find out in 2017, this is because 2017 was the year when Lamar Jackson was plunged into the limelight for his incredible performance in college football.
It was the year when he had again become a finalist for the Heisman trophy after winning it in the previous year, but the incredibly talented Jackson did not end the 2017 season without a trophy, he won the ACC Player of the Year and ACC Offensive Player of the Year.
After his college years ended and Jackson joined the NFL, many began to wonder if indeed he was still dating Taylor and findings came out with a positive answer. This would mean that the pair have been going strong for no less than 4 years and counting.
Lamar Jackson's Girlfriend Keeps A Very Low Profile
Unlike most girlfriends of other equally popular NFL stars, Jaime Taylor decides to keep herself out of the spotlight and this has made it incredibly difficult to tell what goes on in her relationship per time or who she is, and what career path she has going for herself.
There has also never been a photo of her posted publicly and her identity has since remained known to only Jackson and his family and friends. So how is the media so sure that Taylor is indeed Lamar Jackson's girlfriend?
The first confirmation that both were still in each other's life was in 2019 when Taylor had an interview with the Baltimore Ravens website, the interview as done by journalist Clifton Brown was part of the website's extensive profiling of one of their biggest star players.
In the interview, Jaimie Taylor gave reader's a glimpse into a side of Jackson saying that he had taught her how to handle criticism as he is never fazed about what critics say about him, or his style of play.
Taylor said she used to get really mad when she read stuff online but then when she observed him, he seemed so calm and he would tell her to let people do the talking and that he did not have to do anything but let his actions shut them up.
Indeed, Jackson's performances over the years have made the critics chew their words. In 2020, he became the first quarterback to rush for 1,000 yards in a season more than once, in the previous season, he became the second player ever in the history of the NFL to unanimously win the NFL Most Valuable Player, he was also the fourth African-American quarterback in NFL's history to win the award.
Fans are hoping that Jackson's continuous accolades would lead to a time when Taylor would finally be seen publicly by his side, maybe his first Super Bowl Championship?…
Jackson Hinted At Taylor's Geeky Side In An Interview
Lamar Jackson really loved his Harry Potter Halloween costume ⚡️???? pic.twitter.com/02LZI3qBuE

— ESPN (@espn) October 30, 2019
Lamar Jackson has also spoken fondly of his girlfriend Jaime Taylor. Speaking about his Harry Potter costume for the 2019 Halloween, the star QB revealed that it was his girlfriend's decision that he dressed like Harry. "My girl, she wanted to do the Harry Potter theme. I felt like I was back at the wizard's place. It was pretty dope…" Jackson told reporters.
Lamar Jackson as Harry Potter #HappyHalloween @Lj_era8 @Ravens pic.twitter.com/ZvhHd2sPHs

— Phil DiPietro (@phil_dipietro) October 31, 2019
Jackson, however, clarified that he was not a big fan of the franchise and that he had only watched a few movies and would sleep off because of how long it was.
Lamar Jackson's Dad Died When He Was Still Young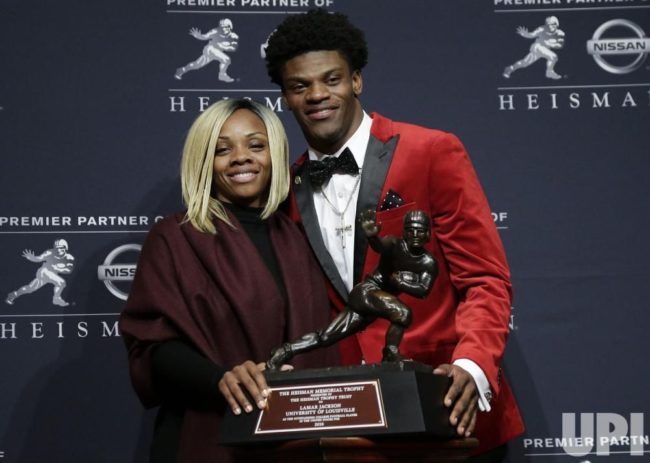 Lamar Jackson grew up without his father. The football quarterback lost his father Lamar Jackson Sr. when he was just 8 years old in 2005, on that same day, he lost his grandmother.
Lamar Sr. had been involved in a tragic car crash. Jackson's mother Felicity Jones would then be left to raise Jackson alongside his siblings which include a younger brother named Jamar Jackson (who used to be his training mate when his career was just beginning to take off) and an unknown number of sisters.
Growing up without a father by his side was Johnson's worst childhood experience. Though his mother was there for him during his childhood days, he knew someone special was missing in his life, however, his mother Jones has done a terrific job at ensuring that her son feels that void as little as possible and judging by Jackson's success and stability, she did a great job.
Athletics can be said to run deep in Jackson's blood, a few of his relatives have played football including, Trayvon Mullen, Calvin Ridley, and Adoree Jackson who is a distant relative.
Jackson seemed to have inherited his acting athletic side from his mother Felicia Jones who played basketball in school. The family in 2019 were said to live together about 20 minutes away from the Ravens training complex.
Lamar Jackson's Mom, Felicia Jones, Serves As His Manager
Felicia has been a supportive mother to Lamar ever since she lost her husband. She not only supported his career path but went on to play the role of a coach. She was always there at her son's training and workout sessions.
For those who do not know, Jones plays the role of Jackson's manager and played her managerial roles during her son's drafting, ensuring that he played as a quarterback.
In his interview with Player's Tribune, Jackson called his mom "the first and best coach he has ever had." In the interview, he also revealed that he bonded with his mom and brother by doing tons of drills together.
To date, Jones still runs the sprints and also trains up-and-coming footballers in Louisville. With the influence that family has had in his life and career, it came as no surprise when Jackson tattooed the word "Family" across his chest in 2020.
FAQs
Is Lamar Jackson married?
Lamar Jackson is not married but he has a girlfriend named Jaime Taylor with whom he has been in a long-term relationship. The quarterback shields his relationship from the public, preferring not to post pictures of Taylor on any of his social media accounts.
Who Is Lamar Jackson's Girlfriend?
Lamar Jackson is dating a young woman named Jaime Taylor. Contrary to what is obtainable with most girlfriends of other popular NFL players, Jaime Taylor choses to stay far away from the spotlight and as a result, it is very difficult to tell who she is and what career path she has chosen for herself. There has also never been a photo of her posted publicly.
Who Is Lamar Jackson's Mom?
The NFL star's mom is Felicia Jones. She has been a supportive mother to Lamar ever since the death of her husband (Lamar's father) and was his coach in his early days. She also serves as her son's manager.
What is Lamar Jackson's Mom's Age
Although Lamar's mom, Felicia Jones, is popular for being the mother of the NFL player, most personal information about her, including her date of birth and consequently her age is unknown.
Who Is Lamar Jackson's Dad and When Did He Die? 
Lamar Jackson's dad is late Lamar Jackson Sr. He died from a heart attack sometime in 2005. It was double tragedy for the family as his grandmother also died on the same day. Lamar was only 8 years old at the time therefore it was no surprise when he told The Courier-Journal that he has very little memory of his dad's death. He also revealed that he does not dwell on it much now that he has grown into a man himself. Larmar further disclosed that he was a 'father's boy' when his dad was alive.
Profile Summary
First Name:
Lamar
Last Name:
Jackson
Also Known As:

Smiley Face
Sex/Gender:

Male
Profession:

Quarter back
Famous For:
National Football League (NFL)
Colleges/Universities Attended:

University of Louisville
Educational Qualifications:

BA degree in Communications
Religion:

Christianity
Birthday & Zodiac

Age/Date of Birth:

26 years old (7 January 1997)
Zodiac Sign:
Capricorn
Birth Place:

Pompano Beach, Florida, United States
Nationality:
American
Ethnicity/Race:

African-American
Country of Residence:

United States of America (USA)
Physical Attributes

Height:

6 ft 3 in (191 cm)
Weight:

96 kg (211.64 pounds)
Eye Colour:

Black
Hair Color:

Black
Other Body Measurements:

N/A
Relationships

Marital Status:

Single
Spouse/Partner:

N/A
Family and Relatives

Father:

Lamar senior
Mother:
Felicia Jones
Children:

N/A
Siblings:
N/A
Other Relatives:

Trayvon Mullen- Cousin
Net Worth
Estimated Net Worth:

$4 million
Salary:
N/A
Source of Wealth:

Football career