Dirk Nowitzki has been married to Jessica Olsson since 2012 and they have three children named Morris Nowitzki, Malaika Nowitzki, and Max Nowitzki.
The NBA has been largely dominated by American players over the years but a few foreign imports have managed to make their mark in the big league. One person who stands out in this regard is Dirk Nowitzki.
The German player joined the NBA in 1998 and has gone on to establish himself as one of the best power forwards in the history of the league. In a glorious career spanning 21 years, Nowitzki has won several titles, including NBA Championships.
He has also set, as well as broken several records. As the German star calls time on an illustrious career. By his side is a very special woman, we are talking about Dirk Nowitzki's wife, Jessica Olsson.
Who is Dirk Nowitzki's Wife, Jessica Olsson?
Jessica Olsson was born in Gavle, Sweden to a Kenyan father and a Swedish mother on November 27, 1977. The 46 year old has younger twin brothers Marcus and Martin, who are professional footballers in Europe. Marcus plays for the Swedish club Helsingborgs IF and Martin plays for BK Häcken.
Jessica Olsson grew up in Sweden, where she completed her elementary and high school education, and eventually met her husband Dirk in 2010 at the Sports for Education Economic Development in Dallas. They fell in love and started dating, two years later, Nowitzki and Olsson tied the knot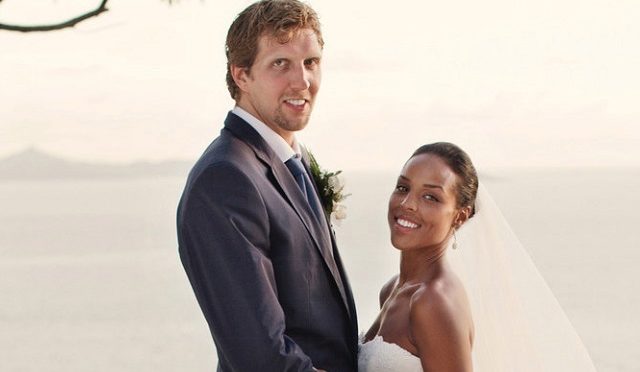 How Many Children Do Jessica Olsson and Dirk Nowitzki Have?
The couple has three children. Their first child Malaika was welcomed in July 2013. In 2015, Jessica gave birth to their second child, their son called Max. The couple had their third child, Morris in 2016.
Olsson speaks Swedish with the children but all three of them went to a German International School in Dallas.
Their children can be regarded as of mixed ethnicity since Dirk is German and his wife is Jessica is Kenyan.
Dirk Nowitzki is joined by his wife, children and other family members at tonight's #41Forever jersey retirement ceremony ????@swish41 | @dallasmavs | #MFFL pic.twitter.com/g5iOIFWHy4

— Bally Sports Southwest (@BallySportsSW) January 6, 2022
Talking about raising his kids, Dirk once told The Undefeated: "What I'm trying to do now with my kids is raise them with love. So they got to show you authority, got to show some respect. Not anything goes. That's not how it works around here.
"So you try to find a nice little mix where they feel the love. But also, they feel a tough hand every now and then."
Dirk Nowitzki's Interracial Marriage to Jessica Olsson
The Mavericks legend has established blissful and enviable family life with his wife, Jessica Olsson, a Swedish national who hails from a family of five. Her father is Swedish while her mother is Kenyan. She also has two younger brothers namely Marcus and Martin who are both professional footballers. They have variously played for several English sides, including Derby County, Blackburn Rovers, Norwich City, and Swansea City.
The twins have also represented the Swedish national team. With regard to her occupation, Olsson is a professional art dealer. She has worked at several art galleries and is now the associate director at the Goss-Michael Foundation, a non-profit art gallery located in Dallas, Texas.
How Did Nowitzki Meet His Wife?
Well, legend has it that the lovebirds first met at a charity event in Dallas in February 2010. They subsequently embarked on a date and realized that they shared similar interests in art, sports, family, and kids. Nowitzki was also bowled over by Olsson's beauty and they commenced a relationship.
The couple dated for nearly two years during which they got engaged. They later tied the knot in the year 2012. Their nuptials was a multi-layered affair as they conducted traditional wedding ceremonies in both Kenya and Germany. Nowitzki and Olsson also held a white wedding in the Caribbean before formalizing their union in a ceremony performed by a judge in Dallas on the 20th of July 2012.
Raising Multicultural Children
Since tying the knot, Nowitzki and his wife have enjoyed a stable union. They have both supported each other's careers. They also work together on the Dirk Nowitzki Foundation, a non-profit that promotes children's wellbeing, health, and education.
Nowitzki and his wife have also welcomed three kids namely daughter, Malaika (b. July 2013) and sons, Max (b. March 2015) and Morris (b. November 2016). The couple are raising their kids in a multicultural environment; they often take them to visit Kenya and Germany so that they would be in touch with their heritage.
Nowitzki and his wife have revealed that they do these in the hopes that their kids would be enlightened and exposed. Meanwhile, The Nowitzkis presently make their home in an 11,000 square feet mansion located in Preston Hollow Neighbourhood, Dallas. Their illustrious neighbors include the likes of Mavericks owner, Mark Cuban, former American president, George W. Bush, and golf star, Jordan Spieth.