There are a thousand and one cool American footballers out there but only a handful of them are as entertaining and awesome as Aaron Rodgers.
If his amazing records and successful transition from the backup spot to the quarterback position authenticated that Rodgers is one of the finest and versatile footballers, his peculiar touchdown celebration has earned him the love and admiration of football fans across the globe.
It matters little if you are not a fan of Rodgers team, you will fancy the celebration which Rodgers and his teammates have come to regard as the "Championship Belt". Anytime the footballer scores a rushing touchdown, he would make a gesture around his waist, moving his hands as though he's strapping a championship belt on his waist.
While Green Bay Packers' fans now use the gesture to taunt their opponents, promising that they'd be crushed on the field, the celebration was popularized when State Farm Insurance decided to feature it in its Discount Double Check commercials.
Being a quarterback for the National Football League's (NFL) Green Bay Packers, Aaron Rodgers could brag about having numerous fantastic career records which include being the only quarterback in league history to record 100-plus passer rating in six seasons; consecutively from 2009 to 2014. If you check the records, you will find that no other quarterback has been able to accomplish this feat in more than four straight seasons. The man occupies the top spot in NFL history with a 100-plus rating in seven seasons spanning from 2009 to 2016.
Disregarding that, Aaron has thrown the most 38-plus TD passes in NFL history. He's done this four times. Also, he's one of the only four quarterbacks in the history of NFL who have recorded two seasons with 40-plus TD Passes. Others are Drew Brees, Dan Marion and Peyton Manning. So far, only Rodgers has thrown 40-plus TD passes with seven or fewer INTs in a season. He attained this feat first in 2011 when he did 45/6 and again in 2016 (40/7).
Aaron has other outstanding records which have seen him named as NFL's Most Valuable Player on several occasions. Packers picked Rodgers in the 2005 NFL draft. It is known that his excellent college football career with California Golden Bears made it possible for him to be drafted in the first round.
Rodgers' Early Life, Parents, Brother and Family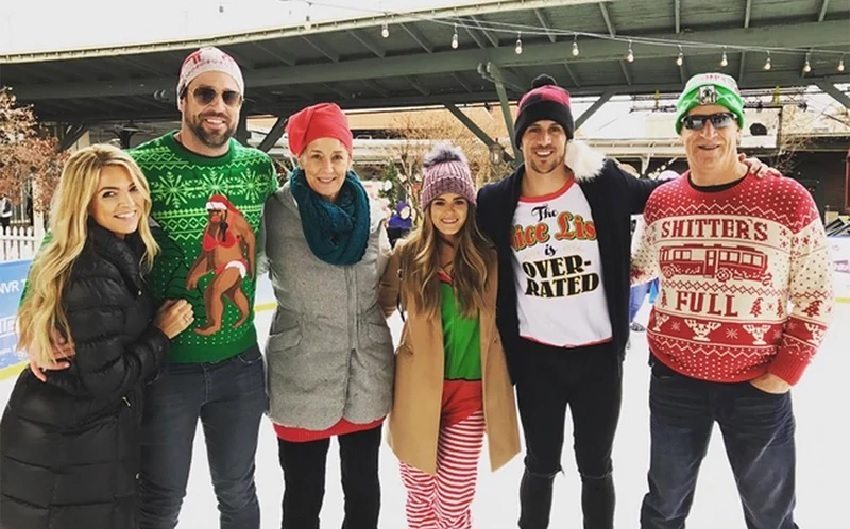 Rodger's parents, Edward Wesley Rodgers and Darla Leigh had him on 2nd December 1983 In Chico, California. While much isn't known about the footballer's mother, it is known that his father played for the Chico State Wildcats for about 3 years, from 1973 to 1976.
Still a kid, Aaron moved with his family to Ukiah. He got his earliest formal education there. It is said that his dad encouraged him to become an athlete. He would play football with Aaron and his brothers, urging them to do whatever they could that would make them better athletes than he was. The family would later move back to Chico where Aaron attended Pleasant Valley High School and eventually graduated in 2002.
Aaron has two brothers, Luke and Jordan. Their ethnic descent has been traced to include German, Irish and English. Of the two brothers, Jordan is most popular. Like his older brother Aaron, Jordan was once a professional quarterback player. He last played for the BC Lions in the Canadian Football League and is now a sports commentator.
See Also: Malcolm Jenkins Wife, Girlfriend, Family, Net worth, Biography, Facts 
Aaron Rodgers' Net Worth
Isn't it needless to point out that a major bulk of Aaron Rodger's net worth comes from his footballing career? The man is regarded as one of the highest paid athletes in the world. It was in 2013 that he inked a 5-year $110 million contract which saw him emerge as the highest-paid player in NLF. The deal handed Rodgers a $35 million signing bonus. It also saw him bag $62.5 million in the first three years.
Beyond his pay as a footballer, Aaron Rodgers has been pocketing huge sum from endorsing Nike and from his aforementioned State Farm Insurance commercials. While Forbes listed Aaron's salary as $11.6 million and his earnings from endorsements as $7.5 million, it is believed that the value of the Quarterback's wealth is $30 million. We are yet to substantiate this nonetheless.
Wife, Girlfriend or Gay? 
Aaron has no wife and has never been married. That doesn't make him gay, does it? Well, the man as far as we can tell is straight and not sexually attracted to his own gender. This is true irrespective of the fact that he has been outspoken about respecting the sexual orientation of others.
In fact, the man since 2014, has been romantically linked to Olivia Munn, an actress. Recently, in 2018, he was spotted with Danica Patrick, an American racing driver. Apparently, they were on a trip together and are lovers.