American actor and comedian Will Ferrell is married to Swedish actress and art auctioneer Viveca Paulin who he met in an acting class in 1995. Their union has produced three sons – 19-year-old Magnus Paulin Ferrell, 16-year-old Mattias Paulin Ferrell, and Axel Paulin Ferrell who is 13 years old.
Viveca Paulin is an actress and producer, known for Money Talks (1997), A Night at the Roxbury (1998) and Ralph Breaks the Internet: Wreck-It Ralph 2 (2018). Viveca was born on April 24, 1969 in Askim, Göteborg och Bohus län, Sweden. 
Will Ferrell is undoubtedly one of the most successful Hollywood stars who have recorded incredible feats in their careers. The comedian first gained prominence in the '90s following his appearance on the popular comedy show Saturday Night Live. However, he has forged a lasting career in American entertainment, thus adding acting, writing, and business to his resume. All these were possible with the help of Will Ferrell's family, including his wife and their children.
Like they say, behind every successful man there is a woman; Viveca Paulin has been Will's special support system ever since. When their relationship began, Will wasn't famous and was still finding his footing in the comedy industry. However, the love and massive support from Will Ferrell's wife and family helped him to keep pushing and never give up. Today, Will Ferrell has become incredibly successful in his career and can afford the best life he and his family are currently enjoying.
The couple is enjoying a blissful married life, and they are parents to three children. Like many top Hollywood stars, Will has never kept his children away from the spotlight. Instead, his successes have continued to rub off on them, and he occasionally features them in some of his movies. But when not on set or performing on the stage, Will Ferrell enjoys spending quality time with his wife and kids.
Will Ferrell and Viveca Paulin Have Been Married for 23 Years
The American comic star and his gorgeous wife have been together for 23 years. They tied the knot in the year 2000; however, their relationship started way back in 1995. The pair first met while attending an acting class in 1995. They initially decided that they were better off as friends, and according to Will, he was in another relationship at the time. However, things later took a positive turn a few years later.
Before they became an item, their friendship blossomed, and Paulin was a great help to the comedian, such that she helped Will in many ways, especially when he needed to pay his rent and raise money to support his acting dreams. However, Ferrell later landed his first gig on Saturday Night Live, which made him relocate to New York. That notwithstanding, Will and Viveca made an effort to remain connected.
Despite their decision to remain as friends, the duo developed a strong affection for each other. While Will was on a break from SNL, Paulin invited him for a beer, during which she confessed that she still loves him despite their initial agreement. As a result, they started dating, and a few years later, Will Ferrell and Viveca Paulin visited a beach where they had their first date. Will proposed to her, even though it didn't go according to plan, as Viveca wanted none of that. The couple sealed their love in a nuptial vow in 2000.
Viveca Paulin is a Swedish Actress and Auctioneer
Will Ferrell and his wife have built a beautiful family, but not many know Will's wife is from Sweden. On April 24, 1969, Viveca Paulin was born in Askim, Gothenburg Municipality, Sweden. Currently, 54 years old, Paulin is two years younger than her husband, who was born July 16, 1967 (55). Will and Viveca have a cottage in Gnesta, Sweden, where they occasionally spend their summers.
She is an alumna of Claremont Pomona College, where she acquired a Bachelor's degree in 1991. Since her graduation, Viveca pursued a career in acting and as an auctioneer. She has had small roles in a few TV shows and movies, including A Night at the Roxbury (1998), Martial Law (1998), Money Talks (1997), Nail Polish (producer, 2006), Saturday Night Live (1999), The Tonight Show with Conan O'Brien (2010), etc.
Beyond acting, Viveca is also a member of the Los Angeles Art Community. She had worked as an independent auctioneer for Butterfield & Butterfield and Bonhams. Currently, she works as an auctioneer for the Los Angeles Modern Auctions. Paulin is also a board of trustees member of the Los Angeles Museum of Art. Alongside her husband, she also supports other museums such as the MAK Center, the Museum of Contemporary Art, and the Hammer Museum, among others.
Their Marriage Has Produced Three Sons
After his blossoming career, Will Ferrel's family comes next. The comedian has built an adorable family with his wife, Viveca. Their union has produced three sons, namely Magnus Ferrell, Mattias Ferrell, and Axel Ferrell. Meet them below:
Magnus Paulin Ferrell
Date of Birth: March 7, 2004
Age: 19 Years Old
Occupation: Child Actor, Music Star
Born on March 7, 2004, Magnus is Viveca and Will Ferrell's first son. While nothing much is known about Magnus, we know he was born four years after his parents walked down the aisle. He is a child actor who has appeared in movies such as Anchorman 2: The Legend Continues (2013) and The House They Will Come (2017). Asides from acting, Magnus is also a musician. Although he is yet to bag a record deal, Will's son has dropped a few singles. The young Ferrell is currently of school age, but the details about his educational background are currently not available.
Mattias Paulin Ferrell
Date of Birth: December 30, 2006
Age: 16 Years Old
Occupation: Child Actor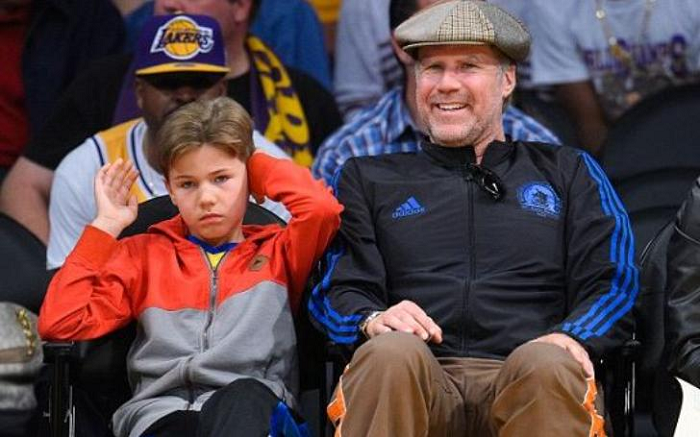 Two years after Magnus was born, Will Ferrell's family welcomed another son named Mattias Paulin Ferrell. Mattias was born on December 30, 2006, and he is the second son in the family. Like Magnus, nothing much is known about Mattias, as his parents haven't shared much information about him in the public space. However, he is also following in his father's footsteps and has become a child actor. He appeared alongside his siblings in the 2013 movie, Anchorman 2: The Legend Continues. More so, he has been spotted with his family on various occasions during movie premieres and other important events.
Axel Paulin Ferrell
Date of birth: January 23, 2010
Age: 13 Years Old
Occupation: Child Actor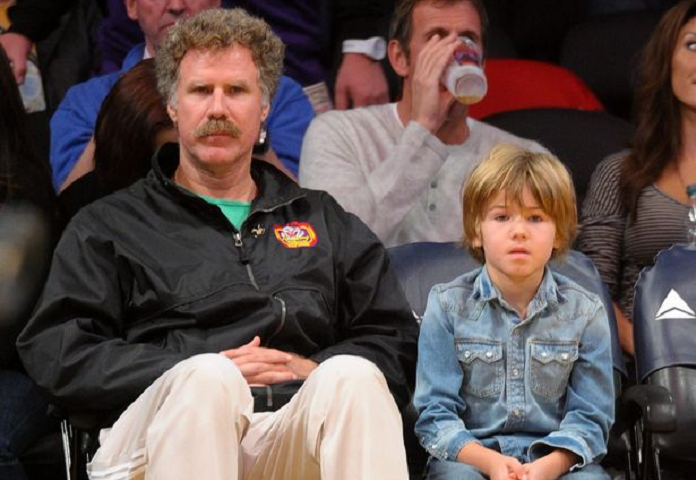 The youngest in Will Ferrell's family is Axel Paulin Ferrell. He was born in January 2010 and is currently 13 years old. Like his older brothers, Axel also made his acting debut in the 2013 movie Anchorman 2: The Legend Continues. There are fewer or no details regarding his educational background, including the schools he has attended and his current school. Nevertheless, he might also follow in his parent's footsteps to become an actor in the future.
What Makes Will and Paulin's Marriage Successful?
In Hollywood, where celebrity breakup is the order of the day, long-lasting marriages are hard to come by. Will's marriage to Viveca has stood the test of time, and the couple has proven what true love really means. Perhaps, if you say humor has kept Will Ferrell's family together, you are not far from the truth. The comedian once joked that before you marry someone, you should first make them use a computer with slow internet to see who they really are. And Viveca Paulin passed the test.
The couple has continued to support each other's careers, and they also make out time for their children. They have houses in different cities, including Los Angeles, New York City, and Sweden. Will and his family usually split their time between his wife's home country and the United States of America. Despite their busy schedules, they make out time for their family and kids.