Julia Louis-Dreyfus's parents are Gérard Louis-Dreyfus and Judith Bowles who divorced in 1962, one year after Julia was born, and her mother remarried L. Thompson Bowles when she was four years old. Julia has been married to Saturday Night Live comedian, Brad Hall, since 1987, and they have two sons named Henry and Charlie.
Julia Louis-Dreyfus has done well for herself as an actress and comedian; hardly would anyone assert that her career hasn't been fulfilling. Admired for her work with Saturday Night Live, Julia won a lot of fans following her portrayal of Elaine Benes in Seinfeld and Selina Meyer in Veep. She has played numerous characters in films and television and has bagged abundant awards for her records.
Who Are Julia Louis-Dreyfus' Parents?
The acclaimed actress was born to Gerard C. Louis-Dreyfus and his then-wife Judith Bowles. Her parents are quite prominent in their respective professions, so it seems natural that Julia managed to achieve fame.
Her father, Gerard C. Dreyfus (June 21, 1932- September 16, 2016), was born in Paris, France, where he spent most of his growing years. He belonged to both French and American nationalities. Gerard, fondly called William by his family and close friends, was a renowned businessman.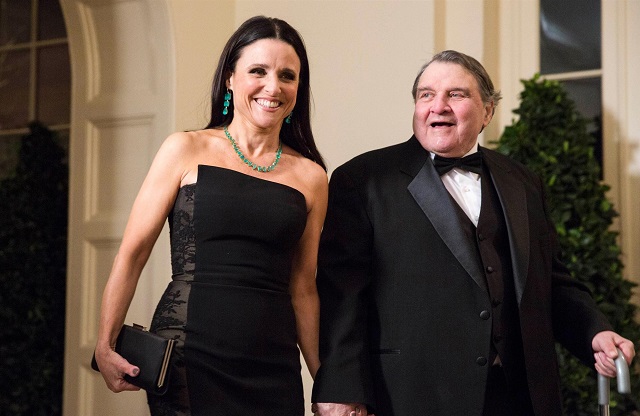 Up until his passing, he served as the chairman of Louis Dreyfus Energy Services, a company he inherited from his great-grandfather Leopold Louis-Dreyfus, who founded the Louis Dreyfus Group. Using his excellent knowledge of business and his love for innovation, Gerard led the family company to higher grounds and increased profitability from 1969 to 2006.
According to the company's website, they operate in more than 100 countries worldwide. They have also recorded tens of billions of dollars in revenue annually, thanks to the work that Julia Dreyfus' father put in over the years.
Julia Louis-Dreyfus' Father Truly a Billionaire?
In the media, Gerard is often referred to as a billionaire, a claim Julia has rebuffed several times, stating that her father unfortunately never reached the billionaire mark.
In spite of her protest, Forbes estimated that Julia Louis-Dreyfus' father's net worth was about $3.4 billion in 2006. Gerard is also a well-known figure in the world of art, where he built a reputation for being a passionate art collector. His collection of works has been valued at $50 million.
In addition to his extensive business resume, Gerard was also a lawyer – having graduated from Duke university's Law school – and a revered poet. Between the years of 1998 to 2008, he presided over the Poetry Society of America as the chairman.
Who Is Julia Louis-Dreyfus' Mother and Why Is She Popular?
Julia Dreyfus' mother, Judith Bowles, is also a literary powerhouse. She was born around the 1940s in America and has spent most of her career as a writer and special needs tutor. She lives and writes in Washington D.C. Judith holds an MFA from the American University. She was the first wife of Gerard C. Louis.
Dreyfus' parents got married in 1959 after going out for a while. Their marriage was however short-lived as the duo broke things off unexpectedly and finalized their divorce in 1962. Julia was the only child born out of their union. She was barely one year old when their marriage ended, so the comedienne has no memory of her parents being together.
Thanks to shared custody, Julia divided her early years between both parents. When Julia turned five, her mother got remarried a surgeon named Tom Bowles. Her father, Gerard had already taken a second trip down the altar a year earlier.
Who Is Julia Louis-Dreyfus' Husband?
Julia Louis-Dreyfus is happily married to Bradford Hall, a popular American comedian, director, actor, and writer. Hall was born on March 21, 1958, in Santa Barbara, California. He stands tall at a height of 6 feet 2 inches and has an estimated net worth of $10 million.
Hall came into stardom in 1982 and has since gone ahead to achieve several feats in the entertainment industry. Dreyfus' husband is best known for his work as a producer, director, and writer on the Golden Globe award-winning sitcom Brooklyn Bridge, for which he also earned a Primetime Emmy Award nomination.
His other notable career achievements include roles in the 1986 cult classic Troll and in the 1990 film Limit Up. He was also the director of the movie Picture Paris, which premiered at the Tribeca Film Festival. Hall has guest-starred on series such as Brooklyn Nine-Nine, Parks and Recreation, and Curb Your Enthusiasm.
His work on Saturday Night Live has earned him a great commendation. Hall is an alumnus of Northwestern University in Evanston, Illinois, which is where he first crossed paths with Julia Louis-Dreyfus. Hall started a comedy troupe called The Practical Theater and this led to him meeting her.
The talented duo has collaborated on a number of projects over the years including Saturday Night Live and Curb Your Enthusiasm. Julia Dreyfus and Brad Hall tied the knot in an intimate wedding ceremony in 1987. Their union has been blessed with two wonderful kids.
Who Are Julia Louis-Dreyfus' Children and What Do They Do?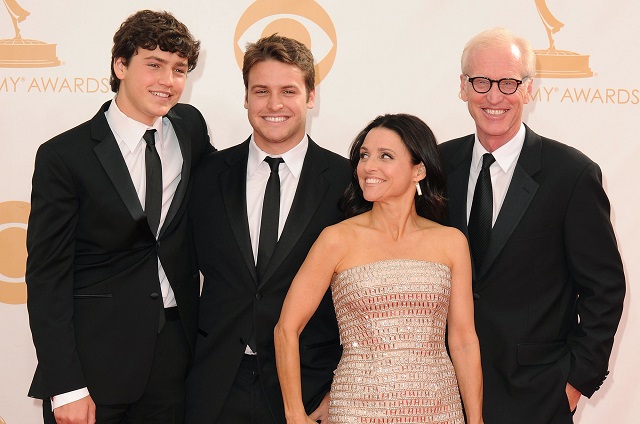 The actress and her husband welcomed their first son on July 1, 1992, and they christened him Henry Hall. Their second son – Charles – arrived years later on the 30th of May 1997.
Unlike his parents, Henry doesn't have a love for acting. He chose the music path and has become an accomplished solo artist. He also played in one of the most popular college bands at Wesleyan. His most recent EP Questions, Comments, Concerns was released in February 2019 to much acclaim.
Julia Louis-Dreyfus' other son, Charles Hall is putting his incredible height of 6 feet 5 inches to good use as a college basketball player. He has been a member of Northwestern University's basketball team since his freshman year in 2015.
Who is Julia Louis-Dreyfus Husband?
Julia Louis-Dreyfus is married to Brad Hall, an American actor, comedian, director, producer, and screenwriter. The couple tied the knot in 1987 and have two sons, namely Henry (born 1992) and Charles (born 1997).
Who is Julia Louis-Dreyfus father?
Julia Louis-Dreyfus father was Gérard C. Louis-Dreyfus, also known as William, a French-American businessman. He was the chairman of Louis Dreyfus Energy Services and the great-grandson of Léopold Louis-Dreyfus, founder of Louis Dreyfus Group. He died on September 16, 2016.
How many are Julia Louis-Dreyfus children?
Julia Louis-Dreyfus has two children, Henry Hall (born 1992) and Charles Hall (born 1997). Henry is a singer-songwriter and has performed on The Tonight Show, while Charlie is a comedian and actor.
Is Julia Louis-Dreyfus related to Richard Dreyfuss?
No, Julia Louis-Dreyfus and Richard Dreyfuss are not related in any way. However, they are both in the American entertainment industry. Richard is an actor known for his role in the 1970s, 80s, and 90s movies such as Jaws, Close Encounters of the Third Kind, and American Graffiti, among others.
Is Julia Louis-Dreyfus' family wealthy?
Julia Louis-Dreyfus' family is extremely wealthy. Her father Gérard C. Louis-Dreyfus net worth was estimated at $3.4 billion by Forbes in 2006. Their company, Louis Dreyfus Company, had total assets of over $18.4 billion in 2018. Julia and her husband, Hall, have a combined net worth of $260 million.
What is Julia Louis-Dreyfus' inheritance from her father?
Julia's father passed on in 2016 and he was worth $4 billion at the time of his death. His net worth company, Louis Dreyfus Company, was inherited by Julia, her siblings, and her stepmother.