Tom Selleck has been married to dancer and stage performer Jillie Mack since 1987 but before her, he was married to Jacqueline Ray from 1971 to 1982. The actor has also dated several women including Kitten Natividad, Lillian Mueller, Goldie Hawn, Jacqueline Ray (1971 – 1982), Mimi Rogers (1982-1983), Marie Helvin.
For the more significant parts of his career, Tom Selleck has portrayed dependable law enforcement characters in TV series such as Magnum, P.I., and Blue Bloods, etc. As fate would have it, the award-winning actor also exudes that dependability in his private life.
Never one to shed details of his personal affairs in public, Selleck has built a reputation for having one of the most rock-solid marriages and family units in Hollywood. Even though he did get around in his heydays, he is firmly committed to his wife and family now that he is married. He isn't afraid to make the necessary sacrifices, resulting in one of Hollywood's golden marriages.
All The Women That Tom Selleck Has Dated
1. Kitten Natividad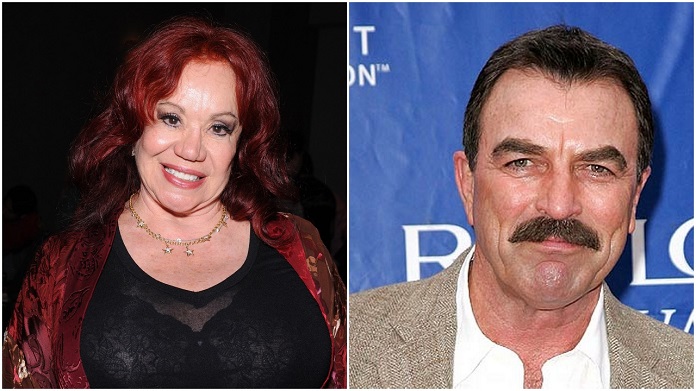 It may not have been a relationship, or even dating properly so-called, but it is reported that Selleck did have an encounter with Kitten Natividad at some point before the 70s. For those who do not know her, Natividad is a Mexican American exotic dancer-turned-actress. Renowned for her famous 44-inch chest, she eventually became involved in nude performances, pornographic modeling, and hardcore pornography. She left her husband for the filmmaker, Russ Meyer, and they lived together for 15 years.
2. Lillian Mueller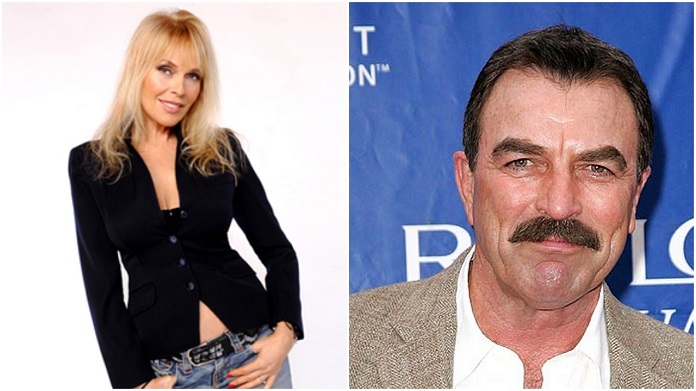 Another personality that Tom Selleck also had a previous relationship with was Lillian Mueller. Mueller is a Norwegian model who made it several times into the pages of Playboy Magazine. She also had a career as an actress in the 70s and 80s, appearing in several films such as Women in Hospital, Casanova & Co, and King of the Mountain. It is hard to say how Selleck and Mueller bumped into each other but it could easily have been at an industry event.
3. Goldie Hawn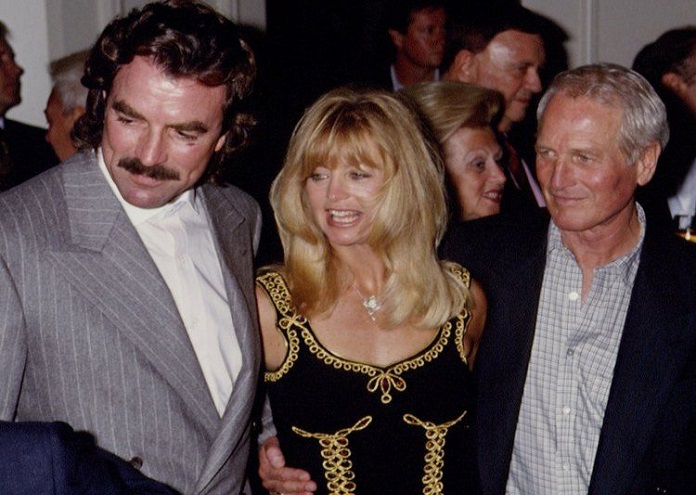 Selleck's brief romance with Goldie Hawn came on the back of her divorce from her second husband. Hawn and musician Bill Hudson went their separate ways in 1982. She subsequently embarked on a string of romances with the likes of French actor Yves Renier and Moroccan Businessman Victor Drai. She also briefly dated Selleck before going on to commence a relationship with actor Kurt Russell in 1983. They remain together to date despite having never married.
4. Jacqueline Ray (1971 – 1982)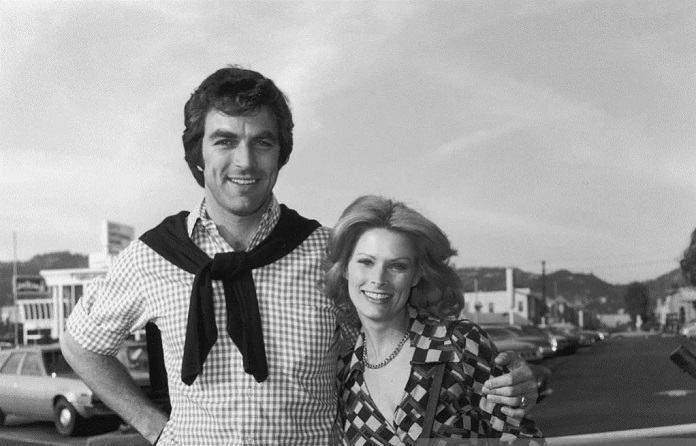 Tom Selleck has been married twice in his lifetime and the first marriage was to actress Jacqueline Ray. A native of Burbank, Ray delved into modeling and acting at a point and garnered a handful of credits to her name.
Prior to dating Selleck, Ray already had a four-year-old son name Kevin from a previous relationship. That fact did not dampen the actor's attraction to her and they began dating and tied the knot in the year 1971.
The couple would go on to be married for 11 years before obtaining a divorce in 1982. Their divorce has been partly blamed on Selleck's iconic role in Magnum P.I. His portrayal of the titular private investigator involved grueling hours of work in Hawaii which meant that he was often not there for his young family.
The marriage would later crash and both parties moved on with their lives. Selleck has kept in touch with his adopted son and has even helped in getting him minor roles in Magnum, P.I., and Scream 2. Kevin also attended his stepfather's alma mater, USC, and has dabbled into a career as a musician.
5. Mimi Rogers (1982-1983)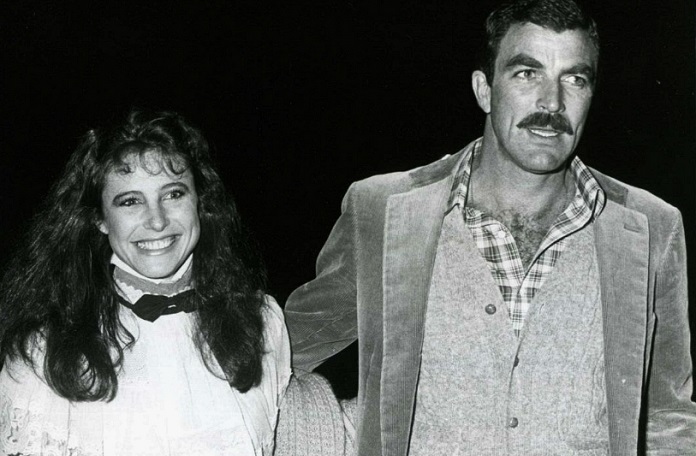 Following his divorce from Jacqueline, Tom Selleck was predictably heartbroken but he got on with his life. Luckily for him, his work on Magnum, P.I. kept him busy and before long, he struck up a relationship with actress Mimi Rogers.
Though there are no exact details about their beginning, it is possible that the two met on the set of the TV series as Rogers had a guest role on episode 15 of season 2 as a professor of theater and acting who dated Tom's character. It seems the duo transferred their relationship to real life and dated for a year.
During this time, they kept things low-key but they did walk the red carpet together during the screening of Selleck's 1982 film, Divorce Wars: A Love Story. The two would later call things off in 1983. They parted ways without hard feelings and once again worked together on the 2005 TV film, Stone Cold.
6. Marie Helvin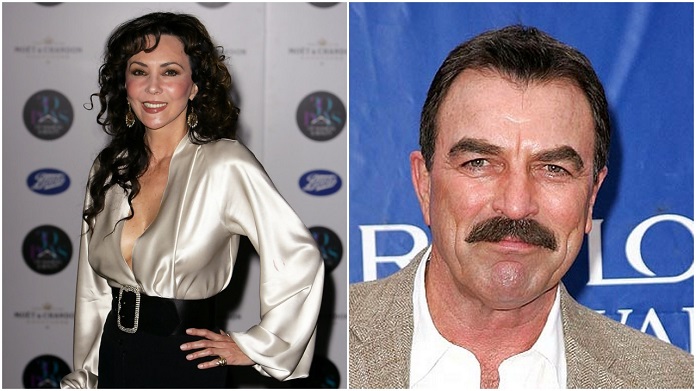 Hollywood celebrities have a penchant for penning tell-alls in the twilight of their career and this is what Helvin has done. The 70s glamourous model penned a biography in which she revealed that she had a brief fling with Selleck in 1983 while she was married to society photographer, David Bailey.
According to Helvin's accounts, she had dropped into Hawaii on one occasion and discovered that the whole town was buzzing as a result of Tom's presence there. She got to meet him, found him quite attractive and they had a fling. Sometime later, Selleck was in London and called Helvin up for dinner. She agreed but later wrote him a letter calling it off in order to save her marriage. Ironically, a week or so after that, Selleck would meet his current wife.
7. Jillie Mack (1987 – Present)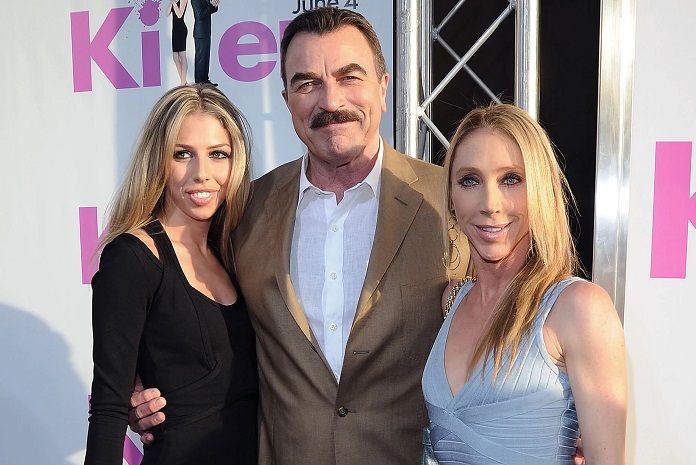 Tom Selleck's first marriage may have ended in divorce but his second has been a roaring success. The actor is married to dancer and stage performer Jillie Mack who he first met when he went to London to shoot a project. During his time there, he heard that the musical, Cats, was showing at West End and went to see it.
During the performances, Selleck became enhanced with a particular lady and utilizing his star status, was able to get backstage and introduce himself to her. They subsequently went on a dinner date and began dating. By the time, Selleck had wrapped up his London project, Mack gladly followed him back to Hawaii where he had his regular work on Magnum, P.I.
The Blue Bloods Star Married Jillie Mack and They Have One Daughter Together
The couple would date for four years before getting hitched in a secret ceremony held in Lake Tahoe, Nevada, in 1987. They subsequently went on to welcome their only child together, a daughter named Hannah, in 1988.
Selleck and Mack have been together for more than three decades now and their relationship keeps getting better. Part of the reason behind their success was Tom's willingness to work away from the demanding work of Magnum, P.I. to be with his family.
They also shield their romance and private life from the public. The happy couple and their daughter make their home on a 65-acre ranch and avocado farm located in Ventura County, California.
Why Tom Selleck Has Been Rumored To Be Gay
Tom Selleck is "singularly heterosexual" but he was enmeshed in some gay insinuations in 1991. This was as a result of a publication in The Globe tabloid which posted his photos and that of several stars in an article titled "Gay Stars Stop Traffic". The photos originated from a number of placards that had been posted around NYC, some with the tag absolutely queer, but Selleck did not find it funny.
He instituted a $20 million libel and invasion of privacy lawsuit against The Globe. He claimed that the publication brought him hatred, contempt, and ridicule. He also alleged that it falsely created the impression that he was gay. The Globe stuck to their guns for some time but they later reached an out-of-court settlement with Selleck. This saw them issue an apology and correction as well as make financial payments.