When a child named LeBron James was born on 30th December 1984, in Ohio, his parents most likely thought nothing special of his birth. They probably assumed that he would just live out an ordinary life without knowing that nothing could be much further from the truth. Fast-forward to the present day, James is now one of the greatest basketballers and indeed sportsmen the world has ever seen. In a brilliant career spanning two decades, the small forward/power forward has won multiple NBA championships. He has also shattered several records whilst making great strides off the courts. James may still be an active player but he has already attained the status of an NBA legend.
Born Without a Silver Spoon
Renowned American motivational speaker Andy Andrews once said that adversity is a preparation for greatness. He may well have been speaking about James when he drooped that little nugget. LeBron Raymone James Sr. was born on the 30th of December 1984 in the town of Akron, Ohio. At the time of his birth, his mother was a 16-year-old girl named Gloria Marie while his father was a habitual felon named Anthony McClelland. McClelland played little or no role in his son's life and it thus fell to Gloria to carry all the burden. The young girl worked multiple jobs to survive but found that she couldn't provide an ideal home environment for her son. She, therefore, made the unselfish decision to allow James to grow up with a stable family unit. That decision turned out to be a fortuitous one as it was the family that introduced him to the game that would come to define his life.
Laying Down the Marker in High School
LeBron James started playing football in the 5th grade and immediately garnered a big reputation in his hometown and even beyond. He subsequently enrolled in the St Vincent-St Mary Irish Catholic School for his high school career. In four years at the institution, the young chap led his school to three divisional state titles. He also spearheaded an outstanding freshman season where the team went undefeated. These amazing exploits fetched James several accolades in recognition of his impressive individual contributions. They include Ohio Mr. Basketball (3x), USA Today All-USA First Team (3x) and Gatorade national player of the year (2X). To this day, LeBron James remains a legend in his hometown. He has several sports facilities, as well as other public edifices named after him.
Living up to the Hype as a Pro
Following his high school exploits, James understandably decided to skip college basketball altogether. He declared for the 2003 NFL Draft and was unsurprisingly picked, first overall by his home team the Cleveland Cavaliers. He then proceeded to make an instantaneous impact in the NBA, proving that his high school exploits were no fluke. In his very first season with the Cavaliers, James tallied an astonishing average of 20.9 points. 5.9 assists, and 5.5 rebounds per game. He was subsequently named the NBA rookie of the year despite the fact that his team did not even make it to the playoffs.
Following his impressive debut season, James spent six more years with the Cavaliers during which he continued his prolific scoring form. However, despite all his best efforts, his team couldn't win the NBA championship. This frustrated the small forward to no end as he realized that a sportsman was only as good as the number of trophies he has won. He, therefore, made the painful but wise decision to leave the Cavaliers for the Miami Heat in July 2010. This decision made James persona non grata in his home state but he remained unfazed.
Buoyed by a striking partnership with other seasoned players, such as Chris Bosh and Dwayne Wade, James spent four successful seasons with the Miami Heat. During this period, he finally achieved his heart desire by winning back-to-back NBA championships in the 2011/2012 and 2012/2013 seasons. Having attained his ultimate goal in Miami, James happily returned to the Cavaliers in July 2014. The city welcomed him back with open arms and he spent four years with them during which he atoned for his 'transgressions'. He led them to the 2015/2016 NBA championships; the first-ever in the history of the franchise.
His Incredible Career Stats (2003-2019)
| | | | | | | | | | | |
| --- | --- | --- | --- | --- | --- | --- | --- | --- | --- | --- |
| Year | Team |  GP | Min | Pts | FG% | 3pt% | Reb | Ast | Stl | Blk |
| 2019 | Lakers | 53 | 34.9 | 25.2 | 49.0 | 34.5 | 7.7 | 10.7 | 1.2 | 0.5 |
| 2018 | Lakers | 55 | 35.2 | 27.4 | 51.0 | 33.9 | 8.5 | 8.3 | 1.3 | 0.6 |
| 2017 | Cavaliers | 82 | 36.9 | 27.5 | 54.2 | 36.7 | 8.6 | 9.1 | 1.4 | 0.9 |
| 2016 | Cavaliers | 74 | 37.8 | 26.4 | 54.8 | 36.3 | 8.6 | 8.7 | 1.2 | 0.6 |
| 2015 | Cavaliers | 76 | 35.6 | 25.3 | 52.0 | 30.9 | 7.4 | 6.8 | 1.4 | 0.6 |
| 2014 | Cavaliers | 69 | 36.1 | 25.3 | 48.8 | 35.4 | 6.0 | 7.4 | 1.6 | 0.7 |
| 2013 | Heat | 77 | 37.7 | 27.1 | 56.7 | 37.9 | 6.9 | 6.3 | 1.6 | 0.3 |
| 2012 | Heat | 76 | 37.9 | 26.8 | 56.5 | 40.6 | 8.0 | 7.2 | 1.7 | 0.9 |
| 2011 | Heat | 62 | 37.5 | 27.1 | 53.1 | 36.2 | 7.9 | 6.2 | 1.9 | 0.8 |
| 2010 | Heat | 79 | 38.8 | 26.7 | 51.0 | 33.0 | 7.5 | 7.0 | 1.6 | 0.6 |
| 2009 | Cavaliers | 76 | 39.0 | 29.7 | 50.3 | 33.3 | 7.3 | 8.6 | 1.6 | 1.0 |
| 2008 | Cavaliers | 81 | 37.7 | 28.4 | 48.9 | 34.4 | 7.6 | 7.2 | 1.7 | 1.1 |
| 2007 | Cavaliers | 75 | 40.4 | 30.0 | 48.4 | 31.5 | 7.9 | 7.2 | 1.8 | 1.1 |
| 2006 | Cavaliers | 78 | 40.9 | 27.3 | 47.6 | 31.9 | 6.7 | 6.0 | 1.6 | 0.7 |
| 2005 | Cavaliers | 79 | 42.5 | 31.4 | 48.0 | 33.5 | 7.0 | 6.6 | 1.6 | 0.8 |
| 2004 | Cavaliers | 80 | 42.4 | 27.2 | 47.2 | 35.1 | 7.3 | 7.2 | 2.2 | 0.7 |
| 2003 | Cavaliers | 79 | 39.5 | 20.9 | 41.7 | 29.0 | 5.5 | 5.9 | 1.6 | 0.7 |
| | | | | | | | | | | |
| Career | | 1,251 | 38.4 | 27.1 | 50.4 | 34.4 | 7.4 | 7.4 | 1.6 | 0.8 |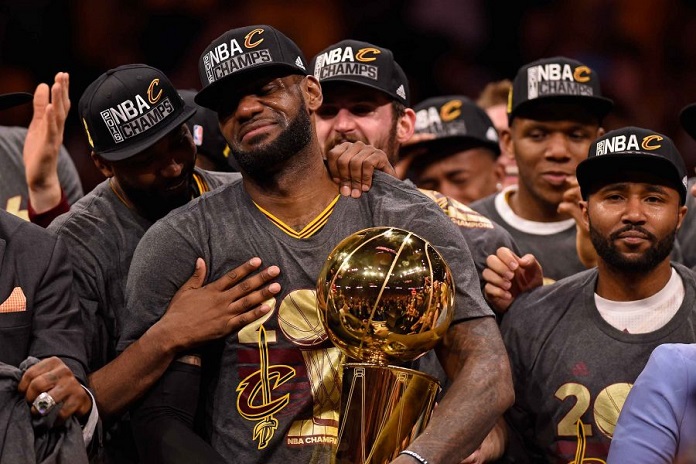 James' Litany of Accomplishments, Accolades, and Records
Since his 2003 debut, LeBron James has compiled a staggering number of individual accolades, including NBA MVP (4X), NBA All-Star (16x), NBA Finals MVP (3X), All-NBA First Team (12x), Olympic Gold Medal (2x), AP Athlete of the Year (3x) and AP Athlete of the 2010s Decade. The power forward also holds several records in the NBA and is set to break more before he finally takes a bow.
Some of his records are the youngest player to reach every point milestone from 1000 to 29000; the only player in NBA history to record at least 33,000 points, 9,000 rebounds and 9,000 assists; the only player in NBA history to win NBA player of the month five times in a single season; one of only three players in NBA history to score a triple-double in their playoff debut; the first player to score a triple-double against all 30 NBA teams; and the highest third scorer in NBA history (33,655 points).
James' exploits have predictably led to frequent comparisons with the great Michael Jordan with many debating whom amongst the two should be regarded as the greatest of all time (GOAT) in basketball. One person who has given his two cents on this enduring debate is another NBA legend and former president of basketball operations of L.A. Lakers, Magic Johnson. He believes that it is very much possible for James to surpass Jordan as the greatest basketballer ever but states that the Ohio native still needs to win a couple more championships to make that a reality.
His Good Fortune with Injuries
The world of sports is littered with examples of stellar athletes whose careers were prematurely ended by injuries. Some of them are Gale Sayers, Bobby Orr, Bo Jackson, Yao Ming, Daunte Culpepper, and Brandon Roy, Greg Oden, and Andrew Luck. LeBron James has however escaped such a fate. He has been quite fortunate with regards to injuries as he has only suffered minor knocks throughout his professional career. The only major injury that the small forward has suffered was a strained left groin during a Christmas day game against the Golden State Warriors in 2018. The injury caused him to miss about 17 games between December and January and this impacted his team, L.A. Lakers. They lost many games and couldn't make it to the postseason. James later revealed that he personally felt bad about his injury as he takes great pride in his consistent playing record.
How Much has LeBron James Earned from his Booming Career?
According to Forbes' estimates, James has a net worth of $450 million and has made as much as $1 billion in career earnings. This makes him not just one of the richest athletes in the world but also one of the richest young entrepreneurs in America. One source of James' fortune is his salary as a baller. The Ohio native has benefited from several lucrative contracts over the years. They include a $60.4 million deal (Cleveland Cavaliers – 2006), $110 million deal (Cleveland cavaliers – 2010), $100 million contract (Cleveland Cavaliers – 2016), and $153.5 million contract (L.A. Lakers – 2018).
Another source of LeBron's fortune is his myriad of endorsement deals. The NBA star has penned juicy sponsorship deals with several brands over the years, including Nike, Beats Electronics, Coca-Cola, Kia Motors, RIMOWA, and GMC. James is able to make much more profit from these deals as he often asks for a small stake in the company, rather than money, in exchange for his promotion. For instance, the NBA star once obtained a small stake in Beats Electronics as part of a promotion deal. He subsequently made a significant windfall when Beats Electronics was purchased by Apple in a deal worth $3.2 billion in 2014.
James has also extended his tentacles to the business world. The Ohio native owns several enterprises including a fashion brand (UNKNWN), a pizza franchise (Blaze Pizza), and a health and wellness company (Ladder). He is also the co-owner of a production company known as Springhill Entertainment which is making great strides in Hollywood and has produced several sports-themed projects. The company has also released a well-received sitcom, as well as an entrepreneurial reality TV series known as Cleveland Hustles.
Giving Back to his Cherished Hometown of Akron
2020 is going to be a good year. ???????? #WeAreFamily pic.twitter.com/a8D7BVwwbG

— I PROMISE School (@IPROMISESchool) January 9, 2020
James is not only renowned for his playing prowess on the court but also his compassionate spirit. The small forward has made a habit of donating generously to various charitable initiatives over the years. He is also the founder of a non-profit outfit known as the LeBron James Family Foundation. The foundation is dedicated to providing educational opportunities for at-risk young people in the town of Akron and one of their flagship programs is the I Promise Program.
The I Promise Program consists of a network of public schools that give less-privileged youths all they need to succeed. It features mentorship programs, after-school tutoring, attendance initiatives, as well as constant encouraging from James himself. The initiative also emphasizes the physical and mental wellbeing of its students by providing them with yoga sessions, as well as gardens and decompression zones. I Promise also goes over and beyond by catering for the immediate needs of the students' families, as well as sponsoring them to college.
Speaking Up for his People
Asides his basketball exploits, business savviness, and philanthropic endeavours, James has also made a name for himself as a keen social activist. The NBA star has regularly utilized his celebrity power to bring attention to issues that unsettle him. This especially consists of issues that affect African-Americans such as police brutality, racial injustice, as well as unequal opportunities.
James has spoken about the case of Eric Garner, a New Yorker who died in a chokehold during a confrontation with the cops. The NBA star has also come to the defence of players who have been racially abused. James put up a spirited challenge to the continued ownership stake of Donald Sterling after the former L.A. Clippers owner was caught in a racial outburst.
James himself has also been the victim of a racist attack. In May 2017, his Los Angeles home was vandalized with racial slurs painted across the gate. The 9,440 square feet home is located in the Brentwood neighbourhood estate and neither James nor his family was around at the time of the attack. Following the incident, the NBA star made a statement in which he expressed his disappointment at the reality of things in America.
He stated that no matter how much money you have as a person, it was still tough being black in America and therefore, the society had a long way to go before African-Americans can feel equal. The NBA star further stated that he was most grateful for the fact that his family was safe and hoped that the whole ugly incident would help shed light on the conversation of racism in the entire country.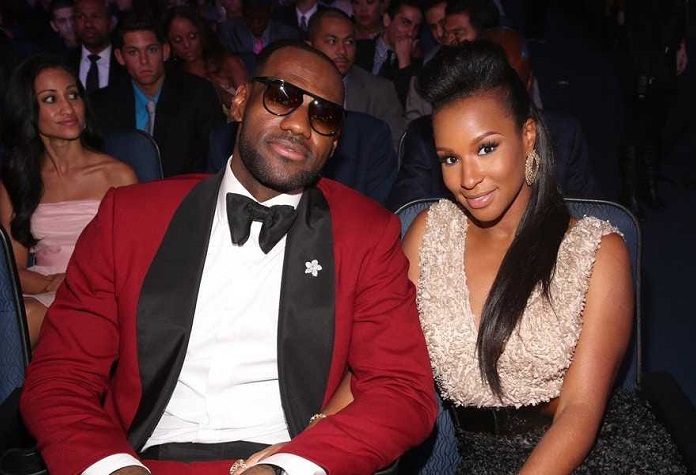 His Conjugal Bliss with his High School Sweetheart
James may have racked up numerous laurels, accolades, and records in the course of his mercurial career but he will be the first person to let you know that his biggest achievements are off the courts. This comes in the form of his marriage and family. The NBA star is happily married to fellow Akron native, Savannah James nee Brinson.
James first met Savannah while they were both students of the John R. Buchtel Community Learning Center, Akron, Ohio. They started dating in school and have been together ever since then. James and Savannah got engaged on New Year's Eve 2011. They subsequently tied the knot in San Diego in the year 2013. Their wedding was a star-studded ceremony which featured a performance by The Carters themselves; that is Jay-Z and Beyoncé.
James and his wife have since established an enviable union with Savannah allowing her husband to shine in the spotlight. This, however, does not mean that she has forgotten her own dreams and ambitions. Savannah is the owner of a furniture line. She has also embarked on several charitable initiatives. One of them was a drive to provide less-privileged female students with prom dresses.
The James Family is a Burgeoning Basketball Empire
LeBron James and his wife are now the parents of three wonderful kids namely LeBron Jr. (b. 2004), Bryce Maximus (b. 2007) and Zhuri (b. 2014). LeBron Jr and Bryce have followed in their father's footsteps and are showing great promise in basketball. For instance, Lebron Jr, popularly known as Bronny, is an outstanding high school basketball player and plays for Sierra Canyon Private School, Los Angeles. He led his school to defeat his father's alma mater, St Vincent-St Mary Irish, in December 2019 and was named the Most Valuable Player of the game. James was watching in the stands and he later took to Instagram to share how proud he was of his son.
The Lakers star wrote that it was such a surreal feeling for him to watch his son play in his home state against his alma mater who were still being coached by the same man that mentored him – Coach Dru Joyce II. He further revealed that he was quite nervous for his son but stated that attending the game meant the whole world to him. The NBA star then congratulated his son on playing the biggest game of his young high school career so far and equally thanked the Big Man Upstairs for his blessings.
LeBron James' Play for Hollywood
Many famous persons in the world have tried their hands on acting and James is no stranger there. The NBA star proved that he is quite multifaceted by featuring in the 2015 romance/drama, Trainwreck which revolves around Amy Townsend, a promiscuous, free-spirited, young magazine writer who is made to believe that relationships and marriage hold no value. Amy sustains this mindset for a long period of time until a chance encounter with a nerdy sports doctor, named Aaron Conners, forces her to have a rethink.
Trainwreck was directed by Judd Apatow and featured the duo of Amy Schumer and Bill Hader in the leading roles. LeBron James, on the other hand, appeared as himself in the role of Aaron's very good friend. The movie was a critical and commercial success upon its release. It scored a Golden Globe nomination for best motion picture – musical or comedy. it also grossed $140.8 million on a budget of just $35 million. In the aftermath of making the film, James' business partner, Maverick Carter, revealed that it was quite a risky move on James' part as he could have been quite terrible at acting. The NBA star, however, decided to take the gamble and it turned out great.