LeGarrette Blount is a professional American running back who currently plays in the National Football League (NFL) for the Philadelphia Eagles. He was born into the family of Gary and Barbara Blount on December 5, 1986, in Madison, Florida USA.
Blount's journey into the NFL started in 2010 as an undrafted free agent with the Tennessee Titans. Subsequently, in the same year, he joined the Tampa Bay Buccaneers prior to the beginning of the 2010 NFL season.
LeGarrette Blount Wiki, Bio, Career
In his early days of acquiring education, LeGarrette Blount attended Taylor County High School in Perry, Florida, and while he studied there, he took part in two sports- football and track and field. For four years he was one of the players in the starting lineup in the school's football team and a three-time 1,000-yard rusher.
He was awarded second-team All-state player honours as a prep senior, while also taking part in various track and field events such as the 100-meter dash (11.34 s), the long jump (22-1 or 6.75m), and the shot put (53-2 or 16.22m). Also, Blount belonged to the 4 × 100 metres squad.
Despite the effort, he put in while playing for his high school team, LeGarrette Blount was appraised as just a two-star recruit by both Rivals.com and Scout.com and consequently, was not graded as one of the best running back prospects in the country in the 2005 Class.
In a bid to attract college scholarship, Blount attended camp at his dream college – Auburn University. But unfortunately, he was neither offered an athletic scholarship nor did he qualify for the school academically. With all doors to Auburn University shut, he was left with no choice but to head for junior college at East Mississippi Community College, Scooba, Mississippi.
See Also: Carson Wentz Girlfriend, Wife, Injury, Salary, Net Worth, Wiki, Family
There, he played for two seasons, rushing for more than 1,000 yards in each season. He accumulated 367 carries for 2,292 yards and 18 rushing touchdowns. Having played so well in the school's team, he became the number one junior college prospects following the rating of The Clarion-Ledger and was given Junior College All-America honours. By the time he was done with his sophomore year, Rivals.com 'discovered' its previous misjudgement and placed the football star as number 12 overall prospect in the Junior College Top 100. This was the beginning of his breakthrough!
LeGarrette Blount became highly sought after by various high-major schools but in December 2007, he committed to Oregon playing for the Oregon Ducks and performing well throughout the season. However, he missed several workouts near the season's end and as a result, earned himself an indefinite suspension from the team on February 10.
Within the period of his suspension, Blount paid more attention to his academics and athletic pursuit, improving his attendance in both aspects. By March, he was reinstated by newly appointed head coach, Chip Kelly. However, following an ugly display of anger by Blout during a game with Boise State players, he was suspended for the rest of the 2009 season. Subsequently, he published an apology letter through the Oregon Daily Emerald and was eventually restored. In his last season, the team earned a berth at the 2010 Rose Bowl.
Also, in 2010, he joined the NFL Draft but was undrafted. Following the draft, he was set to agree to a free agent contract with the San Francisco 49ers but after meeting with the Tennessee Titans he decided to sign there as an undrafted free agent instead. He survived several roster cuts during training and was placed on the Titans' 53-man roster, but was eventually waived later in the year. He was then signed by the Tampa Bay Buccaneers.
On April 27, 2013, Blount was traded to the New England Patriots and played with them for the remaining part of the season. On March 28, 2014, he signed a contract of two years with the Pittsburgh Steelers which boosted his net worth, but due to the issues he kept on having in the field, he was released later in the year.
Read More: Rob Gronkowski Girlfriend, Wife, Brothers, Net Worth, Injury, Height, Weight
On November 20, 2014, Blount moved on to the Patriots following a two-year deal he signed with them. He played his first game with the team which ended in victory against the Detroit Lions. On December 14, 2014, he scored his third touchdown with the team against the Miami Dolphins. He played during the AFC Championship Game with 30 carries for 148 rushing yards and three touchdowns and also played well during the Patriots' win against Seattle Seahawks at Super Bowl XLIX.
In 2015, LeGarrette Blount was again suspended for substance abuse but was later allowed to play in several games before sustaining a left hip injury. On April 12, 2016, he was given another one year deal with the Patriots and he finished the season with 1,161 rushing yards, making him the eighth highest total in the league. He was also instrumental in the Patriots' win at Super Bowl LI, which was the biggest comeback in the history of Super Bowl.
Income and Net Worth
On May 17, 2017, Blount signed a one-year contract worth $1.25 million with the Philadelphia Eagles including a $200,000 signing bonus, $400,000 guaranteed, and an average annual salary of $1,250,000. It is estimated that the man has a net worth of $7 million.
See Again: Cristiano Ronaldo Wife, Son, Gay, Girlfriend, Net Worth, Salary, House
LeGarrette Blount Wife, Girlfriend
This famous NFL player is not married but has a longtime girlfriend named Merissa McCullugh. They met at the University of Oregon in 2009 during Blount's senior year and has been together ever since. The couple welcomed a son together at the beginning of the 2009 football season.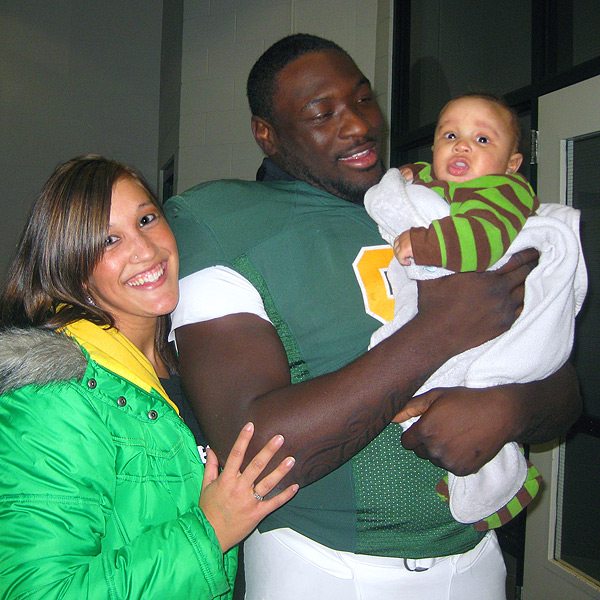 It was reported that the duo was engaged at one point. However, in September 2013, when a reporter asked LeGarrette Blount about his girlfriend, he gave an answer that implied they were no more together. But to the excitement of his fans, in late 2017, LeGarrette Blount's girlfriend Merissa accompanied him to the Patriots ring ceremony and their family seems to be doing just fine!
Blount's Height and Weight
There is always an ideal body size for players of certain sports. NFL players are usually tall and big although not as tall as basketball players. Like most of his colleagues, LeGarrette Blount measures exactly 6 feet (1.83 m) in height and weighs 250lb (113 kg).