Shannon Sharpe has never been married, but he has dated several women, including Katy Kellner, whom he was once engaged to. Sharpe also has three children from three different relationships, namely Kiari, Kayla, and Kaley Sharpe. He does his best to be an involved parent with all his kids, even if he has split from their mothers. 
Shannon Sharpe is a retired tight end who won 3 Super Bowl championships, was named to the Pro Bowl eight times, and was, in August 2011, inducted into the Pro Football Hall of Fame. Post-retirement, Shannon Sharpe has become a TV presenter and has been equally successful at it. He has no doubt had a very successful career, but not exactly the same can be said about his family life, which can be described as unstable and unconventional.
Shannon Sharpe's Kids Are From Different Women, Meet Them
Name: Kiari Sharpe
Born: 1992
Mother: Erika Evans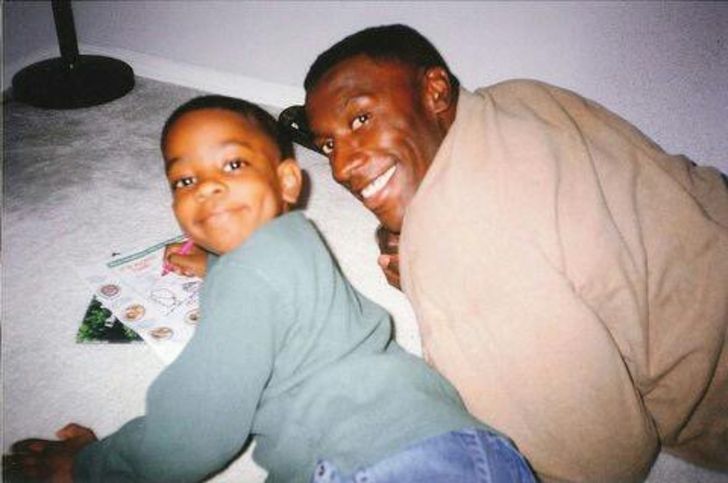 Way back in 1992, two years into his professional NFL career, Shannon Sharpe welcomed his first child, a son named Kiari. At the time, he was unmarried as he still is and nothing was said publicly about the mother of his child. It later came to light that Kiara's mother was a certain Erika Evans, who lived in Austell, Georgia. Her identity was revealed after she filed a case alleging that Shannon forcefully removed her from his home. The former NFL star was found guilty of wrongdoing and has to post a $1000 bail bond.
Over the years, information on his kids, however only a little, has made it to the media light. In a 2011 article published by the Denver Post about his Hall of Fame induction, the publication revealed never-known details about Sharpe's kids. The publication revealed that his son Kiari, who is also his only son was at the time studying biology and business management at Georgia Southern University. He was also described as the quiet one.
Sharpe barely speaks about his children on social media, however, sometime in July 2019, he used his son Kiari to his defense when an online troll tweeted at him that younger generations would have no idea about who he was as his career was not illustrious enough. In response, Sharpe said that he had a son who was 27 years old at the time (referring to Kiari) and that he could bet 100 racks that his son's friends knew very well who he was.
Name: Kayla Sharpe
Born: 1992
Mother: Unknown
Me and my oldest daughter celebrating her 21st bday.My baby grown now. pic.twitter.com/jCGczwtVjp

— shannon sharpe (@ShannonSharpe) October 18, 2013
It would seem as though Shannon Sharpe really did have his way with women in the early years of his playing career as he had not one but two kids in the same year, while details of his baby mama have been tucked away from the media, the fact that both kids were born in the same year is enough proof that they were not from the same mother. Until now, Sharpe has not revealed the identity of the mother of his oldest daughter. In the same article published by the Denver Post during Sharpe's Hall of Fame induction, it was also revealed that his daughter Kayla was studying pre-law, at Georgia Southern, the same university as her step-brother Kiari. The publication also described her as the funny one among the Sharpe kids.
Name: Kaley Sharpe
Born: Unknown
Mother: Unknown
Out of Shannon Sharpe's three children, Kaley is the least known, her identity as well as when she was born is not known to the media, however, it is certain that she is the youngest of the Sharpe kids. The Denver Post also mentioned her in the aforementioned publication about their father's Hall of Fame induction saying that she was at the time a student of Florida State University and that she was studying to become a medical examiner. The publication also described her as the independent one. When Kaley's field of study was talked about in the interview, Shannon joked about his daughter's choice stating that her education was where all of his money was going to which Kaley replied that she was proud of her field of interest as she would never be out of a job. Together with her step-siblings, Kaley wore their father's No. 84 jersey for the big event.
Sharpe's Engagement To Katy Kellner Failed, Here's Why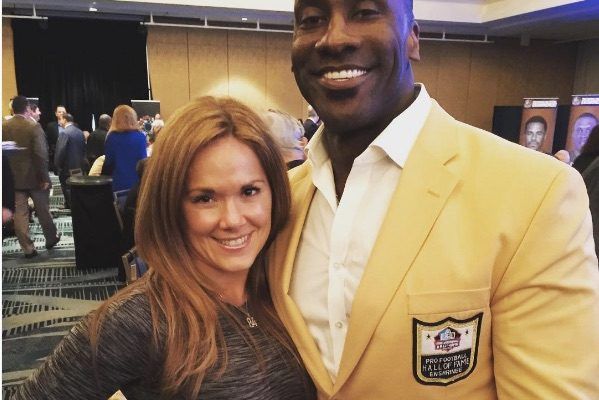 Unfortunately, Shannon Sharpe's romantic life has not nearly been as successful as his professional football career. Shannon Sharpe is not married and has never had a wife. The closest he came to being a married man was in 2016 when he got engaged to fitness instructor Katy Kellner. There were many indications that the two could end up married but unfortunately, it never happened. Kellner even went as far as changing her Twitter Bio from "fiancée to #84" – with #84 being Shannon's jersey number at Broncos. Both had met at a gym in Thousand Oaks, California, before hitting it off.
Things were quiet from the two for a long while before the news of Katy's pregnancy in 2018 explained why. The two had obviously long broken up as the father of Katy's baby was revealed to be another man named Marlon Byrd. Katy birthed a son named Jayden in December 2018. As of this writing, she remains the last person to be linked to the former NFL star.
Shannon Sharpe Openly Declared His Attraction To Nicole Murphy, But it Didn't Lead To Marriage Either
Sometime in mid-2017, Shannon Sharpe began to openly declare on social media that he wanted Nicole Murphy, a former model who is best known as Eddie Murphy's ex-wife. It was not just on social media. Even on his show Undisputed, Sharpe would mention Murphy's name. A fan took to Twitter to post a clip he had compiled of how many times Sharpe mentioned Murphy's name on set, and it finally got Murphy's attention. She retweeted the tweet with laughing emojis.
Two months later, after his initial tweets, he revealed to fans through his show Undisputed that he had finally met with Murphy, revealing a photo he took with her, which he later posted to Instagram. While many seemed to find Sharpe's open interest in the hot former model funny and just went with the flow, others could not help but point to the fact that he was engaged to Katy Kellner at the time. Many believe that his attraction towards Murphy could have contributed to his failed engagement with Kellner.