Eli Manning is a famous American footballer who plays for the New York Giants in the National Football League. He comes from a family where playing good football is part of their DNA. Eli is the son of Archie Manning, former NFL quarterback and younger brother to Peyton Manning who also played as a quarterback in Denver Broncos.
The Mannings are among the popular names in American football as no single day passes by without mention being made of them. As we had earlier, exhaustively written on the retired Peyton Manning, discussing his family and also his height, let's now focus our attention on the younger Manning who still plays football. You will get to know about Eli Manning's family: wife, kids, height, weight, net worth, salary and house in this article.
Background Information on Eli Manning
Eli was born and named Elisha Nelson Manning IV on the 3rd day of January 1981 to white American parents whose names are Archie Manning (father) and Olivia Williams Manning (mother). He was born in New Orleans, Louisiana, the United States of America where he also had all his growing up. He is white and obviously identifies with the white ethnic group in America.
Growing up, the football star attended New Orleans (LA) Newman for high school and later continued at the University of Mississippi for his college education. From an early age, he showed interest in playing football and he played for his college side from the year 2000 to 2003. In 2004, he was drafted as the first overall pick in the NFL draft by the San Diego Chargers. He was immediately traded to the New York Giants where he still currently plays as an indispensable member of the successful football team.
With the Giants, Eli holds the record for the most touchdown passes, most passing yards and completed passes in a career. He also holds the record of the most fourth-quarter touchdown passes in a season. Eli's stay with the NewYork Giants has not been barren of trophy wins as he led them to victory in Super Bowls XLII and XLVI where they beat the New England Patriots in both games to emerge champions. In each of these final season wins, he was named the Most Valuable Player (MVP) and thus, he became one of five footballers to be named Super Bowl MVP'S.
Family: Wife, Kids
The celebrity footballer is happily married to his college sweetheart Abby McGrew of Nashville, Tennessee. The two lovers got married in a quiet wedding ceremony in San José del Cabo, Mexico on April 19, 2008.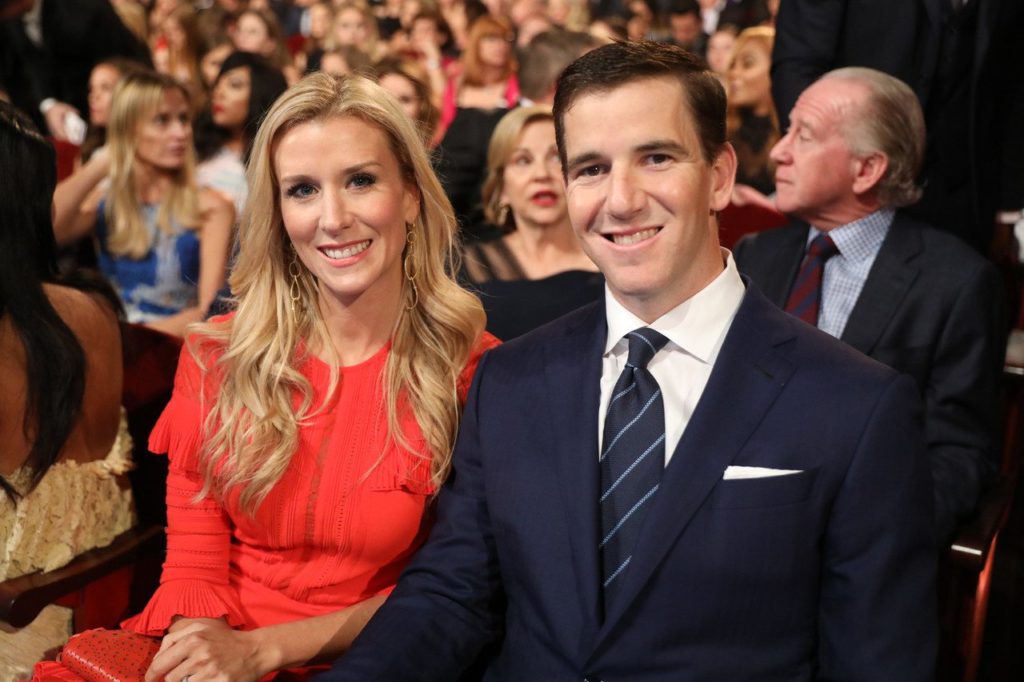 Their union has since been blessed with the birth of three lovely daughters namely; Ava Frances born on March 26, 2011, Lucy Thomas born June 17, 2013, and the youngest being Caroline Olivia who was born January 29, 2015. During the footballing season, the family resides in their Hoboken home in New Jersey.
The family of five are still living together and there are no strong or flimsy rumours of the adults thinking of parting ways. Even though they might be having issues which however is typical of most unions between men and women, they handle it pretty well as it does not make headlines for public discussions and celebrity gossip.
Body Measurements: Height, Weight
Eli Manning towers at an impressive height of 6 feet 4 inches or 1.93 meters from the ground. His weight as an athlete is regulated at 67kg while his body size is generally put at 45 inches.
See Also: Zach Ertz Wife, Brother, Girlfriend, Injury, Net Worth, Biography
Net Worth, Salary, House
Football in America is a very rewarding sport and Eli Manning has been well appreciated for being committed and successful in the sports. With an annual salary estimated to be at $18 million, his net worth is estimated to be $115 million in 2018 which puts him ahead of most other NFL players who are highly rated in the sports.
Apart from his regular remunerations as a footballer, he earns massively from his myriad of endorsement deals which includes his deals with Nike, Toyota Motor, DirecTV, and Gatorade. With all these, his career earnings are the highest among most active NFL players.
With his net worth, you should expect Eli to be living in the best home money can buy and yes he didn't disappoint here. The quarterback acquired an $8.5 million beach house in Quogue. The home seats on a 7, 000 square-foot of land and has in it, 5 bedrooms, a large pool and a large deck that leads straight into the beautiful ocean before it.