Net Worth:
$150 million
Age/Date of Birth:

41 years old (3 January 1981)
Height:

6 feet, 5 inches (1.96 m)
Ethnicity/Race:

White
Nationality:
American
Wife or Girlfriend:
Abby Mcgrew (m. 2008)
Parents:
Father: Elisha Archibald "Archie" Manning III
Mother: Olivia (née Williams)
Eli Manning is a retired American footballer who spent all of the 15 years of his playing career at the New York Giants in the National Football League. He comes from a family where playing good football is part of the DNA. Eli is the son of Archie Manning, former NFL quarterback and his big brother is Peyton Manning who also had a decorative NFL career playing as a quarterback in Denver Broncos.
The Mannings are among the popular names in American football as no single day passes by without the family name making the news. Following his retirement from the NFL in January 2020, it was revealed that Eli Manning raked in over $250 million in career earnings (from salary alone), making him the highest-paid player in the history of the NFL, however, Manning would not be holding that title for long as Drew Brees and Tom Brady look to surpass him with a possible $20 million gap. Adding Manning's lucrative endorsement deals, Manning retired with a huge fortune. His net worth is currently estimated at $150 million.
A Breakdown of Eli Manning's Career Earnings and Contract Details
Road To Inking His First Contract Worth $54 Million
Eli was born and named Elisha Nelson Manning IV on the 3rd day of January 1981 to Archie Manning (father) and Olivia Williams Manning (mother). He was born in New Orleans, Louisiana, the United States of America where he also had all his growing up days.
Growing up, the football star attended New Orleans (LA) Newman for high school and later continued at the University of Mississippi for his college education. From an early age, he showed interest in playing football and played for his college side from the year 2000 to 2003.
In 2004, he was drafted as the first overall pick in the NFL by the San Diego Chargers. He was immediately traded to the New York Giants as he had previously stated that he would decline to play for the Chargers. With the Giants where he would go on to spend all the years of his illustrious career, Manning inked his first contract – a 6-year contract worth $45 million. The contract guaranteed him a signing bonus of $3 million, a salary of $1.7 million, bringing his total rookie earnings to $4.7 million.
Manning's start to the NFL was pretty slow as he has to compete for the starting QB position with Kurt Warner, however, he did put up an impressive performance that was enough for his coach to name him the starting QB in his next season and he would go on to prove his worth.
Eli Manning's Fact Sheet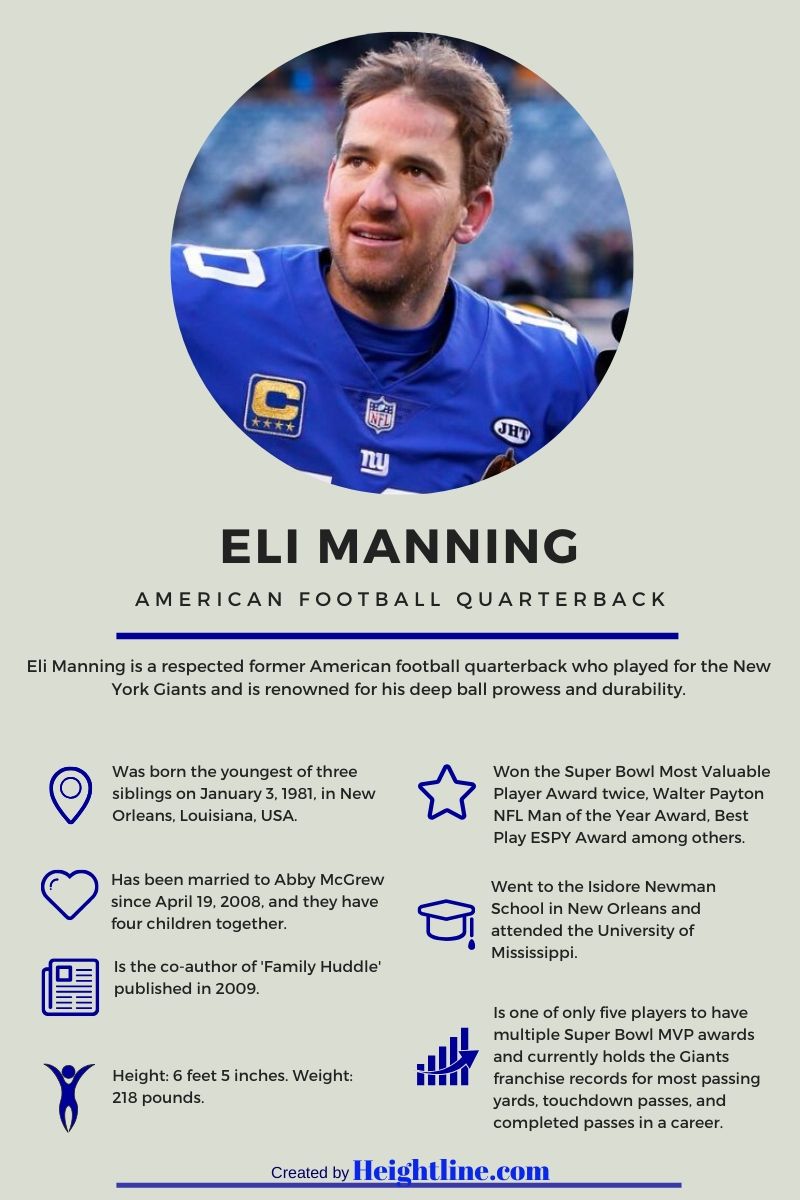 Manning Earned a 6-year Contract Extension Worth $97.5 Million
In the 2007 NFL season, Eli Manning was the name on many lips, this was thanks to his impressive contribution to leading the New York Giants to the Super Bowl XLII trophy against all odds. Manning's Giants defeated the then-undefeated New England Patriots making it one of the biggest upsets in NFL history. Manning was also named the Super Bowl MVP of the game and was named in the Pro Bowl. This incredible performance among his other achievements at the side saw him ink a 6-year contract extension in 2009 worth a whopping $97.5 million. The contract came with $35 million guaranteed, a signing bonus of $13 million as well as an average salary of $16.1 million.
Two years after signing that contract, Eli Manning proved to the New York Giants his worth yet again as he made lightning strike twice at the same place by again leading the Giants to defeat the Patriots at the Super Bowl XLVI in 2011. Like in the first event, he was yet again named the Super Bowl MVP.
His Final Contract With The Giants Was 2015's 4-year Deal Worth $84 million
Football in America is a very rewarding sport and Eli Manning was well appreciated for being committed and successful in the gridiron. Though he never won another Super Bowl after 2011's bringing his total championship win to 2, Manning still managed to remain very valuable in the eyes of his employer. In 2012, he ranked high on NFL's Top Players of the year, the same year he was selected to his third Pro Bowl. He made it to the Pro Bowl for the fourth time in 2015.
Rewarding his efforts, the Giants offered him a 4-year deal worth $84 million. The deal came with a signing bonus of $31 million, $55 million guaranteed, and put his salary for that year at $37 million. The deal also guaranteed him an annual $500,000 workout bonus throughout the contract's life. Seeing through the life of his contract brought Manning's career earnings to a record $252.3 million, more than his older brother Peyton Manning's $249 million earned over 18 seasons before his 2016 retirement.
Eli Manning was inducted into the Giants Ring of Honor while his No. 10 jerseys was retired. He also received the Bart Starr Award in 2020.
The Endorsement Deals That Contributed To His $150 Million Net Worth
Apart from his regular remunerations as a footballer, Eli Manning, like other footballers of his caliber earned from endorsement deals, although his numbers pale in comparison to NFL players who earned the most from sponsorship deals, his numbers were still no chicken feed.
Manning understandably became more marketable after winning the Super Bowl XLII. He served as a spokesperson for Toyota in New Jersey, Rebook, as well as Citizen Watch Co. Some of his other sponsorship deals were with Nike, DirecTV, Gatorade, Hublot, Nationwide Mutual Insurance, Panini, and Visa.
Alongside his brother Peyton, Eli starred in commercials for in ads for NFLShop.com and Oreo. Like his brother, he hosted a Saturday Night Live episode (Season 37 Episode 20) alongside pop star Rihanna. Eli Manning made it to Forbe's 2018 list of highest-paid athletes with an annual earning of $25.5 million, $7 million of which came from his endorsement deals.
With his net worth, it's easy to expect Eli to be living in the best home money can buy. The quarterback in 2017 acquired an $8.5 million beach house in Quogue. The home seats on a 7,000 square-foot of land and has in it, 5 bedrooms, a large pool, and a large deck that leads straight into the beautiful ocean before it. He also owns a $4.7 million house in Summit, New Jersey, just a half-hour away from MetLife Stadium in East Rutherford where the Giants play.
Manning has a modest taste in cars; he owns a Toyota Sequoia and a hybrid Cadillac Escalade, he won the latter at the Super Bowl.
An Overview of Eli Manning's Career Earnings/Endorsement Deals
2004 Rookie Contract – a 6-year deal worth $54 Million
2009 Contract Extension – a 6-year deal worth $97.5 million
2015 Final Contract – a 4-year deal worth $84 million
Endorsement Deals – Nike, DirecTV, Toyota, Gatorade, Rebook, Citizen Watch Co. Hublot, Nationwide Mutual Insurance, Panini, Kraft, Samsung, and Visa
Average Annual Earning From Endorsements – $7 – $10 million
Total Career Earnings – $252.3 million
What Are Manning's Post-Retirement Plans?
A lot of sports stars, after their retirement venture into sports punditry or coaching, for Eli Manning, both are on his radar, however, the two time Super Bowl winner has said per ESPN, that he would definitely not be coaching in the NFL, majorly due to the hours of work involved as he would love to spend more time with his family. He instead said that coaching a high school team is a more likely option for him to consider.
Manning has also revealed that there is a likelihood that he would work in some capacity with his employer of 15-years, the New York Giants. After his retirement, he relocated to Mississippi.
Manning has some post-retirement sponsorships to keep the money flowing, among them is with Frank's RedHot. He also opened a new Twitter account where he has promoted a couple of his post-retirement brands.
Eli Manning's Wife Abby McGrew Was His College Sweetheart
Manning is happily married to his college sweetheart Abby McGrew of Nashville, Tennessee. She attended Brentwood Academy for her high school education. They met in college in the spring of 2002, a time when Eli was a junior while Abby was a freshman, by the fall, the two had become an official item. While Eli went on to begin his illustrious career, Abby who graduated with a degree in Family & Consumer Sciences went on to work in the fashion industry. ABC News revealed that she worked as an account executive for designer Pamela Roland.
Manning popped in question in 2007 on the couple's visit to Nashville to see Abby's parents. They got married on April 19, 2008, their destination wedding was held in Los Cabos, Mexico. Their wedding featured a chocolate cake that was a replica Super Bowl ring.
Though Abby is very private and loves to liver her life away from the spotlight, it is an established fact that she is interested in charity programs and runs several of them with her husband. The couple jointly donated $1 million to Ole Miss. the Children of Mississippi campaign. They also opened Eli Manning Children's Clinics at Batson Children's Hospital. They work with various other charities including March of Dimes.
Eli Manning and His Wife Abby Are Parents To Four Children
Their union has since been blessed with the birth of three lovely daughters and a son.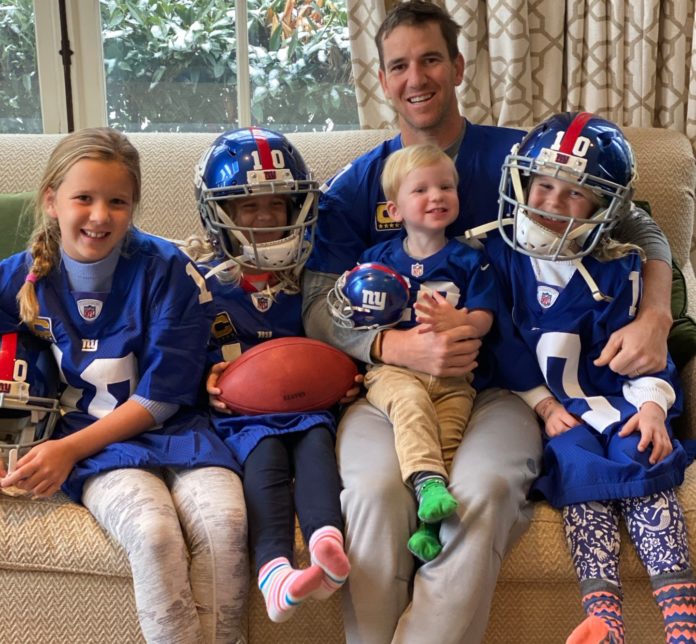 Name: Ava Frances
Born: March 26, 2011
Ava made Manning a first-time dad in 2011. According to her dad in a 2014 interview with Us Weekly, she has already shown interest in sports and plays a little soccer.
Name: Lucy Thomas
Born: June 17, 2013
Lucy is Manning's second daughter.
Name: Caroline Olivia
Born: January 29, 2015
Caroline is the couple's third and last daughter.
Name: Charles Elisha Manning
Born: 2019
Charles is the couple's last child and only son who was born on Super Bowl Sunday. Per Newsday, he was born a few minutes after midnight.
Profile Summary
First Name:
Elisha
Last Name:
Manning
Also Known As:

Eli
Sex/Gender:

Male
Profession:

Former football quarterback
Famous For:
National Football League (NFL)
Colleges/Universities Attended:

University of Mississippi
Educational Qualifications:

A degree in Marketing
Religion:

Christianity
Birthday & Zodiac

Age/Date of Birth:

41 years old (3 January 1981)
Zodiac Sign:
Capricorn
Birth Place:

New Orleans, Louisiana, United States
Nationality:
American
Ethnicity/Race:

White
Country of Residence:

United States of America (USA)
Physical Attributes

Height:

6 feet, 5 inches (1.96 m)
Weight:

218 lb (99 kg)
Eye Colour:

Dark brown
Hair Color:

Dark brown
Other Body Measurements:

Chest: 44" (112 cm)
Waist: 34" (92 cm)
Biceps: 14" (38 cm)
Relationships

Marital Status:

Married
Spouse/Partner:

Abby Mcgrew (m. 2008)
Family and Relatives

Father:

Elisha Archibald "Archie" Manning III
Mother:
Olivia (née Williams)
Children:

4 children - Lucy Thomas Manning, Ava Frances Manning, Caroline Olivia Manning, Charles Elisha Manning
Siblings:
2 Brothers - Peyton Manning and Cooper Manning
Other Relatives:

N/A
Net Worth
Estimated Net Worth:

$150 million
Salary:
Retired
Source of Wealth:

Professional football career, Endorsement from Nike, Hublot, Toyota Motor, Visa, DirecTV and Gatorade.