Mike Tyson has seven biological children. They are Mikey, Amir, Rayna, Miguel, Exodus (d), Milan, and Morocco. He also considers himself to be a father to his former wife's (Monica Turner) daughter, Gena.
Just as he was legendary in the ring, Mike Tyson is also famed for his numerous romances. The boxer, who had said he viewed women as things for pleasure, got around back in the day and dated several beauties. He would end up marrying two, but these marriages ended in divorce.
Tyson is now unto his third marriage and cuts the image of a changed man, a man who has dumped his wild-ways of partying, drinking, and living it up. He is now committed to living a productive post-retirement life.
Also high on his priorities is taking care of his seven children borne by four different women. Tyson has kids with one of his former girlfriends, second wife Monica Turner, and present wife Lakiha Spicer.
Meet All Of Mike Tyson's Children
1. Mikey Lorna Tyson
Date of Birth: 1991
Occupation: Model
Years active: N/A
Mikey Lorna Tyson is Mike Tyson's eldest child and her mother is his former girlfriend, Kimberley Scarborough. It seems the boxer and Kimberley did not really date for long as he wanted her to get an abortion when she found out that she was pregnant. The lady refused though and Tyson tried to settle her with a million dollars. She, however, stuck to her guns and insisted that he recognize Mikey as his daughter. That tenacity has paid off and father and daughter are on good terms with each other.
On a personal note, Mikey struggled with her weight for the longest time but she was able to achieve a reasonable weight. She is now a plus-size model and has been profiled in some magazines. She typically stays out of the spotlight but in 2020, she and her dad were dragged into the headlines against their will. Several news reports alleged that Tyson was willing to pay any willing man out there $10 million to marry his daughter. This was obviously false and the news agency was asked to take it down or face legal action.
2. Rayna Tyson
Date of Birth: 14tn February 1996
Occupation: Filmmaker
Years Active: 2018 to date
Mike Tyson's second child is Rayna Tyson; her mother was his second wife, Monica Turner. Turner is a pediatrician and the marriage between her and Tyson lasted from 1997 to 2003. They later divorced allegedly as a result of the boxer's infidelities. One of the products of their marriage is Rayna, who is a budding filmmaker. Rayna studied film and television production at the NYU Film School from 2014 to 2018. She received a nomination for best film student while in school and has since gone on to make modest strides in her career. She was part of the crew for the 2017 documentary, The Death and Life of Marsha P Johnson, and the 2019 blockbuster movie, Joker.
Rayna has also come out as trans masculine and nonbinary and now goes by the name Ramsey. She is in the process of transitioning and is passionate about LGBT rights. She has been educating her dad about what it entails. She also got into a spat with rapper, Boosie Badazz, after he made transphobic comments about Dwayne Wade's trans daughter, Zaya, in November 2020.
3. Amir Jabron Tyson
Date of Birth: 5th August 1997
Occupation: Entrepreneur
Years Active: N/A
Amir is Tyson's third child and the second from his marriage to Monica Turner. He is also his first son and holds a degree in broadcast journalism from the American University of Washington. He also minored in history and has previously interned at ESPN.
Amir Tyson has since become an entrepreneur and is the founder and CEO of a fashion line known as Debonair. He initially started it as an upscale streetwear in his sophomore year of college. He later put together a team and conducted research and debonair became official. The brand now carries high-quality classic tees in different color variations and dropped its first collection, the Smooth Collection, in the fall of 2019. Not much is known about Amir's private life but his Instagram page shows that he works hard and plays hard. He is also on good terms with both his parents, who help him out with his clothing line.
4. Miguel Tyson
Date of Birth: 2002
Occupation: N/A
Years Active: N/A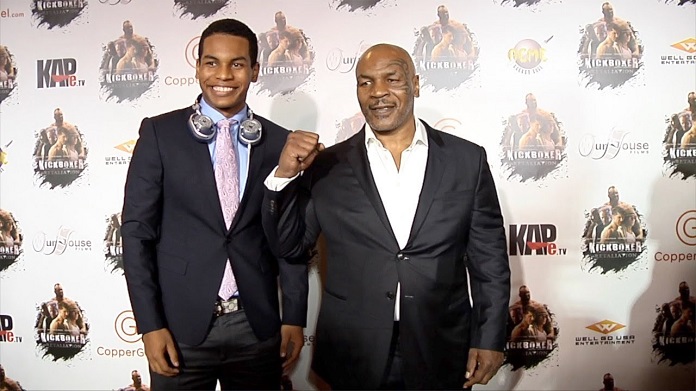 Following his divorce from Monica Turner, Mike Tyson began a relationship with a lady named Sol Xochitl. That romance produced two children, one of whom is his second son named Miguel Leon Tyson. Miguel is presently in college and is quite skilled in music; proficient in multiple instruments such as the drum, guitar, and piano. He is also charitable in nature and has traveled to places such as Haiti to help out the needy.
Miguel may have also inherited some of his dad's pugilist skills. In 2020, senior Tyson shared a video to his Twitter page featuring a pad session with his son. The young man unloaded powerful punches and ferocious uppercuts to the admiration of fans. Many concluded that this could be the beginning of a career as he exhibited some genuine skills. Some also praised him as the younger version of his dad.
5. Milan Tyson
Date of Birth: December 2008
Occupation: N/A
Years Active: N/A
Mike Tyson is presently married to Lakiha Spicer and the marriage has produced two children, the first of whom is Milan. Milan is most likely in middle school given her age. She is sometimes pictured with other family members on the red carpet and is a junior tennis player. She has been spotted training with the American teenage sensation, Coco Gauff. She has also been coached by the trainer of the legendary Serena Williams, Patrick Mouratoglou.
Milan's parents support her tennis ambitions and have been spotted at several public events. One was the 2019 Citi Taste of Tennis event. They also made it to the 2016 World Team Tennis Smash Hits charity tennis event in Las Vegas.
6. Morocco Elijah Tyson
Date of Birth: 25th January 2011
Occupation: N/A
Years Active: N/A
Morocco Tyson is Mike Tyson's youngest child. Just like Milan, his mother is Lakiha Spicer. He was born at the St. Rose Dominican Hospital in Nevada and reportedly weighed 3.9 kg. The young boy is also in school and has been pictured at some public events with his parents and other siblings. His father is yet to tell the story behind his unique first name but it could have something to do with Islam seeing as he and the boy's mother are adherents of that particular religion.
Tyson's Daughter Exodus Died At The Age Of Four In 2009
Mike Tyson has had his share of personal grief but the most hurtful was in May 2009 when his daughter, Exodus, died at the age of four. Exodus was born in 2005 and lived primarily with her mother, Sol Xochitl, and elder brother, Miguel. She had a happy childhood but her life was cut short by a tragic home accident. The girl had been playing on a piece of treadmill equipment in her mother's house when her head got caught up in a loop tied around the handle which choked her.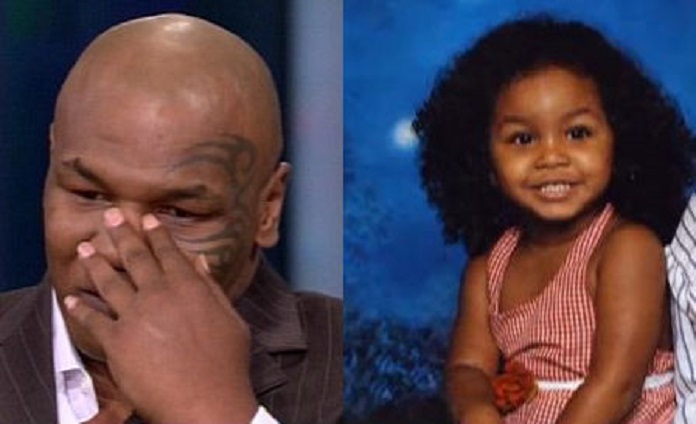 Exodus' body was first discovered by her brother who alerted their mom. Their mom called emergency services and she made it to the hospital where she was pronounced brain dead. The death devastated Tyson as well as his other kids who had grown to love Exodus. He blamed himself for her death and it changed him forever. The boxer has managed to piece his life together and keeps the memory of his daughter alive by counting her among his living children.