Shaquille O'Neal has dated several women, including Arnetta (1992 – 1996), Karrine (2004 – 2005), and Dominica (2008 – 2010). He has also been in relationships with Laticia Rolle (2014 to 2018) and Nicole Alexander (2010 to 2012) both of who he engaged before they broke up.
Rumor also has it that Shaquille has dated Laura Govan (2008 – 2009)and Trina (2007). Meanwhile, the Basketball super-star has been married and divorced once. His first and only wife so far is Shaunie O'Neal who he divorced in 2011.
Shaquille O'Neal has always been regarded as one of the greatest basketball players of all time, and it is not difficult to see why this is so. In a career that spanned almost two decades, he won four NBA championships, finished as the Finals MVP thrice, and participated in the All-Star games 15 times, among other accomplishments.
When he retired in 2011, he became a sports analyst, and this has helped him remain relevant over the years. As such, his personal life has continued to pique the interest of many people, especially when it comes to his romantic expedition.
It is no secret that the NBA legend was once married to Shaunie O'Neal with whom he had almost all of his kids. As fate would have it, their marriage couldn't live beyond 2011. Since the divorce, O'Neal has had a busy love life as he has been romantically linked to several women. The last person he reportedly dated is an actress named Annie Ilonzeh.
What We Know About His Relationship With Annie Ilonzeh
Full Name: Annette Ngozi Ilonzeh
Date of Birth: August 24, 1983
Age: 40 Years Old
Occupation: Actress
An American actress of Nigerian descent, Annie Ilonzeh isn't one of the most popular actresses you'd meet on any day, but she has been seen in several popular projects like How I Met Your Mother, General Hospital, Beauty & the Beast, Empire, and American Horror Story: Cult. Annie has been acting since 2007 and her most recent role is as Emily Foster in Chicago Fire, a television series that premiered in October 2012.
It is hard to tell when Annie Ilonzeh began dating the former NBA star, but it started circulating that the two were an item when they were spotted holding hands in New York City; this was in January 2019.
Neither Annie nor Shaq confirmed they were in a relationship, but it was upheld that the two were dating despite the 10 years age difference between them. At the same time, it was claimed in some quarters that Annie was in a relationship with actor Daniel Kyri when she was seen with Shaquille O'Neal.
All of these make it difficult to tell what really happened between the two. Also, they haven't been seen together again since the 2019 sighting; this is why many have come to believe that whatever they had, has come to an end.
But it remains a fact that nobody is really aware of what's up with them. Shaquille O'Neal has not been linked to anyone since then, neither has Annie. Could it be that they are still together but keeping it discreet? Hopefully, time would provide the answer to that.
Has Shaquille Proposed to Anyone Since His Divorce?
It was in 2011 that the former professional basketball player finalized his divorce with Shaunie O'Neal, the only woman he has been married to. Following the end of the marriage, the Hall of Famer dated several women before he met Laticia Rolle whom he began dating in 2014. They got engaged sometime in March 2016 but never got married.
What Happened to O'Neal's Relationship with Laticia Rolle?
Full Name: Laticia Rolle
Date of Birth: February 11, 1988
Age: 35 Years Old
Occupation: Actress and Podcast Host
Duration of Relationship: 2014 – 2018
More than being an actress, Laticia Rolle is also a producer; she produced 2015's Vice Sports: Bronx Fight Club, and as an actress, she has been credited for works like Single Parents (2019), Shaft (2019), Paper Empire (2019), Someday Isles (2020), and The Lurking Fear which is still in the pipeline.
Rolle is a graduate of Eckerd College where she obtained a Bachelor's degree in Mass Communication and Media Studies. She founded Tress which produces a brand of baseball hat in 2017 and also works as a podcaster and model. Before all of these, Laticia was working in a Tampa, Florida bar as a hostess.
She met Shaquille O'Neal in 2014 while working at the bar known as Ceviche Tapas and they began dating thereafter. The relationship gained Laticia a lot of attention, it was only a matter of time before she became famous as well. Shaq and Laticia made public appearances together and were seen spending quality time on several occasions.
Sometime in March 2016, the NBA star commented on one of Rolle's posts on Instagram, asking her to become his wife. She responded to the now-deleted post thus: "Yes I Will. Today, tomorrow, and forever yours."
A few months later, it resurfaced that the two were truly engaged as Rolle shared a picture with a ring on her left hand and captioned it in a way that hinted at an engagement. Unfortunately, the relationship came to an end in 2018 for reasons best known to the two. Even though they are yet to offer any explanation regarding what happened to their relationship, it became apparent that they were no longer together as all traces of Shaq has been removed from Laticia's social media pages.
He Was Also Engaged to Nicole Alexander
Full Name: Nicole "Hoopz" Alexander
Date of Birth: July 12, 1983
Age: 40 Years Old
Occupation: TV Personality
Duration of the Relationship: (2010 – 2012)
Apart from being known as an ex of Shaquille O'Neal, Nicole has VH1 reality television shows like I Love Money and Flavor of Love to thank for the fame she enjoys. She worked with the Detroit Metropolitan Wayne County Airport as a Transportation Security Administration agent before she became famous and was already popular before her relationship with O'Neal began.
As you'd easily find, they began dating in 2010 when Shaq was playing for the Boston Celtics; whereas it was in 2006 that Nicole first became popular. This was after she won the first season of Flavor of Love. In 2008, she emerged the winner of I Love Money and solidified her place as a reality TV star.
Shaq and Nicole's relationship earned the attention of a lot of people because of how cute they were together despite the over 10 years age gap between them and the difference in their heights. Hoopz is only 5'2″ while the former NBA star is a mountainous 7'1″.
They lived together in Boston and following Shaq's retirement, they moved to Florida and continued living together. Though the details are sketchy, it emerged at some point that the two were engaged and getting ready to become life partners. This never materialized.
It started circulating sometime in August 2012 that the two had parted ways. It was said that O'Neal decided he had had enough of the relationship after they had a heated argument in public. A few years later, Nicole would reveal that she had lost herself in the relationship as Shaq became her focus, even though she had a career to uphold and other responsibilities. Based on what she said, they started drifting apart when she returned to Boston and they began a long-distance relationship. She wasn't aware that Shaq had moved on until he was televised with a woman people thought was Nicole.
Other Women Shaquille Has Dated Since His Divorce
Laura Govan (Rumored)
Full Name: Laura Govan
Date of Birth: September 21, 1971
Age: 52 Years Old
Occupation: Actress and Reality TV Star
Duration of the Relationship: (2008 – 2009)
As an actress and reality TV star, Laura Govan is known for Basketball Wives LA, The Next 15, JC Tha Barber, Almost Amazing, and a few other television series. She is known for her long relationship with Gilbert Arenas, a former professional basketball player. Laura and Gilbert were together from 2002 to 2014; they had four kids together and got engaged in September 2008 before they split in 2014.
When Laura was engaged to Gilbert and Shaquille married to Shaunie, it was rumoured that Shaq and Laura were cheating on their partners with each other. This was after sexually titillating emails between them were exposed.
While it is widely held that something happened between the two and that what they had contributed to the end of Shaq and Shaunie's marriage, Laura Govan has maintained that she had nothing to do with Shaq and that the emails were fake. While she has largely avoided talking about the allegation of cheating with Shaq, she once offered that they uncovered who was behind the emails without providing details.
In another instance, she categorically stated that she didn't sleep with Shaquille and would never get down with him. Pointing out that he has huge feet, she added that she had been around him and that they have always been like siblings. She suggested that Shaq's ex-wife Shaunie fanned the rumours because she wanted to promote her show, Basketball Wives LA. Shaq has never said anything about the drama, while he has admitted to cheating on his ex-wife, he didn't name any lady.
Laura Govan (Rumored)
Trina (Rumored)
Real Name: Katrina Laverne Taylor
Date of Birth: December 3, 1978
Age: 45 Years Old
Occupation: Rapper and TV Personality
Duration of the Relationship: (2007)
Trina is regarded as one of the most talented female rappers and beyond her career in the music industry, she is a bit of an actress and a TV star. She is currently known for being one of the main cast members of the reality series, Love & Hip Hop: Miami, but has always been known for her on-and-off romance with Lil Wayne. She dated the famous rapper from 2005 to 2007 and they were at some point engaged for marriage.
After she eventually parted ways with Wayne, she began a relationship with former NBA player, Kenyon Martin. They dated from 2007 to 2010 and in-between the final days of her relationship with Lil Wayne and the beginning of her romance with Kenyon, it is said that Trina briefly dated Shaquille O'Neal.
It is imperative to note that the Shaq-and-Trina relationship has never been confirmed in any meaningful way, but words on the street have it that Shaq's ex-wife had a grand plot to have her appear on her Basketball Wives show. As claimed, she had learned that the rapper slept with her ex-husband while they were married. So she planned to get her to talk about her relationships in the shows, expose her for what she allegedly did, and ultimately raise ratings for her show. Again, none of these claims have been validated.
Dominica Westling
Full Name: Dominica Erica Westling
Date of Birth: October 2, 1984
Age: 39 Years Old
Occupation: Actress and Model
Duration of the Relationship: (2008 – 2010)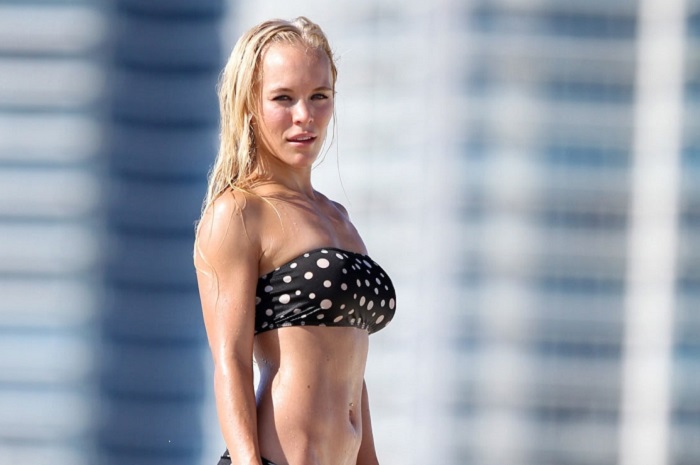 The Swedish actress and model is one of the women with whom Shaquille O'Neal reportedly cheated on his former wife. The actress known for her roles in Three7Nine (2009), Murder101 (2014), and Joan & Melissa: Joan Knows Best? (2011) reportedly started dating the NBA legend 18 months before his marriage to Shaunie came to an end. They exchanged racy emails and even had cybersex through webcams.
As one would expect, neither of the two commented on the emails nor the alleged affair when they were questioned about it. Based on the information available, the Westling-O'Neal affair lasted from 2009 to 2010.
Karrine Steffans
Date of Birth: August 24, 1978
Age: 45 Years Old
Occupation: Author, Model, and Actress
Duration of the Relationship: (2004 – 2005)
The American author known for her vixen book series is another woman with whom the former NBA player cheated on his wife. Karrine is also a bit of an actress and is a popular name in the hip hop industry as she worked as a video vixen for several top artists. It was her experience as a vixen that has inspired almost all of her books.
Steffans has published no fewer than seven books, the latest titled Vindicated: Confessions of a Video Vixen, Ten Years Later, was published in 2015. Without mincing words, Karrine detailed her sexual encounters with some of the most famous celebrities in the United States and Shaq happens to be one of them.
Based on what she wrote, Big Shamrock was concerned about his sexual prowess; so he tried to lower her expectations. Adding that he was good in bed and had nothing to be worried about, Karrine related that Shaq was thrilled to have been with her. She recalled he deposited $10,000 into her bank account a day after they met. The Hobo Master is yet to respond to what Steffans Karrine penned in her book about him.
Arnetta Yardbourgh
Full Name: Arnetta Marie Yardbourgh
Date of Birth: December 10, 1971
Age: 52 Years Old
Occupation: Businesswoman
Duration of the Relationship: (1992 – 1996)
Arnetta Yardbourgh is the first known girlfriend of The Big Shaqtus. They dated and parted ways before he met and subsequently got married to Shaunie. Given that they were dating during the early years of Shaq's career, it is not difficult to see why much isn't known about the relationship.
Nevertheless, we can tell she is not only the mother of one of the kids of the NBA legend but the woman with whom Shaq became a father for the first time. Their relationship witnessed the birth of a girl child named Taahirah O'Neal in July 1996. They broke up earlier that year for reasons best known to them.
Although their relationship ended before they welcomed their child, Shaq and Arnetta have maintained a civil relationship for the sake of their daughter. Arnetta is the President of AY & Associates LLC, a coaching, wellness, and consulting firm she founded.
Shaquille and Shaunie Began Dating In 1997 and Got Engaged in June 2000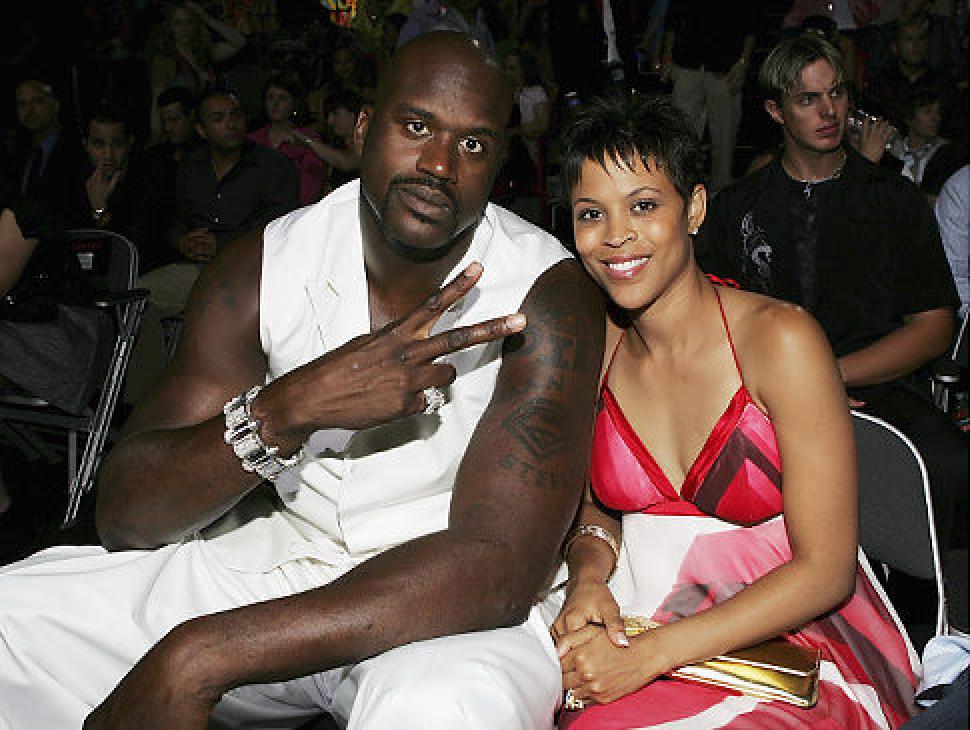 How Shaquille O'Neal met his ex-wife, Shaunie has been a mystery just as the circumstances surrounding the beginning of their relationship have been largely left to speculations. We can only confirm that both Shaq and Shaunie were in a relationship with other people before they started dating in 1997. Just like Shaq, Shaunie had had a child with her previous partner before her relationship with the former NBA player commenced. Even though it is largely reported and widely believed that Shaq is her first and only husband, some claims have refuted that.
As professed in some quarters, Shaunie was married to a preacher named Davin Baptiste, with whom she had her first child, a son named Myles Baptiste O'Neal. It is said that Davin was a Youth Minister in a popular Los Angeles church. He and Shaunie embarked on several outreach projects through the ministry and in the course of that, encountered Shaq who worked with them on various Lakers outreach programs. The former basketballer subsequently started attending the church and eventually started having an affair with his pastor's wife.
While that makes an interesting tale, it is important to note that the claims have not been authenticated and are at best, rumors. Anyway, Shaquille and Shaunie began dating in 1997, and on the 30th of June 2000, the man proposed.
They Got Married In December 2002 and Divorced in 2011
After being together for over half a decade with two kids to show for it, Shaquille and Shaunie decided to make things official between them. They got married on the 26th of December 2002, and the event was held at the Beverly Hills Hotel. As one would expect, it was an elaborate wedding witnessed by important personalities from the NBA and beyond.
They welcomed two more kids together but were apparently having issues as the famous NBA star filed for divorce from Shaunie on the 4th of September 2007. It later emerged that the divorce was withdrawn as the couple had sorted out their differences.
But then, roughly two years later, precisely on the 10th of November 2009, Shaunie filed for divorce from Shaquille citing irreconcilable differences. They eventually parted ways sometime in 2011 when their divorce was finalized.
Shaunie Divorced Shaquille O'Neal Because He Wouldn't Stop Cheating.
Based on the foregoing, it is clear that Shaquille O'Neal cheated on Shaunie with several women. So, despite the fact that she cited irreconcilable difference as the reason for her divorce petition, no one needed to be told that Shaq's extramarital affair was the problem.
Shaq and Shaunie had a very dramatic and messy separation that exposed explicit details of the former NBA player affairs outside his marriage. He was poised to lose half of his fortune in the divorce proceedings, but they had a prenuptial agreement that left Shaunie with little option but to settle for a private settlement. Since the divorce, Shaq has been paying $10,000 per month for each of his children and another 10,000 per month as spousal support.
It's been a decade since their marriage came to an end and the former couple is now friendly towards each other. In fact, their exchanges online have led to speculations about a reunion, but nothing has materialized thus far. Shaunie got custody of their kids when their divorce was finalized, but Shaq has been very involved in their lives.
Meet Their Kids
Shaquille O'Neal and his ex-wife are biological parents to four kids, two girls and two boys, born between 2000 and 2006. Before they became a couple, they had kids from their previous relationships: Shaq had a daughter named Taahirah O'Neal in July 1996 with Arnetta Yardbourgh and Shaunie, a son named Myles Baptiste O'Neal, he was originally named Myles Nelson Baptiste after he was born in May 1997.
Shareef Rashaun O'Neal
Date of Birth: January 11, 2000
Age: 23 Years Old
Occupation: College Basketball Player
Shareef is the first son and child of Shaquille O'Neal and his ex-wife Shaunie. He was born before the couple got married, and it was his birth that possibly inspired his parents to officialize their relationship. Shaq and Shaunie got engaged a few months after they had him.
Shareef has taken after his father. He plays basketball as a power forward for the LSU Tigers of the Southeastern Conference. The team represents Louisiana State University in college basketball.
Amirah Sanaa O'Neal
Date of Birth: November 13, 2001
Age: 22 Years Old
Occupation: College Basketball Player
Amirah is the first daughter and second child of the former couple. If the birth of Shareef inspired Shaq and Shaunie to get engaged, the birth of Amirah nudged them to get married. Like her older brother, Amirah is also a basketball player. She plays for the LSU Lady Tigers basketball team as a forward.
Shaqir Rashaun O'Neal
Date of Birth: April 19, 2003
Age: 20 Years Old
Occupation: High School Basketball Player
Shaqir is the second son and third child that Shaquille O'Neal had with his ex-wife. He is also poised to become a professional basketball player. Shaqir plays as a forward at Crossroads High School in Santa Monica, California. It remains to be seen if he would have a college career that would lead him to the NBA.
Me'arah Sanaa O'Neal
Date of Birth: May 1, 2006
Age: 17 Years Old
Occupation: High School Basketball Player
The last child of the former couple and their second daughter, Me'arah has also followed the path of her father and older siblings. She plays basketball as a centre for Crossroads School in Santa Monica, California. Nonetheless, it is still early to tell if she would pursue a career as a professional player. If she decides to do so, she can surely count on the guidance and support of her father.