Sam Heughan is not gay, has never been married, and is not dating anyone we know at the moment. According to the actor, it is hard to mix your love life with a career when you are working 10 months a year in Scotland.
While Scottish actors like James McAvoy and Ewan McGregor may be better recognizable to the public than their compatriot and colleague Sam Heughan, nothing can be taken away from the impact the latter has been able to have on the entertainment scene in his country.
The Dumfries and Galloway native is an accomplished stage and screen actor who is renowned for his outstanding performance in the lead role of Jamie Fraser in Starz's Outlander. As a result of his work on the television show, he has received four Saturn Award nominations and one from the Critics' Choice Awards for Best Actor.
Heughan is no doubt a fine actor and also a very handsome young man and as such, is expected to be romantically involved with someone. However, the issue of his sexuality and relationship status has been trailed by a lot of controversies as the actor prefers to leave his fans to their imagination. The actor has shared how online trolls would torment him with fake stories about his sexuality but he has remained unfazed in the face of all that drama. Instead of taking offence, Heughen prefers to see those comments as compliments.
What is Sam Heughan's Sexual Preference?
As evidenced by the number of women he has been romantically linked to, it is safe to say that Sam Heughan is not gay. However, the actor takes any suggestion referring to him as gay as a compliment. This is seen in his response to a critic who referred to him as a boring homosexual on Twitter.
Mr. Heughan is one of the most boring homosexual actors out there. His acting is truly something atrocious.

— Sylvia Staunton (@sylvia_staunton) October 22, 2017
To which the actor responds:
Boring and homosexual never go together. But thank you the compliment.x

— Sam Heughan (@SamHeughan) October 22, 2017
But regardless of people's opinions about his sexual preference, Sam Heughan has said over and over again that he is not gay. An argument that has been floated to support this claim is that his career has more to benefit from being one than denying it in this time and age. Others, however, still feel that the actor is truly gay but not yet ready to come out of the closet. The speculations about his sexuality can be traced to different reasons most of which are unfounded.
The Truth Behind Sam Heughan's Gay Rumors
One thing that has certainly contributed to the assumption of him being gay is his perfect portrayal of a few gay characters on screen and on stage. In one of such roles, precisely in the stage performance of the play titled Plague Over England, which premiered in Finborough Theatre in 2008, Heughan acted a very steamy scene with Leon Ockenden.
The play written by Nicholas de Jongh is based on the real-life story of actor John Gielgud, who was arrested in 1953 for leud behavior, and provides a deep understanding of how much the lives of gay people have changed over the past fifty decades.
In A Very British Sex Scandal, Sam Hueghan played the role of a gay character named Eddie McNally. The film centers on a royal correspondent for the Daily Mail newspaper named Peter Wildeblood who is a closeted homosexual. Wildeblood keeps his sexuality a secret just like many gay men at the time as it was not supported by the law.
Later on, he meets Air Force officer Eddie McNally and the two embark on an affair. Their decision to be together at the estate of Lord Edward Montagu leads to a scandal that shook modern Britain and subsequently resulted in the decriminalization of homosexuality.
The actor's most recent role, which earned him praise and fans from the LGBTQ community, was the gay-adjacent role of Jamie Fraser in Outlander. Even though he did not play a gay role on the show, his character had a wonderful friendship with the show's only gay character, John Grey.
Details of Sam Heughan's Past Relationships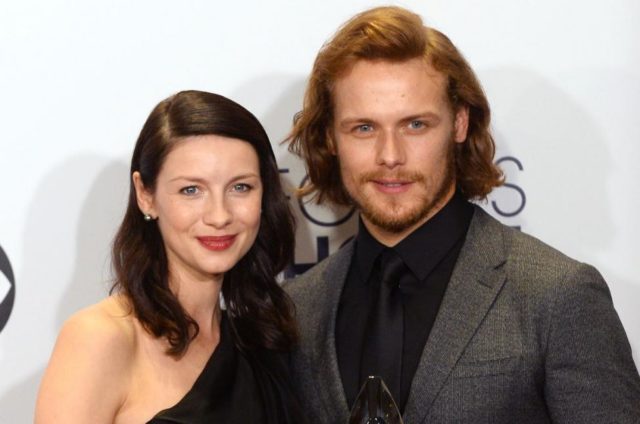 While we know that Sam Heughan is not yet married, we are not clear on his relationship status as numerous stories have emerged linking him to different people. He was at one time said to be dating his Outlander co-star, Caitriona Balfe. The rumor was later proved to be untrue as Balfe got engaged to her boyfriend Tony McGill in 2019.
One rumor which was later proven to be true is Heughan's relationship with actress Mackenzie Mauzy. The pair initially tried to keep the relationship away from the public eye but they were eventually seen in public together in February 2017. They subsequently attended a number of red carpet events together which confirmed that they were an item. It is unknown what ensued between the couple as they eventually went their separate ways.
Another supposed Sam Heughan relationship that was well-publicized was that of him and his long-time friend Amy Shiels, an Irish film and television actress who is most popular for her roles in films like Slaughter, Veronica Guerin, and the 2017 series Twin Peaks. The actress is also known for playing Lunafreya Nox Fleuret in the action role-playing game, Final Fantasy XV.
Shiels and Heughan have known each other for more than ten years and speculations about them being a pair started in 2014 when Shiels liked a Twitter post that suggested both of them would be good together. The speculation later died away due to Heughan's connections with other women, however, it resurfaced again in 2018 when the two were seen together at the premiere of Heughan's film, The Spy Who Dumped Me.
Since then, the duo has been spotted out together but it remains a mystery whether or not their relationship is merely platonic. Sam Heughan's past relationship history and links to women say it all, he is definitely not gay and any speculation trying to place him in a closet is baseless. Unless he comes out to say otherwise, we are going with the fact that the Scottish actor is not gay.