Josh Brolin's height is 5 feet 10½ inches (179 cm) and he is a 55 year-old American actor who has gained global recognition for his role as Thanos in the Marvel Cinematic Universe superhero films.
The first time Josh Brolin played the character of Thanos, it was an uncredited role in 2014's Guardians of the Galaxy. The following year, he again played the character in the post-credit scene of Avengers: Age of Ultron. 2018 came and he starred in Avengers: Infinity War and then Avengers: Endgame of 2019. While playing Thanos has become the most notable role of his career, it is only one of the many significant characters he has portrayed.
Debuting as a professional actor in 1985, Brolin immediately indicated his intent to conquer the industry with a fine portrayal of Brandon Walsh in the adventure comedy film, The Goonies. This was followed by many other significant projects like Hollow Man, The Young Riders, No Country for Old Men, Mister Sterling, Into the West, Milk, Men in Black 3, Everest, Hail, Caesar!, Deadpool 2, and many more. Before his career spread his name across the globe, Josh Brolin was known in the United States as the son of James Brolin who is also a Hollywood actor, producer, and director.
Profile Summary of Josh Brolin
Full Name: Josh James Brolin
Gender: Male
Date of Birth: February 12, 1968
Josh Brolin's Age: 55 Years Old
Ethnicity: Swiss-German, English, Scottish, and Irish
Nationality: American
Zodiac Sign: Aquarius
Sexual Orientation: Straight
Marital Status: Married
Wife: Kathryn Boyd

(2016 – Present)

Josh Brolin's Ex-Wives: Alice Adair (1988 – 1994) and Diane Lane (2004 – 2013)
Children: Four (Eden, Trevor, Chapel Grace, and Westlyn Reign Brolin
Josh Brolin's Parents: Jane Cameron Agee and James Brolin
Siblings: Jess, Molly Elizabeth Brolin (half-sister), and Jason Gould (stepbrother)
Josh Brolin's Height in Inches: 5 Feet 10½ Inches
Josh Brolin's Height in Centimetres: 179 cm
Josh Brolin's Net Worth: $45 Million
Famous For: Career as an Actor
Josh Brolin's Instagram: joshbrolin
How Old Is Josh Brolin and Where Was He Born?
It was in Santa Monica, California that the actor was born to James Brolin and his first wife, Jane Cameron Agee. It was also in California that he was raised, but in Templeton, rather than Santa Monica where he was born.
One of the two kids James and Jane had, Josh has a younger sister named Jess, she was born sometime in 1972. Apart from Jess, he has a half-sister named Molly Elizabeth Brolin. His father had her in 1987 with his second wife Jan Smithers whom he married the previous year. There is also Jason Gould, his step-brother. Josh's father James Brolin became Jason's step-father after he got married to his mother Barbra Streisand in July 1998. Streisand had Jason with her first husband, Elliott Gould.
While it is no secret that Josh Brolin is a citizen of the United States of America, what most people don't know is that he is of mixed ethnic descent, including Swiss-German, English, Scottish, and Irish.
His late mother who died in a car crash on the 13th of February 1995 isn't as famous as his father but was well-known as a wildlife activist from Corpus Christi, Texas. Josh was raised alongside his sister on a ranch where his parents lived until they divorced in 1984. Josh was only 16 years old when his parents parted ways.
Growing up, Josh had no interest in having a career in entertainment. This changed during his junior year in high school when he took an acting class out of curiosity. As fate would have it, he was cast as Stanley in Tennessee Williams' play "A Streetcar Named Desire", and it became hard for him to turn his back on acting thereafter.
His teenage years were quite rough. Josh was a member of a surfing group that called themselves the Cito Rats. He did drugs, heroin, and stole cars to fund his drug use. Nevertheless, he didn't enjoy doing drugs and regards that fact as a crucial part of what saved him from destroying his life. According to the actor, most of the friends he grew up with have died and their deaths were drug-related.
Josh Brolin's Height Is 5 Feet 10½ Inches (179 cm) and He Is Slightly Taller Than Most Actors In Hollywood
Given that acting is a world of make-believe, it is widely held that height is of little significance in the profession. It is not hard to see the rationale upon which this sentiment is based: camera angles and elevator shoes can easily be used when a performer must have a certain height.
Be that as it may, casting directors are known to consider heights and other physical features while assigning roles. This is so because it is easier to pick an actor who fits the attributes of a character rather than looking for ways to compensate for any shortcomings later on. But in all, the height of a performer is often not treated as a priority, talent is always the prime factor considered.
Even if height is something that influences the extent to which one thrives in the industry, Josh wouldn't have had any problem with that. At 5 feet 10½ inches, he has a good height and is slightly taller than the average actor in Hollywood. According to various reports, the average height for Hollywood actors is 5 feet 10 inches (178 cm). This means that Josh Brolin is ½ inch taller than most of his male colleagues in the industry.
He is also slightly taller than most men in his country. Although America is one of the countries with the tallest people in the world, the North American nation has been witnessing a decline in the average height of its population. At the moment, the average height for men in the country is 5 feet 9.3 inches (176 cm).
How Tall Is Josh Brolin Compared to His Marvel Co-stars?
Josh Brolin's character (Thanos) in the Marvel Cinematic Universe (MCU) is a gigantic fellow depicted at around eight feet in height. Thanos and Hulk (portrayed by Mark Ruffalo), alongside Groot, are the tallest characters in the productions of MCU.
Apart from Brolin and Ruffalo, other prominent actors of the media franchise are Robert Downey Jr. Chris Evans, Chris Hemsworth, Scarlett Johansson, Jeremy Renner, Chris Pratt, Paul Rudd, Benedict Cumberbatch, Tom Holland, Chadwick Boseman, Evangeline Lilly, Brie Larson, and Samuel L. Jackson. As shown below, Brolin is neither the tallest nor the least tall amongst them.
Josh Brolin – 5 feet 10½ inches (179 cm)
Mark Ruffalo – 5 feet 8 inches (173 cm)
Robert Downey Jr. – 5 feet 8½ inches (174 cm)
Chris Evans – 6 feet (183 cm)
Chris Hemsworth – 6 feet 3 inches (191 cm)
Scarlett Johansson – 5 feet 3 inches (160 cm)
Jeremy Renner – 5 feet 8½ inches (174 cm)
Chris Pratt – 6 feet 2 inches (188 cm)
Paul Rudd – 5 feet 10 inches (178 cm)
Benedict Cumberbatch – 6 feet (183 cm)
Tom Holland – 5 feet 8 inches (173 cm)
Chadwick Boseman – 6 feet (183 cm)
Evangeline Lilly – 5 feet 5 inches (165 cm)
Brie Larson – 5 feet 6¾ inches (170 cm)
Samuel L. Jackson – 6 feet 2 inches (188 cm)
Josh Brolin Pulled Off His First Major Screen Role In 1985 When He Was 17
As you would easily find, Josh Brolin was born on the 12th of February 1968. Even though he was born to a famous actor, he initially didn't aspire to have a career in entertainment. This changed when his curiosity made him take an acting class during his junior year in high school. Thereafter, he embraced performing arts and landed his first major screen role at the age of 17: this was in 1985 when he played Brandon "Brand" Walsh in The Goonie, an adventure comedy film.
In the years that followed, he was seen in several television productions, including Highway to Heaven, Prison for Children, 21 Jump Street, Finish Line, and most prominently, Private Eye and The Young Riders. He played Johnny Betts in 12 episodes of Private Eye and James Butler Hickok in 67 episodes of The Young Riders which his father co-directed.
The Young Riders earned him so much popularity that he landed several big-screen projects in the 1990s. Between 1994 and 1996, he played Tom, Danny, and Tony Kent respectively in The Road Killers, Bed of Roses, and Flirting with Disaster. The following year, he was seen in Mimic, My Brother's War, and Nightwatch.
1999 was also a busy year for him as he played Billy Waites in The Mod Squad, Bryce in Best Laid Plans, and Tennel in It's the Rage. None of these productions made a significant impact on his career, they were just another movie of the actor and this remained so for most of the 2000s.
At the turn of the decade, Josh Brolin played Matt Kensington in Hollow Man, a German-American science fiction horror movie written by Andrew W. Marlowe and directed by Paul Verhoeven. That same year (2000), he played Duster in Slow Burn, a drama film directed by Christian Ford.
From 2002 to 2006, he portrayed various characters beginning with the role of Sheriff Dave Lockhart in Coastlines, a drama film written and directed by Victor Nunez. The next year saw him play Gary in Milwaukee, Minnesota, and then Greg Earlinger in the 2004 comedy film written and directed by Woody Allen, Melinda and Melinda.
In 2005 and 2006, Josh respectively played Derek Bates in Into the Blue, an action thriller, and Tarlow in The Dead Girl, a drama thriller written and directed by Karen Moncrieff. Again, none of these projects made a notable impact on his career. At best, they only popularized his name in the industry and gained him more experience.
He Got His Breakthrough In 2007 When He Was 39 Years Old
For over two decades after he pulled off his first major screen role, Josh Brolin didn't get any serious acclaim for his roles but this changed in 2007 when he was 39 years old. That year, he played Dr. William Block in Grindhouse, a double feature written and directed by Robert Rodriguez and Quentin Tarantino. It was a good outing but not the work that brought Brolin his breakthrough.
This was also the case with In the Valley of Elah, To Each His Own Cinema, and American Gangster which were all released in 2007: he played Chief Buchwald in the first, a crime drama mystery film, and Det. Reno Trupo in the latter; a biographical crime film directed by Ridley Scott.
While all of those were decent projects, the work that thrust Josh further into the limelight and gained him reputable acclaim in the industry was his role as Llewelyn Moss in No Country for Old Men. The neo-Western crime thriller written and directed by the Coen Brothers, Joel and Ethan Coen, starred Josh alongside Tommy Lee Jones and Javier Bardem. It received positive reviews and was a commercial success as it grossed over $171 million from a budget of $25 million. No Country for Old Men received at least 110 nominations for coveted award bodies, out of which it won at least 77, including four Academy Awards out of a total of eight nominations.
Unlike Joel and Ethan Coen, Scott Rudin, Javier Bardem, Roger Deakins, Skip Lievsay, Craig Berkey, Greg Orloff, and Peter Kurland who all won or received an Academy Award nomination for their roles in the film, Josh Brolin didn't get any Oscar recognition for the project. However, he received a Satellite Awards nomination for Best Actor and as well a Best Supporting Actor nomination from St. Louis Gateway Film Critics Association Awards.
To the best of our knowledge, the only award he won for his role in the movie is the Screen Actors Guild Awards for Outstanding Performance by a Cast in a Motion Picture. Of course, he shared the gong with Javier Bardem, Garret Dillahunt, Tess Harper, Woody Harrelson, Tommy Lee Jones, and Kelly Macdonald.
Josh Brolin Received His First Academy Awards Nomination In 2009 When He Was 41 Years Old
Josh Brolin's subsequent works after No Country for Old Men consolidate on the acclaim he received with his role in the 2007 movie. In 2008, he played George W. Bush in W., a biographical political drama film based on the life of the 43rd president of the United States. The movie received mixed and average reviews, grossing $29.5 million at the box office against a budget of $25.1 million.
Playing the former president earned Brolin the Hollywood Film Awards for Best Actor in 2008. That same year, the role earned him at least three nominations: Satellite Awards for Best Actor – Motion Picture Comedy or Musical, Dublin Film Critics' Circle Awards for Best Actor, and a Detroit Film Critics Society Awards in the same category.
The following year, the role also earned him the Irish Film and Television Awards nomination for Best International Actor, alongside London Film Critics' Circle Awards nomination for Actor of the Year. 2009 would remain a significant year in Brolin's career as it was the year he got his first, and thus far only recognition from the Academy Awards.
The previous year, Josh played Dan White — the American politician who assassinated Mayor George Moscone of San Francisco alongside Supervisor Harvey Milk — in Milk. The biographical film based on the life of gay rights activist cum politician, Harvey Milk, received eight Academy Award nominations at the 81st Academy Awards, including Best Supporting Actor for which Brolin was nominated.
He Was 46 Years Old The First Time He Played Thanos
Unless you have avoided all the movie productions of the Marvel Cinematic Universe franchise, you should know a thing or two about Thanos, primarily portrayed by Josh Brolin. The first time the character was seen in an MCU production was in the post-credits scene of 2012's The Avengers. It was Damion Poitier that played the character in the movie. Brolin was 46 years old the first time he played the character; this was in 2014 when Thanos was introduced as "The Mad Titan" in Guardians of the Galaxy. Brolin was not credited for the role in the film.
Thereafter, when the actor was 46 years old, he made an appearance as Thanos in the post-credits scene of 2015's Avengers: Age of Ultron. At the age of 49 in 2018, Brolin starred as Thanos in Avengers: Infinity War. When he turned 50 in 2019, he reprised the role in Avengers: Endgame.
The role has won him multiple awards, including two Austin Film Critics Association Awards for Best Motion Capture/Special Effects Performance, Hollywood Critics Association Awards for Best Animated or VFX Performance, MTV Movie & TV Awards for Best Villain, Saturn Awards for Best Supporting Actor, Teen Choice Award for Choice Villain, and two Washington D.C. Area Film Critics Association Awards for Best Motion Capture Performance.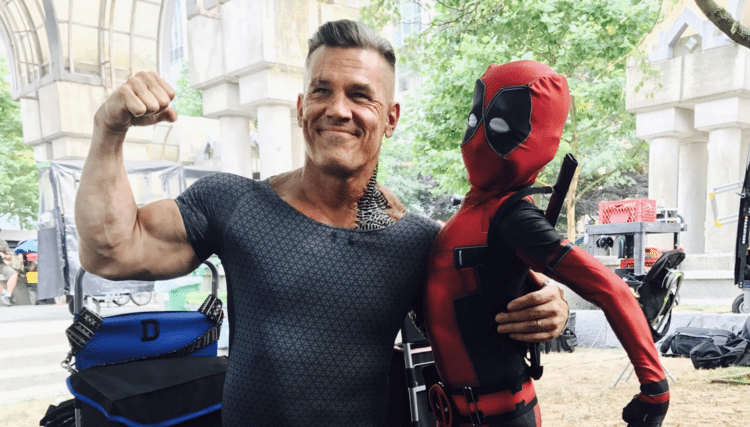 Josh Brolin's Movies Have Grossed Over 8.7 Billion At The Worldwide Box Office
The actor has had an incredible career with many numerous popular works. While he has been seen in over a dozen television projects, including The Young Riders, Winnetka Road, Mister Sterling, and Mankind: The Story of All of Us which are his most prominent works thereof, he is mostly known for his big-screen works. And apart from the aforementioned movies, he has been in many other popular and successful films like Dune, Deadpool 2, Everest, Gangster Squad, Men in Black 3, True Grit, and Wall Street: Money Never Sleeps. There is also American Gangster and Hollow Man.
Each of these works grossed over a hundred million dollars at the worldwide box office. His highest-grossing project is Avengers: Endgame which pulled over $2.7 billion, followed by Avengers: Infinity War which also exceeded the $2 billion ($2,048,359,754) mark, then Deadpool 2. He played Cable in the 2018 superhero film which grossed over $786 million worldwide.
In all, Josh has been seen in over 70 productions thus far and his movies have grossed over $8.7 billion ($8,768,291,838) at the worldwide box office. It seems his choosiness with the roles he gets to play has helped him in no small manner to distinguish himself in the competitive industry.
What Is Josh Brolin's Net Worth?
Josh Brolin's net worth is $50 million, For someone who has been a part of the motion pictures industry since 1985, it doesn't come as a surprise that Josh Brolin has spread his wings beyond acting. While the paychecks he receives from playing various characters have been the biggest source of his wealth currently estimated at $50 million, he has also made good money from other areas of the business.
Apart from being an actor, Brolin is a producer, director, writer, and editor. His earliest works as a producer came in 2008 when he produced a short film titled X. He wrote and directed the movie which stars his daughter Eden Brolin alongside Eleanor Lambert and Vincent Riverside. That same year, he also wrote, directed, and produced the short documentary film, No Country for Old Men: Josh Brolin's Unauthorized Behind the Scenes.
Since then he has produced The People Speak, The People Speak UK, the "Hawaiian: The Legend of Eddie Aikau" episode of 30 for 30, Unchained: The Untold Story of Freestyle Motocross, A Bend In the River, and an episode of George and Tammy.
As of January 2022, he is working on an episode of Outer Range, Brothers, and another TV series. His work as an editor was in his 2008 short documentary film.
The Actor Has Also Made Good Money From Stock Trading
Josh didn't make all his wealth from the entertainment industry. Although his entertainment career has become his major source of income, this hasn't always been so. In his 20s, when he was struggling to gain acclaim in Hollywood, he briefly considered abandoning being an actor. This was because he started trading stock and according to him, was making way more money from it compared to what he was pulling as an actor.
Based on what he has shared, he succeeded in trading stock because he traded very specifically and interpreted the chart solely based on people's fear and greed. It is said that he traded full-time for about three years. He combined this with acting but it became so serious for him at some point that he co-founded a company called MarketProbability.
The company operated a website of the same name through which it reportedly provided as many as 3,000 indicators of stock movement over the past decades to help traders come up with rewarding investment strategies. Reports have it that he returned 58% from trading stock in 2008 and even got into hedge funds which he managed with his business partner, Brett Markinson. From what we gathered, the amount involved in the hedge fund was $40 million.
Josh Brolin Has Had At Least Three Run-Ins With The Law
Disregarding his rebellious ways as a teenager which saw him steal cars and do drugs, the Avengers actor has led a trouble-free and uncontroversial lifestyle. However, he has been on the wrong side of the law a few times. The first involved his second wife, Diane Lane, who called the police following an altercation with Josh; this was on the 20th of December 2004. The actor was reportedly arrested and it was said that he would be facing a misdemeanor charge of domestic violence. Nonetheless, Lane refused to press any charges against Josh and the case was effectively dismissed.
Nearly four years later, precisely on the 12th of July 2008, Brolin was arrested for yet another altercation. This time it was at the Stray Cat Bar in Shreveport, Louisiana. As the story goes, he was arrested alongside American actor Jeffrey Wright with five other men who were said to be crew members of his 2008 movie, W. The actor had to post a cash bond of $334 to regain his freedom and the charges brought against him and the men were later dropped.
To the best of our knowledge, the last time the actor had an issue with the law was on New Year's Day of 2013. He made headlines after he was arrested in Santa Monica, California, for public intoxication. Josh was booked by the police around midnight and was released the following morning. As he was not given a citation for the arrest, no charges were brought against him.
That year, as the actor would later admit, was a turning point for him. He had to deal with the impact of his mother's death in his 20s which he had held on to. Josh realized he was on a destructive path and decided to turn things around for good.
Josh Brolin Was Once Engaged To Minnie Driver
As it is with every other famous and celebrated personality, the love life of Josh Brolin has always been a topic of interest to his many fans. He has been romantically involved with several popular women and Amelia Fiona Jessica Driver happens to be one of them. The 53 years old British-American actress and singer professionally known as Minnie Driver has been a part of the entertainment industry since 1991. She gained mainstream recognition in 1995 when she played Bernadette 'Benny' Hogan in Circle of Friends, a film based on a 1990 novel of the same title written by Maeve Binchy.
In the years that followed, she consolidated on her fame with roles in multiple acclaimed films, including Grosse Pointe Blank and Good Will Hunting, a 1997 psychological drama film. The movie directed by Gus Van Sant earned Driver an Academy Award nomination for Best Supporting Actress, alongside other coveted recognition. You will also find her in The Phantom of the Opera, Owning Mahowny, and The Riches which earned her nominations for a Golden Globe and Emmy.
It was on the set of the 2000 straight-to-video film, Slow Burn, that their relationship commenced in 1998. Over two years into the relationship, sometime in mid-April 2001, Josh Brolin and Minnie Driver announced that they had gotten engaged and were making plans to get married in the nearest future; this never happened.
Five months and a half after they announced that they would be getting married, it emerged that they have called off their engagement. They never disclosed the reason for this but it was said to be an amicable separation. Driver has been dating American filmmaker Addison O'Dea since 2019 and reports have it that they are currently engaged.
Meet Josh Brolin's Spouses
Hollywood is notorious for failed marriages and The Milk actor is a part of that statistics. Apart from his failed relationship with Minnie Driver, he has been in two failed marriages. His first marriage to Alice Adair began in the early years of his career and lasted for roughly six years.
About a decade later, he got married to his second wife Diane Lane: the union lasted for nine years. Thereafter, he began dating his third wife Kathryn Boyd to whom he has been married since 2016.
Meet Josh Brolin's First Wife, Alice Adair 
Birth Name: Deborah J. Adair
Date of Birth: June 26, 1966
Age: 57 Years Old
Occupation: Actress
Duration of Marriage to Josh Brolin: 1988 – 1994
Children: Trevor Brolin (Daughter) and Eden Brolin (son)
Much is yet to be learned about the early life and family background of Josh Brolin's first wife, Alice Adair. But according to some reports, she is a citizen of the United States of America born on the 26th of June 1966 in Colorado Springs, USA.
Although nothing has been heard from her since 2015, Alice also works in Hollywood as an actress. If we are not mistaken, her career began the same year Josh pulled off his first major screen role, in 1985, when she was seen as Holyanna in "Holyanna", the music video of the American rock band, ToTo. The following year, she played Carla Cappoletti in the "Streetwise" episode of Miami Vice and then as Kathy Evans in another episode of As the World Turns; this was in 1987.
In 1988, she played Rachel Slaten in Desperado: Avalanche at Devil's Ridge, a TV movie, and then was seen as Diane McBride in the "Honeymoon Express" episode of the TV series Quantum Leap the next year. Her next role after that was in 1990 when she appeared as Kathleen Devlin in the "Daddy's Girl" episode of The Young Riders.
That's not all; Adair portrayed Cornelia Granthomme in Szuler, a 1992 drama film written and directed by Adek Drabinski. Her last role was in 2015 when she played Mary in Rideshare, a short thriller film directed by Nathan Larkin-Connolly.
It is hard to tell when Josh Brolin and his first wife met, how they fell in love, and when they began dating. We can only confirm that they got married in 1988 and divorced in 1994. What led to the end of their marriage is also not known to the public but it seems it was an amicable separation. This assumption is based on the fact that they continued to co-parent the two kids they had together after their divorce.
Josh Brolin's Second Wife Diane Lane Also Works In Hollywood 
Birth Name: Diane Colleen Lane
Date of Birth: January 22, 1965
Age: 58 Years Old
Occupation: Actress and Producer
First Husband: Christopher Lambert
Duration of Marriage to Brolin: 2004 – 2013
Children: Eleanor Jasmine Lambert
As it is with her ex-husband Josh Brolin, Diane Lane was born to popular parents known for their involvement in showbiz. Her father Burton Eugene Lane was a drama coach who operated a well-known acting workshop with late American actor John Cassavetes. And her mother Colleen Leigh Farrington was a Playboy model and nightclub singer.
Born in New York City, Diane began her career in 1979 when she played Lauren in A Little Romance. She struggled to make a significant impact in the industry until she got to play Lorena Wood in Lonesome Dove, an epic Western adventure television miniseries that aired in 1989.
The role earned her a Primetime Emmy Awards nomination for Outstanding Actress in a Miniseries or a Special. Some of her other popular projects include the 2002 erotic thriller film, Unfaithful, which earned her an Academy Awards nomination for Best Actress; Nights in Rodanthe, Inside Out, The Perfect Storm, A Walk on the Moon, and The Outsiders.
The actress and her ex-husband Josh Brolin met for the first time when Brolin and Diane's first husband Christopher Lambert worked together in the 1994 suspense thriller, The Road Killers. Nonetheless, they didn't begin dating until 2002; this was after they reacquainted at a premiere party for the 2001 biographical drama film, A Beautiful Mind.
July 2003 came and it emerged that the two were engaged and over a year later, precisely on the 15th of August 2004, they got married at Josh Brolin's ranch in Los Angeles. Before the year ran out, the couple were already having issues, including an altercation that led to Brolin's arrest in December of that same year.
Fast forward to December 2012, several celebrity gossip sites reported that the two were on the verge of parting ways. This was substantiated in February 2013 when the couple announced that they have decided to end their marriage. It was also an amicable separation and they have both refrained from speaking ill of each other. The marriage didn't produce any children but Lane came into it with Eleanor Lambert, the child she had with her first husband.
Josh Brolin's Third Wife Is Kathryn Boyd
Birth Name: Kathryn Boyd Brolin
Date of Birth: October 12, 1987
Age: 36 Years Old
Occupation: Actress, Producer, Fashion Designer, and Former Model
Duration of Marriage to Brolin: 2016 – Present
Children: Two Daughters (Westlyn Reign and Chapel Grace Brolin)
Like his first and second wife, Josh Brolin's current wife has also built a career as an entrepreneur in the film and fashion industries. Born in Atlanta Georgia, Kathryn graduated from the University of Georgia in 2009 where she studied Photojournalism and received a Bachelor's degree in Magazine Journalism. As a fashion designer, she is the founder of MidHeaven, an American fashion brand.
Kathryn made her screen debut as an actress in 2011 when she played an uncredited role in Hall Pass. Since then, she has been seen in several short films, including Bad Company, Rideshare, Ride to Vegas, Loveless in a Brown Room, and Lamb. Her most recent works had her play Nancy in The Shallow and Lucy in The Girlfriend Experience.
She met her husband Josh Brolin sometime in 2010 when she was hired as his assistant. By March 2013, their relationship had become romantic and two years later, they were engaged. The two wasted no time in getting married; they exchanged marital vows in September 2016. Their marriage has witnessed half a decade and there has been no sign of any issues in their marriage. Josh and Kathryn are parents to two adorable daughters.
Josh Brolin's Kids Are Four: Three Daughters and One Son
One thing that has endeared many to Josh Brolin, apart from the numerous character he has portrayed, is his commitment to being a good family man. Although he has had two failed marriages, the actor has been very devoted to his current marriage as much as he has obligated himself with dealing with his demons for the sake of his family.
Several times, Brolin has expressed that his kids were part of the reasons he decided to clean up his acts. In November 2021, when he celebrated eight years of sobriety, he talked about what being sober means for him in a lengthy Instagram post; stating amongst other things that it has helped him gain the trust of his kids.
The father of four became a dad for the first time on the 26th of June 1988 when he and his first wife Alice Adair welcomed their son Trevor Brolin. Trevor is the only male child of Josh Brolin, he is currently 35 years old and is also an actor. Also with his first wife, Josh had his first daughter, Eden Brolin. She is the most popular child of the actor and also has an entertainment career. Eden is an actress known for playing Mia in Yellowstone and Charlie Singer in Beyond, a fantasy drama science fiction television series.
With his current wife Kathryn Boyd Brolin, Jame welcomed his third child and second daughter named Westlyn Reign Brolin. She was born in November 2018. His youngest and third daughter is named Chapel Grace Brolin. She was born on the 25th of December 2020. Kathryn is also the biological mother of Chapel.