People who seemingly get our eyes glued to our screens whenever they come up, as a result of their prowess and performances surely deserve to be read about and more known about them. One such phenomenal personality is Daniela Ruah, popular for portraying Special Agent Kensi Blye in the CBS series NCIS: Los Angeles. Here's all you need to know about her.
Daniela Ruah Bio
Daniela was born on December 2, 1983, to Portuguese-born Jewish parents in Boston, Massachusetts, the United States of America where she lived until she was 5. She was named Daniela Sofia Korn Ruah and her birth sign is Saggitarius. Her mother Katharina Lia Azancot Korn is an otologist while her father Moisés Carlos Bentes Ruah is an ENT surgeon. She is of Sephardic Jewish and Ashkenazi Jewish descent; her father is of Portuguese-Moroccan Jewish ancestry, and her mother's family who immigrated to Portugal were Russian-Ukrainian Jews.
Her family moved back to Portugal when she was still very young and there, she attended St Julian's School in Carcavelos, near Lisbon where her acting career took off. She landed her first acting role at 16 where she portrayed Sara on the soap opera Jardins Proibidos (Forbidden Gardens), and she continued acting until her graduation from high school when she would move to England for higher education.
Daniela earned a Bachelor of Arts, graduating with a First class honors in performing arts from London Metropolitan University after which she returned to Portugal where she continued acting. She participated in and won a Portuguese-television dance competition, Dança Comigo (Portuguese version of Dancing with the Stars) in 2006.
In 2007, she moved to New York City to study at the Lee Strasberg Theatre and Film Institute. She is currently starring in the popular CBS TV show NCIS: Los Angeles.
Who Is Daniela Ruah's Husband? – David Olsen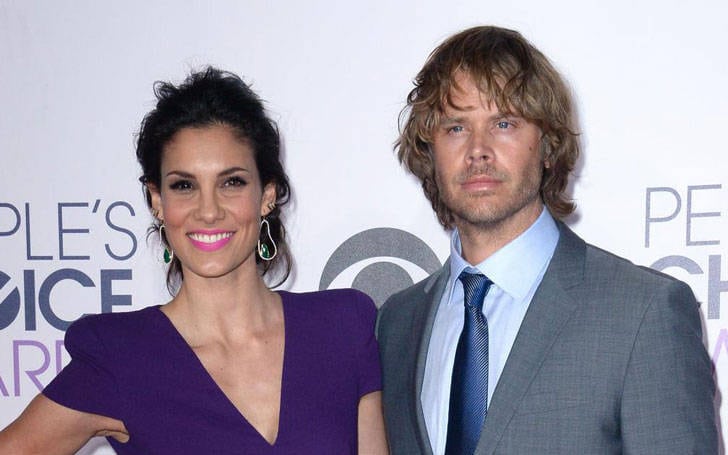 Daniela has been on the set of NCIS for nine years since 2009. Therein, she turned 25 and is now well into her 30's and has had a lot of beautiful things happen in her life in these years. She stars opposite Eric Christian Olsen who played a matchmaker in real life between his brother, David, and co-star, Daniela.
She is married to David Paul Olsen who is the elder brother and stunt double of Eric. David is well known as a stuntman and actor with notable works like NCIS: Los Angeles, Swiss Army Man, G-Force, Aquarius, General Hospital and Transformers: Revenge of the Fallen to his credit.
The couple had a son, River Ruah Olsen who was born on December 30, 2013, six months prior to their nuptials on June 17, 2014. Their first daughter and second child, Sierra Esther Ruah Olsen arrived on September 4, 2016.
Everything You Must Know About Her
Her Career
She kickstarted her acting career when she was 16 and has subsequently become one of the popular actresses in America and Portugal (mainly in telenovelas) as well. Her claim to fame began when she started staring in the CBS TV series NCIS: Los Angeles as special agent Kensi Blye. The series premiered on September 22, 2009. She was a guest star as her character on the series Hawaii Five-0.
Daniela Ruah was cast in David Auburn's dramatic play Proof at Los Angeles' Hayworth Theatre. Her television credits also include a hosting gig on the Eurovision Song Contest 2018 in Lisbon, Portugal alongside Catarina Furtado, Sílvia Alberto and Filomena Cautela.
See Also: Who Is Mireille Enos Husband, Alan Ruck? Children, Parents, Height
Her Eye Is One Of a Kind
Daniela has as a trademark an unusual birthmark in her right eye while the other eye is hazel. This trait is known as nevus of Ota also known as congenital melanosis bulbi or oculodermal melanocytosis. It is is a hyperpigmentation which covers the white part of the eye (sclera) but not the iris. Consequently, the eye appears darkened when others look at it, but doesn't affect vision.
Daniela Ruah Married in an Interfaith Ceremony
While Daniela is Jewish, her husband David is Lutheran. Nevertheless, that did not in any way affect their commitment to each other or posed as a barrier to their wedding. They tied the knot in an interfaith ceremony in Portugal.
The marriage was performed by their fathers. David's father was ordained and recited the homily, but her's isn't a rabbi, however, with a minyan (quorum of ten Jewish adults required for certain religious obligations, his role was validated. They got married under a chuppah (a canopy beneath which Jewish marriage ceremonies are performed) as well as had the wine ceremony and drank out of the Kiddush cup.
Social Media Presence
Daniela's fame is not just among her screen audiences but she also has an established presence on social media platforms too with a teeming number of followers. Her Instagram account boasts of 828k followers while more than 430k keeps updated with her on Twitter.
Her Net Worth
Daniela Ruah has an estimated net worth of $7 million.