Michelle Rodriguez does not have a husband, but she has had several partners, both men and women, and is bisexual.
Among Michelle Rodriguez's past partners are Vin Diesel (2001), Colin Farrell (2002 – 2003), Kristanna Loken (2006 – 2007), Aleksandra Rastovic (2007), Francesca de Sola (2011 – 2014), Cara Delevingne (2014), and Zac Efron (2014). There have also been speculations that she dated Oliver Martinez (2003), Jesse Jane (2003 – 2005), and Lenny Kravitz (2005). The actress confirmed that she is bisexual back in 2013, asserting that she is too curious to be straight.
Is

Michelle Rodriguez

Gay? 
Rodriguez has often made the headlines for her sexual orientation. Michelle Rodriguez was first rumored to be gay in 2006 after she was romantically linked with a female co-star, Kristianna Loken. She, however, refused to address the rumors and maintained that she "would make a sex video if she wanted to share details of her sex life with the world".
Fast forward to 2013, Michelle Rodriguez boldly came out to tell the world that she is bisexual. According to her, she finds men and chicks equally intriguing and so falls under the 'B' part of LGBT. She equally revealed that she came out in order to help others who may be struggling with their own sexuality. 
Michelle Rodriguez Has Never Been Married But Was Once Engaged
As the actress is approaching her mid-forties, one does not need to be told why people often ask questions about her husband, even though she has never been married.
While her popularity has made it difficult for her to keep her love life a secret, Michelle Rodriguez has maintained some air of mystery about her romantic relationships.
You would hardly see her walking the carpet with anyone, and this has almost always had people speculating about who she is dating.
In recent times, it seems she has become even more secretive about her love life, but one shouldn't rule out the possibility that she has been single for years. The actress described herself as a "lone wolf" in one of her many interviews.
Although she hopes to have a kid someday and have a father figure for the child, Rodriguez doesn't see herself as someone capable of having a long-lasting relationship. She said she hadn't been able to keep a lover for more than six months and described the thoughts of having a family life as scary.
Nonetheless, she has come very close to getting married to one of her exes, a Muslim whose name has never been disclosed. The Latino actress who was raised a Jevoha's Witness related that she liked the Muslim fellow because he respected her, and they easily got along.
He eventually proposed to her, but she rejected him because he demanded that she would begin wearing clothes that covered more of her body. The actress is known to be friends with Mohammed Al Turki, a film producer from Saudi Arabia.
Because of this, it has been speculated in some quarters that he is the person Rodriguez talked about. But as far as we know, they are just friends.
Meet All of Michelle Rodriguez's Partners from Previous Relationships
1. Vin Diesel (2001) 
As far as the public knows, the first famous lover Michelle Rodriguez had is the famous Hollywood hunk Vin Diesel. The American actor and filmmaker is counted among the highest-grossing actors in the world and is admired for portraying the fearless and family-loving Dominic Toretto in the fast and furious franchise.
It is said that their relationship began on the set of the first installment of the film series. Their characters were lovers in the movie, and their love has sustained over the years and all through the subsequent installments of the franchise to the admiration of moviegoers.
Unfortunately, they were not able to keep it going in real life; what they had lasted for only a few months in 2001. While the actress is yet to settle down in marriage, Paloma Jimenez has been Vin Diesel's spouse for over two decades. The two have been together since 2007 and are now parents to three kids – Hania Riley Sinclair, Vincent Sinclair, and Pauline Sinclair.
2. Colin Farrell (2002 – 2003)
Colin Farrell is a Hollywood actor from Ireland who gained mainstream recognition after he was cast as the lead actor in the 2000 American War drama film Tigerland. Since then, he has been seen in multiple blockbusters like Phone Booth, The Recruit, S.W.A.T., Intermission, Horrible Bosses, and much more.
Regarded as one of Ireland's greatest film actors, Colin has had a busy love life, and Michelle Rodriguez happens to be one of them.
It is believed that they met and started dating on the set of S.W.A.T. and that the relationship lasted from late 2002 to early 2003. Around the same time they reportedly dated, the actor was linked to multiple famous women like Nicole Narain, Britney Spears, Angelina Jolie, and Demi Moore.
Although he has never been married, he is a father of two sons; he had his first named James Padraig in 2003 with Kim Bordenave and then Henry Tadeusz with Alicja Bachleda-Curuś, a Polish actress in 2009.
3. Oliver Martinez (2003; Rumored)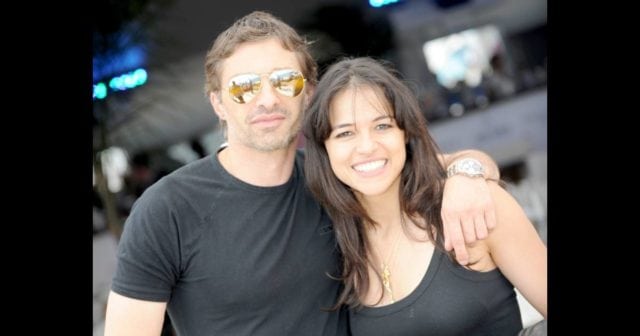 Although a French film actor, Oliver Martinez is a popular name in Hollywood as he has been seen in productions like Before Night Falls, Unfaithful, and S.W.A.T., wherein he played a drug lord of French extraction.
It is probably on the set of the action crime thriller that Michelle Rodriguez met him. Sometime in mid-2003, it circulated that the two were spotted together kissing on a yacht that belonged to P. Diddy in the South of France.
Neither of the two admitted that they were lovers; they insisted that they were just friends, but people suggested that they denied having a thing for each other because Oliver was in a relationship with the famous Australian singer and actress Kylie Minogue.
The French actor has also had a busy love life. He dated Kylie, whom he met at the 2003 Grammy Award event, until February 2007. His next serious relationship was with Halle Berry; they met and started dating on the set of Dark Tide in 2010, got married in 2013, and parted ways in 2016.
4. Jesse Jane (2003 – 2005; Rumored)
Long before Michelle Rodriguez publicly divulged that she was bisexual, it had been suspected that she was sexually attracted to women. Sometime in 2003, it started circulating that she was in a relationship with Cindy Taylor, professionally known as Jesse Jane.
The rumor sustained until 2005, but neither of the two confirmed or debunked it. Jesse is a model and former pornographic actress who has been inducted into the XRCO Hall of Fame. Like the Fast and Furious actress, she is sexually attracted to both men and women.
A few years after the speculated relationship between Michelle and Jesse Jane fizzled out (in 2007), it emerged that the porn star is married to a fellow pornographic actor named Rick Patrick. The couple reportedly lived together in Oklahoma City until March 2012, when Jane took to her Twitter account to announce that she and Rick had ended their marriage.
5. Lenny Kravitz (2005; Rumored)
Lenny Kravitz is an accomplished and multi-talented entertainer. The New York native is mostly known as a singer-songwriter and multi-instrumentalist, but he is also a record producer and an actor. An Officer of the Ordre des Art et des Lettres, Kravitz won the Grammy Award for Best Male Rock Vocal Performance consecutively from 1999 to 2002.
His exotic looks and accomplishments have made him a darling of so many women, but only famous women like Lisa Bonet, Vanessa Paradis, Adriana Lima, and Nicole Kidman could boast of dating him. Apart from the women mentioned above, the musician has been rumored to have dated other famous women, and Michelle Rodriguez happens to be one of them.
The actress was featured in the music video of Lenny's 2002 song, "If I Could Fall in Love", but it was in 2005 that it was rumored that they were lovers; this was after they were seen together several times; the rumor was never confirmed.
6. Kristanna Loken (2006 – 2007) 
Kristanna Loken is admired as a model as much as she is celebrated for the various characters she has portrayed in films and TV shows like Terminator 3: Rise of the Machines, Bounty Killer, The L Word, Burn Notice, and much more.
The beautiful actress cum model has always been open about the fact that she dates both men and women. According to her, she found some of her relationships with women more satisfying than some of the men she has dated.
If we are not mistaken, Loken and Rodriguez met on the set of the 2005 movie Bloodrayne, and connected. It is believed that they began dating the following year and had an intense relationship that lasted until 2007. In 2008, Loken got married to her Painkiller Jane costar, Noah Danby. They got married that year and separated in 2009.
7. Aleksandra Rastovic (2007)
Aleksandra Rastovic is also counted as one of the women the Resident Evil actress dated. Aleksandra is a conversationist, model, actress, and director. She appeared in the 2009 music video of the Backstreet Boys' song, Straight Through My Heart.
Thereafter, she made her proper acting debut on the "I Remember" episode of The Cavanaughs; this was in 2011. She hasn't done much acting since then but has been seen in Stranglehold, The Last Witch Hunter, and Nocturnal Animals.
Michelle Rodriguez and Aleksandra Rastovic dated for a while in 2007. It is hard to tell how their relationship began and how it ended, but they were seen together several times.
Notably, they attended the Grand Opening of Diablo's Cantina at the Monte Carlo Resort and Casino in Las Vegas together; this was on the 13th of October 2007. The model has since moved on; she is now a mother and seems to be in a serious relationship.
8. Francesca de Sola (2011 – 2014)
Francesca de Sola is a Salvadorian filmmaker. She has written, directed, and produced multiple projects since 2012, when she worked as a production designer on We Are Young, a short film written and directed by Millicent Cho.
Some of the short films she has written, directed, and produced include 1%ERS, Touch, and Second Act. Francesca worked in the art department during the production of Resident Evil: Retribution. It was on the set of the movie that she met Michelle Rodriguez, and their relationship commenced.
Michelle never discussed the relationship in public, and neither did Francesca. But it was apparent that they were dating as they were always seen together. By all accounts, the relationship lasted for several years, from 2011 to 2014. What tore them apart is yet to be revealed.
9. Cara Delevingne (2014)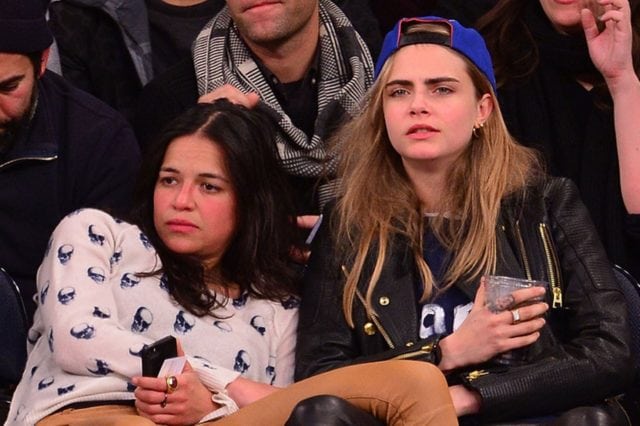 Cara Delevingne is one of the most popular English models; she is also a singer and an actress known for her roles in movies like Valerian and the City of a Thousand Planets, Suicide Squad, Paper Towns, and much more.
Anyone who follows the life of the English model should know that she doesn't restrict herself to any gender when it comes to dating. She had been proudly bisexual and pansexual for a long time before she came out as genderfluid in May 2018. Cara has dated famous women like St. Vincent, Ashley Benson, and Michelle Rodriguez.
It is hard to tell when and how Michelle and Cara started dating; we can only confirm that the relationship began and ended in 2014. While it lasted, they seemed inseparable and weren't shy of displaying their affection in public. A friend of Michelle's reportedly disclosed that she had so much taken to Cara that she was thinking of having a baby with the model.
10. Zac Efron (2014)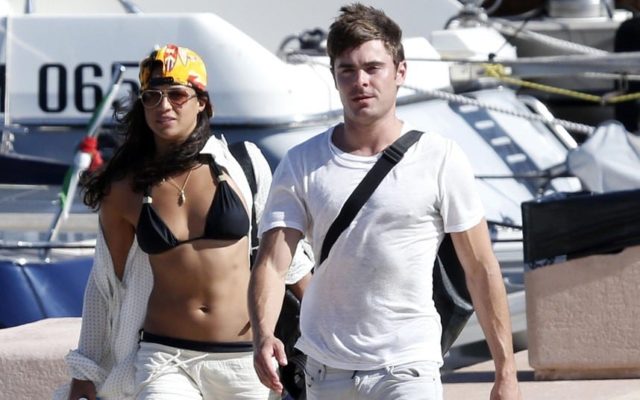 The same year the Fast & Furious actress dated Cara, she also dated Zac Efron. Unless you hate movies, you must have seen one or two movies of the American actor. He rose to fame for his role in the High School Musical trilogy and has been seen in other popular productions like Hairspray, The Luck One, Dirty Grandpa, The Greatest Showman, and much more.
Since he came to the limelight, he has dated famous women like Vanessa Hudgens, Lily Collins, Sami Miro, Halston Sage, Sarah Bro, and Vanessa Valladares. Also, he briefly dated Lindsay Lohan in 2011 and Michelle Rodriguez in 2014.
It is said that Zac and Michelle began dating in June and went their separate ways in August. Since then, it has been hard to tell what's up with the actress' love life. It has been reported in some quarters that she has been single, but what's close to the truth is that she hasn't had any serious lovers or has been secretive about who she's seeing.