Michael Bloomberg was married to Susan Brown from 1976 to 1993 and their marriage produced two daughters: Emma Bloomberg and Georgina Bloomberg. Their split notwithstanding, the former couple have maintained a more-than-cordial relationship for the past 30 years.
Michael Bloomberg is an American billionaire, businessman, author, politician, and philanthropist raised in a middle-class family. He worked his way up from a bank's vault to make a fortune as a marketer of financial information. Today, his success story and the path he took to realize it is regarded as a yardstick that many aspiring entrepreneurs all over the world use to evaluate themselves.
Being a billionaire with a net worth estimated at $59 billion, it is only natural that many things about the American businessman pique the interest of the public, including his love life and especially, his unique relationship with his ex-wife Susan Brown.
Michael Bloomberg and Susan Brown were married for 18 years and have been divorced for almost three decades. Despite that, they remain very close and supportive of each other; which has left many people wondering why they had to part ways.
Since his marriage with Susan packed up, the only woman that has been romantically linked to the billionaire is Diana Taylor. They have been together for over two decades but are yet to walk down the aisle.
All the while Bloomberg has been with Taylor, he has kept up with his platonic friendship with his ex-wife Susan Brown, and to the best of our knowledge, it has not caused any problem for him and his current spouse.
Meet Michael Bloomberg's Ex-Wife, Susan Brown
Birth Name: Susan Elizabeth Barbara Brown
Date of Birth: Sometime In 1948
Age: 75 Years Old
Duration of Marriage: 1976 – 1993
No. of Kids With Bloomberg: Two Daughters (Georgina and Emma Bloomberg)
Susan is mostly known as the ex-wife of the famous billionaire. She was born in Yorkshire, the United Kingdom, sometime in 1948. Much is not known about her early life and family background but according to what The New York Times published when she got married to Michael Bloomberg, she was born to a Wing Comdr. named Donald W.J. Brown and Mrs. Brown of Malta.
Her parents resided in York, England, where Susan schooled at Queen Margaret's School. She also attended Le Manoir located in Neuchatel, Switzerland. Susan's marriage to Michael Bloomberg wasn't her first as she has been previously married and divorced.
Michael Bloomberg's Ex-wife Is One of His Closest Friends
Most failed marriages have had the couple involved coming for each other's throat but this was not the case for Michael Bloomberg and Susan Brown. Beyond having a peaceful separation, their divorce has been an inspiring tale for their kids and the people around them.
The former couple parted ways in 1993 and have remained good friends since then. It is said that they still celebrate Thanksgiving and most Jewish holidays together at the billionaire's home in Armonk, New York. After their divorce, Susan at some point moved back into Michael's home to live with him and their daughters for a while. She and her boyfriend have also been seen campaigning for the former Mayor of New York City.
Describing the nature of the relationship between the former couple, their daughter Emma stated in her college application that they are best friends. For Emma, her parent's divorce was a good call and among the best things that have happened to her. This is because the divorce made it possible for her to build a strong relationship with both Bloomberg and Brown.
Michael Bloomberg's ex-wife Susan Brown has also received some financial support from her billionaire ex-husband. For instance, reports have it that Bloomberg assisted Susan with a $500,000 bridge loan in 2011 which she used to acquire her duplex penthouse at 41 Bond St. in NoHo, New York City. That same year, he also transferred over $500,000 into a trust in her name.
Their Kids Were a Major Factor That Facilitated Their Friendship
While Michael Bloomberg and Susan Brown were married, they had two daughters named Georgina and Emma Bloomberg. It is no secret that children suffer most from broken homes but the case is different for Georgina and Emma: they regard their parents' divorce as a blessing and the reason for that is not far-fetched – they witnessed their parents who were struggling to get along transform into best of friends.
Among other things, Michael and Susan's love for their kids made them work towards minimizing hostility to build a genuine friendship that has lasted for many years. Following the decision to end their union, the former couple realized that they would forever be bonded because of Georgina and Emma.
As such, they dwelled on their mutual love for their children which made it easy for them to put their failed marriage aside and nurture a friendship that has improved the quality of their lives and that of their two daughters.
The Billionaire Has Been Dating Diana Taylor Since 2000 And She Respects The Friendship Between Michael and Susan
It has been rumored that Michael Bloomberg dated Diana Ross at some point but his ex-wife, Susan Brown, and his current partner, Diana Taylor, are the only women that make up the love life of the billionaire. About seven years after his marriage with Susan came to an end, Bloomberg met Diana Taylor and they have been together ever since. Like Bloomberg, Diana is an American business executive with a robust resume in Wall Street. She served as the New York Superintendent of Banks from 2003 to 2007 and was The First Lady of New York while Bloomberg served as Mayor from 2002 to 2013, even though they are not married.
During Michael's 2020 presidential campaign, he made it clear that Taylor would become the de facto first lady of the country if he wins the race. This showed that the domestic partnership between the two is a serious affair. The couple met at a business luncheon in 2000 where Michael was a speaker. Later that evening, fate brought them together at a restaurant. Bloomberg who was already a billionaire approached Taylor and asked her to have a drink with him. She said yes and it marked the beginning of their relationship which has survived two decades.
From what is obvious, Diana Taylor doesn't have any issue with her longtime partner being friends with his ex-wife. They all get along and it seems her regard for Susan as the mother of Bloomberg's children has played a role in this. Taylor sees herself as a friend to her partner's kids and not their stepmother.
Bloomberg Parted Ways With His Ex-Wife Because Their Lives Were No Longer Compatible
How the billionaire met his ex-wife and the circumstances that surround the beginning of their relationship isn't a story that's know to the public. We can only tell that Susan Brown had been married and divorced before she met and subsequently got married to Michael Bloomberg. When they got married, Mike was working for Salomon Brothers, a brokerage company in New York, as the partner in charge of equity trading and sales. At some point in her career, Susan also worked for Salomon as a temporary employee. It was through the firm that the former couple met.
The former couple got married in 1976. It was a Jewish wedding officiated by Rabbi David M. Posner at Temple Emanu-El. Roughly three years after they become life partners, Michael and Susan welcomed their first child together. Seven years into the marriage, they welcomed their second child, and ten years after the child was born, the marriage came to an end. They both got involved with other people but have remarkably been good friends since the marriage ended. This has left many curious about why their marriage failed. If they can be good friends after going through a divorce, what was so difficult for them to resolve in their marriage?
Well, as the story goes, being married was a pleasant experience for Michael and Susan, or at least during the early years of their time together as a married couple. As the year went by, they drifted apart and it has a lot to do with the fact that their individual lifestyle became incompatible.
Following the dismissal of Bloomberg that came with Phibro Corporation's acquisition of Salomon Brothers in 1981, Michael founded his own company and devoted much of his time to it. While his company grew, his family life suffered as he was always at work or attending a work-related social gathering.
It is said that Bloomberg could only afford to spend an hour or two with his family. This became a problem for the couple as they were often quarreling about it. In a nutshell, their lives had made it impossible for them to thrive as a couple. It was difficult for them to get along because, unlike Mike, Susan didn't want to be social all the time, explained Emma, the first child of the former couple.
Meet The Two Daughters of Michael Bloomberg and His Ex-wife
From the foregoing, it is clear that Michael Bloomberg and Susan Brown had two daughters while they are married and they are the only children of the billionaire politician.
Emma Bloomberg
Full Name: Emma Beth Bloomberg
Date of Birth: May 10, 1979
Age: 43 Years Old
Occupation: Business Executive
Emma Bloomberg is the first child and daughter of Michael Bloomberg. A graduate of Princeton University, Emma also schooled at Harvard Business School and the Harvard Kennedy School of Government. Emma is known to be passionate about eradicating inequality and attaining sustainable change in society through politics and advocacy. This inspired her to found Murmuration in 2014.
She is the CEO of the organization which helps politicians in their campaigns with the ultimate goal of facilitating meaningful changes in the public school system. Through the establishment, Emma hopes to ensure that every child across the United States of America receives a quality education that prepares them for a productive and fulfilling future.
Before she founded Murmuration, Emma worked for Robin Hood, first as a senior planning officer and then as chief of staff. Emma got married to Chris Frissora on the 10th of June 2005 and they had a daughter named Zelda Violet Frissberg. Zelda was born on the 22nd of March 2015 and reports have it that her parents are no longer together. It is said that Emma secretly got married to Jeremiah Kittredge.
Georgina Bloomberg
Full Name: Georgina Leigh Bloomberg
Date of Birth: January 20, 1983
Age: 40 Years Old
Occupation: Equestrian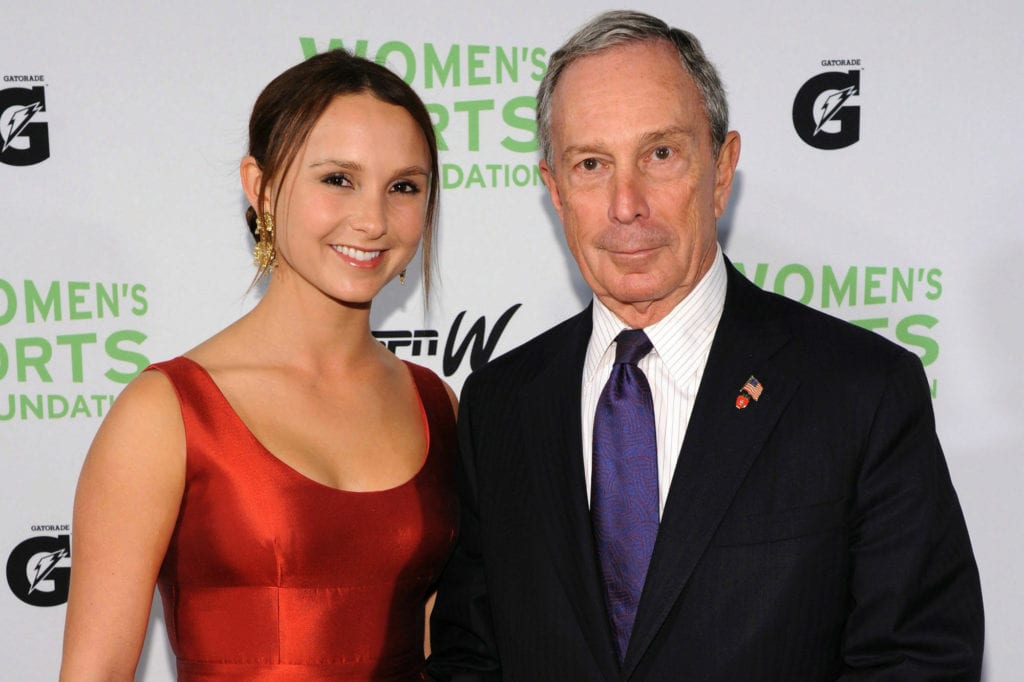 Georgina is the second child and daughter of the billionaire. Born on the 20th of January 1983, she schooled at The Spence School, an all-girls private school in New York City. Thereafter, Georgina attended and graduated from New York University's Gallatin School of Individualized Study; this was in 2010. She would also attend The New School's Parsons School of Design. Georgina has been riding horses since she was four and would grow to become a professional equestrian, winning some of the most coveted awards and events in the profession.
More than competing as a rider, she is now also the owner of a team known as the New York Empire. Georgina Bloomberg is not married but she has a son named Jasper Michael Brown Quintana. Jasper's father is Ramiro Quintana, an Argentine Olympic show jumping rider.
Michael Bloomberg and Diana Taylor Are Not Married Because They Don't See The Need
Having spent over 20 years together as a couple, people have come to expect Michael and Diana to walk down the aisle. The couple lives together in Manhattan and considering how they have supported each other, it is hard to think of them as unmarried. As stated earlier, Diana served as the First Lady of New York when Michael was the Mayor and would have become the First Lady of The United States had her partner succeded in his 2020 presidential race.
Both Michael and Diana have been married and divorced. With their failed marriages, they have possibly come to realize that what's important is being together because they want to and not having a term to define their relationship. Diana once expressed this sentiment when she was asked if she and Michael would ever get married. She made it clear that there was no need for marriage as things are working fine for them.
For Diana Taylor, not being married shows that they are together because they want to be together. Bloomberg prefers to keep his options open, so the two might eventually get married.