Ashton Kutcher has been married to Mila Kunis since 2015 and they have two children named Wyatt Isabelle Kutcher and Dimitri Portwood Kutcher.
Ashton Kutcher is one of the better recognizable faces in Hollywood thanks to his roles in different highly-rated television series and numerous high-grossing movies.
The Iowa native, who mainly appears in romantic comedy projects has received many nominations for Teen Choice Awards and has enjoyed rave reviews since he began his acting career in the sitcom, That '70s Show. Subsequently, he has featured in films like Dude, Where's My Car? (2000), Guess Who (2005), and No Strings Attached (2011).
Like his career, his personal life has also been eventful and currently revolves around Mila Kunis. Before Kunis, the actor was married to Demi Moore whom he divorced in 2013 following a separation that lasted for over one year.
Earlier, the actor was romantically linked to Ashley Ellerin, one of the victims of the convicted serial killer and rapist, Michael Gargiulo. Ashton and Ashley were to go for a date the day she was brutally murdered and he even visited her apartment not knowing she had fallen victim to The Hollywood Ripper.
Also, the celebrated actor reportedly dated the Barbadian singer, Rihanna, for a while in 2012 following his separation from Demi. All of these are part of the reasons people have followed Ashton Kutcher's life away from his career, with many hoping to dig up interesting revelations about his marriage to Mila Kunis who is equally a popular figure in the movie industry.
Ashton Kutcher and Mila Kunis Met In The Late 90s While Filming That '70s Show
Ashton Kutcher and Mila Kunis are definitely one of the most admired couples in Hollywood and their story began on the set of That '70's Show in the late 1990s. The period sitcom originally aired on Fox from August 1998 to May 2006. Ashton played Michael Kelso in the series documented as his first project as a professional actor. That's not the case for Mila as she had been seen in popular productions like "Days of Our Lives", "Santa with Muscles", "Baywatch", "Piranha", and more before she started playing Jackie Burkhart in That '70's Show.
While Ashton was 19 years old then, Mila was 14 and the characters they played had a kissing scene which became the first time the couple kissed. More than that, the scripted kiss was Mila's first. The actress would reveal a few years later that she was nervous and uncomfortable about kissing Ashton because she was massively crushing on him. She recalled that she became very fond of the actor as he made her laugh. Ashton has also uncomfortable and nervous about having to kiss the "little girl". According to him, Mila was cool and confident about it like she had done it many times before. "I was the one with the butterflies in my stomach," he added.
The two would end up kissing a few more times on the show as lovers but were noting but friends in real life. Their friendship continued for years after the show wrapped up as they kept in touch with each other. As of 2002, Mila Kunis began dating Macaulay Culkin and around the same time, Ashton Kutcher was known to be dating Ashley Ellerin who was horrendously murdered by The Hollywood Ripper on the 21st of February 2001. He would later fall in love with Demi Moore whom he married on the 24th of September 2005 while Mila continued dating Culkin.
They Reconnected In 2012 After They Both Separated From Their Partners In 2011
It was as though fate was bent on having the two end up together as a couple. In 2011, they both separated from their partners and it made it possible for a romantic relationship to nurture among them. First, it was Mila Kunis that parted ways with Macaulay Culkin in January 2011. They two had been dating since 2002 and largely kept the relationship away from the public. Before the year ran out, precisely in mid-November, Ashton Kutcher took to Twitter to disclose that his marriage to Demi Moore had reached the end of its days. Stating that he would always cherish the time he spent with Demi, the actor divulged that their marriage had failed.
As both actors were single again, it would afford them the audacity to act on their feelings for each other the next time they meet and this happened in January 2012; at the Golden Globes Award event of the year. Mila Kunis shared that she was admiring Ashton at the event without realizing he was the one. They got to talk and were inseparable for the rest of the night. Ashton Kutcher invited Mila to a party at his apartment thereafter; they had their first unscripted kiss and it marked the beginning of a relationship that was initially undefined.
Mila Kunis said their relationship had the overtone of two of their films – 2011's "No Strings Attached" and "Friends with Benefits". Both are romantic comedy films that revolve around two friends making a pact to have a "no strings attached" relationship and become friends with benefits without falling in love. In No Strings Attached, Ashton Kutcher played one of the friends named Adam Franklin alongside Natalie Portman who portrayed Emma Kurtzman. Mila also played one of the friends named Jamie Rellis in Friends with Benefits, next to Justin Timberlake who portrayed Dylan.
In both movies, the friends eventually fell in love and pursued a relationship. This was what happened to Ashton and Mila in real life, or is at least the way the latter sees it. Based on what she said, they were initially only interested in hooking up and having fun. But then, they soon realized they truly cared about each other and liked being together. Worried that things would really get messed up, Mila Kunis ended the "no strings attached" relationship they were having. The following day, Ashton visited Mila and asked her to move in with him. She agreed and they officially became a couple; this happened in April 2012.
Mila Kunis Became Ashton Kutcher's Wife The Following Year After Their Engagement
Kutcher and Kunis officially started dating in April 2012, six years after the Fox sitcom they both starred in came to an end. Barely two years later, in February 2014, they took their relationship a step further and got engaged. As an actress, Mila Kunis is known for other movies and television shows like "Black Swan", "Forgetting Sarah Marshall", and "Two and a Half" wherein she appeared in a 2014 episode as Vivian. It became another work both Mila and Ashton featured in as the latter had a lead role in the television sitcom; he portrayed Walden Schmidt in no fewer than 84 episodes.
Following months of speculation that the couple might soon get married, it was confirmed towards the end of February 2014 that they were engaged. This was after Mila was seen with a diamond on her ring finger while shopping with her mother. The engagement came about three months after Ashton Kutcher finalized his divorce from Demi Moore, after being separated for almost two years.
Another year after their engagement, the two tied the knot in Oak Glen, California, in July 2015. But while they were still engaged, they were already set to start building a family together as Mila disclosed in May 2014 that she was pregnant on "The Ellen Show". A few months later, they welcomed their first child together, a daughter named Wyatt Isabelle. It was on the 4th of July 2015 that Ashton Kutcher and Mila Kunis got married and Wyatts witnessed the ceremony. Jon Cryer, Ashton's co-star in Two and a Half Men described the low-key wedding as "beautiful and sincere".
Meet Ashton Kutcher's Kids With Mila Kunis
Ashton Kutcher and Mila Kunis are proud parents of two beautiful kids. Their eldest child, Wyatt Isabelle, was born before they got married in October 2014 while their younger son, Dimitri Portwood, was welcomed to the world in November 2016.
Wyatt Isabelle Kutcher Is Ashton Kutcher's Daughter
Date of Birth: October 1st, 2014
Age: 9 Years Old
Occupation: Undetermined
Wyatt is the first child and daughter of Ashton Kutcher and Mila Kunis. The couple had her before they got married and it is still early to tell what she would do with her life as an adult. Even though Wyatt has a lot of growing up to do, she is already fluent in a few languages. At three years of age, Wyatt was said to have been able to speak and understand Russian, Spanish, and English languages.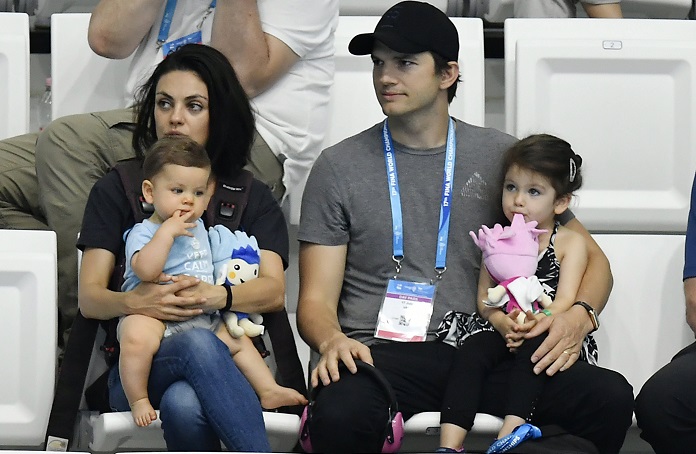 Dimitri Portwood Kutcher is Ashton Kutcher's Son
Date of Birth: November 30, 2016
Age: 6 Years Old
Occupation: Undetermined
Dimitri is the first son and second child of the couple. Like her older sister, he doesn't concern himself with thoughts about the future as he is still a kid. Dimitri would likely remain the baby of the family as Kunis has openly spoken about her desire to not have any more children because she does not want them to outnumber her husband and herself. She has, however, made sure to gives the two kids all the attention they need.
Demi Moore's Memoir Didn't Have Any Negative Impact On Their Marriage 
It is no secret that before Ashton Kutcher and Mila Kunis got married, he had been married to actress Demi Moore who is 15 years older than him and was a mother of three daughters from her previous marriage to actor Bruce Willis. The pair were together for 6 years before they separated in 2011 after Moore announced her intention to move on. Their divorce was later finalized in November 2013. Several years into the Ashton-Mila union (in 2019), Demi Moore released her memoir titled "Inside Out" which gave a detailed insight into her marriage with Ashton and other areas of her life.
For several reasons, it was thought that Demi's memoir would hurt Ashton's marriage to Mila. It was imagined that the book would influence Mila's opinion of Ashton and cast him in a new light that might cause problems for their marriage. To start with, Demi related that meeting Ashton was so magical they didn't regard the age gap between them. They were "totally in sync" and connected sexually because she felt safe with the actor who was only 25 when they started dating.
Nonetheless, she contented that he played a role in her relapse and became distant while she struggled with addiction thereafter. Demi suffered a miscarriage and would go through IVF treatments in an effort to have a child with the actor. In a desperate quest to make the marriage work for them, Demi agreed to a threesome after Ashton expressed his fantasy for it. Despite all of that, he cheated on her with a 21-year-old in their home while she was away. When she confronted him about it, he did not attempt to compensate for his behavior. Instead, he cheated with the woman again and was quick to admit it. Demi believes he did this all to get out of the marriage.
Ashton Kutcher was not happy with the book. Reacting to it, he tweeted that he wanted to make a "really snarky tweet" but changed his mind because of his family. So far it seems the book hasn't had any negative effect on the actor's marriage to Mila. They are still together and as far as we can tell, are happily married. Sources close to the couple said Mila was angry with the book but not at her husband. As claimed, the book didn't change her opinion of Ashton as she was already aware of all the things divulged thereof. Based on that, one can as well conclude that Demi Moore's memoir didn't have any impact on their marriage.
But It Has Been Rumored Several Times That Ashton Kutcher and Mila Kunis Are Headed for a Divorce
Since they got married and indeed right from the time they began dating, Ashton Kutcher and Mila Kunis have refrained from making their union a public affair. Because of this, a lot about their marriage has been left to speculations and it has been rumoured several times that they are having marital issues.
For instance, Life & Style once claimed that the couple had resolved to part ways because of Mila's insecurities. The outlet reported that sources claimed the two were having trust issues due to Ashton's infidelity from his previous marriage. The suppositions were never substantiated. In another instance, it circulated that the Ashton-Mila union was over, this was after In Touch Weekly reported that they had separated. According to the magazine, Mila felt suffocated by Ashton and left with their kids. This time, the couple took to Instagram to debunk the story sarcastically as seen below.
It was again rumoured that the COVID-19 lockdown made it hard for the couple to tolerate each other and that they can't wait to abandon their union. Like the rest of the rumours, there were no facts that supported this claim. From what's obvious, the two are enjoying every bit of their marriage.
The Secret of Ashton Kutcher and Mila Kunis' Marital Bliss?
In one of her interviews, Mila Kunis revealed that what she has with Ashton is a co-dependent family. In her words, she and Kutcher "were super co-dependent for like eight years". This kind of relationship is widely regarded as an unhealthy relationship by experts who regard it as "love addiction". It is said that it gradually progresses into an obsession where the people involved would rationalize the disturbing behaviours of their partners and become willing to compromise just to keep the relationship going.
For Kutcher and Kunis though, it has been a healthy marriage. The actress once publicly proclaimed that she is married to the greatest husband in the world. She described herself as a very lucky woman as she explained that Ashton has been very patient and supportive to the family. She also hinted that the secret of their flourishing union is the fact that they are always real with each other. Mila said she can't lie to Ashton and that he can call her out on anything. She added that they know everything about each other, affirming that it's all about being married to one's best friend.
Kutcher also speaks highly of his wife. In 2017 when he was honoured with the Robert D. Ray Pillar of Character Award in Iowa, the actor appreciated his wife for helping him become a better man. She "kicks my ass on character every day", he said. With that, he narrated that he woke up early that morning while Mila was still sleeping to get their kids ready for the day. He thought he was awesome but she's like: Don't act tired, I do it every day.
Will Ashton and Mila Ever Work Together Again? 
Based on the foregoing, one can tell that the couple has worked together a few times. First, it was on Fox sitcom, That '70's Show; then on CBS' Two and a Half Men where the actor took on a lead role and the actress featured in only one episode.
But of late, their hilarious Super Bowl ad for Cheetos is their most popular work together. In the ad, Kutcher caught his wife snacking on Cheetos and asked: "Did you steal my Cheetos again?" She turned to Shaggy, the "It Wasn't Me" singer who said to her: "Just tell him it wasn't you". Kutcher would then sing about all the places he caught his wife snacking on them.
While their fans have persistently expressed the desire to see the couple work together again, it is likely not going to happen. In August 2018 when she appeared in "Today with Willie Geist", Mila Kunis expressed doubt about working together with her husband, insisting that it would be weird. But then, it was in early 2021 that they pulled off the Cheetos ad so anything is possible: although Mila said they accepted the offer because they had been stuck at home with their kids for months because of the COVID-19 lockdown and needed some freedom.
Who Is Richer Between Ashton Kutcher and Mila Kunis?
No one needs to be told that acting is the major source of income for the couple. They have both being part of the industry for several decades and continue to make a living thereof. As of 2021, Ashton Kutcher and Mila Kunis have a combined net worth of $275 million. While the personal wealth of the former is estimated at $200 million, it is believed that the latter is worth $75 million.
Given that both of them have enjoyed the same level of success in their acting careers, one might wonder while the actor is twice richer than his wife. The answer for that is not far-fetched. While Mila's major source of income is the numerous roles she has played both on the small and big screens, her husband has multiple streams of income.
Kutcher Made Money as a Model Before Becoming One of the Highest Earners on Television
Ashton Kutcher's modelling career predates every other thing he does today as he started modelling while he was a student at the University of Iowa. In 1998, after taking part and winning the Fresh Faces of Iowa modelling competition, Kutcher took part in a competition organized by the International Modelling and Talent Association which gave him much-needed exposure. He subsequently signed with Next modelling agency in New York, appearing in commercials for Calvin Klein and modelling for other designers in Paris and Milan.
Ashton, however, later left modelling to pursue a career in acting. He moved to LA and auditioned for the role of Michael Kelso in That '70s Show, which he landed and played from 1998 to 2006. He later made his film debut in 1999's Coming Soon before landing a role in the 2000 box office hit comedy movie, Dude, Where's My Car? Since then, Ashton Kutcher's talent has been evident for everybody to see. He has starred in various box office hit movies and has been well paid for playing these roles. The most significant project he has been a part of in regard to his earning is the series Two and a Half Men where he was hired to serve as a replacement for Charlie Sheen in 2011. The actor reportedly earned about $750,000 an episode and went on to appear in a total of 84 episodes.
Additionally, since 2003, Kutcher has also worked as a producer of television shows and films as well. Some of his production credits include the hidden-camera practical joke reality series, Punk'd, which he also co-created and hosted on MTV. Others are the reality series Beauty and the Geek, and the sitcom Miss Guided.
He Had Invested In Several High Technology Start-Ups
In addition to what he rakes in from the world of entertainment, Ashton Kutcher has also made a ton of cash by being a smart businessman and a venture capitalist. He has invested in no less than 60 companies, many of which are fast-rising high-tech startup companies. He makes these investments through his venture capital firm, A-Grade Investments, which he co-founded with billionaire businessman Ron Burkle and talent manager Guy Oseary.
It was reported that the actor and his partners initially invested $30m of their own funds in the firm in 2010 when it was founded. By 2016, the company had grown massively as Forbes reported that it had holdings valued at $236 million. Some of the tech companies which A-Grade Investments has a significant interest in include Skype, Airbnb, Fab.com, and Foursquare. Kutcher himself has further served in different capacities with many of the companies he has interests in. He was once the product engineer of Lenovo and was part of the management team for Ooma.