Branden Miller AKA Joanne The Scammer is an American-born actor and comedian renowned for creating and portraying his fictitious and highly popular muse and alter-ego Joanne Prada a.k.a Joanne the Scammer. He came out as gay to his family at the age of 16
Via his brilliant portrayal of the notorious character, Miller has gained prominence across various social media platforms as evidenced by his ever-growing army of loyal followers.
Though a lot is known about his Joanne the Scammer character, the same cannot be said about Branden Miller, the brain behind the famous overly dramatic character whom the internet and its inhabitants have come to love so much.
Brandon Miller was born in 1991 to Afro-American parents of Puerto Rican origin. However, he was adopted by a white couple Veronica and Buddy and was raised in Hopewell, a small city in Virginia.
Growing up, Miller had dreams of becoming an internet-famous entertainer just like Chris Crocker. However, his world came crashing when at age 17, he got the shocking revelation that he was actually adopted.
This rude awakening left him distraught and for a while, he nursed the idea of leaving home. Upon turning 18, Miller left home and in a bid to better his life, he pursued a career in the adult film industry.
Summary of Joanne The Scammer's Biography
Full name: Branden Miller
Nickname: Joanne the Scammer, Joanne Prada
Gender: Male
Date of birth: 1991
Joanne The Scammer's Age: 32 Years Old
Ethnicity: Mixed
Nationality: American
Sexual Orientation: Gay
Marital Status: Unmarried
Joanne The Scammer's Parents: Buddy and Veronica Miller (adoptive parents)
Famous for: Creating and portraying the fictitious Joanne Prada a.k.a Joanne the Scammer
Joanne The Scammer's Instagram: joannethescammer
Twitter: Joanne The Scammer
How Did Miller Come Up with Joanne The Scammer?
Branden Miller's first upload dates back to November 4, 2011, when he debuted the character Miss Prada, a transgender singing diva and occasional sex worker. Though fairly successful, Miller found it difficult to develop the Miss Prada character as the years rolled by and thus his job in the porn industry remained his main source of income.
The talented comedian eventually gave another shot at a social media career, this time on Instagram with the "Joanne the Scammer" character which he debuted in a short clip which was posted on December 14, 2015.
Armed with a messy blonde wig with the promise of an overdose of drama and feloniousness, Joanne the Scammer became an overnight internet sensation and thus created a defined path to stardom for the budding comedian.
The Instagram videos got popularized when they caught the attention of celebs like Blac Chyna and actress-model Hari Nef. Confident in his new-found success, Branden Miller quit his job in the adult film industry to focuses on keeping his famous alter-ego character relevant.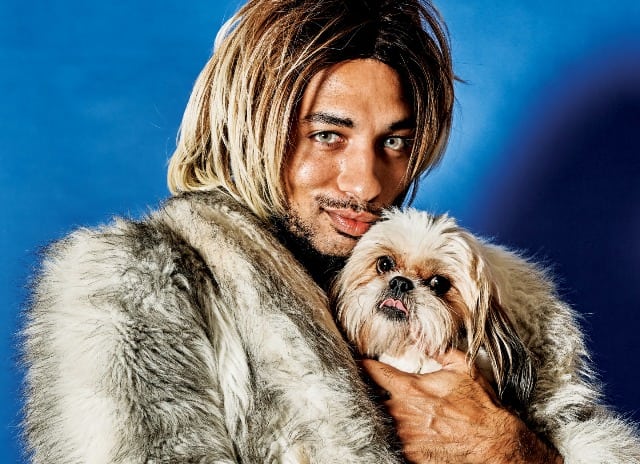 Via series of funny videos and text-based narratives, Branden Miller chronicles the hyper-adventurous daily life of the attractively melodramatic fictional character Joanne, a Caucasian woman who embodies gender fluidity and meme culture and who makes a living through various fraudulent means.
These exaggerated wig-filled videos, tweets, and memes give a light-hearted narrative of Joanne's supposed life story of credit card theft, love-struck sugar daddies, and trivial lawsuits. Miller's Joanne the Scammer character has evolved into a brand and has endeared the comedian to millions of social media followers. His ever-growing circle of A-list followers/friends includes Amber Rose, Katy Perry, Teyana Taylor, and Solange Knowles.
The comedian's influencer status earned him an endorsement deal with hair and beauty mogul Anthony Cuts. In 2016, he also landed a video partnership deal with the digital entertainment company Super Deluxe. As announced in December 2017, Branden Miller is billed to collaborate with fellow comedian Chelsea Peretti on a "Joanne the Scammer" television series.
Is Joanne The Scammer Gay?
Brandon Miller came out as gay to his family at the age of 16. Though his mother Veronica was initially hysterical, she has remained supportive of her son. According to Miller, his first boyfriend after coming out was Xavier whom he met after relocating to Florida. However, it remains unclear if the two are still together seeing that Branden maintains a rather closely-guarded life.
Joanne The Scammer at a Glance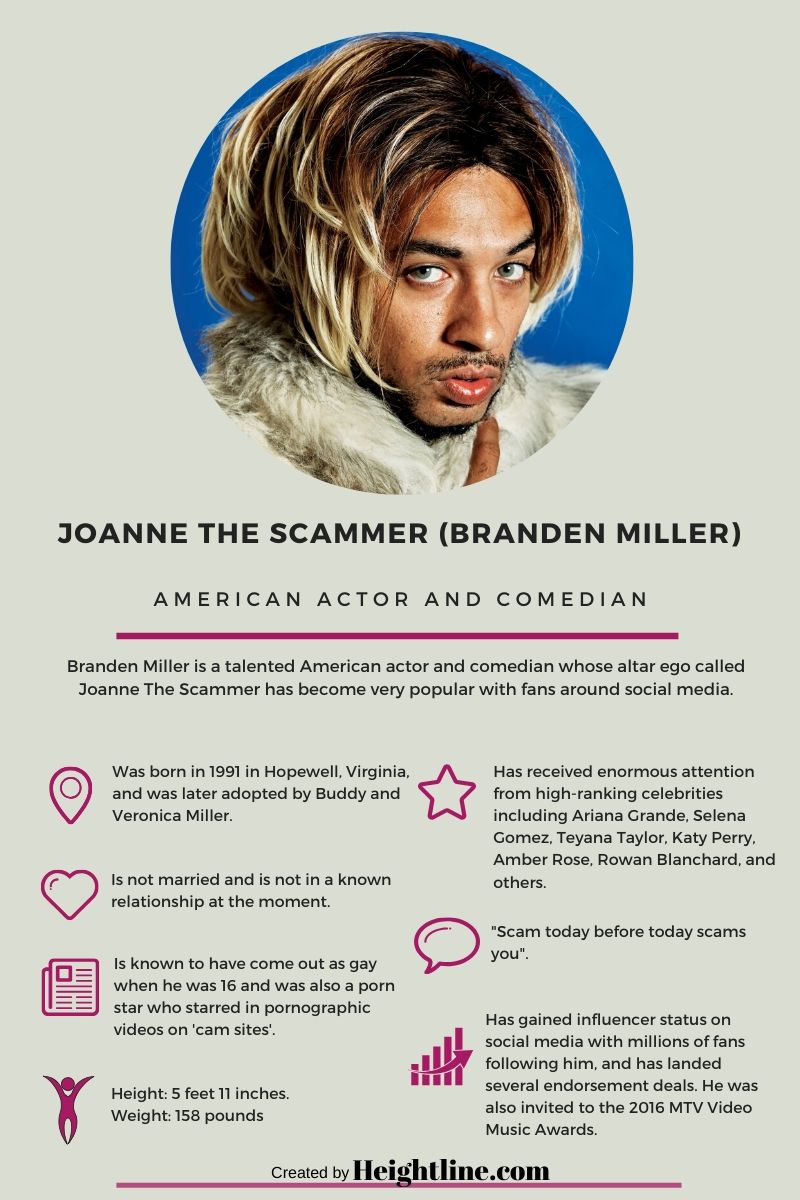 Other Interesting Facts About Branden
1. Just like several other internet sensations of his caliber, Joanne the Scammer has made some interesting additions to the social media lexicon. Among his most notable catchphrases are "The easiest way to be messy, is to start by being messy" and "Scam today before today scams you".
2. Interestingly, Joanne fell victim to an actual internet scammer who gained control of his famous Twitter handle in April 2016. For one who makes a living off his social media handles, a hacking attempt is definitely a terrible nightmare. Fortunately, the comedian had the problem resolved in no time.
3. In an Instagram video that has since gone viral, Branden Miller announced in February 2018 that he would take some time off his social media career in order to care for his mother who had been diagnosed with terminal cancer in 2017.