Kristen Schaal is an actress and comedian best known for her roles as Mel in Flight of the Conchords, Mable Pines in Gravity Falls, and Louise Belcher in Bob's Burgers.
With her famous high-pitched voice, the Longmont, Colorado native has gained a reputation for playing unstable characters who are sweet-natured. She has found success doing so as she has accumulated a fortune estimated at $6 million.
Biography and Profile Summary of Kristen Schaal
Full Name: Kristen Joy Schaal
Date of Birth: January 24, 1978
Age: 45 Years Old
Place of Birth: Longmont, Colorado, U.S.
Nationality: American
High School: Skyline High School, Longmont, Colorado
College: University of Colorado and Northwestern University
Occupation: Comedian, Actress, and Writer
Net Worth: $6 Million
Husband: Rich Blomquist (2012 – Present)
Children: Ruby Blomquist
Height: 5 feet 8 inches (1.73 m)
Weight: 125.6 lbs (57 kg)
Body Measurements: 32-24-34 inches
Bra/Cup Size: 32C
Dress Size: 6 (US)
Shoe Size: 8 (US)
The American Actress was Born in Longmont, Colorado, and Raised on a Cattle Ranch
The City of Longmont is a municipality located in Boulder and Weld counties in Colorado. It was here that the actress was born on the 24th of January 1978. Named Kristen Joy Schaal at birth, much is yet to be learned about her parents. We can only tell that her mother worked as a secretary while her father earned a living as a construction worker.
Her family is Lutheran of English, German, and Dutch ancestry. They lived in a cattle ranch located in a rural area you will find near Boulder, Colorado. She isn't the only child of her parents, about three years before she was born, they had a son named David.
While her parents were religious and devoted to their faith, they didn't force it on their kids. Because of this, Kristen has not been to church for years but still considers herself a Lutheran. The young lady had a pretty lonely childhood because of where her family lived and she believes it influenced her career.
She once shared that growing up on an isolated farm with a few friends made her resort to entertaining herself. She would make up stories and talk to animals, pretending a bunch of cows was her audience. This helped to nurture her imagination in no small manner and consequently led to her career in entertainment despite her aspiration to become a 'Price Is Right' model or an epidemiologist.
For her education, Kristen attended Skyline High School, a public high school located in Longmont. Reports have it that she graduated from the school in 1996 and moved on to the University of Colorado in Boulder where she spent only a year. She would later graduate with a bachelor's degree in Performance Studies from Northwestern University, a private university in Evanston, Illinois.
In 2000, she was set to commit fully to pursuing a career in entertainment, so she moved to New York. She started with standup comedy but soon began to land acting roles. A few years later, she spread her wings to various facets of the industry, thanks to a New York magazine piece that named her one of the "Ten Funniest New Yorkers".
Kristen Schaal is Married to Rich Blomquist and They Have a Daughter Named Ruby
The comedic actress has been happily married to Rich Blomquist with whom she has built a family of her own. They have been married since the 14th of September 2012, after dating for over four years. From what we gathered, they met sometime in 2007, after Kristen was fired as a writer on South Park. The actress met the former Daily Show writer on the set of the Adult Swim animated show, Snake N Bacon. Rich, who was the executive producer of the show, asked Kristen out for a date and the rest is history.
Schaal's husband is also a prominent figure in showbiz; while he is an occasional actor with roles in series like Bless the Harts, he is mostly known as a writer and a producer. He co-executed the production of The Last Man on Earth and has produced other popular projects like Fresh Off the Boat, Squidbillies, and Bless the Harts.
The Kristen-Rich union has witnessed many years and there have never been any reports of them having marital issues. They have worked together multiple times and enjoy doing so. Their marriage has been blessed with a child thus far, a daughter named Ruby Blomquist. She was born sometime in February 2018.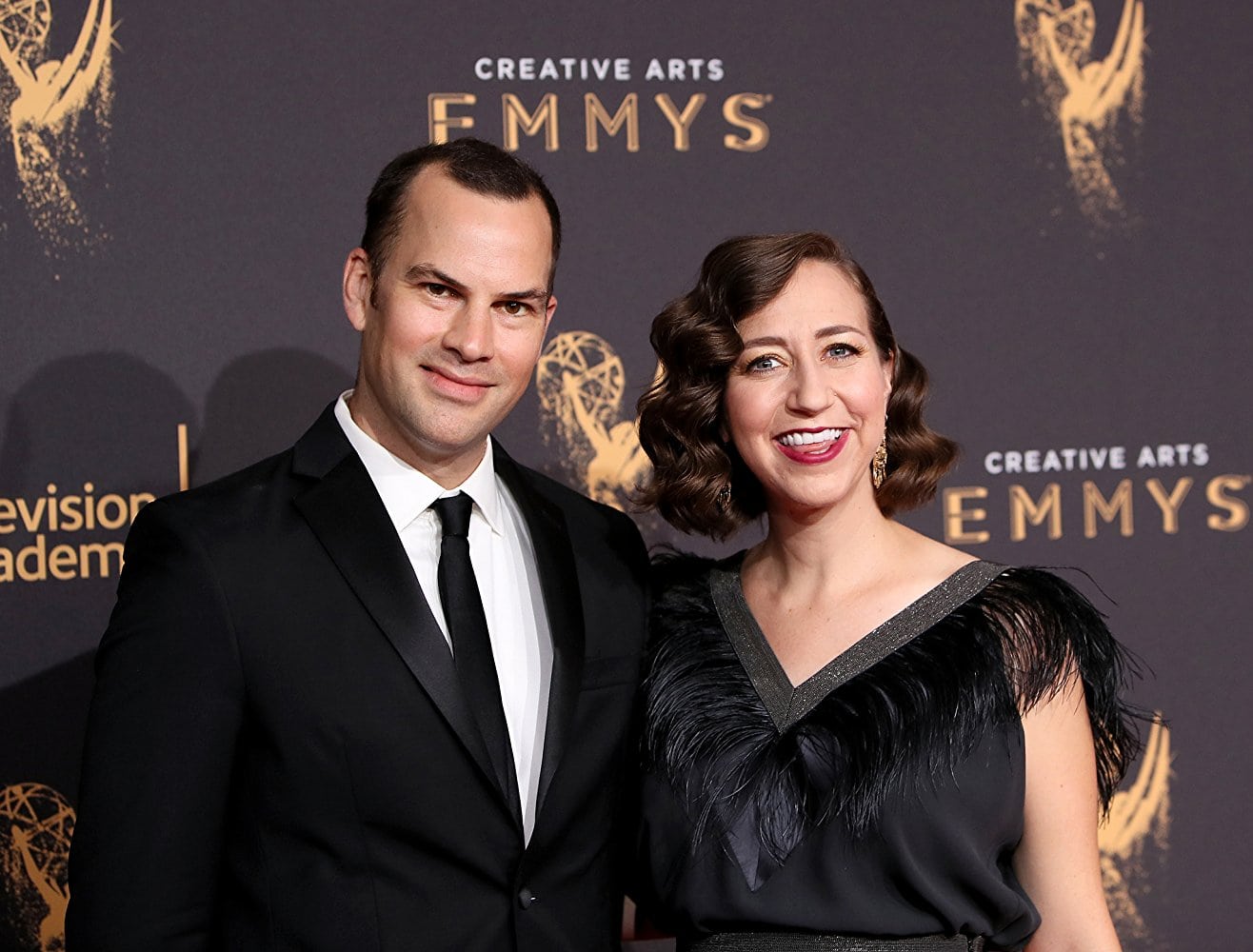 A Breakdown of the Sources of Kristen Schaal's Net Worth Estimated at $6 Million
From stand-up comedy to acting, numerous voice roles, and radio gigs, Kristen Schaal has various streams of income in entertainment through which she has accrued her wealth estimated at $6 million. Given that she has been a part of the business since 1999, it is only natural that she is worth that much. Schaal has no plans of slowing things down, so her net worth is bound to keep soaring in years to come.
Stand-up Comedy Laid The Foundation for Her To Build Her Net Worth
When Kristen Schaal set out to pursue a career in entertainment, she began with stand-up comedy and it became the first major source of her income. What she earned from this laid the foundation for her to grow her wealth and also paved the way for her to also earn through other means like voice-over performances, acting, and what have you. After she moved to New York and gained recognition as one of the funniest upcoming comics around, Kristen consolidated on that as she performs with the Peoples Improv Theater (PIT).
In 2005, the comedy theater was recognized and honored as the Best Improv Troupe at the Emerging Comics of New York Awards. The following year was a busy one for Kristen. She featured in the first season of Live at Gotham, a standup comedy television show that airs on Comedy Central. Schaal also performed at the HBO US Comedy Arts Festival held in Aspen that same year and received the Best Alternative Comedian award for her efforts.
More so, she won the Best Female Stand-up award at the New York Comedy Festival. These earned her enormous clout in the business and it was only a matter of time before she started making serious money from being a comedian. Notably, she performed at the Solid Sound Festival at the Massachusetts Museum of Contemporary Art and was featured on Comedy Central's John Oliver's New York Stand-Up Show; these were in 2010.
Before this, she performed at the Bonnaroo music festival in 2009 and the Royal Albert Hall, London, alongside other comics for The Secret Policeman's Ball 2008, a benefit show in The Secret Policeman's Balls series for Amnesty International. What she made through all of these has never been disclosed to the public but no one needs to be told that it amounts to a significant figure.
Paychecks from Acting Has Contributed Most to Kristen Schaal's Net Worth
Kristen Schaal has been involved in various aspects of show business but has come to admire acting more than anything else. She has stated that she would be acting for the rest of her life because it's relaxing compared to stand-up and writing. To the best of our knowledge, she made her acting debut in 1999 on a comedy TV series titled Neutrino. The following year, she played Melissa Colby in the 4-part mockumentary, Ntune: The Life of a Boyband.
In 2001, Kristen landed her first movie role as Miss Tree in the romantic-comedy fantasy film, Kate & Leopold. It was also in the same year that she first played Valerie Holmes in the drama television series that aired on CBS, The Education of Max Bickford. Since then, the actress has had roles in dozens of small and big-screen projects. Some of her popular movie roles include Bobbi in My Spy, Kelly in Bill & Ted Face the Music, JoJo Jaconi in Boundaries, Sandy Haim in The Boss, and Roberta in All Nighter.
You will also find her as Mary Ellen in A Walk in the Woods, Brenda in Welcome to the Jungle, Susana in Dinner for Schmucks, and much more. Unsurprisingly, almost all of these are comedy films. Her first significant TV role came in 2007 when she started playing Mel in the HBO sitcom, Flight of the Conchords. Disregarding that, her other notable TV roles are Hershe Heartshe in The Heart, She Holler, Hazel Wassername in 30 Rock, Carol Pilbasian in The Last Man on Earth, and others.
As an actress, Kristen is highly sought for voice roles. From movies and TV shows to games, she has had numerous voice roles in several productions. Respectively, she voiced Sayrna and Trixie in the video games Anthem and Toy Story 3: The Video Game. Her popular voice roles in movies are in Shrek Forever After, Toy Story 3, Despicable Me 2, Cloudy with a Chance of Meatballs 2, Captain Underpants: The First Epic Movie, and Toy Story 4.
She has had even more voice roles in TV shows, including WordGirl, Soul Quest Overdrive, The Simpsons, Bob's Burgers, Gravity Falls, BoJack Horseman, Squinters, Death Hacks, and many more. Again, what she made from each of these has never been disclosed to the public but anyone with half an eye could tell it is the major source of her wealth.
She Has Also Made Good Money from Television Commercials, Radio Gigs, and Writing
The actress was fired from the first acting job she got. Sometime in 2007, she was hired as a consultant writer for the famous satirical animated sitcom created by Trey Parker and Matt Stone, South Park. Based on public records, she only worked in two episodes of the show before she was axed. Speaking about this many years later, the actress divulged that she only lasted for about a month in the Job.
According to her, she was fired after she was warned that she was talking too much. It was her first time in a writers' room and she was pitching many ideas for the show. This wasn't how things worked, so they had to let her go. Kristen was devastated but she would later get to make money writing for other shows.
In 2009, she worked as a writer for the TV series documentary, Comedy Central Presents. This restored her confidence as a writer and the following year, she wrote the "Penelope Princess of Pets" episode of the TV series, Comedy Lab. It was also in 2010 that she and her husband published their book titled The Sexy Book of Sexy Sex. She has also worked as a writer for other productions like The National – Conversation 16 (2011), Funny as Hell (2012), and Just for Laughs (2013).
During the early days of her career, the actress featured in several commercials for prominent outlets like Xperia Play, Zaxby's, Starburst, Wendy's, and RadioShack. She has also buoyed her income with radio gigs. For instance, she was featured alongside Kurt Braunohler in the "Loops" episode of Radiolab, a radio program produced by a public radio station based in New York City, WNYC. Kristen Schaal has capitalized on various opportunities the medium presents since June 2009 when she aired her first radio show titled High Five!! on the RawDog channel of Sirius XM Radio.
The Actress is Also a Producer and Director
For someone who has been a part of the movie industry since 1999 and has had roles in no fewer than 127 movies and television shows, it is only natural that Kristen Schaal has spread her wings to directing and producing projects. When she gains notoriety in these areas of the business, her net worth is bound to soar. As of 2021, she has only directed one project, the "Gender Friender" episode of her popular TV show, The Last Man on Earth.
Her first work as a producer was in 2007 and as a consulting producer for the "Le Petit Tourette" episode of South Park. In 2013, she executed the production of the TV special, Kristen Schaal: Live at the Fillmore. That same year, she produced Supanatural, a TV movie directed by Mark Brooks and stars Jameeliah Garrett alongside Lily Sparks and James Adomian.
What is Kristen Schaal's Net Worth?
Kristen Schaal has a net worth estimated at $6 million. She made her fortune through her various streams of income in the entertainment business; acting, comedy, writing, voice artist, etc.
Who is Kristen Schaal's Husband?
Kristen Schaal is married to Rich Blomquist, an American writer, and producer who sometimes takes up acting roles. The duo got married in 2012 after dating for over four years and have been together ever since.
How Many Kids Does Kristen Schaal Have?
Kristen Schaal has one child, a daughter named Ruby Blomquist. She was born in 2018.
What is Kristen Schaal's Age?
Kristen Schaal is 45 years old. She was born on January 24, 1978, in Longmont, Colorado, U.S.