Ellen DeGeneres is the second of Elizabeth Jane and Elliott Everett DeGeneres' children. Her mother is a speech therapist and an LGBTQ rights activist while her father, now late, was an insurance agent. Her only sibling is her older brother, Vance DeGeneres, who is also involved in entertainment. In 1974, her parents got divorced and she moved with her mother but ended up being molested by her stepfather, Roy Gruessendorf.
That not withstanding, Ellen has been able to make something good out of her life. It is believed that she might have ventured into entertainment as a result of the influence of her mother, who acted in several plays as a college undergraduate. Her sense of humor, however, came from her father as she revealed while announcing his passing in 2018.
Undoubtedly, the entertainment star is one of the most popular names in showbiz and a prominent television host not only in the United States of America but the world at large. she began her career as a stand-up comedian but is now a writer, actress, producer, and most notably, a television host.
What Ellen DeGeneres has accomplished in her career thus far isn't something that would be forgotten easily and it is the reason people have followed her life outside of what she does for a living, with there being a huge interest in her family.
The TV Host Was Born To Elizabeth Jane and Elliott Everett DeGeneres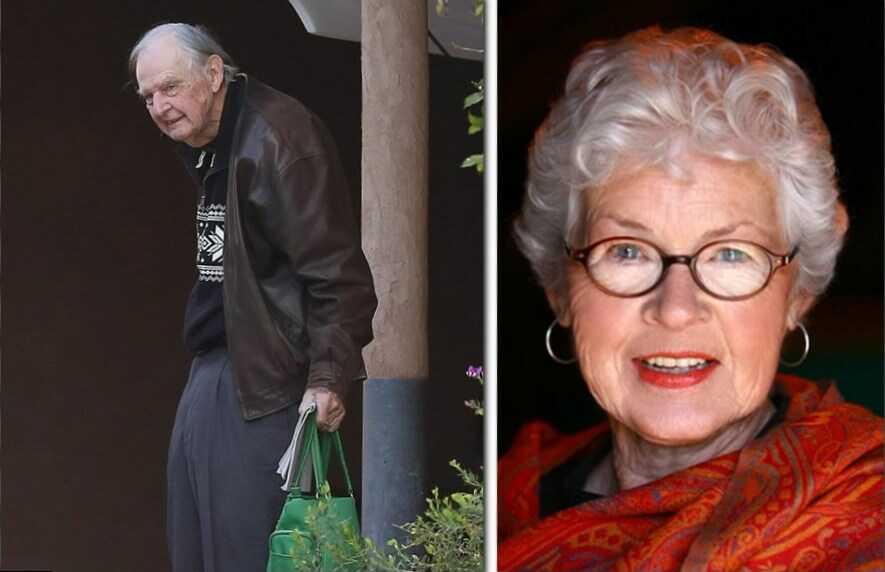 Comedians and TV hosts don't come any bigger than Ellen DeGeneres; she has been super successful in her career which made her an influential personality. Ellen carried massive clout which has been smeared in recent times with several allegations.
Regardless, she remains someone who inspires a lot of people as much as many aspire to replicate her success in the industry. What this means is that people might unintentionally find themselves studying her early life and upbringing in a quest to uncover what might have facilitated her enviable career exploits.
Although it seems insensitive to assert that the family she hails from didn't make any significant contribution towards the career she built, it appears to be a fact. As you would soon learn, there is nothing about Ellen DeGeneres' family that suggests she was prepared or assisted to become who she is.
At best, one can only claim it gave her the life experiences which might have in some ways, informed the development of her character as a person, or serve at the barn of her comedic materials which catapulted her to stardom.
As you would easily find, the 65 year-old TV host was born on the 26th of January 1958 in Metairie, Louisiana, which was where she was also raised. She was born to Elizabeth Jane (née Pfeffer) and Elliott Everett DeGeneres who divorced sometime in 1974 when Ellen was about 16 years old. She isn't the only child they had as they were also parents to a son named Vance Elliott DeGeneres.
Following the end of the marriage, Ellen's mother got married to the man who became her stepfather, Roy Gruessendorf. With her mother, she relocated from New Orleans to Atlanta, Texas, to live with Roy while her older brother Vance remained with their father.
Meet Ellen DeGeneres' Mother Betty DeGeneres
Full Name: Elizabeth Jane DeGeneres (née Pfeffer)
Nationality: American
Place of Birth: New Orleans, Louisiana, U.S.
Date of Birth: May 20, 1930
Age: 93 Years Old
Occupation: Speech Therapist and Activist
First Husband: Elliot DeGeneres

Duration of Marriage: ​1952 – 1974

Second Husband: Roy Gruessendorf

Duration of Marriage: ??? – 1991

No. of Children: Two (Vance Elliott DeGeneres and Ellen DeGeneres)
It wouldn't be wrong for one to suggest that Ellen DeGeneres might have gotten her knack for entertainment from her mother, Betty DeGeneres. While the woman is now known as an activist and speech therapist, it is said that she performed in several plays while she was in college and was very good at it. From what we learned, she performed with Academy Award-winning actress Joanne Woodward and outshined her as Woodward was struggling with anxiety.
As fate would have it, Woodward went on to become a prominent actress while Betty pursued a career as a speech pathologist and would subsequently become a public figure thanks to the popularity of her children and of course, her works as an activist.
The youngest of three daughters born to her parents, William Dick Pfeffer and Mildred Morrill, Betty was named Elizabeth Jane Pfeffer after she was birthed on the 20th of May 1930. Her place of birth was in New Orleans, Louisiana.
She was raised there by her German father and Irish mother alongside her older sisters and has spent most of her life in the city located along the Mississippi River. After Betty graduated from high school, she enrolled at Louisiana State University. There, she studied to become a speech therapist and would return to the university many years later to get her master's degree in the field. Betty is a published author of at least two books that relate to her experiences as the mother of the famous comedian and TV host.
In her first book titled Love, Ellen: A Mother-Daughter Journey, Betty detailed how she went from passively accepting her daughter's sexuality to becoming someone passionate about agitating for the rights of the LGBT community. The genesis of her works as an LGBT rights activist can be traced back to 1997 when Ellen came out as a lesbian.
Betty wasn't enthusiastic about that at first but with time, she has become very supportive of LGBT people. She is an active member of Parents, Families, and Friends of Lesbians and Gays (PFLAG) and the first, straight spokeswomen for the Human Rights Campaign's (HRC) National Coming Out Project. HRC is probably the biggest LGBTQ advocacy group in the United States.
Betty was married to Elliott DeGeneres from 1952 to 1974, and then to Roy Gruessendorf whom she divorced in 1991. Both of her ex-husbands are now late; Roy died sometime in 1997 while Elliott passed on in January 2018.
Ellen's Father Elliott DeGeneres Died at The Age of 92
Full Name: Elliott Everett DeGeneres
Nationality: American
Date of Birth: Sometime in 1925
Died On: January 11, 2018
Occupation: Insurance Broker
Wife: Elizabeth Jane DeGeneres
Duration of Marriage: 1952 – 1974
No. of Children: Two (Vance Elliott DeGeneres and Ellen DeGeneres)
This week, at the age of 92, my father Elliott DeGeneres passed away. He lived a good long life. It wasn't unexpected. I was able to say goodbye. pic.twitter.com/L0zEJJNPrq

— Ellen DeGeneres (@TheEllenShow) January 11, 2018
Unlike her mother, much isn't known about Ellen DeGeneres' father, Elliott, but we can confirm three things about him: he is late and was a funny man who made a living as an insurance broker. When Elliott DeGeneres passed in January 2018, Ellen suggested that she and her older brother got their knack for comedy from him. He preferred to live a quiet life and this is probably why much isn't known about him.
Elliott got married to Betty DeGeneres in 1952 with whom he had two children, a son and a daughter who both pursued careers in entertainment; thus dragging him into the spotlight he avoided.
Even though his marriage to Betty came to an end in 1974, he continued to be a part of his children's life. Based on what his daughter once shared, his marriage to Betty fell apart because they were very different. Ellen described her mother as a strong woman who is strong and sassy whereas her father was a "wonderful man" with a lot of fear that made him overprotective of his kids, especially her.
A case in point was when she came out as a lesbian in 1997. Elliott wasn't bothered that her daughter is sexually attracted to women but was concerned she openly discussed it; he expressed that there was no point for it to become a national story but this boils down to his desire for his daughter to live a quiet and safe life.
Following Elliott's death, Ellen talked about him in an episode of her popular show. According to her, Elliott lived the kind of life he wanted, a good long life. She related that he was a Christian Scientist all his life and never visited a doctor nor took medicine.
She added that although he wanted her to have a quiet life, he was proud of her and loved her show. If all she said were true, Elliott was a very accepting man who wouldn't judge anyone no matter how their values contradict his ideals. He died from natural causes at the age of 92 and Ellen said she was able to say goodbye to him.
What We Know About Her Stepfather Roy Gruessendorf Who Sexually Abused Ellen
After Ellen DeGeneres' father parted ways with her mother, Betty soon found love in the arms of Roy Gruessendorf who became her second husband. With that, Ellen who lived with her mother after her parent's divorce became the stepdaughter of Roy.
Much isn't known about the man who passed in 1997 but reports have it that Ellen didn't have a good relationship with him. As claimed, Roy, amongst other things, disapproved of Ellen's friends and this kept her away from home in her later teenage years.
Almost as soon as Betty got married to Roy, she was diagnosed with breast cancer and Ellen claims Roy used this as an excuse to sexually molest her. According to Ellen, Roy told her that he needed to feel her breasts to check for a lump. He did this several times and she was initially unwilling to tell her mother because she didn't want to upset her. When she eventually told her a few years later, Betty didn't believe her daughter and remained married to Roy for many more years.
It was in 2005 that the TV host first spoke about the abuse. In an interview with David Letterman, she related that her mother eventually divorced Roy because his account of what transpired kept changing. She said she decided to share her story to encourage young girls who might be facing the same situation to speak up.
Meet Her Only Sibling Vance DeGeneres 
Full Name: Vance Elliott DeGeneres
Nationality: American
Place of Birth: New Orleans, Louisiana, U.S.
Date of Birth: September 2, 1954
Age: 68 Years Old
Occupation: Comedian, Musician, Actor, and Filmmaker
Years Active: 1979 – Present
Father: Elliott DeGeneres
Mother: Betty DeGeneres
First Wife: Mimi DeGeneres

Duration of Marriage: 1990 – 1991

Second Wife: Joanna Brooks DeGenere

s

Duration of Marriage: 2013 – Present

Children: Nil
The last member of Ellen DeGeneres's family is Vance DeGeneres, her only sibling who is also a prominent figure in the entertainment industry. The 68 year old has explored various facets of show business as a radio host, musician, actor, comedian, screenwriter, and producer.
Also born in New Orleans, precisely at a non-profit hospital called Touro Infirmary, the older brother of Ellen served in the Marine Corps for two years and attained the rank of a corporal before he embraced a career in entertainment in the late 1970s.
According to public records, his first work in the industry was as the host of a radio program called New Wave New Orleans on WQUE-FM, a mainstream urban radio outlet based in New Orleans. He would later play bass guitar and write songs for a new-wave band called The Cold which was inducted into the Louisiana Music Hall of Fame in 2018.
Vance spread his wings to television in the early 1990s and worked as a staff writer for the horror science fiction television series, Eerie Indiana. Since then, he has written several shows and TV specials like The 46th Annual Primetime Emmy Awards, The 39th Annual Grammy Awards, and The 79th Annual Academy Awards.
Vance's notable works as an actor include the TV series Gary the Rat, and the 2013 film directed by Don Scardino, the Incredible Burt Wonderstone. Vance shared a great bond with his famous sister and has featured in her show. He has been married twice, first to Mimi DeGeneres; the marriage began in 1990 and ended the following year. Many years later, sometime in 2013, he got married to his second wife, Joanna Brooks DeGeneres. Vance is yet to become a father.
Ellen DeGeneres Has Been Married to Portia de Rossi Since 2008
Full Name: Portia Lee James DeGeneres
Birth Name: Amanda Lee Rogers
Nationality: Australian-American
Place of Birth: Horsham, Victoria, Australia
Date of Birth: January 31, 1973
Age: 50 Years Old
Occupation: Former Model, Actress, Businesswoman, and Philanthropist
Years Active: 1994 – Present
Ex-husband: Mel Metcalfe

Duration of Marriage: 1996 – 1999

Wife: Ellen DeGeneres

Duration of Marriage: 2008 – Present

No. of Kids: Nil
It's no secret that Ellen DeGeneres is a lesbian just as it is known to all and sundry that Portia Lee James DeGeneres is her wife. The 50 year old originally from Australia is also a prominent figure in showbiz. A former model, Portia is a notable actress admired for the roles she has played in popular productions as much as she is loved for her philanthropic gestures.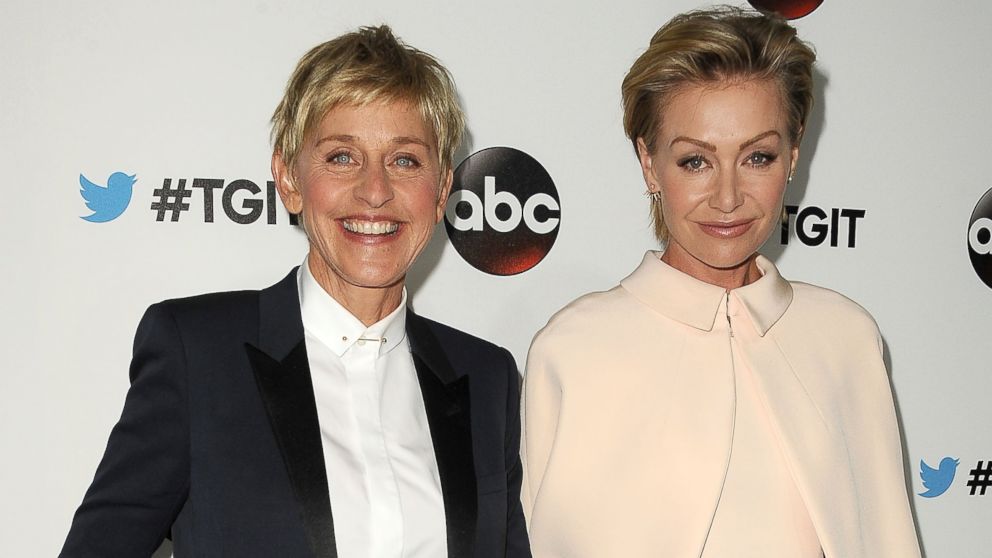 Also a businesswomen, some of Portia's popular roles are as Lindsay Funke in the sitcom Arrested Development, Elizabeth North in the political thriller television series, Scandal, and Nelle Porter in the legal comedy-drama series, Ally McBeal. Some of her popular big-screen projects are Sirens (1994), Scream 2 (1997), American Intellectuals (1999), The Night We Called It a Day (2003), Cursed (2005), and Now Add Honey (2015).
Reports have it that Ellen and Portia met for the first time in 2005 at an awards event. They chated, were attracted to each other, and it marked the beginning of their relationship. Roughly three years later, they were ready to take the relationship to the next phase. The two got married in August 2008; their's was an intimate wedding attended by only 17 guests. There have been no reports of marital problems between the two and they have been very supportive of each others. Ellen and her wife do not have kids but they are parents to several cats and dogs.