Brian Quinn popularly known as Q by his fans and followers is a popular American comedian. He is a pivotal part of the popular American comedy troupe The Tenderloins alongside James 'Murr' Murray, Joseph 'Joe' Gatto and Salvatore 'Sal' Vulcano. The Tenderloins are known for their primetime comedy series on TruTV Impractical Jokers. When it comes to pranks, the Impractical Jokers are the undisputed champions.
After the success of Impractical Jokers, The Tenderloins have been part of several tours both within and outside the U.S. Their comedic sketches have garnered millions of views on YouTube and other social sites. After the success of Impractical Jokers, The Tenderloins have been part of several tours both within and outside the U.S.
The group also tried their hands writing a book entitled Impractical Jokers, about the experiences from the show. From the craziest pranks to sketches to live shows and podcasts, Brian 'Q' Quinn has proven his talent as an all-around comic.
See Also: James Corden's Height, Weight And Body Measurements
Wiki 
Q was born Brian Michael Quinn on March 14, 1976, to parents Carol Murphy and James Quinn in Staten Island, New York City. He has Irish and Italian ancestry.
He attended Monsignor Farrell High School where he was involved in drama and sports. He performed in musicals such as Bye Bye Birdie, Meet Me In Saint Louis and On The Town and Godspell. From his childhood, he has been an avid lover of soccer. He is a big fan of the Red Devils, Manchester United. If he hadn't pursued an acting career, he probably would have become a professional footballer.
Brian Quinn attended the Brooklyn College and upon graduation, he worked as a Newyork city firefighter for 8 years. He has still got so much love for his former firehouse as he made a generous donation of $50,000 to them.
The founding members of The Tenderloins met in their freshman year of high school. When choosing a name for their group, they decided to go with a word that's not just silly but one that would make people uncomfortable. Well, "Tenderloins" obviously fits the bill, perfectly.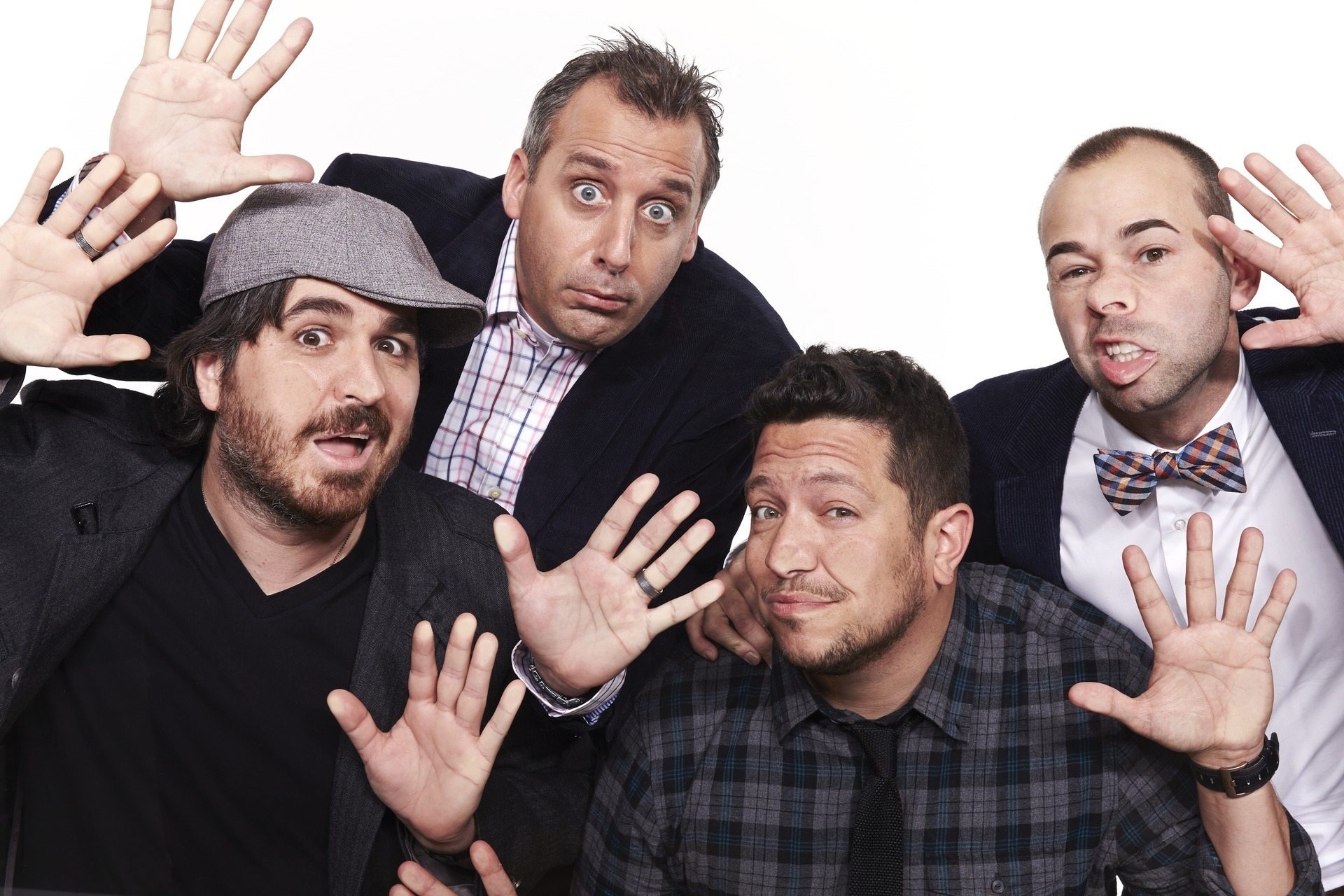 Upon graduation, The Tenderloins drifted and each member decided to go solo. Brian Quinn joined The Tenderloins many years after as a replacement for the fourth member Mike Boccio who left the group due to personal reasons. Before Impractical Jokers, The Tenderloins appeared on TV shows and some low budget movies.
Brian "Q" Quinn made his acting debut in the 1996 movie Warshots. He also made appearances in films like Dogma, Big Helium Dog, Vulgar, 12 Monkeys. He has spoken out about his battle with depression in a few episodes of Tell 'Em Steve-Dave!, a weekly podcast he co-hosts. Whoever knew that comics also suffer from depression?
However, he is a fan of Star Wars and he loves animals too. He owns three cats Brooklyn, Chessie, and Benjamin.
Brian Quinn's Girlfriend, Ex-Fiance
In his career as an entertainer, Q has only been linked with one woman, Emily Amick. Emily was a make-up artist on Impractical Jokers. The two were seen together many times in public and there were speculations that they got engaged.
However, things went sour for Q when Emily had an affair with another man. She later got married to the man she had the affair with. Ever since Q has not been linked to any other woman. Could it be that he is still heartbroken from that ill-fated relationship? I guess not, a man who brings joy and laughter to so many cannot remain sad for so long.
See Also: Jorge Garcia Wife, Weight Loss, Net Worth, Married, Body Measurements
Family – Wife and Daughter
Of the 5 characters on Impractical Jokers, only one is married and that's not Q. He is yet to take his marital status to 'married'. He even makes jokes about the fact that he is still unmarried describing it as "weird". He also made reference to his marital status via a tweet stating that he'd only get married when his home city of Newyork makes gay marriage legal. What if that doesn't happen soon?
Even as an entertainer, Brian Q Quinn pretty much keeps his personal life private. Apart from the botched romance he had with Emily Amick, not much is known about his family. As far as we know that relationship didn't produce any daughter so we can safely conclude that Brian Q Quinn has no children… yet.
Brian Quinn's Net Worth
Even though Brian Q Quinn achieved fame quite late, he has gone ahead to make the best use of his numerous talents as an actor, producer and a director. Given the success of the TV series Impractical Jokers, his numerous sold-out tours with The Tenderloins and their collaborative book project, Q's financial side appears quite impressive. His current net worth is estimated at $500,000.