George Carlin lived a fulfilling life as an American entertainer. More than being a stand-up comedian, George Carlin was a stand-up comedian, an actor, a social critic, and a writer who had a net worth of $10 million when he passed. 
Also popular as a social critic, George Carlin's career as a comedian was a purposeful one. He treated it as a platform through which he explored and discussed sensitive but important topics that other comedians and social commentators avoid.
The man was greatly admired for his amusing and light-hearted approach to discussing political and socio-cultural issues across the United States of America. Many people would agree that Carlin was one of the most influential stand-up comedians of all time. It has been over a decade since he passed but he is still celebrated and acknowledged for his impact in the field.
Not long past, in 2017, Rolling Stone magazine named him on its list of 50 best stand-up comedians of all time; he was ranked second on the list and only behind the two-time American Academy of Humor award winner, Richard Pryor. Before he passed, in 2004, Carlin was also listed at the second spot on Comedy Central's list of top 10 American comedians.
He posthumously received the Mark Twain Prize for American Humor in 2008, the same year he passed. George Carlin's legacy and influence continue to earn him honorable recognition. For instance, a portion of West 121st Street in the Morningside Heights neighborhood of New York City was renamed in his honor to George Carlin Way. This was in October 2014 and it was where he spent his childhood.
Profile Summary of George Carlin
Full Name: George Denis Patrick Carlin
Nicknames: Georgie Porgie and Curious George
Net Worth: $10 Million
Place of Birth: Manhattan, New York City, U.S.
Date of Birth: May 12, 1937
Died on: June 22, 2008 (aged 71)
Cause of Death: Heart Failure
Occupation: Stand-up Comedian, Actor, Writer, and Producer
Years Active: 1956 – 2008
Father: Patrick John Carlin
Mother: Mary (nee Bearey) Carlin
Sibling: Patrick Jr. Carlin (Older Brother)
First Wife: Brenda Hosbrook (died on 11th of May 1997)
Second Wife: Sally Wade (1998 – 2008)
Children: Kelly Marie Carlin-McCall (Only Child)
Height: 5 feet 9 inches (1.75 m)
He Was Born to Parents of Irish Descent On The 12th of May 1937
As you would easily find, the late comedian was born and raised in Manhattan, New York City, to Mary (nee Bearey) and Patrick John Carlin. George Denis Patrick Carlin's parents were Americans of Irish descent, while his father was an Irish immigrant, his mother was born to Irish immigrants in New York City.
Originally from County Donegal in the Ireland province of Ulster, George's father was pretty famous. He was the advertising manager of The Sun, a New York newspaper that went out of business in 1950. Reports also suggest he was a notable speaker; it is said that he won a coveted gong, the Mahogany Gavel Award from the Dale Carnegie Public Speaking Institute in 1935.
Her mother worked as an advertising executive secretary and was the daughter of Dennis Bearey who served as a police officer with the New York City Police Department (NYPD). George wasn't the only child of his parents, he had an older brother named Patrick Jr.
George Was Mostly Raised By His Mother As His Parents Parted Ways After He Was Born
George Carlin lost his father when he was eight years old. He never really had much of a relationship with the man: his parents' marriage ended when he was only two months old; after which his mother became solely responsible for raising George and his older brother. From what we gathered, his father's addiction to alcohol was a major factor that contributed to the end of the marriage.
The comedian had quite a difficult relationship with his mother whom he once described as controlling. Because of this, he ran away from their home at West 121st Street. George also had his early education at a school located in the street, Corpus Christi School.
Thereafter, he attended Cardinal Hayes High School, a Catholic high school for boys in the Bronx, New York City. He was expelled from the school after three semesters and would subsequently attend Bishop Dubois High School and Salesian High School, both in New York.
His Journey Towards Becoming An Artful Entertainer Began As a Disc Jockey
George Carlin was drawn to performing arts in his early life and this has been attributed to the fact that his mother owned a television; something that was a rare luxury at that time. He started following late-night talk shows, especially Broadway Open House.
George soon started performing at Camp Notre Dame on Spofford Lake in Spofford, New Hampshire, New York. He reportedly spent most of his summers at the camp where he became a serial winner of its drama award.
Carlin was a handful growing up and the attitude followed him when he joined the United States Air Force. He trained as a radar technician and served at the Barksdale Air Force Base located in Bossier City, Louisiana. It was around this time that he took up a job as a disc jockey with a radio station in Shreveport.
George was court-martialed several times and reprimanded before he was discharged from the U.S. Air Force in July 1957. It was after this that he decided to focus on building a career in entertainment.
His Exploits In Stand Up Comedy Began After He Met Jack Burns In 1959
When Jack Burns died from respiratory failure in January 2020, massive tributes were paid for his contributions to the entertainment industry as a producer, writer, voice actor, actor, and comedian. Among other things, people fondly recalled his partnership with George Carlin before he decided to focus on being a writer and producer.
It was in the late 1950s, precisely in 1959, that George and Jack who was also a DJ met; this was after Carlin relocated to Forth Worth, Texas. They clicked and decided to form a comedy partnership which ultimately popularized their names in the world of entertainment.
George and Jack started performing in Forth Worth and soon confirmed that they had what it takes to thrive in the field. With these, they decided to spread their wings and fly which landed them in California in February 1960. They settled in the state known to have prospects for those aspiring to build a career in entertainment and it was only a matter of time before they become an established act in the industry.
The duo landed a breakthrough when they got to create The Wright Brothers show for Hollywood's KDAY radio station. While they worked on the show, they continued to perform at local clubs.
In May 1960, they recorded their only album titled Burns and Carlin at the Playboy Club Tonight. It was released in 1963 after they split. Burns and Carlin decided to part ways amicably after over two years of working together. With this, they went solo and George Carlin got to release many more comedy albums.
How He Became The Dean of Counterculture Comedians
George Carlin gradually built his identity and brand as a solo act in the years that followed. He became known for a brand of dark comedy that revolved around taboo subjects the English language, politics, psychology, and religion. His first comedy album as a solo act titled Take-Offs and Put-Ons was released in 1967. This was followed by 1972's FM & AM, a highly successful comedy album that would come to be regarded as what marked his switch to radical social commentary comedy.
Among other attainments, the 1972 album won the comedian a Grammy Award for Best Comedy Album. It was also in 1972 that George Carlin first shared what he termed "Seven Words You Can Never Say on Television". The routine remains one of his most popular and controversial as the words Carlin listed were considered to be inappropriate for broadcast.
When Pacifica radio station WBAI aired a version of the routine, a member of Morality in Media now known as National Center on Sexual Exploitation (NCOSE) complained to the Federal Communications Commission (FCC) and it led to the 1978 case between the FCC and Pacifica Foundation.
It ultimately became a landmark case as a ruling of the US Supreme Court on it defined the power of the FCC when it comes to the broadcast of indecent material. As one would expect, the case earned George Carlin more attention and exposure that pushed his career forward.
He kept up with his style and with time people started referring to him as "the dean of counterculture comedians". This was because of the anti-establishment sentiments he spewed in his routines. Carlin recorded the first of his 14 stand-up comedy specials on the HBO network in 1977 and released multiple albums.
List of All His Comedy and Compilation Albums In The Order They Were Released
Burns and Carlin at the Playboy Club Tonight (1963 with Jack Burns)
Take-Offs and Put-Ons (1967)
FM & AM (1972)
Class Clown (1972)
Occupation: Foole (1973)
Toledo Window Box (1974)
An Evening with Wally Londo Featuring Bill Slaszo (1975)
On the Road (1977)
Indecent Exposure: Some of the Best of George Carlin (1978 Compilation Album)
A Place for My Stuff (1981)
Carlin on Campus (1984)
The George Carlin Collection (1984 Compilation Album)
Playin' with Your Head (1986)
What Am I Doing in New Jersey? (1988)
Parental Advisory: Explicit Lyrics (1990)
Jammin' in New York (1992)
Classic Gold (1992 Compilation Album)
Back in Town (1996)
You Are All Diseased (1999)
The Little David Years (1999 Compilation Album)
Complaints and Grievances (2001)
Life Is Worth Losing (2006)
It's Bad for Ya (2008)
I Kinda Like It When a Lotta People Die (2016)
George Carlin Had a Robust Resume As a Television Personality and Actor
With the popularity he enjoyed as a comedian, Carlin started appearing on several television variety shows and soon became a notable television personality and actor. He was the host of the very first episode of Saturday Night Live; this was on the 11th of October 1975. Also, all through his career, he regularly featured as a guest on The Tonight Show, especially when it was hosted by Johnny Carson.
To the best of our knowledge, he debuted as an actor in 1966 when he had an uncredited role in The Glass Bottom Boat and played George Lester in the "Break a Leg" episode of the TV series, That Girl. He subsequently appeared in dozens of other television productions but the major ones are The Ed Sullivan Show, Thomas & Friends, Shining Time Station, and The George Carlin Show, a sitcom that aired on Fox from January 1994 to July 1995.
The comedian played multiple movies roles; his first major role was as Herbie Fleck in the 1968 romantic comedy film, With Six You Get Eggroll. From the 1970s to the 1990s, he was seen productions like Car Wash, Outrageous Fortune, Bill & Ted's Excellent Adventure, Bill & Ted's Bogus Journey, The Prince of Tides, Streets of Laredo, and Dogma.
In the following decade, he had roles in Jay and Silent Bob Strike Back, Scary Movie 3, Jersey Girl, The Aristocrats, Tarzan II, Cars, and Happily N'Ever After. Bill & Ted Face the Music is the third film in the Bill & Ted film series and George Carlin reprised his role as Rufus in the film which was released in 2020, over a decade after his death.
His Net Worth Was Estimated at $10 Million When He Died In 2008
George Carlin undeniably had a successful career that was financially rewarding as much as it earned him coveted recognition and gongs. He worked as a comedian for over five decades and in other areas of the entertainment business and his efforts earned him a Lifetime Achievement Award in 2001 at the 15th Annual American Comedy Awards. Early in 1987, he was honored with a star on the Hollywood Walk of Fame. He also won a total of five Grammy Awards out of 17 nominations.
Disregarding the awards, he accumulated enormous wealth from his career that he left behind riches estimated at $10 million when he passed. Of course, comedy was the major source of his wealth. Apart from the income generated from the sale of his comedy albums, he pocketed huge sums for his HBO specials and numerous tours. In addition to those, he also made money from television appearances and movie roles. It is estimated that his movies grossed over $947 million at the box office.
George Carlin's Net Worth Was Buoyed Up By His Earnings as a Producer and Writer
Disregarding what he made from his endeavors as a comedian and from television appearances and acting roles, George Carlin also made money from being a writer and producer. He wrote and produced multiple TV specials and documentaries. Records have it that his first work as a producer was the 1978 TV special documentary titled On Location: George Carlin at Phoenix. He wrote and produced numerous projects thereafter including the 1985 TV movie Apt. 2C, The George Carlin Show, George Carlin: Complaints & Grievances, George Carlin… It's Bad for Ya! and much more. Details of what he made from each of these were never disclosed to the public but there is no doubt that the amount was worth the time he devoted to them.
More so, he is a published author of several books and at least a million copies of his books have been sold worldwide. You don't need to be told that it was a cash cow for him, do you? Below is a list of all his books:
Sometimes a Little Brain Damage Can Help (1984)
Brain Droppings (1997)
Napalm and Silly Putty (2001)
When Will Jesus Bring the Pork Chops? (2004)
Three Times Carlin: An Orgy of George (2006)
Last Words (2009; Posthumous release)
His Surviving Family Inherited His Wealth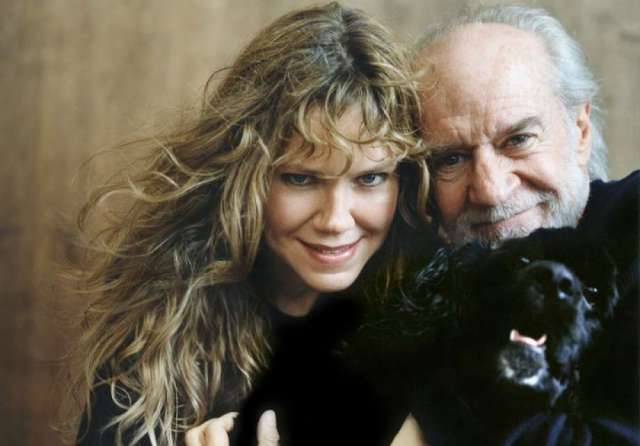 George Carlin seemingly prepared for his death, he was working on his autobiography, Last Words, and even gave directives on what to do with his body when he passes. Considering these, it is most likely he had a will that specified the people to inherit his wealth. According to a statement of his last words released after he passed which had his signature, one can conclude that he left his wealth to his wife and daughter who he described as his "surviving family".
The comedian was married twice and the wife of his youth was Brenda Hosbrook. From what we gathered, he met her sometime in August 1960 while he was on tour in Dayton, Ohio, with his comedy partner, Jack Burns. They fell in love and things happened quickly for them that they got married the following year. George and Brenda got married on the 3rd of June 1961 at Brenda's parents' home. Roughly two years later, they welcomed their only child named Kelly Marie Carlin.
Kelly was born on the 15th of June 1963. Apart from the fact that she is famed as the only child of the late comedian, she has built quite a successful career as an Internet radio host, monologist, producer, actress, and writer. She has been married to Robert McCall since 1998 but he isn't her first husband. Before him, she was married to a fellow named Andrew Sutton. Her mother suffered from liver cancer which claimed her life just as her father was about to mark his 60th birthday, on the 11th of May 1997. About six months after Brenda Hosbrook passed, George Carlin met the woman who would later become his second wife, Sally Wade.
Sally Wade is said to be a comedy writer and that Carlin fell in love with her the first time he met her. Nonetheless, he was reluctant to do anything about that because he felt it wasn't alright for him to be having such a feeling as Brenda's death was still fresh in his mind. He started dating Sally soon after and they got married on the 24th of June 1998 in a private wedding. It was a union that lasted until Carlin passed in 2008. As such, it wouldn't be wrong to conclude that Sally Wade and Kelly Marie Carlin-McCall inherited George Carlin's wealth.
George Carlin Died of Heart Failure On The 22nd of June 2008
A long list of comedians has claimed that they were influenced by George Carlin, including Bill Burr, Louis C.K., Dave Attell, Ben Stiller, Jon Stewart, Jim Jefferies, Dave Attell, Stephen Colbert, and dozens more. Given that, it is not hard to see why his death was a big deal to the world of comedy and indeed, the entertainment industry at large. It was on the 22nd of June 2008 that Carlin kicked the bucket. As you would easily find, he died of heart failure at St. John's Health Center in Santa Monica, California. He was 71 years old.
George Carlin had battled a series of heart problems for about three decades before his death. Reports had it that he suffered heart attacks at least thrice: in 1978, 1982, and 1991. In 2003, he had cardiac arrhythmia which necessitated a catheter ablation procedure. He survived a heart failure in late 2005 and was also, twice treated for balloon angioplasty. All of these did not make Carlin give up comedy; he continued to perform until his last days. In fact, he reportedly performed at The Orleans Hotel and Casino in Las Vegas one week before death came calling; this was his last show.
Anticipating his death, George Carlin instructed that he should be cremated and that the disposition of his ashes should be determined by his wife and daughter in line with their knowledge of his prejudices and philosophies regarding geography and spirituality.
He willed that his ashes must not be retained by anyone or buried in a particular location. The comedian also asked that there should be no public service or religious service of any kind but wished for an extremely informal private gathering of friends and family at his home.
Honoring his wishes, his body was cremated and the ashes dispersed at various locations he was known to perform in New York City. They were also dispersed at the Spofford Lake in southwestern New Hampshire where he attended summer camp as a teenager.
Tributes were paid to the great comedian from various quarters and he became the first posthumous recipient of the Mark Twain Prize for American Humor; George had been named as the honoree by the John F. Kennedy Center for the Performing Arts four days before his death. Also, several media outlets aired his special and memorable works to honor him.