Colin Jost is definitely not gay and has been married to Scarlett Johansson since 2020. He has also been linked to only women in the past.
Jost is an audacious American comedian, actor, and scriptwriter best known as the brain behind the amazing scripts of the popular Saturday Night Live (SNL) show. As a stand-up comedian, he has been a part of several comedy shows and festivals like Late Night with Jimmy Fallon and Chicago Just For Laughs, among others.
For his numerous contributions to the field of scriptwriting and stand-up comedy, Jost has received 5 Writers Guild of America awards, as well as a Peabody Award. Given all these, it is only natural that there are many things people want to know about this popular SNL host and comedian. Does he have a wife, is he dating anyone or is the popular comedian gay? Find further details on these questions, as well as facts about his relationship with the award-winning actress, Scarlet Johansson.
Fact Check: Is Colin Jost Gay?
Sometime in May 2018 in an episode of SNL, Colin Jost's co-host Leslie Jones made a joke about him being gay but the comedian made it clear he wasn't gay. He revealed he has a girlfriend and that things were going pretty well between him and the award-winning Hollywood actress, Scarlet Johansson.
Because of that and his dating history, it is not out of place for anyone to conclude that the comedian is only sexually attracted to females. Until there are facts that suggest otherwise, Colin is straight.
The comedian was backlashed sometime in November 2016 when he joked about transgenders. He mentioned that the numerous gender options Tinder has on its site must have been the reason the incumbent U.S president Donald Trump won over Hillary Clinton during the presidential election. This comment caused an uproar as many felt that Colin was being hostile to other genders outlined on Tinder.
Who Has The Comedian Dated In The Past?
Although Colin Jost cannot be described as a casanova, the popular comedian has had his share of failed relationships. He was once linked to the American actress, producer, and writer, Rashida Leah Jones, who is notable for her appearance in movies like I Love You Man, Our Idiot Brother, and Toy Story 4 amongst many others.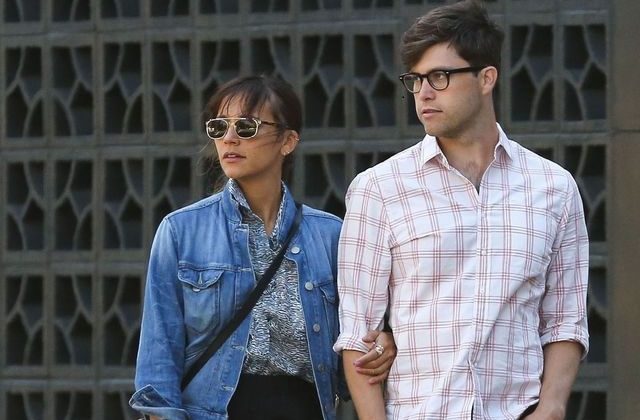 The pair started dated sometime in September 2013 but their relationship hit the rocks in 2016. Before this relationship, the comedian does not have any other past romantic relationship known to the public.
Is Colin Jost Married To Scarlet Johansson?
ScarJost as they are fondly called are now married and their fairytale journey as romantic partners seems to get better. The pair reportedly met in 2006, although Johansson only recalls meeting Jost in 2010 when they worked on a skit for SNL. Nonetheless, it took them close to a decade to finally go out on a date and this was masterminded by Jost's SNL co-host, Kate McKinnon, in 2017.
By July 2017, the pair were head over heels in love with each other and they were sighted together at several locations in New York City. They also stepped things up in November 2017 when Jost introduced Scarlet to his family and she did the same. The next year proved to be even lovelier for the couple as they attended several events together like the premiere of the Avengers Infinity War, Met Gala held in May 2018, and the Emmy Awards. That same year, Colin Jost announced on SNL that he had a girlfriend.
The lovebirds kept things steady and in May 2019, the comedian engaged the talented actress. This news was shared by Marcel Pariseau, Scarlett's publicist via Associated Press. The next month, it was noticed that the actress started to wear Jost's engagement ring worth thousands of dollars. Their wedding took place in married in October 2020, at their New York home. In August 2021, the couple welcomed their son Cosmo.
To date, the love story of Colin and Scarlett remains a surprise to many and it depicts a tale of true love found after hardship. Scarlett had experienced two failed marriages: she was initially married to Ryan Reynold for about 3 years and later became the wife of Romain Dauriac. Her marriage to Romain was annulled in 2017. Although Jost has never been married, his relationship with Rashida Jones was described as 'serious'. As of now, there are high hopes for the celebrity couple and they are expected to walk down the aisle as life partners in the nearest future.