Whitney Cummings has undergone about three plastic surgeries to fix her breast size. The comedian has also undergone some cosmetic procedures to enhance her beauty.
Having been in the limelight for over a decade and counting, Whitney Cummings' plastic surgery has made headlines. She has been widely admired for her beauty, thanks to the series of surgeries that she has undergone to enhance her appearance. This has also increased public speculation about the comedian undergoing additional series of surgeries as her beauty continues to bloom as she ages. Here is all that you should know about Whitney Cummings plastic surgeries.
What To Know About Whitney Cummings Plastic Surgery
Whitney Cummings went through three plastic surgeries. The surgery was done to fix her breast size, which looked way smaller than its current size. The comedian didn't talk about the surgeries when she went through the first two procedures, however, she eventually came open with it in an interview after the third surgery.
In an episode of the Ashley Graham podcast, Whitney revealed that after her first breast augmentation, she was not satisfied with the result and couldn't find the courage to discuss it with anyone. According to her, women found it hard to speak about their flaws at that time, and she found herself in the circle.
Continuing, the entertainer said she finally told one of her girlfriends what happened "when there was like a muscle was cut through." Thankfully, the friend new a guy who could help sort her out and so she immediately directed her to him.
It's been some years since then and Whitney Cummings seems to have learned to be proud of her body. She has also developed the boldness to tackle online blackmailers. According to her, some online scams got hold of her pictures before the surgery, which revealed her nipples. They demanded money in exchange to remain tight-lipped and not let her little secret go viral.
However, having gained back her confidence, Whitney shared a picture of herself in the bathroom that revealed her nipples in August 2019. Though some sources claim that she was not aware that she had uploaded the picture, this is yet to be confirmed. It is assumed that it was intentional move to ward off online blackmailers. After some time, she deleted the pictures.
She uploaded the same picture on her Twitter handle, with the write up "if anyone is gonna make money or likes off my nipple, it's gonna be me. So here it is all, you foolish dork."
Why Did The Comedian Go Under The Knife?
Whitney Cummings went under the knife to enhance her looks because of her insecurities with body dysmorphia. She made it known that her insecurities made her undergo three different breast augmentation surgeries. In a 2019 episode of Pretty Big Deal with Ashley Graham, she explained that she didn't have the same power that she had when she tackled the blackmailers in the past whenever issues about her body were brought up.
During her fourth special titled Can I Touch It? which was released on Netflix on July 30, 2019, the comedian disclosed that in addition to the body dysmorphia that she dealt with, she also had an eating disorder her whole life. Having grown up with an eating disorder, she felt powerless whenever the matter of body was brought up.
The disorder affected her development when she reached the age of puberty and this was why her breasts grew to different sizes. Thankfully, with the help of the surgeries she's undergone, the actress now loves her breasts and is happy about her new look.
She also Underwent Cosmetic Procedures
Apart from getting breast augmentation, Whitney also underwent cosmetic procedures. She made the revelation in 2012 during an interview with a beauty magazine known as New Beauty. According to her, she got Botox on her forehead so as to relieve migraines. This, however, did not help out with the migraine, rather, it made her skin look much younger.
She also made it known that she got another skin treatment known as ultherapy. This skin treatment does not include ingredients that cause damage to the skin or physically invade the body.
Whitney is one of those celebrities that has learned to come clean with their cosmetic procedures. She made it known that there was no point in lying or pretending about the whole process. She also stated that telling the truth is way much cooler than making up stories. In addition, she stated that she wanted to be like Peter Pan of self-care and healthy beauty.
Other Surgeries And Enhancements That Whitney Cummings Have Been Rumoured To Have Undergone
Whitney Cummings has been through a series of surgeries and beauty enhancements. This has made the masses believe that she might have had other surgeries to enhance her looks. Here are some of the surgeries that she has been rumored to have undergone:
Facelifts 
In July 2015, Whitney Cummings appeared on Today with her face looking chubbier, prettier, and younger. The audience and hosts could not help but ask if she had undergone a facelift. What everyone speculated to be the reason for the new look was far-fetched from the truth as she did not get a facelift, rather, she gained weight.
In her words, she said, "I did this weird thing that nobody likes to do anymore where I gained weight." She later added, "I looked like I was passing away. I was so skinny that it's not attractive. I put on, like 20 pounds and I think it filled out my face. People think I got a facelift."
Filler Injections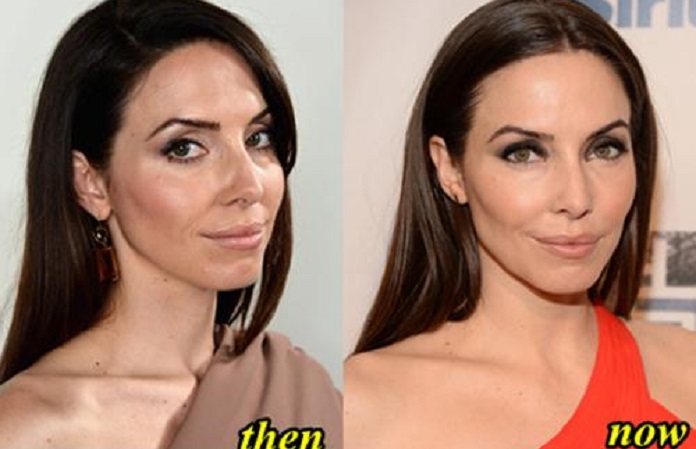 Whitney Cummings was also alleged to have had lip filler injections as her lips have become fuller. This has not been made clear by the comedian, but according to her statements above, this might be a result of her weight gain. However, she did get fillers, but this time around, not on her lips but on the side of her nose to enhance her beauty, which she admitted in the interview with New Beauty magazine.
Blepharoplasty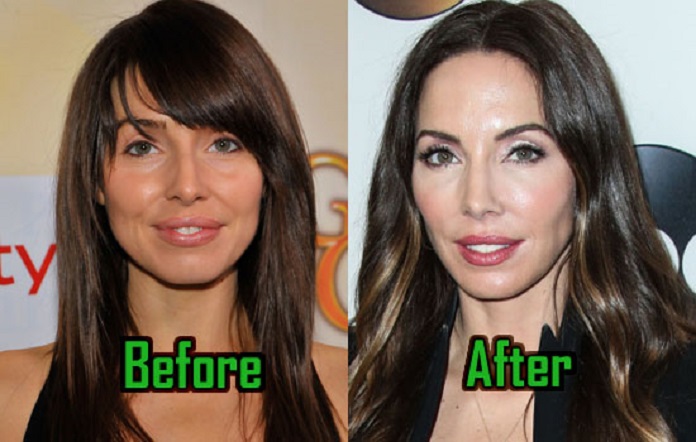 The comedian has been alleged to have undergone blepharoplasty, a surgery that is done to remove excess skin from the eyelids. Having attained the age of 41 years, her face would have been showing some signs of wrinkles, likewise her eyelids. This has raised speculation about Whitney Cummings undergoing surgery to reduce the wrinkles on her eyelids as they appear enlarged. This has not been reacted to by the comedian and is still considered one of the rumors that have rocked her looks.