Bob Saget did not have facial surgery. The rumors stating otherwise began after popular plastic surgery outfit Wang Plastic Surgery & Med. Spa posted a side-by-side picture of a young Bob and a much older Bob with similar facial features.
Bob Saget was a popular American stand-up comedian, TV host, actor, and filmmaker who is best known for his role as Danny Tanner in the ABC sitcom Full House. The actor tragically died from heart complications in January 2022, aged 65. One would think that the media and public would allow the argument regarding a possible surgical alteration to his facial features to rest in peace just like the comedian, but the rumors about his alleged face surgery have only intensified following the comedian's demise.
The Origin of Bob Saget's Face Surgery Rumors was From a Facebook Post
Celebrities going under the knife to accentuate their looks doesn't elicit much of a surprise from fans as it maybe once did. Even though the element of surprise has been somewhat lessened by the frequency of such occurrences, it doesn't make it any less newsworthy especially when the name of a well-known public figure such as Bob Saget is mentioned in the same sentence as plastic/cosmetic surgery.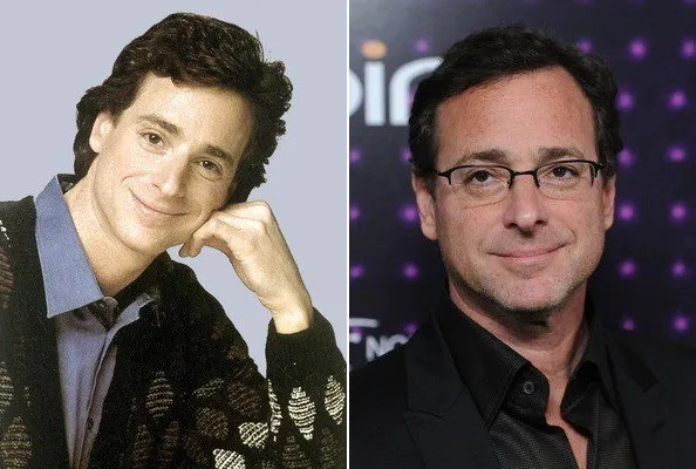 A lot of questions and speculations started to fly around when a very reputable and recognized facial and body surgery clinic known as Wang Plastic Surgery & Spa posted a couple of photos of the comedian. The first photo consisted of a younger version of Bob when he played the role of Danny Tanner in the ABC sitcom Full House, while the second one was an image of a more experienced and mature Bob Saget.
The pictures drew a comparison to his face which was essentially unchanged despite the apparent gulf in time passed. As earlier stated, this drew curious attention to the comedian and the possibility that he had gotten face surgery.
However, a closer look at the pictures simply told the story of a man who had somehow managed to retain his youthful appearance through various healthy lifestyle choices that had little or nothing to do with facial implants through plastic surgery. The signs that someone got a face implant are noticeable anyways but none of those signs are present on Bob Saget's face.
Bob Saget Made a Film About Reconstructive Face Surgery in His University Days
An unverified source is of the opinion that Bob Saget had dreams and aspirations of becoming a surgeon. It has also been claimed that he allegedly abandoned those dreams in favor of an art degree after he was convinced to pursue his entertainment interests by his English teacher at his high school alma mater, Abington Senior High School.
To achieve that, he enrolled at Temple University Film School and graduated with a Bachelor of Arts degree in 1978. As a student of the university, Saget won a Student Academy Award for distinction. He received the award for his distinguished efforts in making a black-and-white movie titled Through Adam's Eyes.
The movie was about a boy who had reconstructive face surgery. The book was sort of a way for Saget to essentially live his dreams and aspirations of being a doctor. It's no wonder then that when the Facebook photos appeared a sizable section of the public came to the conclusion that Saget had eventually gone ahead to live out his fantasy.
Bob never addressed the rumors about him having face surgery but there is sufficient evidence that the only person who carried out a face surgery was Bob Saget's fictional character in the movie Through Adam's Eyes, and not Bob himself.
The Comedian Later Died From Severe Head Injuries
It has been established that the late comedian did not undergo any cosmetic surgery to accentuate his looks. However, the world awoke to the tragic news that his dead body was found in his hotel room at the Ritz-Carlton Orlando, Grande Lake, on January 9, 2002. Bob had checked into the hotel that weekend after his comedic performances in Jacksonville.
The mysterious nature of his death confounded a lot of people because reports show that Bob Saget was full of life at the time he checked into the hotel on January 7. A staff of the hotel recalls that the late 65-year-old was full of energy and was engaging his adoring public with jokes and also taking selfies with them.
Every account of Bob Saget's last day on earth gives the impression that he was physically healthy, of sound mind, and not at all impacted by drugs as certain publications have suggested. It was therefore a shock when authorities were called in on the 9th of January to recover the dead body of the comedian who had seemed perfectly okay a couple of days before.
The authorities quickly swung into action to ascertain the cause of death. Drug overdose was just as quickly ruled out when the medical examiner in charge of the autopsy revealed that Bob Saget had died as a result of blunt head trauma, meaning that he had hit his head on a hard object. The hit had caused severe fractures to the back of his head and around his eyes.
Following this revelation, Police focused their investigations around the late comedian's room. The sweep of the bathroom counters and floors yielded no discernible result as no trace of blood was found there. Authorities, therefore, worked with the theory that Bob slipped and fell in the bathroom and lost consciousness afterward. They also believe that he regained consciousness after a while, and staggered to his bed where he fell unconscious again but failed to wake up this time around.
Authorities estimate his time of death to be around 4 am, about 12 hours before his body was found. Bob Saget is survived by his wife Kelly Rizzo and his three daughters from his previous marriage to Shelly Kramer. His family was not comfortable with the idea of the release of what they tagged graphic documents from his death investigations that would cause privacy violations, and they went to court to stop the release of these photos.
Of the 114 photos of the incident, only 57 were released to the public after the others met the criteria set by the late comedian's family and a court injunction was issued against their release on March 14, 2022. Everyone close to Bob, including family, friends, and colleagues only wish to remember Bob like he was, full of life and vigor. He will be sorely missed in the comedic community.