Jeff Bridges is an American actor, singer, and producer born with entertainment in his genes. A seven-time nominee of the Academy Award who has won one for his performance in Crazy Heart (2009). He is a product of "nepotism" having been introduced into the movie arena by his star parents. He is known for his roles as the alien in Starman, Against All Odds, Jagged Edge, Fearless, The Big Lebowski, Hell or High Water.
Jeff Bridges Biography
Jeffrey Leon Bridges also known as Jeff Bridges was born in Los Angeles, California on December 4, 1949. His parents are renowned actors, Llyod Bridges and Dorothy Bridges (née Simpson) who is also a writer.
The Hell or High Water actor graduated from University High School, Los Angeles in 1967. He also studied acting at the Herbert Bergorf Studio in New York City. Jeff studied Buddhism and learned Transcendental Meditation. He meditates for half an hour before he begins work on a film set. The veteran actor served in the United States Coast Guard Reserve for seven years before he took fully to acting.
Acting Career
Jeff has said that the major thing he learned from his father in the course of his acting career was the joy and love with which he approached his work. And he has exhibited the same traits through the course of his (Jeff) journey into acting.
He made his first appearance on the big screen as a toddler who was barely 2 in 1951. He starred alongside his mother in The Company She Keeps. His acting career in his later years kicked off with his appearances on his father's show Sea Hunt. Jeff starred in a few other roles in other TV shows like Lassie, In Search of America before he got his first role in a film in The Last Picture Show for which he was nominated as Best Supporting Actor for the Academy Award in 1972. That nomination ranked him as one of the youngest actors to ever be nominated for an Academy Award.
His other films include the neo-noir boxing film, Fat City, Thunderbolt and Lightfoot, the first remake of King Kong, the sci-fi film Tron, Blown Away, Speed. Noted as possibly the most natural and least self-conscious screen actor that has ever lived, Jeff Bridges received a star on the Hollywood Walk of Fame for his contributions to the motion picture industry.
After six nominations for an Academy Award, in 2010, he won his first as the Best Actor for the Crazy Heart making him one of the oldest ever to clinch an Academy Award.
Music Career and Other Works
Jeff, besides acting, has a passion for music and was strongly encouraged by his mother to study piano at a very young age. He plays many guitars as well. However, he said he had a hard time choosing between doing music and acting and to decide if he could do both. Ultimately, he became both and has released three albums with various notable performances. On January 1, 2000, he released his debut album, Be Here Soon. In  February 2010, he was among the musicians to sing on the charity remake of We Are the World.
Furthermore, he signed a recording contract in April 2010 with Blue Note Records/EMI Music Group. The next year, he released his second album Jeff Bridges with producer, T-Bone Burnett on August 16, 2011. His third album, Sleeping Tapes, which is an ambient/spoken word album came in 2015.
Apart from music and acting, Jeff Bridges is also an author, a photographer (shoots still photography between sets as a hobby), a narrator and a humanitarian. He co-authored The Dude and the Zen Master with Bernie Glassman in 2013 and published a book in photography in 2003 titled Pictures: Photographs by Jeff Bridges. He is the national spokesperson and the founder of No Kid Hungry.
Jeff Bridges Wife, Children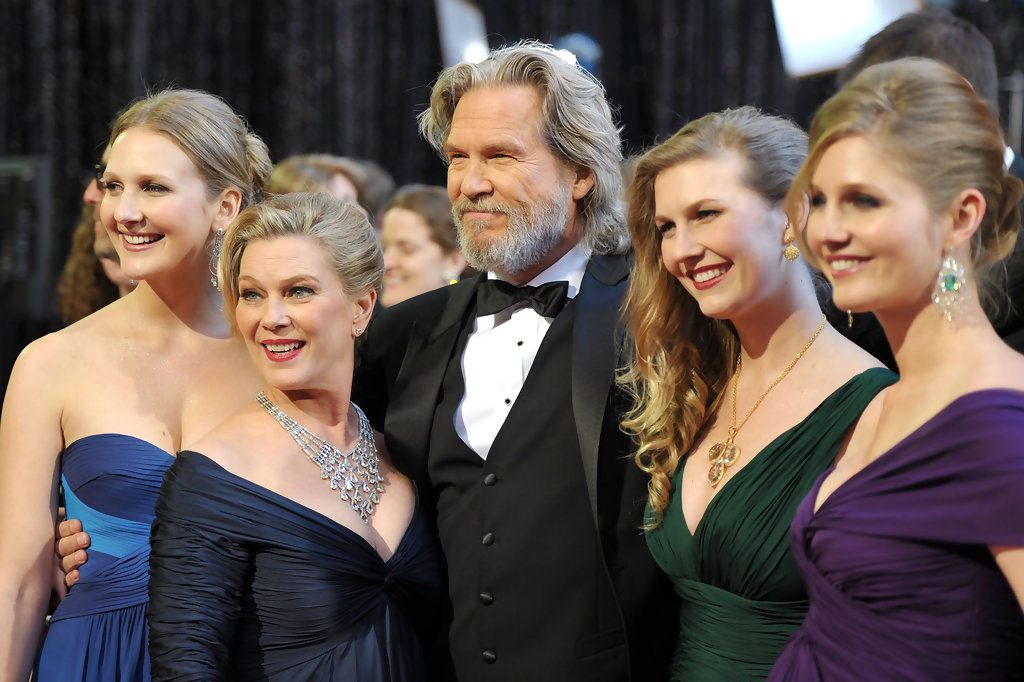 Jeff Bridges, like his parents did, is enjoying a blissful marriage relationship with his wife of over four decades. He has been married to Susan Bridges (née Geston) since June 5, 1977. Susan was born in 1953 and the duo met at a ranch in 1974 where she worked as a waitress. Jeff was working on the set of the 1975 movie Rancho Deluxe. She is an actress and producer known for Forbidden Zone (1980) and Cold Feet (1989) and has appeared with her husband on set in over 50 works.
See Also: JJ Abrams Wife, Daughter, Other Kids, Father, Family, Height, Net Worth
Smitten by her beauty the first time he saw her, in spite of having a pair of black eyes and a broken nose from a car crash, Jeff asked her out. But Sue, as she was fondly called, turned him down flatly and told him that considering their location, a small town, they might run into each other some other time. And true to that, they did see again and that became the beginning of a long time bliss and happiness though not without the ruffles that come with long-term commitments such as marriage.
The two are parents to three grown daughters; Isabelle Annie (born in August 1981), Jessica Lily (born in June 1983), and Haley Roselouise (born in October 1985). They also have a granddaughter, Grace (born in March 2011) from Isabelle's marriage to Brandon Boesch.
Jeff's Brother: Beau Bridges
Jeff has three siblings, a younger sister, Lucinda (an artist who works occasionally as an actress) and two older brothers, Garrett (who died of Sudden Infant Death Syndrome at barely 2 months old) and Beau who is also an actor. Beau acted as a surrogate father to his siblings when their father was on the go. Thus, the two actors share a very special bond. The siblings were raised in the Holmby Hills section of Los Angeles.
One of Hollywood's favorite siblings, Jeff and his brother Beau make an amazing pair. The younger Bridges' brother was inspired by the older one who was already in the business to hit the screens as an actor. They became acclimatized with the movies thanks to their father's television series Sea Hunt (1958-1961) and the CBS anthology series, The Lloyd Bridges Show (1962-1963).
Lloyd Vernet "Beau" Bridges III was born on December 9, 1941. He played basketball as a freshman for UCLA before he transferred to the University of Hawaii. But that could as well be termed as a passing phase as he left basketball for acting and has been acing ever since. He has starred in over 80 films and TV series and his filmology include Norma Rae with Sally Field, Charlotte's Web, Jerry Maguire with Tom Cruise, The Fabulous Baker Boys alongside his brother Jeff, Underdog Kids, The Millers among others.
Among other awards, Beau is a multiple Emmy Award nominee with three wins, two-time Golden Globe and a Grammy Award winner.
Jeff Bridges Net Worth, House
The multi-talented personality, Jeff is one of the most renowned and celebrated actors in Hollywood. Besides his works on screen, in music and his books, he also endorsed products like Marc O' Polo apparel and has also shot a series of commercials for some brands. Added to his high grossing movies at the Box movie, his creative endeavors have contributed to his fortune and his net worth is pinned at $70 million.
In 2016, he listed his Southern Californian estate for sale at $29.5 million. He bought the house, a 9,535-square-foot Mediterranean-style mansion built in 1988, with his wife from the Footloose singer, Kenny Loggins in 1994. The house was later sold for $16 million.
Height
Overweight does not augur well with The Dude of Big Lebowski thus he works hard to maintain his fitness. The widely acclaimed actor is on the tall side with a height of 6 feet 1 inches (1.85 m) and has a body weight of 86 kg.