A-listers like Tom Cruise have probably embraced the fact that they will always be in the news and sometimes for reasons that are laughable, annoying, or both in a go. As gossip sites are known for their unrelenting quest to find and expose deep and dark secrets about popular figures, Tom has been caught up in this. Of late, the obsession has been about his Scientology religion but if any rumour has swirled beyond proportions about the actor, it's the claim that he's secretly gay.
From what is obvious, one can conclude that the "Mission Impossible" actor is a ladies' man. All through his career, he has only had romantic relationships with women and his marital journey suggests he isn't sexually attracted to his gender. How then did the gay rumours come about? Are there reasons to question the actor's sexuality or is it just another case of unfounded rumour-mongering?
A Look At All The Reasons Why People Think Tom Cruise Is Gay
For years, the public has been suspecting that the movie star has been hiding something about his sexuality. The reasons that have been given for this range from the roles he has played in movies to his failed marriages and his relationship with John Travolta.
The Actor's Roles In "Risky Business" and "Top Gun" Are Said To Be Gayish 
Risky Business is a teen sex comedy film that was written and directed by Paul Brickman. The 1983 movie revolves around Joel Goodson portrayed by Tom Cruise. Joel was on a mission to have some fun while his parents went on a trip and as the plot unravels, Joel's friend Miles brought him a prostitute that happens to be a crossdresser. Joel pays her to leave but she hooked him up with another prostitute with whom Joel spent the night. While the transvestite is the only thing that might be typically considered to connote sexual fluidity in the movie, people have come to regard a scene that had Tom dance in his briefs as gayish and has used that to judge his sexuality in real life.
The case is quite similar to Top Gun's, a 1986 action drama film wherein Tom played a US Navy pilot named LT Pete "Maverick" Mitchell. One would typically see the movie as an action drama movie and noting more but over the year, it has been interpreted as a production with loads of homoerotic subtext and has even been described in some quarters as a story about a man's struggle with his homosexuality. Even if the movie was about that, it ought not to be seen as a hint at Tom's real-life situation but unfortunately, that's not the case.
His Failed Marriages
Those who are bent on proving that Tom Cruise is gay have blamed his failed marriages on his sexuality, especially his marriage to Katie Holmes and his first wife, Mimi Rogers. Rumour mongers have it that the actor's marriage to Katie was a contract that had outlasted its course, consolidating their argument on the fact that no reason was given for filing the divorce. But then, it is no secret that the legal system in California does not require such information to be shared.
Also, when Tom Cruise and Mimi Rogers parted ways, the actress who introduced him to Scientology disclosed in an interview that they ended the marriage because it was sexless. According to her, the actor insisted on maintaining the purity of his instrument while hers' needed tuning. While Mimi's statement suggested that Tom was abstaining from sex because of some spiritual reasons, people have come to wonder if there's more to it.
Alleged Gay Sex Tape and Relationship With John Travolta
In March of 2015, the cover story of a famous tabloid featured Tom Cruise and John Travolta in a manner that they claimed was very unusual from what the two stars are known for. The tabloid also claimed that the two had shared a secret gay romance that lasted for as long as three decades. The cover story had pictures of the two actors with Kelly Preston, the late wife of John Travolta looking kind of distressed. The major questions were why the two successful Hollywood stars were unusually close and what Kelly could know about their relationship.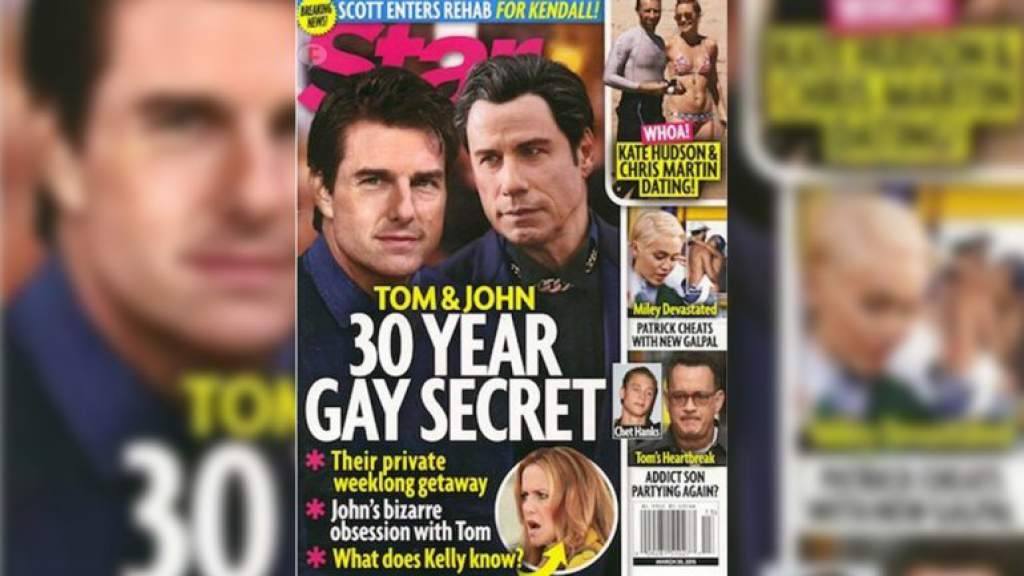 Years earlier, before the tabloid went public with their gossip, a man identified as Michael Davis reached out to several media outlets offering to sell them a secret videotape of Tom having sex with a man. The actor came for the man with a $100 million lawsuit. However, this event wasn't the source of information for the tabloid which claimed that Tom Cruise's gay relationship with Travolta started after the latter saw him in Risky Business.
As claimed, Travolta invited young Cruise for a private getaway to a Scientology school where the two spent two weeks together. It was also said that they had dinner at an upscale French restaurant in Beverly Hills. These were the things that raised suspicion; nevertheless, the report was largely based on speculations and offered no tangible proof that such a relationship actually existed.
Facts That Support Tom Cruise Assertions About Being Straight
Although it has been persistently rumoured that Tom Cruise is gay and has been hiding it from the public, there is no substantial piece of evidence to back up the claims. Considering his status in the entertainment industry, the actor should expect to see more of such rumours in years to comes, even though he has stated several times that he is not sexually attracted to men.
Just are there are things people have referred to overtime to support their claims about the actor being gay, several factors suggest otherwise, including the actor's relationship history and a secret investigation carried out in a quest to find out the truth about his sexuality.
A Private Investigator Hired To Investigate The Actor Concluded He Wasn't Gay.
When Andrew Morton, an English journalist and writer, set out to write his unauthorized biography of Tom Cruise, he decided to explore various aspects of the actors' life, including his love life and sexuality. For the book titled "Tom Cruise: An Unauthorized Biography, Morton went as far as hiring a private investigator to dig for information about Tom's private life. It was Paul Baressi, a former adult film actor that he approached for the Job. The private investigator would later disclose to InTouch magazine that all the things he got to learn about the actor showed he was not gay. According to him, he investigated the actor for six years, beginning from the time after his marriage to Nicole Kidman packed up.
Sometime in November 2005, when Andrew was still working on the book, it circulated that he had uncovered that the actor had homosexual affair while filming "Eyes Wide Shut", a 1999 erotic mystery psychological drama film. Tom Cruise's lawyer warned that the actor would take legal actions against any false claims made about the actor in the book. At the end of the day, the book failed to substantiate any claim about the actor being sexually attracted to males.
Actress Hayley Atwell Is Believed To Be Tom Cruise's Partner At The Moment
Full Name: Hayley Elizabeth Atwell
Date of Birth: April 5, 1982
Age: 41 Years Old
Occupation: Actress
Nothing offers insight into people's sexual orientation like who they are romantically involved with. If we must conclude based on that, then it's only natural to assert that Tom is truly straight as he has claimed overtime. It is believed that the famous actor is now in a relationship with the British-American actress, Hayley Atwell.
The actress born and bred in London is best known for her roles as Peggy Carter in multiple productions of the Marvel Cinematic Universe like "Captain America: The First Avenger", "Avengers: Endgame", "Captain America: The Winter Soldier", "Avengers: Age of Ultron", "Agent Carter", and "Ant-Man".
It began circulating in December 2020 that the actor and the actress are an item. As the story goes, their relationship began on the set of "Mission 7: Impossible. The actors reportedly took to each other the first day they began filming the movie and have been quite inseparable since then. The two are yet to comment on what's going on between them.
The Mission Impossible Actor Has Only Dated Women In The Past
Yet another fact that supports Tom Cruise's claim of not being gay is his relationship history. The award-winning actor is known to have been in relationships with only women since he came to the limelight. Below is a comprehensive list of all the women he has dated.
Melissa Gilbert (1982)
Full Name: Melissa Ellen Gilbert
Date of Birth: May 8, 1964
Age: 59 Years Old
Occupation: Actress
More than being an actress, Melissa is a television director and a politician. Also a politician, the American actress who was once the president of the Screen Actors Guild was the first romantic partner of the actor known to the public. They dated briefly in 1982 when Tom is yet to become one of the highest-paid actors in the world.
According to the actress, she was either 16 or 17 years old while Tom was 19 and had just moved to Los Angeles. If one must believe everything Melissa said, they never had sex but got to make out and Tom was a good kisser. Adding that she bought the actor his first set of dishes, she divulged that Tom was a "struggling, starving actor". What they had was short-lived as the actress began dating actor Rob Lowe when she was 17.
Heather Locklear (1982) 
Full Name: Heather Deen Locklear
Date of Birth: September 25, 1961
Age: 62 Years Old
Occupation: Actress
After Melissa, Tom had another brief relationship with actress Heather Locklear. The American actress is admired for playing Amanda Woodward in the Fox soap opera, "Melrose Place". She has been married and divorced twice, first to Tommy Lee and then to Richie Sambora. Before them, he dated several popular men and Tom Cruise happens to be one of them.
She once shared that the relationship ended as soon as it began because she found his dancing embarrassing. The relationship began when they attended an audition and decided to have a date which included going for a dance. At the nightclub, the actor burst into his Risky Business dance move. Heather was confused and embarrassed and the relationship couldn't survive that.
Rebecca De Mornay (1982 – 1985)
Birth Name: Rebecca Jane Pearch
Date of Birth: August 29, 1959
Age: 64 Years Old
Occupation: Actress
Like Tom Cruise, Rebecca De Mornay got her breakthrough in the movie industry with her role in 1983's Risky Business and it was on the set of the teen sex comedy film that their relationship started. In the years that followed, she consolidated on her emergence as a Hollywood star with roles in popular projects like "The Slugger's Wife", "Runaway Train" "Backdraft", "The Hand That Rocks the Cradle", and much more.
According to their Risky Business co-star, Curtis Armstrong, Tom and Rebecca had an intense affair while filming the movie. Curtis disclosed this in his book, expressing that the rumors about his sexuality are mystifying for him as there were no doubts, whatsoever, that the actor was straight. De Mornay commented on their relationship many years later. She related that Tom was annoying when she met him but came to grow on her and they ended up together for two and a half years.
Patti Scialfa (1985)
Birth Name: Vivienne Patricia Scialfa
Date of Birth: July 29, 1953
Age: 70 Years Old
Occupation: Musician
The actor had a brief romance with the American singer-songwriter and guitarist. Patti is a member of the E Street Band and a Rock and Roll Hall of Famer. Before she got married to Bruce Springsteen in 1991, she dated Tom Cruise for a short while in 1985. Because of how brief the relationship was, it is hard to tell anything else about it.
Cher (1985 – 1986)
Birth Name: Cherilyn Sarkisian
Date of Birth: May 20, 1946
Age: 77 Years Old
Occupation: Singer and Actress
Famed as the Goddess of Pop, Cher is a versatile entertainer who has conquered various facets of showbiz. From Sonny Bono to David Geffen, Gregg Allman, Gene Simmons, Les Dudek, Ron Duguay, and many more, Cher dated a long list of popular men in the entertainment industry, including the Mission Impossible actor.
Her relationship with Tom Cruise didn't last for more than a year but the Goddess of Pop would recall many years later that the actor was a good lover. According to her, he is one of the best lovers she ever had. While Cher has made it clear that she was crazy about Tom, the reason behind the end of what they had remains unknown. Although the singer once shared that the relationship got "hot and heavy".
All of Tom Cruise's Three Marriages Were With Women
Tom Cruise's marital journey also supports the notion that he's not gay as he has been married to three women thus far. For someone who has had three marriages with three women in the span of about 30 years, it is hard to imagine how he's gay. Despite the assumption that being gay is why the marriages failed, the supposition has not been substantiated in any meaningful way. To the best of our knowledge, it is nothing but rumors spread for reasons that are not clear.
The Actor's Most Recent Marriage Was to Katie Holmes
Full Name: Kate Noelle Holmes
Date of Birth: December 18, 1978
Age: [dob age="19781218″ Years Old
Occupation: Actress and Producer
Duration of Marriage: 2006 – 2012
No of Children With Tom: 1 Daughter (Suri Cruise)
It was a dream come true for Katie Holmes when she began dating Tom Cruise. This is so because she had adored the actor since her teenage years. The actress known for her role in "Dawson's Creek" got to met the actor sometime in April 2005 and before the month ran out, it became obvious that they were lovers. Katie left her Catholic faith to join Tom's Scientology and less than two months after their relationship began, the actor proposed to the actress: this happened on the 16th of June 2005 in Paris, in a restaurant at the Eiffel Tower.
The couple welcomed their daughter on the 18th of April 2006 and got married on the 18th of November 2006. It was a lavish ceremony held at the 15th-century Odescalchi Castle in Bracciano, Italy. Unlike his first two weddings which were largely low-key, Tom and Katie's wedding was witnessed by celebrities like Will Smith, David Beckham, Jim Carrey, and others.
It was quite a surprise when it was reported that Katie Holmes filed for divorce from the actor in June 2012. She filed for divorce precisely on the 29th of June and it was finalized ten days later. Details of their divorce settlement were never disclosed to the public just as what led to the separation has been left to speculations. Nonetheless, it is known that Katie got custody of their daughter Suri. It has also been claimed that the actress left the marriage because she was being intimidated by Scientology and feared for the safety of her child.
Before Katie Holmes, Tom Cruise Was Married to Actress Nicole Kidman
Full Name: Nicole Mary Kidman
Date of Birth: June 20, 1967
Age: 56 Years Olds
Occupation: Actress, Singer, and Producer
Duration of Marriage: 1990 – 2001
No of Children With Tom: 2 (Isabella Jane and Connor Antony Cruise)
The accomplished Hollywood actress from Australia is the second wife of Tom Cruise. Nicole Kidman began her career in Australia and met Tom Cruise when she landed her first Hollywood gig, it was in the 1990 sports action drama movie titled "Days of Thunder". It is no secret that their relationship began on the set of the movie directed by Tony Scott. The Tom and Nicole relationship started almost as soon as he parted ways with his first wife and the actor was very excited about having the actress in his life. This was also the case with Nicole who proclaimed that Tom swept her off her feet.
Even though Nicole was in a relationship before she met Tom and had refused to settle down for marriage, she wasted no time in agreeing to marry Tom as she had a strong desire to have kids with the Risky Business Actor. Things happened quickly and they had a quiet wedding in Telluride, Colorado, on the 24th of December 1990. The couple adopted two children and was believed to be having a happy union until it emerged on the 5th of February 2001 that they would be ending the marriage.
Tom filed for divorce a few days later and they were officially divorced in August 2001. The actor cited irreconcilable differences and there are claims that his church pushed for the end of the marriage: Nicole never joined Scientology.
The Actors First Marriage Was to Mimi Rogers
Full Name: Miriam Rogers (née Spickler)
Date of Birth: January 27, 1956
Age: 67 Years Old
Occupation: Actress and Producer
Duration of Marriage: 1987 – 1990
No of Children With Tom: Nil
Beyond being a film and television actress, Mimi Rogers is also a producer and a competitive poker player. She will always be remembered as the first wife of the actor and the person that introduced him to Scientology. It was sometime in 1985 that Mimi and Tom met; they also began dating that year, ignoring the fact that Mimi is six years older than the actor. While she was Tom's first wife, he wasn't her first husband as she had been married to Jim Rogers.
Tom and Mimi were reportedly introduced to each other by some mutual friends who imagined they'd make a cute couple. They took to each other and started dating almost immediately. Barely a year into the relationship they began discussing marriage which they codenamed "The Project" to avoid attracting media scrutiny. The Project was executed on the 9th of May 1987 and it was a secret affair that happened in New York.
But as fate would have it, the marriage packed up almost as quickly as the two rushed into it. In a joint statement they issued in January 1990, Tom and Mimi disclose that they decided to end their marriage over some issues they couldn't resolve. The actor filed for divorce on the 9th of December 1989 and it was finalized in 1990. A few years later, Mimi disclosed in an interview that the issue they had was over Tom's decision to abstain from sex over some spiritual reasons.