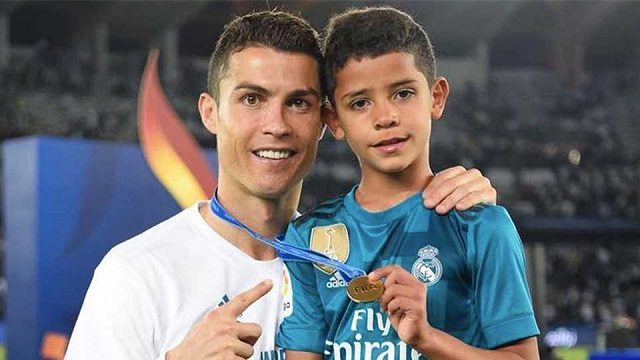 Popular as the oldest son of Portuguese soccer superstar, Cristiano Ronaldo, Cristiano Ronaldo Jr. is already manifesting amazing prowess in football and has severally proved his rich heritage under the spotlight of the media. He previously joined Club de Fútbol Pozuelo de Alarcón – a small soccer club in Madrid, Spain where he has been playing since 2016.
Cristiano Ronaldo Jr. is very close to his dad as he is always on most of his posts on social media platforms, he often goes with him to the stadium and also to many of the award events he has attended in recent times. Most notable among his outings with his father is the FIFA Ballon d'Or 2013 which he attended with his dad and his then-girlfriend, Russian supermodel, Irina Shayk. The budding star also posed for photographs with football legends like Diego Maradona and Pele of Brazil.
Biography
The young soccer star was born on June 17, 2010, weighing eight ounces and 9 pounds. The announcement of his birth came the same year on the 3rd of July through his dad's Facebook account and Twitter handle. Cristiano Ronaldo made it known to the whole world that he just became a father. Till date, a lot of speculations have been made on the possible identity of the mother of the younger Ronaldo but from what is obvious, no conclusive evidence has been found.
Family Facts
The young star's father is definitely the soccer legend Cristiano Ronaldo, though the identity of his mum has remained an enigma till date. Her identity was never revealed to the young soccer stars. Presently, Cristiano Ronaldo Jr. resides in Spain with his dad, his dad's current girlfriend. Georgina Rodriguez and his grandmother, Dolores. His grandfather's name is Jose Dinis Aveiro, and he has a couple of aunts – Liliana and Elma and an uncle called Hugo. Recently, his dad became a father to twins Mateo and Eva; according to the football legend, his first son wishes to have six siblings as a match to his magic CR7 Brand.
Everything You Need To Know About Cristiano Ronaldo Jr.
Rise to Fame
Being a direct descendant of the Portuguese soccer legend is more than enough fame; however, it is not solely because of his dad that Cristiano Ronaldo Jr. attracted so much media attention lately. In April 2017, his father posted a video with the young talent lining up to mimic his dad's famed pose during free-kicks and scoring a wonderful goal in the process.
In June 2017, a brief video of him showcasing his remarkable prowess with the ball gained worldwide media attention and went viral on social media. It happened that when the Real Madrid players gathered to celebrate their 4-1 victory over Juventus in the Champions League in Wales at the Santiago Bernabéu Stadium, Cristiano Ronaldo Jr. and a few other children started playing with the ball. A Real Madrid fan succeeded in capturing a 20-second-long video of the moment showcasing the child prodigy clothed in the club's purple away jersey dribbling two older kids in the penalty area, beating both with a wonderful pirouette and finally dribbling past the goalkeeper and kicking the ball directly into the net. Thousands of fans present at the occasion were mesmerized by the moment and the video was featured in several news publications as well as gained massive viewership on the internet.
His mum's Identity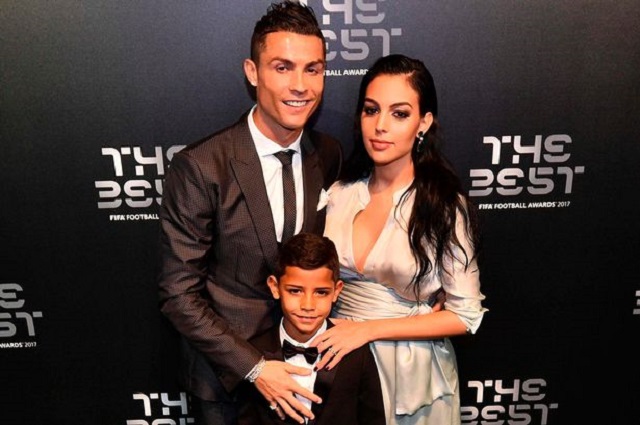 The identity of the woman who gave birth to Cristiano Ronaldo's son has been a major source of rumours and controversy since the soccer star announced his fatherhood to the world. When his former girlfriend, Irina Shayk, was struck off the list of possible mothers, it was revealed that during his days in Manchester United, Ronaldo was reportedly involved in a one-night-stand with a waitress. Upon realizing that she had conceived, the waitress contacted the famed footballer with the news and was directed to conduct a DNA test which confirmed beyond doubt that the baby was Ronaldo's.
The soccer icon decided to take full responsibility for his child since abortion was not possible with the waitress being of the Catholic faith. A while later, rumours started spreading that Ronaldo bought the woman's silence with the sum of $10 million which gave him full custody of the boy and the waitress was advised never to try contacting the boy in the future. According to recent rumours, the woman is currently a student in Britain and is eager to contact her son in spite of the deal she struck with the dad.
Read Also: Meet Milo Gibson – Mel Gibson's Look-Alike Son as He Shares Best Advice From His Father
Body Stats
The child prodigy is still young which means that he is still in the process of growing, so his height and body weight cannot be ascertained. However, he is of slim build, his hair colour is brown and his eyes are of the same colour as his hair.