Sarah Shahi and Adam Demos are still together. The duo met in the fall of 2020 while filming Netflix's Sex/Life in Canada. They confirmed that they were still together in February 2023 at the premiere of the second season of the Netflix drama series.
Sarah and Adam, who starred as Billie and Brad, were the lead characters of the Netflix drama series Sex/Life. Their steamy romance not only left their viewers wanting more, but it also got them into each other, as it is believed that the spark between them was ignited while shooting intimate scenes. Their chemistry was so strong and electrifying that Sarah Shahi and Adam Demos started dating in real life, and here is all about their love life.
Who Is Sarah Shahi's Husband?
Hollywood actress and model Sarah Shahi currently does not have a husband. Meanwhile, she was previously married to Steve Howey. Prior to their marriage, the duo met for the first time in 2004, when the actress guest-starred on an episode of Reba. When they started dating is not known, but they dated for about eight years before getting engaged in June 2007.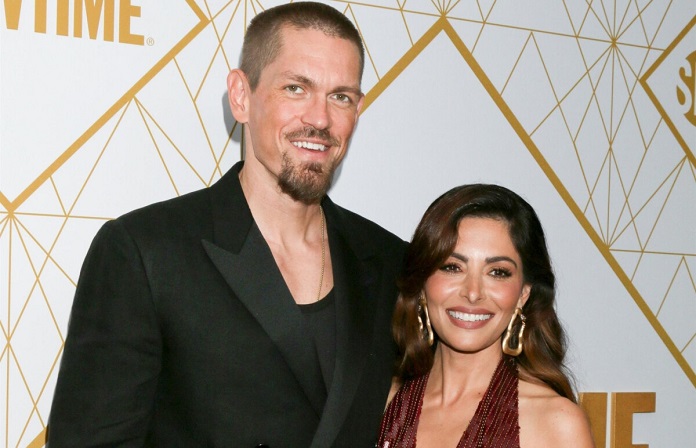 By February 2009, they walked down the aisle in Las Vegas in a glamorous wedding ceremony. Their marriage lasted just 11 years before they called it quits. Sarah Shahi revealed that after the birth of her first child with Steve Howey, their marriage struggled to stand, and after much consideration and thought, they filed for divorce in June 2020.  However, both Steve and Sarah once mentioned during interviews that their irreconcilable differences sprouted after they started having children.
According to Sarah, both of them were very busy with acting, so when they come home, the only energy left in them will be for the kids, not for themselves. She said the past ten years of their marriage were tough until 2020 when her role in Sex/Life opened her mind to the idea that she could still be happy. Steve also hints that their busy careers and lifestyles are the basis of the trouble in the marriage. Although Steve cited their few attempts to put things together, like making some fast breakfasts together and going for workouts, he admitted that they all proved futile.
By April 2021, their divorce was finalized, but there was no news of the divorce settlements. The ex-couple has maintained a high level of emotional maturity by being able to keep their differences out of the media. Steve and Sarah had a cordial separation, including shared custody of their kids.
Timeline of Sarah Shahi and Adam Demos' Relationship
Sharing ecstatic moments in the Netflix hit brought the drizzles of feelings between Sarah Shahi and Adam Demos. In the Netflix drama series, Sarah's character, Billie, was married to Cooper, who was portrayed by Mike Vogel. However, her heart yearned for her wild moments with her ex-boyfriend, Brad (Adam).
At the time of the movie project, Sarah was going through a divorce process with her now ex-husband, Steve Howey. Meanwhile, the actress and Adam met for the first time on August 30, 2020, on the set of Life/Sex and felt the spark between each other. She revealed that the first time that she set her eyes on her lover, she felt shivers all over her body and exclaimed within herself that he was a tall glass of water. On the other note, her role in Sex/Life served as an emotional therapy session that drew her wild and captured her soul.
Sarah Shahi admitted via Instagram in December 2020 that her role in the Sex/Life series was significant to her for a couple of reasons. She said it was more than just another gig, as it changed the direction of her life. The actress revealed that the movie helped her realize the truth and unleashed some parts of herself that she had hidden for so long as she was finally broken open. With time, Sarah Shahi and Adam Demos became close and are enjoying the full support of their fans as they share their romantic moments with the public. Here is a timeline of their relationship so far:
Adam Demos Shared First Loved-Up Picture With Sarah Shahi in  September 2020
Sarah Shahi and Adam Demos did not reveal when they began dating, but they started dating in 2020. The lovebirds who were caught in Netflix's nest first shared their cozy photo on Instagram in September, where they were behind the scenes joking and having fun. Fans did not know what was cooking when the pictures were shared. Hence, there was not much fuss around it.
Adam captioned the adorable picture, Billie and Brad, which were the characters they portrayed in the movie. This picture sparked arguments on whether the couple had known each other before the Sex/Life filming. Further questions from the public had it that asking if Adam Demos was in the picture led to Sarah Shahi's divorce.
However, Sarah clarified this during an interview on a podcast that she had filed for divorce three months before Sex/Life filming. She maintained that whatever was between her and Adam was born on set and not before her divorce.
The Lovers Shared Their First Instagram Official on New Year's Eve 2020
Sarah Shahi and Adam Demos's love got stronger, and the two spent New Year's Eve together, getting cozy and recording the moments in videos and pictures. Although they made no reference to their relationship status, it was safe to think that both had something for each other. Congratulatory and cheering comments filled their timelines as fans wished them well and commended their decisions.
On January 2021, Adam Demos Pens The 'L' Word on Sarah Shahi's Birthday
The love between the pair seemed to have the actor falling head over heels for the actress, as he was the first to confess his love on Instagram. Adam Demos celebrated Sarah's 41st birthday with a romantic caption that set his page fizzling with congratulations. In the caption, he stated in his words, "Happy birthday, my baby, I F*#king love you. You are everything."
This caption was made under a series of photos of the pair on a winter stroll. In one of the photos, they were both captured looking each other in the eyes in the most erotic way, which further confirmed their relationship.
In February 2021, Sarah Called Adam her "Forever Squeeze"
Sarah Shahi also has a way of returning all the love that she receives from Adam Demos. She took to her Instagram to celebrate Valentine's Day with Adam via an intimate post. The actress posted her lover's picture and wished him a happy Valentine's Day in the caption, referring to him as her forever squeeze. Adam reciprocated the love gestures and posted a selfie featuring himself and Sarah but only captioned it with a red heart emoji.
Sarah Shahi Celebrates Adam Demos's Birthday on Instagram With a Heart-melting Caption in May 2021
Again, Sarah Shahi took to Instagram to share a long love epistle in honor of Adam's birthday on May 22, 2021. It must have taken a whole lot of love and affection for her to pour out her heart in the open for her lover. She expressed her gratitude for finding him, and her hope that this was the love she wanted.
In her words, her caption reads, "Not exactly sure how two people on opposite sides of the world could have more in common, were meant to meet, were meant to be together. But I do know I met my soulmate." She further stated that she knows that she found her forever and knows that she has never loved deeper, harder, and more ferociously. The actress mentioned that she was grateful for him, loved him for lifetimes, and would love him for a thousand more lifetimes.
Sarah completed the caption with Happy birthday, my baby. In turn, Adam reassured her of his love and thanked her. The duo really got their fans gushing and were serving their fans true relationship inspiration on their Instagram pages, as they did in the Sex/Life series.
Sarah Shahi Spills the Truth About Their Relationship in June 2021
Sarah Shahi couldn't hold her love under wraps as she revealed her relationship status with Adam Demos in an interview with Entertainment Tonight. During the interview, she made it clear that they were offscreen lovers and wished to keep their budding love away from the public. She went on to refer to him as one of the best humans she had ever met. The actress went on to reveal how grateful she is for meeting her lover and for being in a relationship with him.
Sarah Shahi talked about her first impression of Adam Demos when she met him for the first time in an interview with People. She made it known that they met in the makeup trailer and clicked as they shared the same taste in music, whisky, and tequila. The actress was lost due to the effect of his personality on her at that time and wanted more.
Sarah and Adam Made their Red Carpet Debut as a Couple in December 2021
Sarah and Adam made their first red carpet appearance as a couple in December 2021 at the 47th Annual People's Choice Award held in Santa Monica, California. The pair stopped and cheered for pictures, with both looking extremely gorgeous. The picture time was a good time for Sarah, as she was captured severely, throwing her arms around Adam. She was also reaching for a hug and generally having a great time.
Sarah and Adam Celebrate Their Second Valentine's Day Together in February 2022
Sarah shared a collection of pictures from their first year of dating to commemorate Valentine's Day with the love of her life. She mentioned in the caption that Adam is the stallion that makes her heart skip a bit today and every day. The actress ended the love message by adding that she loves Adam.
The Rumor Wheel on Their Engagement and Marriage Started Spinning in April 2022
Sarah Shahi was captured wearing what looked like an engagement ring on her engagement finger. This brought about the speculation that Adam must have popped the big question, and the actress gave him a positive answer. Media outlets such as Daily Mail made it a point of duty to convince the prying public, connecting different dots and firming the big circle. However, the couple did not react to either confirm or debunk the rumors.
The engagement rumor intensified in August 2022 after Adam was also spotted wearing a seemingly engagement ring on his finger. The pictures were taken in Adam's hometown of Wollongong, New South Wales, Australia, in August 2022. In the picture, Adam was spotted wearing a band similar to a wedding band on his penultimate finger. Sarah was not captured due to the position of her hands, and she was wearing a big sweatshirt.
Soon, the dimensions of the rumor changed from engagement to marriage, as many concluded that they had secretly tied the knot. In all these assumptions and rumors', no one had any evidence to prove it, as the couple did not confirm nor deny the claims. They let the media make their findings, speak their minds, and draw their conclusions. This was a result of Sarah's relationship culture from her first marriage.
Adam Demos Expresses His Support for Sarah Shahi's Role in Black Adam in October 2022
Adam Demos does not only love Sarah Shahi, but he also shows his support for her and her career. He congratulated her for her roles in the 2022 Hollywood Thriller Black Adam and emphasized that although she may not have superpowers in real life, she is the superhero of the movie. Evidently, there exists a very strong bond between Sarah and Adam, as he confessed to being proud of her in every way.
Sarah and Adam Made Their Second Public Appearance as a Couple at the Premiering of Sex/Life Season 2 in February 2023
Sarah Shahi and Adam Demos made their second red carpet appearance to celebrate the last season of the Netflix series that reportedly brought them together on February 28, 2023. Despite their beautiful moments in pictures and the occasional romantic tributes they make, Sarah and Adam barely discuss the contents of their relationship.
The duo was revealed to have turned the movie premiere into a date night, according to Adam's Instagram. On the other hand, the actress also gushed over the actor's pictures, tagging him as her superstar.
Did Sarah Shahi and Adam Demos Split?
No! Sarah Shahi and Adam Demos did not split, as there is no credible news to back it up. The duo have been together since 2020 after meeting on a filming site. Though they are usually separated by job and career activities, they often reunite after they are done filming. It is believed that they have decided to totally take their relationship out of the limelight while building their love.
Sarah Shahi's Relationships
Sarah Shahi's relationship with Adam Demos isn't her first, as she was previously married to Steve Howey. Meanwhile, prior to her marriage to her ex-husband, there have been no records of who she dated or how long they dated before they went their separate ways. At the moment, she is currently in a relationship with Adam Demos, and there has been no news of separation.