Sarah Shahi's height is 5 feet 3 inches, which is the same thing as being 160 cm tall, and her weight is 53kg (110 lbs). Shahi is naturally lean with little muscle and little fat. She has, therefore, regularly worked out over the years in order to build up a toned physique.
Her efforts have succeeded as she was named one of Maxim's TV's hottest females in October 2012. Between 2021 and 2023, she played the lead role of Sasha in the steamy Netflix series Sex/Life.
Sarah Shahi's Bio and Body Measurements
AGE: 43 years
BIRTHDAY: 10 January 1980
BIRTHPLACE: Euless, Texas, United States
BIRTH SIGN: Capricorn
ETHNICITY: Iranian and Spanish
FATHER: Abbas Jahansouzshahi
MOTHER: Mahmonir Soroushazar
SIBLINGS: Cyrus (brother) and Samantha (sister)
HEIGHT: 5 feet 3 inches or 160 cm
WEIGHT: 53 kg or 110 lbs.
CHEST: 34 inches
WAIST: 24 inches
HIPS: 34 inches
How Tall is Sarah Shahi?
Sarah Shahi is 5 feet 3 inches tall, which is the same thing as a height of 160 cm or 1.6m. She is slightly below average height for a lady, and available data confirms this. The height of the average American woman is 5 feet 4 inches, which means that Sarah Shahi is just an inch shorter than the average American woman. The gap widens to as much as five inches when the Texas-born Shahi is compared to the average American male, whose height is put at 5 feet 9 inches.
Sarah Shahi started out her career as a model before going into acting, and data once more shows that her height falls below the average of what is obtainable in the two industries. The average height of Hollywood actresses is 5 feet 5 inches, which means that Shahi is two inches shorter than the average American actress.
The gap is even more noticeable in the modeling industry. The modeling business is one that has strict height requirements, and female models are required to be from 5 feet 6 to as much as 6 feet. This is especially true for fashion models and editorial models.
Shahi obviously falls short, but one thing that has been a saving grace is that the modeling industry also values petite models whose height is 5 feet 4 and below. Such a requirement enabled Shahi to progress in the industry before she eventually became an actress.
Comparing Sarah Shahi's Height To Her Sex/Life Co-Stars
In Sex/Life, Sarah Shahi plays the lead role of Billie Connelly, the wealthy suburban stay-at-home mom of two who is suddenly dissatisfied with her life and rekindles a romance with her ex-flame, Brad. She gave an impressive performance, which made the show a hit. Her co-stars also did their bit as well. So, let us see how they measure up in height.
Sarah Shahi's Height vs. Adam Demos's Height
Adam Demos plays Billie's ex-boyfriend, who zooms back into her life in Sex/Life. The Australian actor is also Shahi's boyfriend in real life, and they fell in love while on set. Demos is 6 feet 1 or 1.85 m tall, which makes him 10 inches taller than Sarah. This is nearly a foot, and the gap is quite obvious when the couple are side by side.
Sarah Shahi's Height vs. Mike Vogel's Height
Mike Vogel is a former model turned actor, just like Sarah Shahi. He plays the role of her dependent albeit boring husband, Cooper Connelly, on Sex/Life. Vogel is 5 feet 9 inches or 1.75 m tall. This means that Sarah is six inches shorter than him.
Sarah Shahi's Height vs. Margaret Odette's Height
The Haitian-American actress plays the role of Billie's best pal on Sex/Life. She is a single college professor and is convinced that Billie has it good with the kind of life she is living. Odette is 5 feet 7 inches or 1.7 m tall, which means she is four inches taller than Sarah Shahi.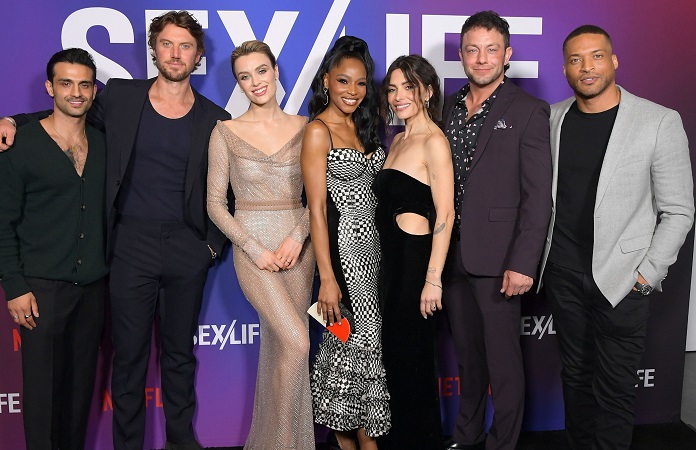 A Look at Sarah Shahi's Weight and Other Body Measurements
Sara Shahi weighs an estimated 53 kg or 110 lbs. Her other body measurements are chest – 34 inches, waist – 24 inches, and hips – 34 inches. The actress has an ectomorph body type. She is quite lean and finds it hard to gain weight, except when pregnant. She has, therefore, maintained a regular workout routine and also indulged in specific diet plans, all in a bid to build up muscles and look toned and sexy.
Sarah ShahiWorkout Focuses on Weight Training and Cardio
As pointed out above, Sarah Shahi has maintained regular workout routines even since she joined showbiz. For instance, back in 2012, she revealed that she does intermediate workouts that prioritize her biceps, forearms, chest, shoulders, laterals, thighs, triceps, calves, and hamstrings. Her exercises of choice included dumbbell curls, jump ropes, squats, crunches, and lunges, and she made sure not to take much rest between each move but rather forge on.
Shahi took a breather from regular workouts while pregnant with her twins, but after welcoming them in 2015, she got back into the mix. She worked with a personal trainer named Phil Catudal, and they began a weight training and cardio regimen. She did weight training three times each week for one hour each.
Her cardio regimen was also for three times a week and featured workouts such as cardio kickboxing, high-intensity interval training classes, and walk-to-sprint treadmill sessions. All this helped her build lean muscles and contributed to her overall allure.
Sarah Shahi also worked hard on her body for Sex/Life, given the raunchy scenes she had to film. She took to running regularly. She also embarked on weight resistance training with a personal trainer, and all this meant that she was able to show off a sexy figure on the set of Sex/Life.
It was quite a vulnerable thing to do, but Shahi was pleased by the fact that the show was realistic and didn't bow to ridiculous Hollywood standards. For instance, they showcased her stretch marks from childbirth. They also showcased her non-perky boobs, which are all quite normal for a middle-aged lady who has had multiple kids.
The Actress Favors a High Protein and a Low Carb Diet
Sarah Shahi has regularly dieted in order to complement her workout regimen and achieve her dream body. In 2022, Sarah Shahi embarked on a strict diet of fish, chicken, and vegetables to get in shape for filming the second season of Sex/Life. Fishes and chicken are rich in protein, and this helped the actress achieve her body goals.
Also back in 2015, while working on her post-baby bod, Sarah Shahi embarked on a high protein, medium carb, and medium fat diet. Her diet each day consisted of 50% protein, 25% carbs, and 25% fat for a total of 1800 calories. She stuck to her diet plan five days each week and then got two days in which she was free to indulge in things such as ice cream and cocktails. All this helped her build lean muscles.