Alex Morgan is an American professional soccer player who plays for the San Diego Wave FC of the National Women's Soccer League and the United States national team. She is married to Servando Carrasco, an American soccer player who plays as a defensive midfielder for the Fort Lauderdale CF. They tied the knot in 2014 and welcomed a daughter named Charlie Elena Carrasco in May 2020.
Alex Morgan currently has an estimated net worth of $3 million, according to Celebrity Net Worth, and a greater part of this figure is from her numerous endorsement deals. Her annual salary is estimated to be around $450,000. However, earnings from endorsements bring her annual earnings to about $1 million.
Alex Morgan began playing professionally after the Western New York Flash drafted her during the 2011 Women's Professional Soccer (WPS) draft. She played for five other teams between 2012 and 2021 and currently plays for the San Diego Wave FC. She is also part of the team that represents the United States in international women's soccer and has served as a co-captain of the United States women's national soccer team for two years, from 2018 to 2020.
Away from the field, Alex Morgan also has a lot going on. From book writing to acting to modeling to being an ambassador for different brands, the professional soccer player is obviously good at many things. Thanks to that, she can still have a comfortable life if she decides to quit soccer now.
Alex Morgan Bio and Profile Summary
Full Name: Alexandra Morgan Carrasco (born Alexandra Patricia Morgan)
Nickname: Alex, Baby Horse
Date of Birth: July 2, 1989
Age: 34 Years Old
Zodiac Sign: Cancer
Place of Birth: San Dimas, California, United States
Nationality: American
Height: 5 ft 7 in (1.70 m)
Weight: 62 kg
Other Body Measurements: Bust – 34 inches, Waist – 24 inches, Hips – 35 inches
Hair Color: Dark Brown
Eye Color: Blue
Father: Michael T. Morgan
Mother: Pamela S. Morgan
Siblings: Jeni Morgan (Older Sister), Jeri Morgan (Older Sister)
Husband: Servando Carrasco (2014-Present)
Children: Charlie Elena Carrasco (born on May 7, 2020)
Education: Diamond Bar High School in California, University of California, Berkeley
Occupation: Professional Soccer Player
Net Worth: $3 million
Alex Morgan's Childhood and Career Journey
The star athlete was born Alexandra Patricia Morgan but now goes by Alexandra Morgan Carrasco following her marriage to soccer player Servando Carrasco. The daughter of Pamela and Michael Morgan, Alexandra was born in San Dimas, a city in the San Gabriel Valley of Los Angeles County, California, United States, on July 2, 1989.
She was raised by her parents in the eastern Los Angeles County of Diamond Bar alongside her two older sisters named Jeni and Jeri. As a child, Alex was very athletic and played different sports. As a little girl of 7, she wrote a letter to her mother, telling her of her dream to become a professional soccer player.
Speaking of the incident, she explained in an article she wrote for The Players' Tribune that one day, she went into her mom's home office with her older sister. Her sister found a yellow sticky pad and wrote their mom a note saying that she wanted to be a model when she grew up. Afterward, Alex was inspired and also wrote her own note "I am going to be a professional athlete for soccer! Love always, Ali Cat."
According to her, she still does not know why she penned what she did as she had never watched a women's soccer match on television, never knew there was a professional league, and never knew that there was anything like women's soccer beyond playing for fun. But that note turned out to be a foretelling of a future she never knew she could have at that age.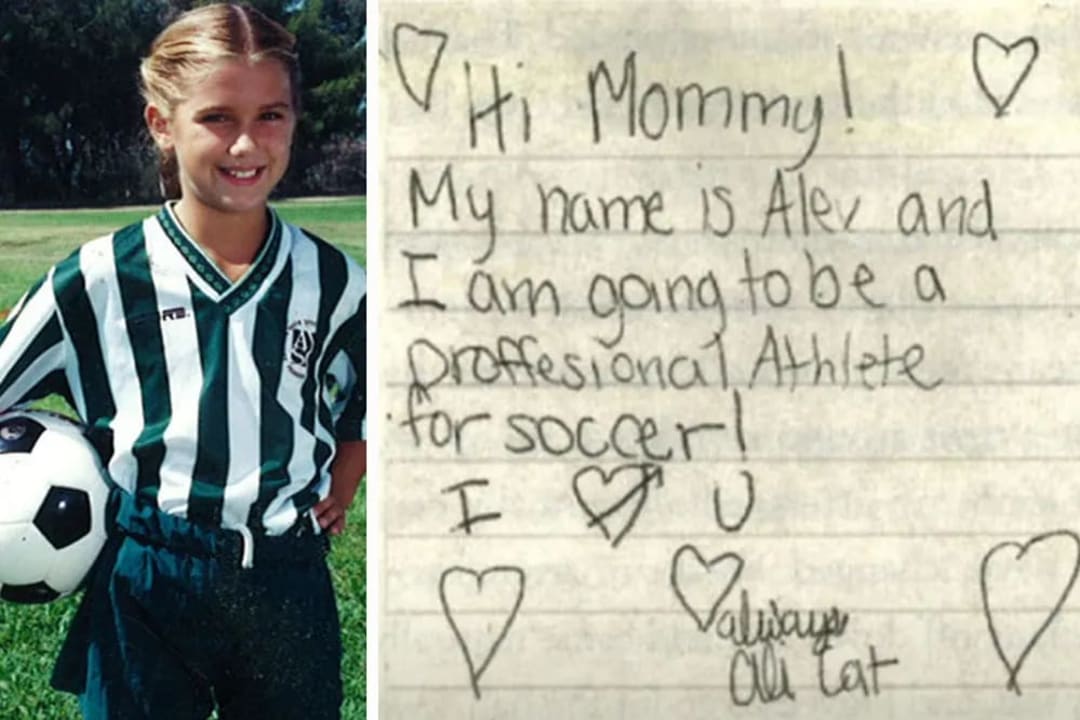 Three years after she wrote the note, Alex Morgan was playing tetherball and kickball with the boys in school, near her Diamond Bar home, and she was defeating them. By the time she started playing rec soccer, the physical difference between her and the boys was not much.
As a result, she never experienced the pressures of being expected to dress or look a certain way like other girls her age. At the age of 10, she was a tomboy who was enjoying herself, playing the sport she loves, dressing the way she wanted…with no fashion sense, and she loved getting dirty on the field.
Years After The Note, Alex Was Still On The Path To Becoming A Soccer Star With The Full Support Of Her Family
As a result of her inclination toward sports, Alex Morgan started playing very early with the American Youth Soccer Organization (AYSO), among her strongest support system was her family, especially her dad, who was also one of her first coaches. Meanwhile, her father was more of a baseball guy but his daughter got involved with soccer, he also helped her in every possible way he could.
He even surprised her with a pair of cleats worth $320. Michael was so dedicated to seeing his daughter succeed that even when his construction business was going through a financial crisis, he still took it upon himself to pick Alex up from school a couple of times a week and drive her to soccer practice. According to Alex, "He had no clue about soccer, but he was so present."
Michael did not only take Alex to train but he also drove all over the city to pick up other girls that needed a ride in order for the team to have a complete number of players needed, the soccer star revealed in The Player's Tribune. At the age of 14/15, she wanted to get a college scholarship and that meant she had to play with the best youth teams, at the best tournaments. It also meant that she had to go out of the state a lot and thanks to her parents, she was able to make it.
Her parents had to sacrifice a lot of their time, including their vacation time, just to take her to these tournaments, which usually lasted for 4 days, even though they didn't enjoy being there. At this point, Alex Morgan's dad had seen the sticky note she wrote and was ready to make her dream come true.
From Playing For Fun To Playing Organized Soccer
She eventually began transitioning into the club scene at the age of 12/13 after the AYSO season. She tried for a club but couldn't make it into the team, however, she was able to practice with them. Her experience with the team was not a wonderful one as the coach made things difficult for her because he believed she was not good enough and would not make it in the industry, and he told her so.
Alex was hit hard by the negative words of the coach but thanks to her father, she dusted herself and moved on. The following year, at the age of 14, she joined her first club team- the Cypress Elite. Being part of the team and with the support of a coach who had faith in her, Alex blossomed. She played at the Coast Soccer League (CSL) under-16 championship and won.
She also took the 3rd position at the CSL under-19 level and made the U-17 national team. Additionally, she got a chance to play in the regional and state teams of the Olympic Development Program (ODP). Morgan later revealed that her experience in the program was a fundamental part of her development as a soccer player.
According to her, programs such as ODP helped her particularly because she did not join the club scene early and it was important that she played as much as possible, and not just play but play with the best players and gain more knowledge from the best coaches. On getting to this point in her career, it began to dawn on Alex that the note she had written to her mother in ignorance was actually going to become a reality.
Alex Never Abandoned Her Education
As Alex Morgan chased her soccer dream, she also paid attention to her education. As a student of Diamond Bar High School, she played volleyball, ran track, and also played soccer, and was popular for both her speed and her ability to sprint. In a 2011 interview with Emily Cohen of SoccerAmerica, the athlete said that track was something she did for fun but she was very much committed to volleyball in her freshman and sophomore years.
At that time, her high school volleyball was in the same season as club soccer. As a result, she was forced to choose one sport because she was either missing high school volleyball practice or club soccer practice so she chose soccer after her sophomore year. She was an all-league pick at three different times and was named All-American by the National Soccer Coaches Association of America (NSCAA).
At the age of 17, she joined the United States under-20 women's national soccer team but an ACL injury disrupted her activities on the team, resulting in her not playing until April 2008. After she graduated from high school, Alex Morgan continued her studies at the University of California, Berkeley, where she played college soccer for the UC Berkeley female soccer team from 2007 to 2010.
As a result of her commitments to the U.S. national team all through her collegiate career, she was absent at several of the team's games but that notwithstanding, Morgan led the California Golden Bears in scoring and helped them make it to the NCAA Tournament four consecutive years, moving on to the second round two times. During her junior year, Alex was one of the people selected for the Hermann Trophy.
She ended up being among the top three finalists for the award and this made her the first Golden Bear to make it that far. The soccer star was also named a candidate for Honda Sports Award, which is given to the best overall candidate in each sport, and she was among the four finalists. By the end of her college career, Morgan had scored 45 goals and recorded 106 points. She graduated from the university a semester early with a Political Economy degree.
The Soccer Goddess Began Her Professional Career In 2011
Alex Morgan's childhood dream of becoming a professional soccer player eventually became a reality when the Western New York Flash drafted her on January 14, 2011, as the first overall pick in that year's WPS draft. In the same year, she played in 14 matches, scored 4 goals, and helped her club to win both the regular-season title and the WPS Championship title.
Sadly, the WPS got entangled in some financial and legal issues and suspended operations in 2012. After that, Alex got signed to the Seattle Sounders Women for the 2012 season and was able to make only three regular-season appearances for the team as a result of her commitment to the national team also because she was preparing for the  2012 Summer Olympics.
On the 11th of January 2013, Alex and two other U.S. national team players joined the Portland Thorns FC for the inaugural season of the National Women's Soccer League through the  National Women's Soccer League Player Allocation. By the end of the regular season, she led the team in points and had the highest goal and assists score alongside Christine Sinclair. On August 28, 2013, Alex was named to the National Women's Soccer League Second XI.
However, she returned to the Portland Thorns FC to participate in the 2014 season, appearing in 15 matches and scoring a total of six goals. The following season, she played in only four matches as she spent more of her time with the national team following the 2015 FIFA Women's World Cup. On October 26th, 2015, news came that Alex was going over to the Orlando Pride as a result of a trade transaction. She made 15 appearances for the team during the 2016 season and scored four goals.
In January of the next year, the star soccer player continued her career with the French team Olympique Lyonnais (Lyon), playing her first  2016–17 Division 1 Féminine match on January 14. On May 7, she helped the team retain its league champions title for the 9th year in a row by scoring a brace in the match against ASJ Soyaux.
Before then, she also helped Lyon progress to the semi-finals of the French Cup, which the team eventually won on May 19. On March 23, Alex Morgan made her first appearance at the 2016–17 UEFA Women's Champions League and later started in the league final on June 1 but unfortunately, she sustained a hamstring injury that wouldn't let her finish the match. Thankfully, her team still won.
After the Champions League ended, the Pride announced on June 21, 2017, that Alex had been added to their 2017 active roster. When she was fully recovered from her hamstring injury, she began playing for Orlando on July 1st and eventually appeared in 14 games that season, scoring 9 goals in all. Subsequently, she played with the team in their very first NWSL playoff match on October 7 and by the end of the season, Alex was named to the NWSL 2017 Second XI.
For the 2018 season, she chose to remain with the Orlando Pride, terminating her contract with Lyon, which gave her an option of returning in 2018. In the 2019 season, Alex Morgan played in only nine matches for Orlando as she spent a major part of the season on the World Cup and other international assignments before ending the season with an injury. In October 2019, she announced that she was expecting, eventually putting to bed in May 2020.
As a result, she never returned to training with the Orlando Pride until early September 2020. A few weeks into September, Alex signed a contract with English women's football club Tottenham Hotspur to play for them from September to December 2020 with an option of an extension through the end of the 2020–21 FA Women's Soccer League season in May 2021.
She eventually played her first match with the Spurs on November 7, 2020, and played four more matches before the team announced the end of her contract on December 21. Meanwhile, Orlando retained Alex Morgan's NWSL rights all the while and as a result, she returned to the Pride at the expiration of her deal with Tottenham Hotspur, ahead of the 2021 season.
International Career
On the international scene, Alex Morgan made her first appearance for the United States under-20 women's national soccer team during the CONCACAF Women's U-20 Championship that took place in Puebla, Mexico, in 2008. Afterward, she was named to the team that represented the country at the FIFA U-20 Women's World Cup that was held in Chile in 2008.
Due to her amazing performance, she was given the Bronze Shoe, being the third-highest goal scorer of the tournament. She also earned the Silver Ball for being the second-best player in the tournament.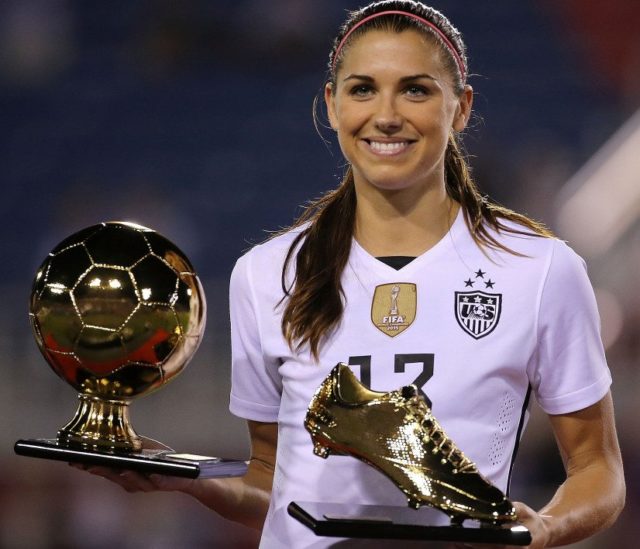 Capped by the senior national team, Alex scored her first international goal in March 2010 when she appeared as a substitute in the match against China. She later scored her major goal to date a month after when she entered the road match against Italy in the 86th minute and scored four minutes into the added time.
This gave America a 1–0 victory over Italy in the first match of a playoff that'll determine who will take the final spot for the Women's World Cup. Since then, Alex Morgan has remained a popular figure in the U.S. female soccer industry and has played in several international matches, such as the 2011, 2015, and 2019 FIFA Women's World Cups.
She also participated in the 2012 London Olympics, 2016 Rio Olympics, and 2013 Algarve Cup among others. For her spectacular exhibition of talent and skill on the field, Alex has received numerous awards and honors, including 8 at the club level, 18 at the international level, and more than 45 individual honors and awards.
The Super-Star Soccer Player Is A Wife To Servando Carrasco 
Meeting Her Future Husband
In addition to her flourishing career, Alex Morgan also has a flourishing, stable love life. Since soccer is a very big part of her life, it is in no way shocking that she ended up falling in love with a man who is also deeply involved in the same sport- Servando Carrasco, a defensive midfielder for Fort Lauderdale CF.
Although they are both professional soccer players now and big names in the world of sports, their love story began long before the world ever knew their names. Alex and Servando first met and started dating during their junior year at the University of California, Berkeley.
Like Alex, Servando also represented the Golden Bears and was a co-captain in his senior year. In 2011, he went pro. after he was drafted by the Seattle Sounders while Alex was drafted by the Western New York Flash in the same year. Even though their professional careers flung them to different parts of the country, their love never waned.
They Tied The Knot In January 2014
After almost six years of dating, Servando proposed to Alex in December 2013. Speaking to The Knot, Alex narrated how Servando popped the question saying that during the off-season in December 2013, they spent time in Manhattan Beach, California, and while there, they attended fireworks show that holds every year.
Unknown to Alex, her boyfriend had planned to pop the question that night, so he simply asked her to stand up, and asked her to be his wife. She said yes, of course. Although they had talked about the kind of engagement ring Alex wanted prior to the proposal, she told the outlet that she didn't really have any specific style in mind, however, Servando got her a custom-designed piece.
To mark their engagement, the duo rode their beach cruisers to Alex's father's house to celebrate with their family and friends. Very shortly after, precisely on New Year's Eve in 2014, the love birds got married at Rancho Dos Pueblos in Santa Barbara. The wedding, which was an intimate one, was attended by 180 guests, including almost all members of the United States women's national team.
Alex spoke to People after the event and expressed how happy, grateful, and excited she and her husband were to begin their lives as Mr. and Mrs. Carrasco. "I truly married my best friend," she added.
Life After The Big Day
After the soccer power couple tied the knot, their careers continued to go prosper. For a while, they were fortunate to play in Orlando after Servando was traded to Orlando City SC on July 20, 2015 (Alex played for Orlando Pride). He remained with the team until the end of the 2017 season when Orlando City declined his contract option, prompting him to enter the 2017 MLS Re-Entry Draft and was drafted by Los Angeles Galaxy.
While being far apart in Orlando and Los Angeles was hard for the young family, the athletes understood it was a sacrifice they needed to make for their careers. In a 2018 interview with Pro Soccer USA, Servando acknowledged that it was not ideal for a man to be that far from his wife.
However, he noted that it was only temporary as they were only going to play professional soccer for a few more years. As a result, he said, "We've got to take advantage of this, and know that when we're done playing, we're going to be together." Now, while Alex is still with the Orlando Pride, her husband plays in Fort Lauderdale.
Alex Is Also A Mother
Alex Morgan and her husband welcomed their first child, a daughter, on May 7, 2020. Named Charlie Elena Carrasco, the baby girl was born at 11:30 a.m and she weighed 8 pounds, 5 ounces. Alex and her husband had announced their daughter's pregnancy in October 2019, saying she would be born in April, however, little Miss Morgan had other plans.
Other Interesting Facts About Alex Morgan
What is Alex Morgan's Net Worth?
She currently has an estimated net worth of $3 million, according to Celebrity Net Worth, and a greater part of this figure is from her numerous endorsement deals.
How Much is Alex Morgan's Salary?
Alex Morgan has an annual base salary of around $450,000. However, her earnings from endorsements deals bring her annual earnings to about $1 million.
Who is Alex Morgan's Husband?
Alex Morgan's husband is Servando Carrasco, an American soccer player who plays as a defensive midfielder for the Fort Lauderdale CF. The couple tied the knot in 2014.
What is Alex Morgan's Age?
Alex Morgan is 34 years old. She was born on July 2, 1989, in San Dimas, a city in the San Gabriel Valley of Los Angeles County, California, United States.
How Tall is Alex Morgan?
Alex stands 5 feet 7 inches tall, equivalent to 1.70 meters. She weighs 60kg (132 lbs) and has body measurements of 34-28-36 inches.
How Many Kids Does Alex Morgan Have?
Alex Morgan has one child, a daughter named Charlie Elena Carrasco. Charlie was born on May 7, 2020.