Alessandra Gucci is the oldest daughter of Maurizio Gucci, a former Italian businessman who was once the head of the Gucci fashion house. The Italian businessman had Alessandra with his ex-wife, Patrizia Reggiani. Meanwhile, Alessandra Gucci is an Italian fashion designer and entrepreneur born on June 28, 1976, and is currently 47 years old.
Alessandra Gucci has joined the trend of those who rose to the limelight for being born into an influential family. Being a member of the Gucci family has successfully thrust her into the spotlight. As much as she stays away from the limelight, all that there is to be known about her has been explored in this article.
Summary of Alessandra Gucci's Biography
Full name: Alessandra Gucci
Gender: Female
Date of birth: June 28, 1976
Alessandra Gucci's Age: 47 years old
Ethnicity: White
Nationality: Italian-American
Zodiac Sign: Cancer
Sexual Orientation: Straight
Religion: Christianity
Marital Status: Married
Alessandra Gucci's Husband: Federico
Alessandra Gucci's Children: 1
Alessandra Gucci's Parents: Maurizio Gucci and Patrizia Reggiani
Siblings: Allegra Gucci
Alessandra Gucci's Height in Inches: 5'8 inches
Alessandra Gucci's Height in Centimetres: 173 cm
Alessandra Gucci's Weight: 53 kg
Alessandra Gucci's Net worth: $400 million
Famous for: being the oldest daughter of Maurizio Gucci
How Old Is Alessandra Gucci?
Alessandra Gucci is currently 47 years old. She was born on June 28, 1976, in New York City, the United States, to Maurizio Gucci and his ex-wife, Patrizia Reggiani. The first daughter of Maurizio Gucci has dual citizenship, Italian and American. Alessandra Gucci, who is of white ancestry, was born under the Cancer birth sign and was raised in a Christian home.
Meanwhile, she spent most of her early years in the United States before moving to Milan with her family. She grew up alongside her younger sister under the care of her parents before they were caught up in the family drama.
As much as Alessandra Gucci has gained fame for being a member of the Guccis, much is not known about her education. Based on this, there are no records of her early education, but she attended a prestigious university. She reportedly earned a degree in Business Administration from Stanford Graduate School of Business.
The Italian Designer Has a Younger Sister
As stated earlier, Alessandra Gucci has a younger sister known as Allegra Gucci, born on January 27, 1981, in New York, United States. She is an Italian and American born under the Aquarius birth sign and is of white descent. Just like her sister, she spent part of her life in the United States and then in Milan with her family.
Details about the schools that Allegra attended for her elementary and high school education are not known; however, she graduated with a degree in law from Milan University. According to reports, she was motivated to study law in order to defend her mother after she was sentenced.
She maintains a close relationship with her sister and often shows her support for her. Allegre also maintained a good relationship with her mother and visited her in prison with Alessandra Gucci, but they later cut ties with her after she confessed to killing their father.
At the moment, Alessandra Gucci's younger sister is not just a lawyer but also an author. She authored a book titled Fine Dei Giochi in response to the documentary House of Gucci, which she did not find pleasing.
What Happened To Alessandra Gucci?
Alessandra Gucci was raised in a loving home, but things took a turn shortly after her father moved on to another relationship. Her father walked out on them in 1989 because he was having an affair with Sheree McLaughlin. Further reasons revealed that Guccio Gucci, Alessandra Gucci's grandfather, did not like Patrizia Reggiani, as he saw her as a gold digger who spent lavishly.
Meanwhile, many attributed the failed marriage to Patrizia's unsupportive nature towards her husband. It was revealed that Maurizio went on a business trip and informed his wife that he was done with the marriage. The divorce was eventually finalized in 1994 when Alessandra Gucci was 18 years old. Owing to the fact that her mother took custody of her and her sister, her father paid $1.5 million annually as alimony.
After the divorce, Maurizio Gucci moved on with his love life while Patrizia bore grudges against him. While her husband planned his marriage to Paola Franchi, his childhood friend, Patrizia, had other plans. This was because she received permission from the court to continue bearing Gucci and could not stand another woman taking up her name, and also did not want her alimony to be cut off.
In a bid to maintain her status, she met with Ivano Savioni, a hotelier who connected her to Benedetto, who was wallowing in debt to assassinate Maurizio Gucci. Benedetto further contacted Orazio Cicala to carry out the hit, and they were paid 6 million lire for the job. On March 27, 1995, Maurizio was shot while walking up the stairs of his private office in Milan.
Meanwhile, at the time that her father died, Alessandra Gucci was 19 years old. To date, she still honors her father by sailing with her sister on the yacht that they inherited from their father, known as Avel and Carole.
Who Raised Alessandra Gucci?
After the death of Alessandra Gucci's father, investigations were carried out, and two years later, all the culprits were apprehended. Their mother was among those that were apprehended and was sentenced to 29 years in prison, which was later reduced to 26 years. Throughout the years that their mother was incarcerated, Alessandra Gucci and her sister lived with their grandmother, Silvana Barbieri.
However, it was not long before they began to have issues with their grandmother, as she diverted money from their personal accounts. Allegra claimed that she later realized that their grandmother cared all about wealth and power, thus manipulating them to get money. Meanwhile, it was not disclosed if they moved out after they realized that Silvana was diverting their money.
Does Alessandra Gucci Have a Husband?
Alessandra Gucci is happily married to a man named Federico. Meanwhile, apart from his name, nothing is known about him, as he rarely makes appearances.
Further details about their relationship have remained off-record. Consequent to this, when they met and how long they dated were not revealed. Details of when they tied the knot are not known, and as such, how long they have been married cannot be determined. However, it is assumed that they are still married, as there is no news of any marital scandals.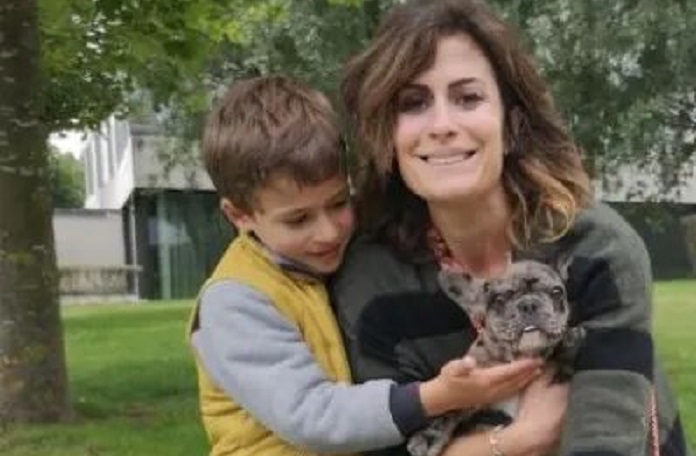 Does Alessandra Gucci Have Children?
Alessandra Gucci has a son whom she has successfully kept away from the limelight. Though some of his pictures with his mother are seen on the internet, nothing is known about him. This includes his name, where he was born, and how old he is at the moment. Further details about the names and locations of the schools that he attends are not known, but with his mother's net worth, he will get the best education.
What Is Maurizio Gucci's Daughter's Occupation?
Alessandra Gucci is an entrepreneur and fashion designer who has achieved great feats. Meanwhile, as a member of the Gucci family, many looked up to her to continue with the family's business, but she proved otherwise. She owns a premium label known as AG, where she designs handbags.
In 2008, she launched The First, a limited-edited collection with 99 handbags produced and 11 made in each style. She used the collection to pay respect to her father and grandfather, as she named the bags after them. Her collections can be gotten in Milan, Lugano, Moscow, Paris, and St. Moritz.
Alessandra Gucci is steadily climbing the success ladder in her business, which she established in 2008. So far, though her bags are not as popular as those of her grandfather's brand, she is recording enormous success in their sales.
What is Alessandra Gucci's Net Worth?
Alessandra Gucci and her sister, Allegra Gucci, are jointly estimated to be worth about $400 million. They inherited much of their fortune from their late dad. Aside from the cash, they also inherited other properties that are quite valuable, including their father's yacht, Avel and Carole, and numerous real estate properties.
Their father had houses in New York, Milan, and Saint Moritz. They once put up one of their father's apartments on the 50th and 51st floors of the Olympic Tower in Manhattan, New York, for sale for $45 million in 2015. Aside from her inheritance, her flourishing fashion line also rakes in cash to her account.
Where Is Alessandra Gucci Today? Is She Still Alive?
Alessandra Gucci is very much alive and healthy; she lives in Switzerland with her husband and child. Though she has been thrust into the limelight for being part of an influential family, she maintains a low profile.