Rhett Hartzog is the ex-husband of Andie MacDowell, an iconic American actress. The couple got married in 2001 and were together for three years before getting a divorce in 2004. Rhett is currently 65 years old and earns a living as a businessman.
Despite his evident success as a businessman, Rhett Hartzog's claim to fame is directly linked to his previous, albeit relatively short marriage to the American actress. The former couple were only married for three years but those years were enough for us to learn quite a bit about Rhett.
Summary of Rhett Hartzog's Bio
Full name: Rhett DeCamp Hartzog
Gender: Male
Date of birth: April 21, 1958
Place of birth: Houston, Texas, United States
Rhett Hartzog's Age: 65 years old
Ethnicity: Caucasian
Nationality: American
Zodiac Sign: Taurus
Sexual Orientation: Straight
Religion: Christianity
Marital Status: Divorced
Rhett Hartzog's Ex-Wife: Andie MacDowell
Hair color: Dark Brown
Eye color: Brown
Education: Gaffney High School
Profession: Jewellery Entrepreneur
Famous for: Being Andie MacDowell's ex-husband
How Old is Rhett Hartzog?
Rhett Hartzog is 65 years old as of 2023. He was born Rhett DeCamp Hartzog on April 21, 1958, in Houston, Texas, United States. His birth sign is Taurus and he is an American citizen by birth and also of the Caucasian ethnicity.
Not much information is available about his birth family, especially regarding his parents, and any other siblings he may have. Even though it has not been explicitly stated by anyone, Rhett Hartzog's family must have moved to Gaffney, South Carolina at some point after he was born because more than a few sources claim that he grew up there.
The merit of that assertion is further reinforced by the fact that he received his high school diploma from Gaffney High School. However, that is all there is to know about the details of his formal educational background even though the celebrity spouse seems quite formally well-educated.
How Did Rhett Become Andie MacDowell's Spouse?
Rhett Hartzog became Andie MacDowell's spouse through a reunion that was arranged by Andie's sister in 1999. Rhett and the actress went to the same high school and the reunion led to a marriage that took place about two years later.
Rhett and the actress reunited in the summer of 1999. Interestingly, they were former high school classmates. After reconnecting, their friendship blossomed into a romantic relationship. The couple's shared history and mutual understanding most likely played a role in strengthening their bond.
Their relationship deepened, and they eventually decided to take it to the next level. On November 10, 2001, Rhett Hartzog became Andie MacDowell's second husband. The exact details of their wedding ceremony have yet to be revealed. However, it can be inferred that their love and commitment led them to take this step.
It is worth noting that Andie MacDowell had previous marital experience, having divorced her first husband, Paul Qualley, in 1999 after 13 years. This suggests that Andie and Rhett's relationship developed almost immediately after her divorce. Their decision to get married about two years later indicated a strong connection and the desire to build a future together.
Rhett Hartzog's successful career as a jewelry entrepreneur may have also played a role in their relationship. His entrepreneurial spirit and achievements could have been attractive qualities to Andie, adding to their compatibility.
Ultimately though, their love and commitment led them to become husband and wife, embarking on a new chapter of their lives together.
What Happened To Andie Macdowell and Rhett Hartzog's Marriage?
Unfortunately, and despite the promise of new beginnings for both Rhett Hartzog and Andie MacDowell, the businessman's marriage to the actress ended in divorce just three years later in 2004. The reason for their divorce has yet to become public knowledge.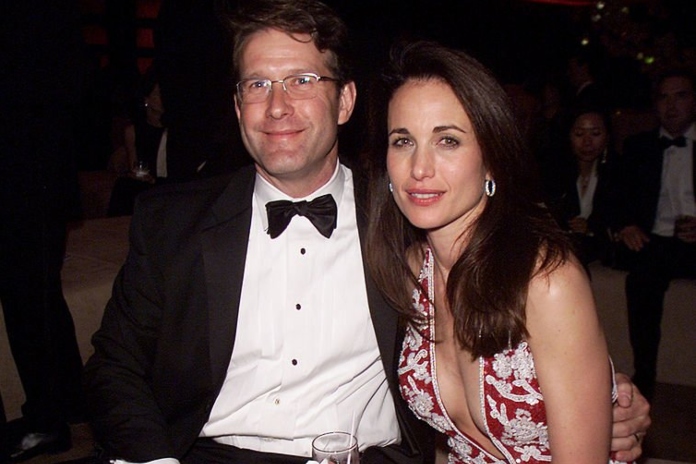 While the dynamics of the marriage remain unclear, several sources have revealed that it was Andie who filed for divorce from the businessman, ending three years of their union as a married couple. The split was described as painful and private, with no other details given. It is also quite crucial to establish the fact that Rhett and Andie have no children together.
Andie, on the other hand, has three children: Justin, Rainey, and Margaret, from her 13-year-long marriage to her ex-husband Paul Qualley. Justin is a model, while Rainey and Margaret have pursued careers in the entertainment industry, appearing in television shows and films as actresses, even though, MacDowell expressed her concerns about her daughters becoming actresses. Rainey also has a music career under the stage name Rainsford.
It is unclear what kind of relationship Rhett Hartzog had with MacDowell's children, but we know that during her marriage to Qualley, she grew frustrated with rural living and wanted to be closer to her family.
This led to their move to South Carolina, where they raised their children. Although MacDowell and Qualley eventually divorced due to their differences and incompatibilities, they likely maintained a cordial relationship for the sake of their children.
Did Rhett Hartzog Have an Accident?
There is no credible information to prove that Rhett Hartzog, Andie MacDowell's ex-husband, was involved in an accident or that he has died. The rumors about the businessman's alleged death originated from misinformation and speculation disseminated by as-yet-unknown sources.
His connection to a celebrity like MacDowell may have contributed to the spread of these rumors. Nevertheless, no concrete evidence was provided to support these rumors.
Rhett Hartzog's Net Worth
The information about Rhett Hartzog's current net worth is unavailable for media or public perusal at the moment. Given his entrepreneurial endeavor, however, one would not be far off in guessing that it is a quite substantial figure.
For emphasis, Andie MacDowell's ex-husband is an Atlanta-based jewelry businessman. The scope of his business endeavors as well as the level of success he has achieved over the years is something he has yet to share with the media or the public.
Conversely, his quite successful ex-wife, Andie MacDowell, has a net worth estimated in 2023 to be around $20 million. She accumulated most of that impressive figure through her career endeavors as an actress and former fashion model.
As an actress Hartzog's ex-wife is known for starring in romantic comedies and dramas like Four Weddings and a Funeral (1994), Beauty Shop (2005), Love After Love (2017), and The Maid (2021). She notably starred alongside her daughter Margaret Qualley in the latter.