Vanessa Williams' parents are Helen Williams (nee Tinch) and Milton Augustine. The couple met in the later part of the 1950s when they were both attending college as music students.
Vanessa Williams' parents reportedly dated for a few days before going to tie the marriage knot in 1960. The couple lived in marital bliss without any drama until Milton's death in 2006. They have two children to show for their years together as husband and wife.
Vanessa Williams' Parents' Ethnicity
Vanessa Williams' family has always been tagged as people of African-American descent, though they have both African and European heritage. Their daughter's lineage sparked a lot of controversy in the past as she has light skin, blue eyes, and straight hair yet identifies as an Afro-American.
This debate about her lineage reached a zenith point after she emerged as the first African-American lady to win Miss America in 1983. In fact, people googled her origin millions of times as many deemed her as "not black enough." This curiosity about Vanessa also brought her parents' origin to play.
In recent times, the ex-beauty queen took to her Instagram handle to share a monochrome picture of Milton and Helen that showed they were truly of Black American roots, though they also have fair skin.
In 2013, Vanessa Williams conducted a DNA analysis on herself, revealing multiple gene combinations from Ghana, Cameron, Senegal, Togo, Portugal, the British Isles, and Southern Europe. The gene pool coming from the African continent was way above 50 percent, making it higher than the one she got from Europe.
The reason Milton and Helen were classified as Blacks was that the slave trade era made many be classified as Blacks even if you have one drop of Black blood in your gene pool. Thus, when Vanessa started identifying herself as a Black American, it raised a lot of questions, which was considered to be rather ironic. After all, during her formative years, the ex-beauty queen was regularly bullied and tarred with the N-word.
Vanessa Williams Parents's Nationality
With Milton Augustine Williams Jr.. born in Oyster Bay, New York, in the United States, and his wife, Helen L. Tinch, born in Oak Ridge, Anderson County, Tennessee, it is glaring that they are both citizens of America. The duo was not just born in the US, they also spent all their lives in the country
Milton and Helen Got Married in 1960
It was while Vanessa Williams' parents were studying music at Fredonia State Teachers College that they first crossed paths in the latter part of the 1950s. the duo dated for a while before going on to exchange wedding vows in 1960. With respect to their marriage, Milton and Helen adopted a modern approach that gave Helen enough independence to become what she wanted to be without needing validation of any form.
When Did Vanessa Williams Parents Have Her?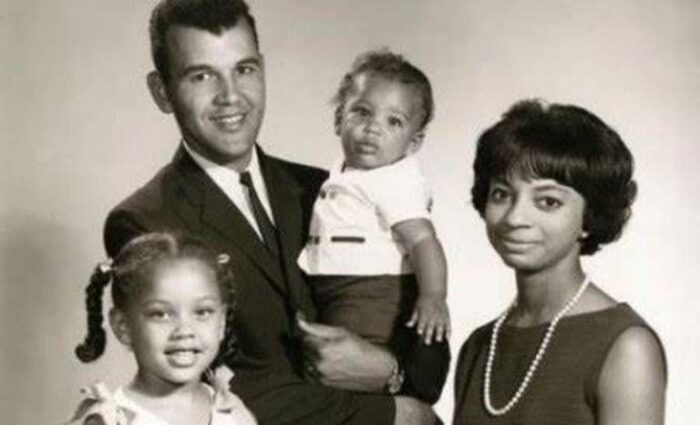 Milton and his wife, Helen, became first-time parents on the 18th of March 1963 when they welcomed the first fruit of their union, Vanessa Lynn Williams, known as Vanessa Williams for short. Vanessa was born in Tarrytown, New York, U.S.
She grew up to become a beauty pageant, actress, musician, model, producer, songwriter, TV personality, and more. In fact, she made history as the first woman of African-American descent to ever win the Miss America Beauty Pageantry.
As a movie star, Vanessa has recorded appearances on both the big and small screen and is best known for productions like Eraser, Hoodlum, Shaft (2000), Soul Food, Dance with Me, Light It Up, Bad Hair, and the series, entitled Ugly Betty.
Vanessa is not the only child born to Milton and Helen. The couple welcomed their second child and only son, Chris Williams, on the 2nd of November 1967. Just like his big sister, Chris grew up to become an actor and musician and is best known for The Great Indoors – a most-watched television series on CBS. Helen and Milton's son also has a plethora of other acting credits.
The Williams siblings are quite close. They are often spotted on social media commemorating each other's birthdays and anniversaries.
Who is Vanessa Williams' Father?
The father of Vanessa Williams was identified as Milton Augustine Williams Jr. Born on the 10th of October 1935, Milton is a native of Oyster Bay, New York, United States.
He was the son of Milton Augustine/Abner Williams (born in Tennessee) and the grandson of John Hill Williams and Mary L. Fields. While Mary was born to Elizabeth "Lizzie" Fields and William A. Fields (who worked with the Tennessee House of Representatives as a legislator), John's parents were Mollie/Molly Turner. Mary L. and George Williams.
Milton Augustine Williams Jr.'s mum was Iris Agnes Carl/Carll. Iris was born in New York to Imogene Jackson and Frank S. Carl/Carll. The parents of Frank were Mary Louisa Appleford (she was White with an English father) and David Carll. Imogene, on the other hand, was born to Emiline/Emmaline G. Russell and Henry Titus Jackson.
While attending Oyster Bay High School, Milton played the tenor saxophone. In 1957, Vanessa Williams' father graduated from Fredonia College with a BA in music education. The quest for further academic qualifications took him to Columbia University, where he bagged his Master's in the same discipline, graduating in 1959.
What was Milton's Career Career Path 
Milton Augustine Williams Jr. is listed as a music teacher cum serviceman. At the onset of his career life, he was stationed in South Korea as part of the US Army band, where he played the saxophone. Milton went on to teach music in the Millwood public school system.
During his days at the Elmsford-based Alice E. Grady Elementary School, Vanessa's dad taught music to over 10,000 children. His career as a music teacher lasted for 43 long years, and at a point in his life, he became an assistant Vice Principal – this post lasted from 1960 to 2003, when he eventually went for retirement.
Before he bowed out as a music teacher, Mr. Williams was part of the Westchester arts community as president of the Westchester County School Music Association. At a point, he joined the Westchester Baroque Choir, where he performed tenor and headed a lot of all-county music festivals. For 18 long years, he functioned as a volunteer firefighter and later became a Millwood Fire District commissioner. The Elmsford Rotary Club had him as one of its respected members, and he also got the opportunity to serve as its president.
Apart from his contributions to the public school system, Milton also played a major role in the career life of his children. He takes the credit for mentoring his daughter, Vanessa Williams, and son, Chris Williams, in music. The duo took to music at a very young age, and thanks to their dad's influence, they are both successful in their individual endeavors in the entertainment industry. Vanessa said her dad was the one who taught her how to sing and play musical instruments like piano, violin, and French horn.
Talking about their father in a touching tribute, Vanessa and Chris described him as the epitome of a good man who left a lasting impression on all that came across him. Milton, they said changed the lives of students who learned music under his tutelage.
Milton was a real gentleman all his life, and most importantly, he never leveraged the fact that he had a famous daughter to court the limelight.
Vanessa William's Dad Died at the Age of 70
Milton Augustine Williams Jr. was 70 when the talented music teacher died on the 17th of January 2006. He was hospitalized at Westchester Medical Center, 95 Grasslands Rd, White Plains, New York, United States, when he gave up the ghost. His cause of death was listed as acute pancreatic infection.
Milton was holidaying in the Bahamas with his wife when he contracted the infection and was rushed back to New York, where he was admitted into intensive care. The music veteran only lasted a couple of days before he met his demise.
Following his death, Alexander Hamilton High School held a memorial service at its premises in his honor, and it was graced by over 1k people, including students, parents, friends, colleagues, and more. At the service, the Elmsford schools superintendent, Carol Franks-Randall, described Milton as an icon, a beloved and kind man who was a mentor to all. Long after he retired from active service, Milton would return to put up performances at high school concerts.
Milton's former colleagues at the Millwood Fire Company were also part of the memorial service and honored the late icon with a bagpipe performance and home videos.
Vanessa Williams' Mother is Helen L. Tinch
Helen L. Tinch is the woman who gave birth to the legendary American entertainer Vanessa Williams. She was born on the 14th of October, 1927, in Oak Ridge, Anderson County, Tennessee. Helen, who is 96, is obviously 8 years older than her late husband, Milton Augustine Williams Jr.
Helen is the daughter of Edward James Tinch, who was born in New Jersey to Helen Elizabeth Fitzgerald and John Wilbur Tinch. While the senior Helen's parents were William Fitzgerald and Margaret, John was born to John Tinch.
Helen L. Tinch's mum was Doris Catherine Griffen/Griffin, born in New York to Elvira Viola Johnson and Moses George Wilson. Frances Duson and George Wilson gave birth to Mosses, while the parents of Elvira were Fannie/Fanny Cavel/Calvin and Waldo/Walter Johnson.
During Helen's younger days in the 1950s, it was unheard of for Blacks to consider going to college, as most children of Black origin attended technical schools. However, while attending Buffalo's East High School, she was encouraged by her teachers to give it a trial. Thus, she enlisted at SUNY Fredonia and graduated in 1960. This feat made her the first member of the Tinch family to ever attend college.
Religion-wise, Vanessa Williams' mother was brought up as a Baptist. However, Marriage to Milton led her to change from Baptist to Catholic. She had her baptism in the Bronx, precisely at Our Lady of Grace Catholic Church.
Helen is currently an octogenarian, and on her 81st birthday, her children all came out to celebrate the former music teacher in a grand style. Vanessa Williams took to her Instagram handle to share an image of her mum in an orange-colored T-shirt with large pink pants.
In the picture, Helen was bearing a tray of cakes and smiling into the camera. In the caption, Vanessa said her mum should go ahead and finish the cupcakes on the tray because it's her special day.
What did Vanessa Williams' Mom, Helen L. Tinch, Do for a Living?
Just like her late husband, Helen was also a talented music teacher, and in her later years, she joined the School of Politics as an associate professor and was part of the University of Nottingham as an IR. She is also listed as a co-author.
Vanessa's mum worked with St. Theresa's Church, Briarcliff Manor, where she played the organ at mass, weddings, and more. During those days, Vanessa would assist Helen by helping to turn the pages of her sheet music.
As an author, Helen worked with her daughter, Vanessa, in writing the book entitled, "You Have No Idea: A Famous Daughter, Her No-nonsense Mother, and How They Survived Pageants, Hollywood, Love, Loss (and Each Other)."
The book, which was published in April 2012, chronicled Vanessa's childhood, personal struggles (including her type 1 diabetes), and rise to fame. In the book, the legendary American entertainer recounted her high school days when she had an abortion and her ordeal at age 10 when a woman sexually abused her.
In 2012, mother and daughter talked to Dan Schwabel from Forbes about how they collaborated in writing the memoir.
Milton and Helen share a Great bond with their Children
Both Vanessa and Chris Williams are very close to their parents, often sharing heartwarming messages about Milton and Helen. They always mark their parents' birthdays and anniversaries via social media, and since Milton's demise, the siblings never cease to remember him on his memorials.
There was one touching Instagram message where the American movie star and musician shared a throwback image of their wedding with a sweet caption. The oldies were seen in the picture toasting with their wine glasses.
Vanessa is full of gratitude to her parents for recognizing her artistic talents from her formative years and providing her with the opportunities and resources to pursue her dreams. They allowed her to dance, sing, and attend musical theater, and according to Vanessa Williams, all these are what gave her wings to fly and attain the peak of her entertainment career early in life. She is super grateful for having that family that supported her dreams rather than the type that would say, 'get a real job'.
She also shared another throwback image of her with Milton; the picture was said to be taken as far back as 1968, and according to the entertainment giant, it stirred up sweep memories for her.
There was also a photo that showed Milton reading the daughter a book for her bedtime stories. Vanessa captioned this post, "Always in our hearts Papa."