DMX left 15 children behind when he passed away on April 9, 2021. He reportedly fathered these kids with nine different women in his lifetime. They are Xavier Simmons, Tacoma Simmons, Sean Simmons, Praise Mary Ella Simmons, Sasha Simmons, Javon Wayne-Simmons, Sonovah Hillman Jr., Jada Oden-Simmons, Aaliyah Simmons, Exodus Simmons, Emmanuel Simmons, Z'riyah Simmons, Raven Barmer-Simmons, Aidyn Simmons and K'ydn Simmons.
Meet DMX's Children 
1. Xavier Simmons
Date of Birth: December 16, 1992
Age: 30 Years Old
Mother: Tashera Simmons
Occupation: Rapper and Songwriter
Xavier Simmons is the first child of legendary rapper and actor DMX and his then-girlfriend Tashera. Born when DMX was only 21 on December 16, 1992. 30-year-old Xavier had a close but difficult relationship with his father. This was largely attributed to DMX's struggle with substance abuse and his multiple prison stints which, unlike his other children, Xavier witnessed firsthand.
He has been in the public eye since his teenage years and performed on stage with his father on numerous occasions as a child. As he grew up, Xavier's passion for music became evident and this was not surprising considering how much time he spent with his father. He followed in his father's footsteps and became a rapper and songwriter himself.
Since going into music full-time, he has released several successful mixtapes and songs that have garnered him a loyal following of fans. His talent and dedication to the craft suggest he is on the path to becoming a major player in the rap industry like his father. He also plays the guitar and is the author of Perils & Promise.
In the latter years of his life, there was an effort to mend the relationship between DMX and Xavier on an episode of Iyanla: Fix My Life which airs on the OWN Network. It did not work out.
2. Tacoma Simmons
Date of Birth: August 27, 1999
Age: 24 Years Old
Mother: Tashera Simmons
Occupation: Music Composer
Tacoma Simmons is the second child of the legendary rapper DMX and his first wife Tashera. He was born seven years after his older brother Xavier on August 27, 1999. The 24-year-old keeps a low profile well away from the limelight. He is into music unlike DMX and Xavier who are known for their rap skills and powerful stage presence, Tacoma has opted for a career in Music Composition.
He prefers to stay in the background and work behind the scenes rather than seeking fame on stage. This explains why he is much less famous than his brother despite being equally talented. His Instagram account is set to private to avoid the prying eyes of the media.
3. Sean Simmons
Date of Birth: June 10, 2002
Age: 21 Years Old
Mother: Tashera Simmons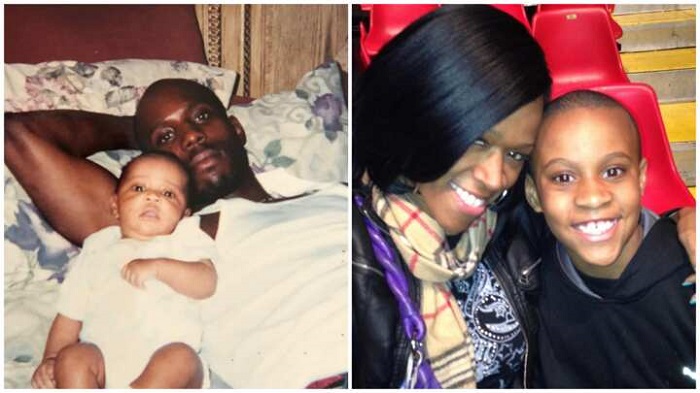 Sean Simmons is the third child of the legendary rapper DMX, born during his marriage to Tashera on June 10, 2002. He is currently 21 years old and is probably the least known of DMX's children with Tashera Simmons. He has no active social media account, hence it is not known if he is into music like his older brothers.
4. Sasha Simmons
Date of Birth: 2002
Age: 21 Years Old
Mother: Patricia Trejo
Sasha Simmons is DMX's fourth child. She was a product of an extramarital affair he had while he was married to Tashera Simmons. She was born in 2002 and is the same age as Sean Simmons.
Her Patricia Trejo is a former model who met DMX sometime in 2001 at a Modeling agency she worked for. The affair ended sometime after Sasha's birth because many years later in 2012, Trejo sued DMX for not paying child support, which came up to a million dollars. They resolved the matter shortly after.
21-year-old Sasha has made very few appearances on social media platforms, leaving much of her personal life shrouded in mystery.
5. Javon Wayne-Simmons
Date of Birth: 2004
Age: 19 Years Old
Mother: Monique Wayne
Javon Wayne Simmons is DMX's sixth child. He was born in 2004 and is currently 19 years old. His mother had a brief fling with DMX between 2002 and 2003 that ended without the rapper being aware they made a child together. Four years after his birth in 2008, a paternity squabble ensued after DMX denied being Javon's father.
The squabble was settled after a paternity test proved that he had indeed fathered Javon. However, Monique sued him for defamation of her character and his initial refusal to pay child support. DMX was ordered to pay $1.5 million to Monique but the order was vacated by another judge shortly after. Nothing is known about Javon beyond the paternity squabble, he has been well shielded from the limelight.
6. Praise Mary Ella Simmons
Date of Birth: April 18, 2005
Age: 18 Years Old
Mother: Tashera Simmons
Praise Mary Ella Simmons is DMX's fourth child with his ex-wife Tamera Simmons. She was born on April 18, 2005, and is 18 years old. Praise has maintained a private life away from the public eye and her Instagram handle is set to private.
Although there is limited information about Praise's relationship with her father during his lifetime, there have been a few instances where they were spotted together in public. After DMX's passing, Praise penned a heartfelt eulogy to her beloved dad.
7. Sonovah Hillman Jr.
Date of Birth: August 22, 2005
Age: 18 Years Old
Mother: Sonovah Hillman Sr.
Occupation: Singer
Sonovah Simmons is DMX's daughter with Sonovah Hillman Sr. She was born on August 22, 2005, and is 18 years old. Sonovah followed in her footsteps and is a talented singer and songwriter. She has a few interesting releases in her repertoire including TikTok Kid (2021), Expensive ft. Ari P (2021), and I Hate Zoom ft. Ya Girl Toodles.
At 18, there is no denying the fact that Sonovah has carved a steady part for herself beyond music. She has a unique style that is clear to see. She spots a nose ring and is very stylish. On her Instagram handle @sonovah_junior, she documents her life journey in her unique way. She is also active on TikTok. With her natural talent and dedication, it's clear that she has a bright future ahead of her in the world of music and social media influencing.
8. Z'Riyah Simmons
Date of Birth: October 5, 2008
Age: 15 Years Old
Mother: Yadira Borrego
Z'Riyah is the first child DMX had with Cuban model Yadira Borrego whom he was in a nine-year relationship, starting from when she was eighteen. Z'Riyah was born on October 5, 2008, and is 15 years old in 2023. Even though her mother shares photos and videos of her often, not much is known about Z'Riyah.
It is unclear what Z'Riyah's interests or passions are, her Instagram handle @citygirllriy_ has just three posts. She attends Barbra Goleman High School and is not on any defined career path yet but she does have the music genes. She plays the keyboard pretty decently.
9. Emmanuel Simmons
Date of Birth: July 23, 2009
Age: 14 Years Old
Mother: Yadira Borrego
Emmanuel Simmons better known by his nickname Manny, is the second child of DMX and model Yadira Borrego. Born on July 23, 2009, 14-year-old Manny read a tribute at his father's memorial service where he spoke about the close bond between them and how much he was looking forward to doing more together.
Manny is currently attending Barbra Goleman High School in the class of 2027. Unlike other DMX children, he is not into music. The young lad plays American football. Under8tedAtheletes once posted his profile, describing him as being versatile enough to excel in various positions on the football field.
10. Aaliyah Taraji Michelle Walton-Simmons
Date of Birth: May 13, 2011
Age: 12 Years Old
Mother: Shikoya Hartley
Aaliyah Taraji is DMX's daughter with Shiya Hartley. She was born on May 13, 2011, and was named after the late R&B singer Aaliyah. Her father chose this name as a tribute to his close relationship with the singer before her untimely demise. When Aaliyah Taraji was much younger, her father would take her onstage with him and they would perform together.
Sadly, DMX passed away when Taraji was just 12 years old in 2021. This loss hit her particularly hard as she and DMX had an incredibly tight bond. Despite their close relationship, not much is known about Aaliyah Taraji these days as she has chosen to stay out of the limelight.
11. Meet Exodus Simmons
Date of Birth: August 19, 2016
Age: 7 Years Old
Mother: Desiree Lindstrom
Exodus Simmons, affectionately nicknamed "Sonny" by his parents, was born to DMX and aspiring aesthetician Desiree Lindstrom. Exodus's birth on August 19, 2016, received a lot of attention due to the high-profile nature of his parents at the time. They had reportedly started dating in 2013 while DMX was still married to his ex-wife Tashera Simmons.
A few years after his birth, his parents got engaged in 2019. This did not diminish the interest in Exodus because he is the rapper's thirteenth child and many did not think he was still having kids. Exodus was barely five when DMX passed.
12 & 13. Aidyn and K'ydn Simmons
Date of Birth: December 5, 2019
Age: 3 Years Old
Mother: Pebbles Junell
K'ydn and Aidyn are DMX's twin sons and the youngest of his children. They were born on December 5, 2019, one year after his release from prison where he served a one-year sentence for tax fraud. Their mother is Pebbles Junell, C.E.O of Pebbles Fit and the Founder of Growing with K'dyn.
News of the twins' birth followed the very controversial affair between their parents because, at the time of their birth, DMX was engaged to be married to Desire Lindstrom. Barely a year after their birth, K'dyn became sick and after a month's stay at the hospital, he was diagnosed with Down syndrome. Junell attributed it to the stress she underwent during pregnancy following her split from DMX however, it turned out not to be the case.
While they have been able to manage his condition through occupational therapy, physical therapy, hearing therapy, and speech therapy, he also has a stay-at-home nurse seven days a week from 10 p.m. to 6 a.m. He is also not able to eat solids, so his food is mostly blended into liquids. Through all of this, DMX was a hands-on dad, often going to every doctor's appointment with K'dyn.
All of the above notwithstanding K'dyn still has to undergo four major surgeries including a heart surgery, hearing surgery, eye surgery, and have part of his tonsils removed so that he can breathe better at night.
The twins have an active Instagram account run by their mother where she documents aspects of their daily lives. She also documents moments they shared with their father on the page and shows off their lives.
14. Jada Oden-Simmons
Jada Simmons is said to have been conceived after a one-night stand between her parents, Davita Oden and DMX. When Davita discovered she was pregnant, she approached DMX to take responsibility for his child, but he was initially hesitant.
To prove paternity, Davita took DNA tests which confirmed that DMX was indeed Jada's father. The courts subsequently ordered him to pay five thousand per month in child support payments. Despite this legal ruling, little is known about Jada's upbringing as her mother has kept her out of the public eye.
15. Raven Barmer-Simmons
After DMX's death, Raven Simmons reportedly came forward as one of the alleged children of the late rapper. Her age is unknown, but if the rumors are to be believed, she may have been one of his earliest offsprings, potentially born during the early stages of his marriage or shortly before. This implies he was having an affair with whoever her mother is at the time.
Since DMX's passing, Raven has reportedly made moves to stake her claim on his estate alongside the rest of his children. Despite numerous reports seeming to confirm that she is indeed the rapper's child, there has yet to be any official confirmation from DMX's estate regarding Raven's claims. As of now, it remains unclear whether or not her assertions will be validated through any legal means.
List of DMX's Children
Xavier Simmons
Tacomma Simmons
Sean Simmons
Sasha Simmons
Javon Wayne-Simmons
Praise Mary Ella Simmons
Sonovah Hillman Jr.
Z'Riyah Simmons
Emmanuel Simmons
Aaliyah Taraji Michelle Walton-Simmons
Exodus Simmons
Aidyn Simmons
K'dyn Simmons
Jada Oden-Simmons
Raven Barmer-Simmons
FAQs
How Many Kids Did DMX Have?
DMX has a total of fifteen children from nine different women. Consequently, he had one ex-wife and 8 baby mamas.
Why Did DMX Have So Many Kids?
DMX always wanted to have many kids because he wished to give them the love and support that he did not receive as a child. Despite all the challenges he faced in his life, including his drug problems, it was very obvious that DMX always put his family first.