Finn Wolfhard's parents are Eric Wolfhard and Mary Jolivet. He is the youngest of two sons born to his parents, and he belongs to the Caucasian ethnic group. However, there is more to his ancestry than his predominantly Canadian background, not through his full-fledged Canadian father but courtesy of his mother, who was born to a French father and a German-Irish mother.
Finn Wolfhard is a Canadian actor whose stock in his field of endeavor rose significantly following his masterful portrayal of the character Mike Wheeler in the American science fiction horror drama TV series Stranger Things. Here's all we know about his ethnic background as well as the identity of the couple responsible for bringing him into the world.
Where is Finn Wolfhard From and What is His Ethnicity?
Finn Wolfhard is from Vancouver, British Columbia, Canada, the place where he was born on December 23, 2002. He is predominantly Caucasian, but he also has deep-rooted French, German, Irish, and Jewish roots through his parents.
Finn is currently 20 years old and is steadily becoming one of Hollywood's top actors, a reality that was made possible by his excellent portrayal of Mike Wheeler in Netflix's Stranger Things.
He is also notable for his contribution to the movie, It (2017) and its sequel, It: Part 2 (2019). He is also the youngest child of his parents, Eric Wolfhard and Mary Jolivet, who invariably piqued the interest of the public as a result of their son's silver screen performances.
Who Is Finn Wolfhard's Dad, Eric Wolfhard?
According to several verified sources, Finn Wolfhard's dad, Eric Wolfhard, is a researcher on indigenous land claims in Canada. However, there is more to the celebrity dad than his source of income.
He was born on September 14, 1965, in Vancouver, Canada, to Michael and Nora Wolfhard. His birth sign is Virgo, and he is currently 58 years old. Eric spent most of his formative years in his home country of Canada, but it is quite a challenge to describe what his birth family was like seeing that the only piece of information available on them are the names of his parents.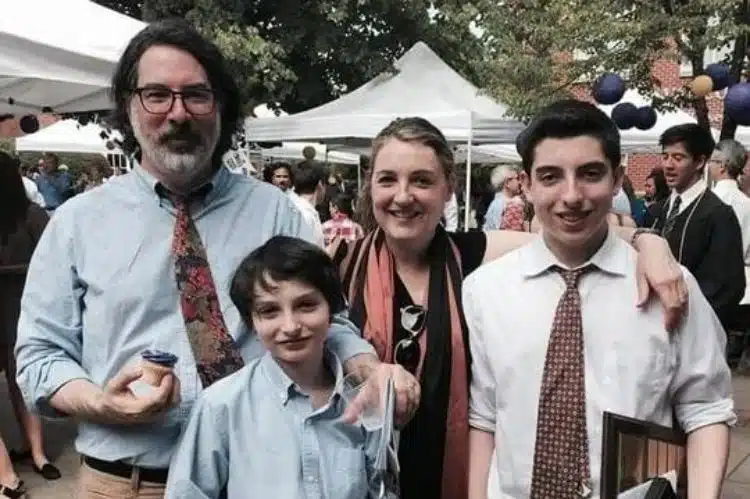 As earlier stated, details of several aspects of Eric Wolfhard's early life, including his formal educational background, are limited. We can confirm that he managed to bag a Bachelor of Arts degree in Political Science and Government after spending about four years from 1984 to 1987 at the University of British Columbia.
Afterward, he spent another four years, from 1988 to 1991, at the University of Toronto before graduating with a law degree. He added to his academic qualifications by enrolling at Harvard in 2014 before emerging with yet another degree in copyright law.
While he may not have his son's public profile, Eric Wolfhard's relatively impressive net worth of around $3 million suggests that he has done quite well for himself in his chosen field of endeavor.
Meet Finn Wolfhard's Mom, Mary Jolivet
Finn Wolfhard's mother, Mary Jolivet, has an even lower profile compared to her husband and her celebrity son. Nonetheless, we can confirm that she is also a Canadian citizen who was also born in Vancouver, Canada. However, there is no information about the details of her birth, such as her date, month, and year of birth, a fact that makes it quite a challenge to determine her age.
Unlike her husband, Mary's ethnic identity cuts across various European countries and religious beliefs. Her father, Lawrence Charles Jolivet, is from Dieppe, France, while her mother, Trish Jolivet, has a mix of German and Irish blood flowing through her veins.
Much of the details of Mary's early life are dominated by the fact that she grew up with a sister named Rita Jolivet. Rita went on to become a silent actress. Unverified sources also claim that Rita is not Mary's only sibling, as she also allegedly has a brother named Timothy Jolivet, even though there is not much evidence of his existence.
Mary Jolivet's formal educational background includes the fact that in addition to having a degree in Visual Display and Design from Langara College, she also has a degree in French Culture which she earned after meeting the requirements at Institut Catholique de Paris.
Finn's mother used to work for his father as his assistant years ago. Current reports that she is now a businesswoman are backed up by her estimated net worth of around $300k.
Finn Wolfhard's Parents Have Been Married For Over Two Decades
Finn Wolfhard's parents, Eric and Mary Wolfhard exchanged marital vows sometime during the mid-1990s. According to several reliable sources, the couple fell in love with each other when Mary, Finn's mother, was walking as an assistant to his dad, Eric.
The finer details of their early days as a non-married couple remain classified, and the same principle applies to the details of their wedding ceremony, but given that they had their first kid almost soon after during the mid to late 1990s indicates that they have been a married couple for well over two decades.
Finn Howard is his parents' youngest child, which may very well explain the close bond he has with them. Several pictures of him with his parents are sprawled all over his social media pages.
Finn Wolfhard Has an Older Brother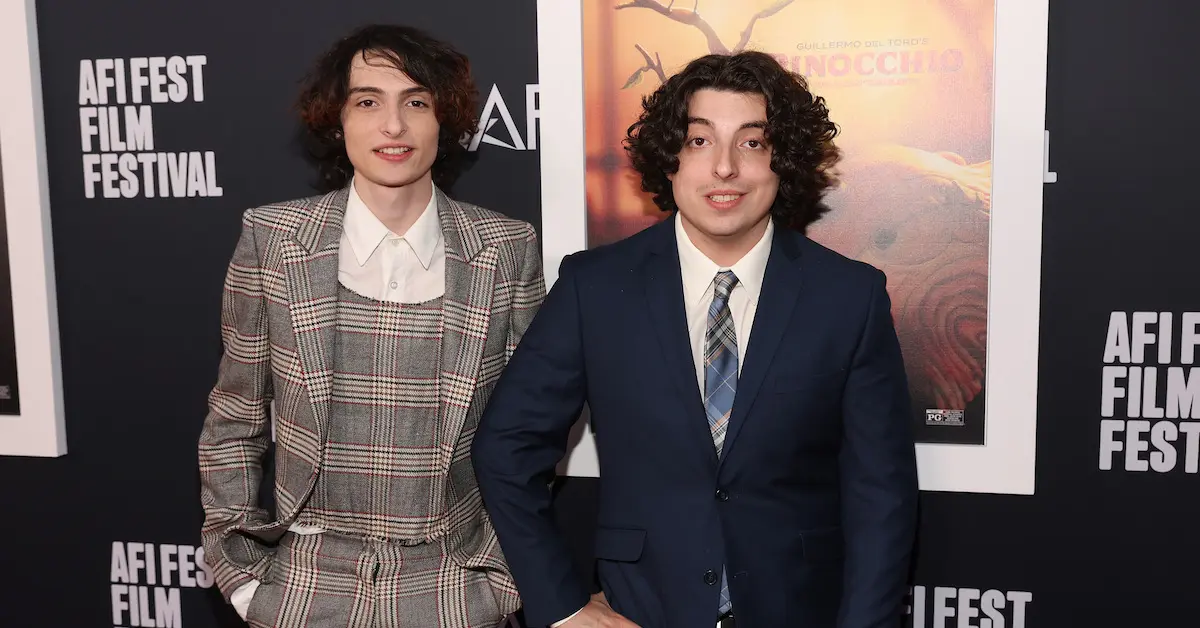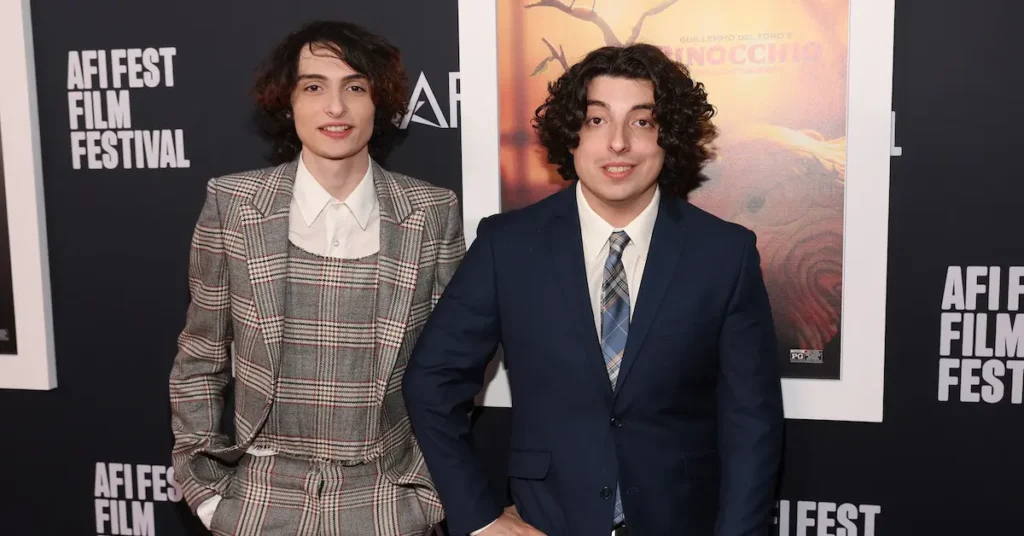 It has been confirmed that Finn Wolfhard is the youngest child of his parents, a fun fact that invariably leads to several speculations about who his older sibling or siblings are. However, Finn Wolfhard has only one sibling, a brother named Nick Wolfhard.
Nick was born on October 21, 1997, a couple of or so years after his parents' wedding. He is currently 26 years old, which also means that he is just over five years and two months older than his more popular brother Finn.
Nick is also in the showbiz industry, where he primarily showcases his creative abilities as an actor. Like Finn, he also started his acting career at a young age. He has over fifteen acting credits and six self-credits, as per his IMDb profile. His acting career is perhaps more notable for his work in the TV series, The InBetween and The Last Kids on Earth.
Other movies and TV show credits include The Encounter, New Gen, Smiling Friends, Fire Emblem: Engage, Goodbye, Don Glees, My Little Pony: Friendship Is Magic, Beyblade Burst, World Trigger, Aftermath, Fire Emblem Heroes, and several others.